Power of Opinions is a survey site that promises to pay you for participating in market research activities.
But is Power of Opinions legit and really a way to get paid and have your opinions heard?
Well, let me just answer that question right away. Yes, Power of Opinions is a legit site. It does what it claims to do.
But, that doesn't mean signing up to be a member is a good idea. You must first understand exactly what this site can offer.
This Power of Opinion review will tell you everything you need to know, so you can decide if this site is definitely worth becoming a member or not.
What is Power of Opinions and what does it offer?
As I've mentioned above, PowerOfOpinions.co.uk is a survey site that will reward you for completing market research activities they offer.
This survey site is based in the UK, so expect to get paid in Pounds Sterling.
In order to fully comprehend what this survey site has to offer, we have to take a look at its earning opportunities.
This will help you get a clear picture of the earning potential of this site.
With Power of Opinions, here's how you can earn.
Option 1 – Paid Surveys
The main way you can earn from Power of Opinions is by answering their paid surveys.

Once you become a member, you will start receiving invites to answer paid surveys.
The surveys they will be sending you will have to match the information you've provided on your profile.
So, it is important you make sure you've provided all the necessary information in your profile to have a higher chance of qualifying for more paid surveys.
Normally, you will have to answer pre-qualifying questions before you can proceed to the actual survey.
These pre-qualifying questions are necessary because these will be used to ensure you are indeed included in the demographic the survey is targeting.
In my opinion, this is the best way to make sure you don't waste your time answering surveys you won't get rewarded with.
Once you complete a survey, you will then be rewarded with "Power Points" (which I will discuss later).
You will know if there are surveys available when you log in to their site.
They will also notify you via e-mail if there are any paid surveys available for you, so you can log in to their member dashboard and do therefore not have to log in to check for yourself.
Option 2 – Focus Groups
Another way for you to earn rewards on Power of Opinions is by joining focus groups.

There isn't much information on their website about how they conduct focus groups.
But typically, this works just like paid surveys. Power of Opinions will check your profile to see if you qualify for any focus groups that they are holding.
If you qualify, you will then be sent an invite to join. Once you finish the tasks needed for the focus group, you will then be rewarded with "Power Points".
However, the big difference is that the online surveys you can do from anywhere whereas many of the focus group options Power of Opinions has are face-to-face.
This means you have to show up at a certain physical location to a group discussion if you get accepted. There are also online focus groups at times though if you prefer not having to show up at a certain location.
In my experience though, this type of opportunity will be few and far between, but they do typically reward higher than paid surveys. So if you get the chance to participate in these, they can often give quite good value for your time.
Option 3 – Referral Program
Power of Opinions also has a referral program in place. You will be able to earn rewards for every friend you refer to their website.
Again, they don't really talk about it on their website, but you will be able to earn "Power Points" as well as other bonuses once your referral completes a survey.
In my opinion, having a referral program can be a nice extra source of passive income since all you have to do is refer to someone and you will be able to accumulate points.
The only problem is, you'd have to wait for your referral to complete a survey before you can get the rewards.
It would have been better if they rewarded you as soon as your referral finished signing up as some survey sites do. But then again, you really can't complain, because their referral program acts just like a bonus earning opportunity.
So if you like the platform yourself, inviting friends you know to join can be a way to earn a bit extra.
How do you get paid?
Now that you know how you can earn from Power of Opinions, the next thing you need to understand is how you will get paid.
As mentioned, Power of Opinions uses points as their currency and they call it "Power Points".
For every market research activity you complete (whether it is a paid survey or a focus group), you will be rewarded with Power Points.
Once you reach a total of 1,000 Power Points (which is equivalent to £10), you can then request for a payout.
You can exchange it for vouchers or withdraw it via PayPal. In my opinion, a £10 payment threshold is a pretty decent threshold.
But there are other survey sites that will allow you to get your rewards a lot faster because of the low minimum payout. If you are interested in these kinds of survey sites, I suggest you check out the fastest paying survey sites.

One thing you need to note in relation to getting paid on Power of Opinions is (which is shown in the photo above), you will only be able to request for payout in increments of 1,000, 2,500 and 5,000 points.
I also mentioned bonuses earlier. These bonuses are actually what you will get from joining focus groups. Aside from the points, you will earn, you will also be sometimes rewarded with an entry to their prize draws.
However, there is no information on their website about what the prizes are in their prize draws.
Anyway, this is not something you can rely on because as you can see, it will be purely based on luck. Consider yourself very lucky if you ever win one of their prize draws. But it can be a nice bonus though.
How much money can you make?
With survey sites like this, the earning potential will depend on the number of survey invites you get, the number of actual surveys you complete and the reward you get for each survey/focus group completed.

As you can see in the photo above, the number of power points you can earn from a paid survey will typically vary. But usually, the longer and more complicated surveys will pay more.
As for the focus groups, the typical reward you get is £25 or more, which as I have said, is significantly higher than paid surveys. So, if you manage to join a lot of focus groups, you stand to earn a significant amount of money.
In my experience though, this type of opportunity isn't too common. So, you will mainly have to rely on paid surveys to accumulate more points. And based on feedback from members, it does provide a decent amount of surveys.
The surveys are actually pretty short, which will reward you with fewer points. So, don't expect to get to the 1,000 Power Points threshold quickly.
But overall though, it has decent earning potential and can be an extra site to consider.
Can you use it on mobile?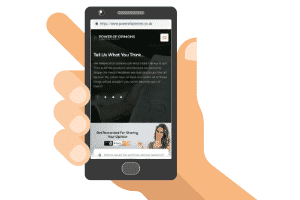 Being able to answer surveys on a mobile device will allow you to be a much more efficient earner because you can answer surveys as soon as you receive an invite even when you are not at home.
However, there is no mention on their website about a Power of Opinions app you can download and install on your mobile device.
But, you can access their website using a mobile web browser like the Google Chrome app.
The good news is, the mobile version of their website is optimized for mobile use. That means you will be able to view all the content without having to scroll left and right or zoom in and out.
This makes it much more convenient for you to work on surveys.
Who can join Power of Opinions?
As you already know, Power of Opinions is a UK-based market research company. So, the only people who can join their panel are those living in the UK.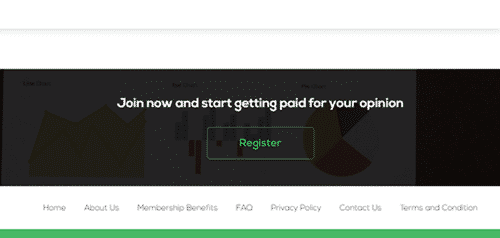 When you click the registration button, you right away have to take a small survey before you can move forward.
It takes around 5 minutes and once you have completed it, you will have to confirm your email and you will then get access to the members area.
You will get The problem here is, when you browse their homepage, you will see the Join button (shown in the photo above).
100 Power Points right away as a joining bonus so a fairly nice and easy start.
But when you look at how many great survey sites in the UK you can find, then it does not quite live up to the top-paying once even though it is easy to join and use.
Can you get support?
One of the best ways you can gauge the value of a survey site is to check how they handle their support.
A good survey site will allow you to get a hold of their support team easily.
And with a lot of necessary information not displayed on their website, I would expect that you will need to contact Power of Opinion's support at some point.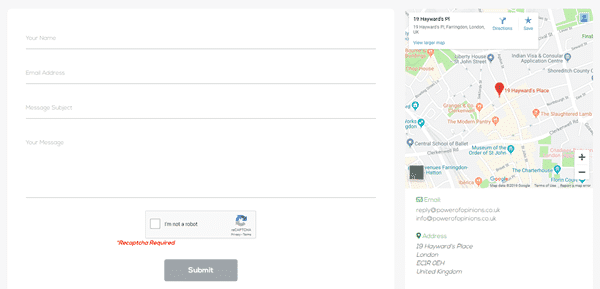 With Power of Opinions, you will be able to do that in 3 different ways.
You can either use the contact form shown in the photo above. You can get to that page by clicking the Contact Us tab on the upper portion of their website.
You can also send them an email to reply@powerofopinions.co.uk if you have any questions. If that doesn't work, you can send them a postal mail to the address also shown on their contact page.
They also have a Facebook page you can visit if you wish to contact them via that platform. You can send them a message and they typically reply within a few hours, which is good, in my opinion.
Overall, they have a pretty good support system for their members, which at least, allows you to get the answers you need from them pretty conveniently.
Final Verdict
Power of Opinions is a legit survey site that does pay you for completing their market research activities. But, it does have its limitations.
So let's finish this review with a summary of its pros and cons to help you decide whether this site is for you or not.

Pros:
Relatively low payment threshold
Pays via PayPal
Decent amount of surveys available

Cons:
The website lacks a lot of relevant information
Limited to UK residents
Low rewards for surveys completed
Even though Power of Opinions has a decent amount of surveys available, the earning potential really isn't that great simply because of the low rewards for each survey completed. The lack of relevant information on their website is also concerning.
But as an extra site, it can be worth considering if you want to join as many survey sites as possible.
But if you want to prioritize your time and are looking for survey sites that will give you more opportunities, I recommend you check out the top survey sites in your country instead.
This list has plenty of sites you can choose from regardless of where you live. Plus, each survey site is known to provide good offers.
If you have any comments, questions, or have any experiences with Power of Opinions yourself, I would love to hear from you in a comment below.