If you are looking for online surveys, it is likely you have heard about Vindale Research.
But is Vindale Research a scam or legit and really one of the great options?
This is likely your main concern before joining. So let me just get that out of the way right away – no, Vindale is not a scam. But this does not necessarily mean it will be worth your time.
There are several things to consider to find out if it will be a good option for you or not and Vindale has both some big advantages and disadvantages.
This Vindale Research review will go into all the details so you can see exactly what to expect if you decide to join.
Important Update: Vindale Research has closed – see best alternatives:
As of November 1,st 2021, Vindale Research has closed, and you are no longer able to earn or redeem rewards.
However, do not worry as there are many great alternatives that in many cases will give you even better earning opportunities than Vindale.
You can check out the best paid survey sites in your country here instead.
What is Vindale Research and what does it offer?
Vindale Research is a survey site and more. It was established in 2005 and has grown and expanded over the years in many different directions.
So it is an established site that has been around for a while and ss already mentioned, it is a legit survey site.
To find out if it is then worth your time, we need to take a closer look at the earning opportunities it gives.
Even though it is mainly known as a survey site, Vindale Research also gives other earning opportunities so let's go over them all below so you know what to expect.
I have made a short video that gives you a full guided tour and explains exactly what you need to consider before joining. You can also read all the details below the video:
Recommended: Check Out the Top Survey Sites in Your Country
Option 1 – Vindale Research surveys
The main thing Vindale Research is known for is its paid online surveys.
You can find a decent number of surveys here.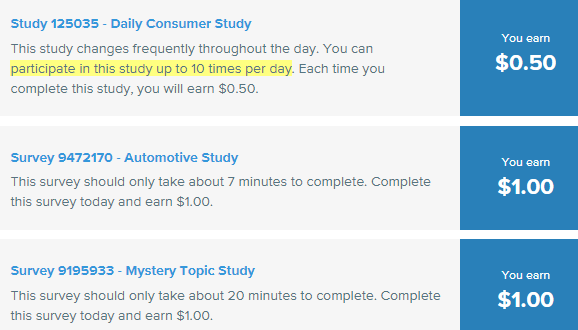 You just need to be aware that there are both specific Vindale surveys and then surveys they offer through partner websites. This means that it can sometimes take some patience to find the surveys you qualify for.
The rewards you get for the surveys you take varies a lot. They have both very high paying surveys and surveys that pay more or less the same as you get on most other sites.
One thing worth knowing is, however, that Vindale does have some really high paying surveys at times. You can find surveys that pay quite a lot more than you will see on most other sites. It is at times possible to get up to $100 for one survey.
But the majority of the surveys will, however, give between $0.50 – $1 so the highest reward is not something you will find often. Personally, I have not seen any of them but they say they are available at times.
Also, there is no guarantee you will be offered the highest paying surveys or qualify for them. But if you do get the opportunity to take any of these, they can give some really great earnings.
Option 2 – Bonus cash
Vindale Research offers a few bonus opportunities that can give you some easy cash.
First of all, you get a $1 bonus just by joining and confirming your email. Then you will have to go through an introduction tutorial to get this joining bonus.
A part of this introduction tutorial is also that they wilæl start promoting other panels to you because they get paid to do this. For me, it is always strange when a survey site starts promoting other survey panels just to earn commissions for that – especially because not all of the panel they recommend are worth it, in my experience (more about these promotions later).
But you can also regularly find Vindale reward codes and bonus options on their blog and Facebook page.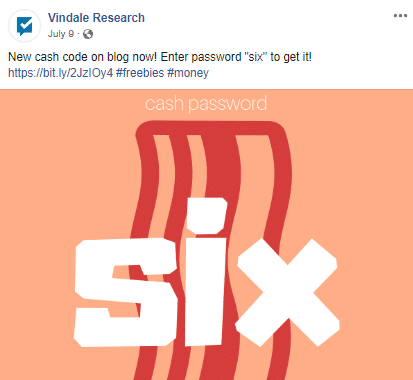 Sometimes it is free bonus cash as you can see in the image above and other times it can be a chance to win cash through a contest.
It will not be a lot you can get like this but it will also not take a lot of effort. So if you decide to become a member it can be worth keeping an eye out for these reward codes.
Option 3 – Invite friends to join
Vindale Research has a referral program where you can earn by inviting friends to join the platform.
You get $5 per friend you invite. However, there are two conditions your friend need to fulfill for you to get this reward:
They have to sign up through your invite link (you get it inside Vindale when you are a member)
They have to complete at least 1 survey worth $1 or more (this does not include the $1 tutorial)
If you have friends that might be interested in joining Vindale and earn a bit of extra cash by sharing their opinion, this can be a nice way to make a bit of extra cash.
Option 4 – Paid emails
Once you are a member, you can opt into Vindale Reward Mail.
These are emails you once in a while will receive (basically a newsletter). You will then get a small reward for opening and reading these emails and see the promotional offers in them.
It is not big rewards you will earn like this but it also does not take much effort. So if you do not mind receiving emails with promotional offers from Vindale, you can earn a bit extra like this.
Option 5 – Paid videos
You can supposedly also earn by watching videos on Vindale Research – this is at least what they advertise on their website.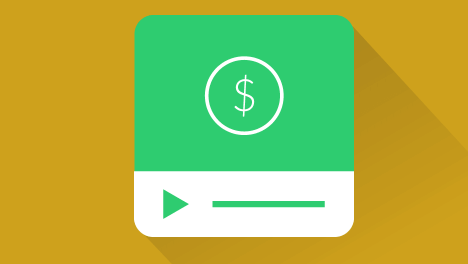 Like on most other survey sites that offer paid videos, the rewards for this are quite small.
So it is not the most effective way to earn. But if you are interested in watching some of the videos, it can be nice to earn a bit at the same time.
However, if you mainly are a member of Vindale to earn as much as possible, your time is better spent on taking the surveys which is the main way to earn on Vindale.
Also, I have not really seen many of these available videos inside Vindale so even if you wanted to earn like this, it is not always you can even find this option.
Option 6 – Other panels
I mentioned earlier that already in the joining process Vindale promotes other survey panels to you to earn commissions. But there is also a whole section inside the members area called "Panels".
Here you can find a list of some panels they try to get you to join.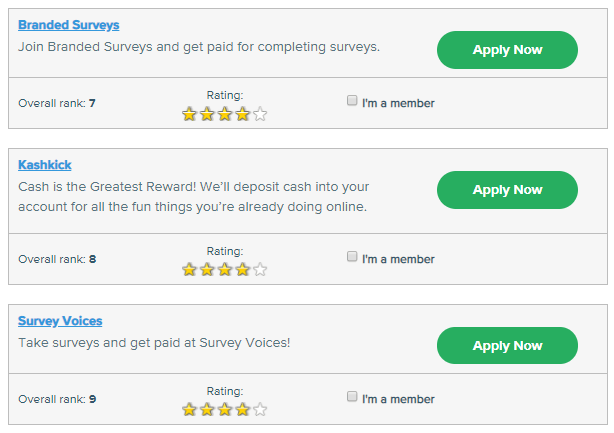 This is the aspect I like the list about Vindale – and I do not like it for several reasons. First of all, I find Vindale is promoting a bit too much. They try to earn extra commissions by referring you to a lot of other panels both when signing up and after you become a member and there are also ads covering content on the website which makes it less user-friendly.
Most other survey panels do not use promotions like this and personally I find it a bit annoying.
What I dislike the most about it is that not all panels are even worth it, in my experience. They, for example, promote a panel like Survey Voices which will not even give you access to paid surveys but will also just promote other survey sites to you.
And many of the options you can find on this list also do not even have anything to do with paid surveys. There are, for example, promotional offers for loans and more. There definitely are some good survey sites they promote like, for example, YouGov and Branded Surveys.
But overall, it is very difficult to spot the good from the bad options on the list if you do not have a lot of experience with paid surveys. And, in my opinion, it seems like Vindale is willing to promote whatever pays them to be on the list without really making sure it is high quality which is something I really dislike and I find this a shame from an otherwise good survey site.
Also, be aware that you will NOT get paid to take any of these promotional offers as you will on some of the Top Get-Paid-To websites.
Option 7 – Vindale Research Chrome extension
There is also a Vindale Research extension for Chrome browsers.
This is not as such a way to earn but it can make it easier to earn and that is why I mention it here.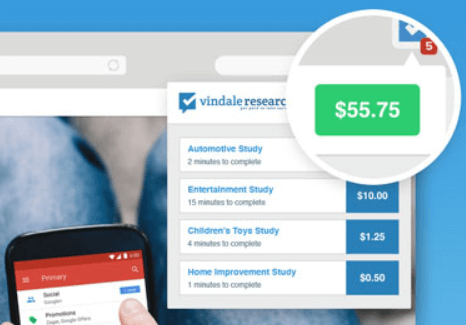 If you install this extension, you are kept in the loop for your earnings plus you get to see when new Vindale Research surveys are posted on the site.
The faster that you sign up for the higher paying surveys, the more likely you will be to get a spot. These fill up rather quickly, so it is a great opportunity to have the advantage of seeing as soon as they are posted in your browser.
When you have the extension installed, there will be a small window that shows you how much is in your account currently, as you can see in the image above. This may motivate you to take additional surveys or complete other tasks, but also just make sure it does not become too much of a distraction if you have installed it on your work computer:-)
Click to Check Out the Best Passive Income Apps
How do you get paid?
Before deciding if a survey site is the right option for you or not, you need to know how you can get paid.
Every survey will require some pre-screening questions on Vindale as it does on any other survey site as well. This is to make sure that you are in the right demographic group.
If you are right for the survey and there are spots open, you will complete it and money will be posted into your Vindale account. Once your account reaches the payout threshold of $50, you can request a payout.
Vindale Research recently changed its payout methods so now the only payout option you have is to get paid through PayPal.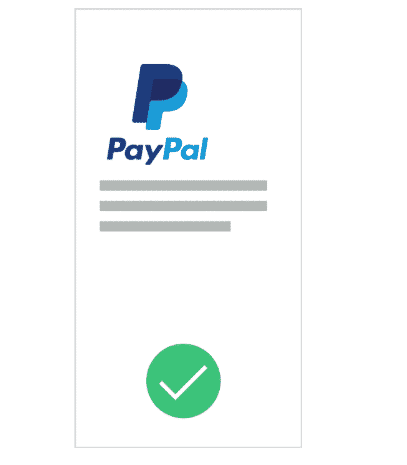 I personally love sites that pay through PayPal, because it is such an easy and fast way to get your rewards in cash. So, in my opinion, it is great Vindale has this option.
The payout threshold on Vindale is, however, very high compared to most other survey sites which is a big drawback of this site.
This means that if you only take the low paying surveys, it might take very long before you reach the threshold and are able to cash out.
Vindale does however also offer higher paying surveys than most other survey sites, which of course makes it easier to reach the threshold and for these surveys it gives better value for your time spent than most other sites. But you have to be very lucky to get any of these high paying surveys so do not count on them.
The site is 100% free to join. You will never be asked to pay a fee for anything on Vindale Research's site. Be careful with any survey site that asks for money to join – they are likely just going to scam you.
Can you use Vindale on mobile devices?
You can access your Vindale account anywhere and from any device.
There is no Vindale Research app but the website is fully optimized, so it is still easy to use on smaller screens, and it gives the same opportunities on all devices.
This means that whether you want to do surveys on your home computer or on your phone while waiting for an appointment, you can choose how, when and where you complete surveys or do other tasks.
This is very important as it gives you quick access to surveys – and as you might remember I mentioned earlier, you have a better chance of getting the high paying surveys the faster you try to take them so being able to use Vindale on mobile is a big plus.
Who can join Vindale Research?
You must be 18 years old to join Vindale Research. Originally it was limited to just the US, but it has expanded to include UK, Canada, and Australia.
You can either join by creating a profile on the website or by connecting via your Facebook account. You can connect with the site on other social media including Twitter as well.
If you want to join, you can just click the button at the end of this review, and you will be taken to the sign-up page. If you are not from one of these countries, or if you instead want to see the sites with the absolute best opportunities, you can check out the list of the best survey sites in your country.
Vindale is one of the few survey sites that also allows more members from the same household to join. You just need to have your own PayPal account and phone number. But other than that, you can join even if other members of your household already is a member.
Can you get support?
Being able to get support is important on any survey site. On Vindale Research, there are several ways you can get answers to questions or to solve a problem with the site itself.
There is a Help Center that includes the FAQs with the most common topics. There is a section for help with payment and for tech help if you need it.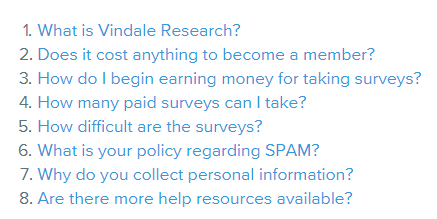 The help center includes quite a lot of information so this is a great place to start if you have questions.
If none of these help answer your question or solve your problem, you can also use the contacts which include the phone number, fax number, and email address. There is also an option to submit a help ticket which will take several days to be answered according to the website.
You can also contact Vindale through one on its social media channels like its Facebook page. I have not tried to contact the support through this channel, so cannot verify how quickly they will get back to you. But now you know there are different ways to contact Vindale, if you should ever need it.
So, is Vindale Research legit or not?
So far this Vindale Research review has been about all the opportunities on the site. There are some negatives you have to consider as well in addition to the aspects I have already mentioned.
First of all, it can be very difficult to get into the higher paying surveys for a number of reasons. You may not qualify because you do not fit the right demographics. You may work in an industry that would disallow you from a survey. Higher paying surveys fill up very quickly and there may not be a spot for you.
Secondly, since you have to get to the set minimum payout amount, you might get bored and forget to log in to your account.
You may feel overwhelmed with emails with survey invitations that you simply opt out meaning that you will miss out on the chance at some of the higher paying surveys. Installing the Chrome browser can be a way to deal with this and keep an eye on the offer without having to check your emails.
Thirdly, you will not qualify for every survey – this is not only for Vindale, but something you have to know about more or less any survey site. Even if you are offered a survey via email, you may not qualify once you answer the screening questions, or it may have already filled up by the time you get around to doing it.
There are so many variables that come in to play with every survey. Vindale is definitely legit but you just also need to do it with the right expectations and be aware that you will not get high paying surveys every day and it is NOT a way to make a full-time or part-time income.
But for some extra cash on the side, it definitely is a legit option.
Vindale Research complaints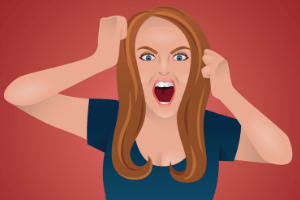 I also just wanted to go over some complaints about Vindale Research so you can take this into consideration as well. This does not mean it will not be a good site for you. There are just some people that have had a not so good experience with it for various reasons.
Below I will go over some of the complaints I have seen about Vindale, and then you can decide for yourself whether they are valid complaints or not.
There are, for example, many complaints about people who have hit their goal amounts and requested payouts only to find out that there was a technical glitch that prevented the payout from happening or worse, some of their survey amounts were reviewed and then disallowed without warning.
If this should ever happen to you, I would advise you to just contact the Vindale support asap.
Some people also complain that they contacted the resolution center for their issues and were never fully satisfied with the answers they were given. This led to further complaints and more problems. To prevent this from happening it is important that you are following all the rules for every survey you complete so there is no reason for dispute, when the time comes to get your pay.
Another common complaint is technical in nature. I have seen a few people complain that whenever they were doing certain types of surveys, it would freeze and would either return them to the start or kick them back out of the survey or the site altogether.
If it is the person's computer or internet service that is the problem is, of course, difficult to say, and I cannot say for sure how often this has happened. But I have just seen some complaints about this and I have also experienced it myself and this can be very frustrating.
A few people also seemed to think they could use Vindale Research as an actual full-time job. There are a few jobs listed on the website, but those are different than simply doing a few surveys here and there. The Job Center is new and offers job postings from other sites not directly from Vindale Research.
You may see several jobs listed for your local area in certain types of industries. That information can be found inside the members area. I find it a bit confusing they have included this and is another aspect where they seem to focus a bit too much on promoting too many different things instead of focusing on just being a good survey site.
And you need to be aware that these job postings does not mean you can earn a full-time income on Vindale – that is not realistic and is not realistic on any paid survey site.
Finally, there were more than a few people who complained that they were "lured" to the Vindale Research site with the promise of data entry and other types of jobs that are not offered there. There were some who went to seminars about work from home businesses, and the links they were given were for Vindale Research and others.
That some people are promoting Vindale in a misleading way however has nothing to do with the platform itself. Many sites have the problem that people are using their name in misleading ways.
Vindale has an email address on the website, where you can report abuse like this, so if you ever run into a place giving misleading information, I would suggest reporting it to Vindale.
Final Verdict
Vindale Research is not a scam, but it is not a job or a home-based full-time business either.
It can be a great way to make some extra cash by sharing your opinion but you just need to do it with the right expectations.
So let's finish this review by summing up the pros and cons, so you can get a better overview to find out if Vindale is for you or not:

Pros:
Free to join
Offer several ways to earn
Some surveys give really high rewards (but not many)

Cons:
You will not qualify for all surveys
The high paying surveys fill up quickly
Very high payout threshold
There is a lot of promotion going on inside the members area
Overall, there is no doubt Vindale is legit. If you approach it as a fun way to make some extra money on the side and at the same time have your opinion heard, you will be perfectly happy.
If you are approaching it as a potential new career so that you can "fire your boss" once and for all, you are going to be sorely disappointed.
Vindale, however, also has some drawbacks, in my opinion. It has a very high payout threshold and they high paying surveys will rarely be available so it will take some patience to reach. Also, I really dislike how much they promote to its members and that you cannot even be sure what they promote is of good quality.
There definitely are survey sites that are easier and less distracting to use, in my opinion.
But overall, if you can ignore the slightly annoying promotions and are patient enough to reach the payout threshold, it can definitely be a site to check out if you live in the US, UK, Canada, or Australia.
How to join Vindale?
As mentioned at the beginning of this review, Vindale Research closed as of 1 of November 2021.
But you can find many great and better sites by clicking the button below.
If you have any comments, questions, or have any experiences with Vindale Research yourself, I would love to hear from you in a comment below.