Are you looking for a way to earn extra cash online? The good news is that you have plenty of options to choose from.
You can, for example, complete online micro-tasks/jobs that sites like Smart Crowd offers (aka Telus International AI Community).
But is Smart Crowd legit and a great opportunity to earn online?
That's a fair question to ask, so I will answer it right away. Yes, it is a legit micro-task site that will pay you for doing short tasks. But is it worth it? That's another question that requires more in-depth knowledge about the site to answer.
And this Smart Crowd review will give you a detailed look at what the site has to offer so you can decide if it is worth joining or not.
Important update: Changed name of platform!
Since I first reviewed this platform, Smart Crowd has closed down. Or to be more correct, it is now redirecting to a new platform called Telus International AI Community.
It offers some of the same options, so you will still get an idea of the ways you can earn by reading the review below.
But there are also some big changes. You can see the exact opportunities it offers on the Telus International AI Community job board.
The rest of this review will be mentioning Smart Crowd and the options the platform used to have, so you cannot fully expect all the details and the rating to be the same. I will make a new review of Telus International with all the updated info asap.
What is Smart Crowd and what does it offer?
Smart Crowd is a micro-task site powered by Lionbridge, a company that provides localization and AI training data services.
Smart Crowd is, in some ways, a lot like Appen because it also offers tasks as a way for you to earn extra cash.
Now, to fully understand how well you can earn from this site, let's take a closer look at the earning opportunity it offers. So, here's how you can earn from Smart Crowd.
The earning opportunity – Smart Crowd jobs
There's only one way you can earn from this site. And that is by working on jobs that Smart Crowd will send your way.
However, it's not as simple as you might think though.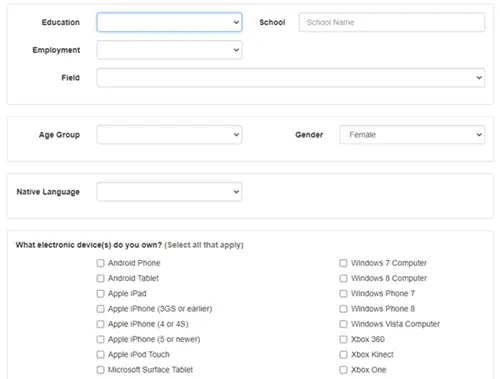 Before you can do any jobs, you have to complete your profile. This will help Smart Crowd figure out what jobs to send your way.
It won't take long to complete your profile and you will immediately be asked to complete it after you register to the site (which I will talk about later).
After you've completed your profile, you will then have to take their placement evaluation tests.
This is done to further give Smart Crowd a clear picture of your capabilities. Completing these optional placement evaluations will increase your chances of being offered jobs.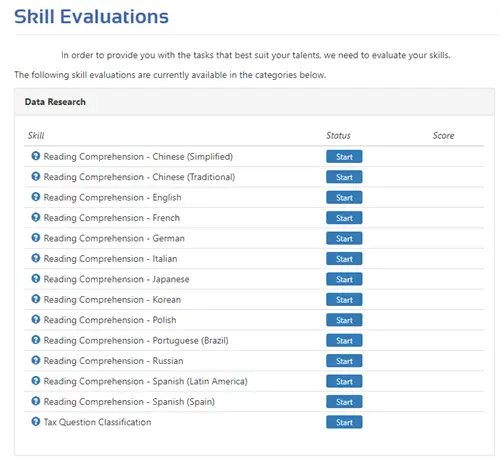 As you can see in the photo above, most of the placement evaluations are about reading comprehension for a certain language. If you know a few of the languages listed on their placement evaluations, I suggest you take them.
Each evaluation can only be taken once, so you need to be careful when answering them. Make sure you are focused when answering these tests because getting a high score is very important.
After you've taken the evaluations, all you have to do is wait for jobs to be offered. Smart Crowd will email you if there are available jobs for you. So, make sure to check your email from time to time to see if there are jobs you can take.
As for the kind of jobs that will usually be offered, most of them are data entry jobs. From time to time, there will be translation jobs offered for the languages you know. Other times, there will be jobs asking you to test apps and software.
It really varies depending on your location and the availability of jobs. Sometimes, it can take weeks or even months before you are offered a job. So, don't be alarmed if it takes a while before you hear from them.
Every job offer will tell you how much you will earn when you complete it. You will find it in the email they will send to you. You will also find the instructions you need to follow to do the job.
Recommended: Check Out the Top GPT Sites
How do you get paid?
As mentioned above, every job you complete will pay you a certain amount. Usually, they offer an hourly rate, but this will depend on the kind of job you will complete.
The problem with Smart Crowd is, they are not very transparent with how they will pay you.
All they really tell you is that you will get paid once a month. They don't even tell you how they will pay you which is a lack of care for their members, in my opinion.
Based on my experience, if a site will pay you once a month, that means you don't actually have to reach a threshold to get paid.
You will just receive the amount you've earned for that month. So essentially, this site doesn't have a payout threshold, which is good because it is less of a hassle. The only problem I see on the way their payment system is setup is, you have to wait for a month to get paid. It's quite a long wait, in my opinion.
If you prefer to get paid quickly, I would recommend you check out the fastest paying sites instead.
How much money can you make?
The money you can earn from Smart Crowd will mostly depend on the jobs you complete.
Easy jobs like data entry jobs will only net you around $1 to $5 per job, which isn't that bad, in my opinion. Just be aware that some of the jobs can be quite time-consuming.
The problem is also that the availability of jobs isn't really that good.
So, it's less likely you will be able to earn a consistent amount on a regular basis. Yes, let's say you were able to earn $5 from a data entry job you took, but that was the only job offered to you for the whole month.
So, effectively, you were only able to earn $5 for the whole month from this site. And based on feedback from long-time members, job offers are really quite rare on this site. That's why I would say the earning potential of this site isn't that good.
But, in my opinion, this site can serve as a decent secondary site to earn from because the pay per job is decent. You just have to understand that you won't always get job offers.
Can you use it on mobile?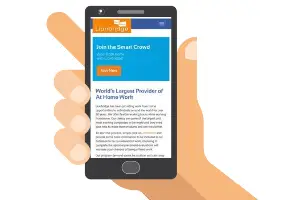 Smart Crowd doesn't have a mobile app you can use and based on the nature of the jobs you can take, doing it on a mobile device isn't really advisable.
This site was designed to be used on a laptop or desktop, in my opinion.
Apart from answering the evaluations, I don't really see the point of having to log in to the site often since you will mainly be notified via email if there are jobs available. You can just check your email for that.
The only time I can see you will need to use your mobile device is if the job entails testing a mobile app. But apart from that, most of the jobs offered will ask you to work on a computer. That being said, their site is mobile-friendly.
That means you can read all the content properly without zooming in. This can prove useful if you have spare time and want to take the placement evaluations and you are not in front of a computer.
Who can join Smart Crowd?
Smart Crowd is available globally. That means you can sign up as a member regardless of where you live.
Registration is free and they don't really mention any age requirement. But, in my experience, you will have to be at least 18 years old to join this kind of site.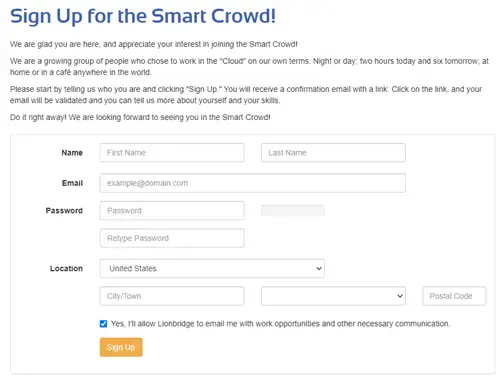 To sign up as a member, all you have to do is fill out their sign-up form. It will ask you to provide your general location.
Once you've submitted the form, check your email for the confirmation link. It takes up to one hour before you will receive it (however, mine only took about five minutes). So, don't be alarmed if you haven't receive it yet.
Once you've confirmed your registration, you will then have to fill out the profile questionnaire (shown earlier in this review) to complete the registration process.
One thing you need to take note of when you become a member of Smart Crowd is, as mentioned earlier, that the job opportunities will depend on your location.
If you live in an area where there are a good number of job opportunities available, then you will be able to fully take advantage of this site.
Before joining though, it is important to understand that the availability of jobs can change. For example, in this month, there are jobs offered for UK and Canada residents, while there aren't any offered for US residents.
In the next month, the opposite might happen. So, the bottom line is, there's really no guarantee you will receive job offers consistently regardless of where you live.
Can you get support?
In terms of providing support for their members, I would say Smart Crowd does a decent job. They have an FAQ page that discusses some of the basic topics you need to know about.
However, I do wish they were more transparent with what they have to offer, especially in terms of their payment methods.
This could reduce the instances where you might want to ask their support team. And speaking of their support team, they do offer a way for you to send your inquiries.
You can send an email through the contact link provided at the bottom of their site. Just make sure to click the Workers link instead of the Businesses link.
The contact option is not very easy to find but now you know where to look?.
Final Verdict
Smart Crowd is a legit micro-task site that will pay you for doing small online jobs. It has a couple of good features but it also has some glaring limitations.
So, let me finish this review with a summary of its pros and cons to provide you with a better overview of what the site has to offer. That way, you can decide if it is indeed worth your time or not.

Pros:
Jobs pay quite decently
Available globally

Cons:
Limited earning opportunities offered
Not transparent with how they will pay you
Takes a long time to get paid
If you are looking for a site where you can earn consistently, then Smart Crowd is not the site for you. Although you get paid a decent amount for the jobs you can complete, there is really no guarantee you can earn from them on a regular basis.
This is because job offers are not consistent. You might not even get job offers for months. This, in my opinion, is really the major drawback of this site. It can serve as a decent secondary site to earn from as long as you don't expect to earn regularly.
But if you are looking for sites where you can earn a decent amount on a regular basis, you are better off joining a survey or a Get-Paid-To site. For a list of these sites, I suggest you check out the top survey and GPT sites in your country instead.
The sites on this list all offer good earning potential which will allow you to earn a decent amount on a regular basis. Plus, you will also be able to find a site you can join regardless of where you live.
If you have any comments, questions, or have any experiences with Smart Crowd yourself, I would love to hear from you in a comment below.