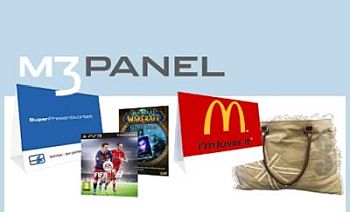 M3 Panel is a paid survey site for people living in Sweden, Norway, Denmark or Finland. But what is M3 Panel about, and will you be able to make money by participating in surveys on this site?
Most other survey sites that I review on this website, are covering a bigger area, but as I myself am from Scandinavia and have been able to test M3 Panel extensively (it was actually the first survey site I joined), I have decided to also make a review of this website here. Hopefully, people from Scandinavia will also be here on my website:-) – or if you know someone from that area that could be interested, you are welcome to share with them.
What is M3 Panel, and what opportunities does the site offer?
M3 Panel has several paid surveys a week. Sometimes they even have several a day. You will receive an email every time there is an available survey, so you do not have to go to the website itself, unless you want to request a payout.
If you click an invitation for a survey, and it turns out you do not qualify for it anyway, you will still get a small amount of points for trying. I personally really like when survey sites offers this, so you know that you will never click a survey without getting compensation for it.
You will be able to do some surveys on your phone or tablet. Others will only be possible to do on a computer. It depends on the format and content of the survey. When you get an invitation for a survey, it will say if it is not possible to do on your phone or tablet. But very often you can, so it is possible to do many of the surveys on the go.
The site is free to join and free to use.
How does M3 Panel pay?
Every time you do a survey, you will earn points. These points can be exchanged for vouchers, entries into lotteries, donated to charity or different products (large selection to chose from). The lotteries are M3 Panel's own lottery and the prizes vary. It can for example be a trip to go to a Premier League soccer game in England, or a trip to formula 1 in Monaco.
M3 Panel does at the moment not offer the possibility to get paid in cash. A shame if you ask me, but on the other hand, you can instead get vouchers to a number of different supermarkets, shops and websites, which is as good as money. And I know the vouchers works – I have used several of them myself.
How much the points are worth in cash can differ a bit depending on your country, but a 1000 points will be around 50 kroner (equivilant of around $7-8). When you can request a reward, depends which reward you want. You can get entries into the lottery for 50 points, whereas vouchers are around 2000 points, and products are available from around 1000 points and up to several thousands.
You can make enough points right away to be able to get some products, or be close to getting a voucher. You get these "starting" points by filling out a number of short profile surveys (you can make around a 1000 points like this as soon as you login). You find these profile surveys, by logging in to M3 panel. This is to get a bit of information about you, so you can be matched better with available surveys. But as mentioned, you will also get points for these.
When you receive an email inviation for a survey, it will say how many points you can make. It will always say from 25 to the amount you can make the most (somewhere between 50-500 points per survey). This is because, you will get 25 just for clicking the link, even if you do not qualify for the survey. How many more points you will then get, depends how much of the survey you will be able to do. The highest amount is what you get if you are able to finish the survey. By that I mean that at some survey sites, you will halfway through a survey find out you do not qualify for the rest, and then you will get nothing for your time. At M3 Panel this is not the case. You will get points for the time you spend.
If you order a product from the M3 Panel store, they will pay the postage and packaging, so it will not cost you anything to receive your rewards.
How much time do I have to spend to make money through M3 Panel?
M3 Panel pays pretty well in relation to the time spend. You can easily and quickly make enough points to request a voucher or what else you want. Also you wil not waste time clicking on links to surveys you do not qualify for, as you know you will get at least some points, if you click a link. On rare occasions, I have received a broken link due to technical issues at M3 Panel, but it is very rarely, so it has not bothered me.
When you receive the email invitation for a survey, it will say how many minutes you should approximately expect to spend on the survey. My experience is that it is a pretty good estimate, but of course depends how much time you spend considering each answer. It is also possible that you will only spend half of the time estiamated, as you sometimes will only be able to for example answer questions about two produtcs, while others have knowledge about 5, and then it will obviously take you a shorter time to do the survey.
You can always chose whether you wish to participate in a survey or not. If you do not wish to participate, you just ignore the invitation. Most surveys are only available for a certain period of time. How long the survey is open for, will also be stated in the email invitation you receive.
I just want to make you aware that as any other paid survey site, M3 Panel cannot make you enough money to live from. It can be a nice supplement to get some nice extra gifts for yourself or vouchers to buy food etc., but you should definitely not plan on making a living online from it.
In which countries is M3 Panel available?
You can sign up for this paid survey site, if you live in one of the nordic countries. That is Sweden, Norway, Denmark or Finland.
Conclusion about M3 Panel
If you live in one of the Nordic countries and are interested in paid surveys, M3 Panel is definitely worth considering.
It is easy to use, it is fairly easy to make enough to request a reward, you get a pretty good reward for your time in relation to many other survey sites, and you will never have to attempt a survey without getting a reward for it. I also really like that you already in the email invitation will know how many points you can make, and how long it will take, and whether you can take the survey on a phone or you need your computer. It makes it easy to qucikly decide, if it is a survey you want to participate in.
In my eyes, there is only one minus about M3 Panel as far as a paid survey site goes. That is that you cannot request to be paid in cash. But unlike some other survey sites where that is also the case, at M3 Panel they offer some very good vouchers for supermarkets, and a lot of other shops, that is as good as money. So if you can live with not getting your reward in cash, you should consider this survey site anyway. If you only want to join surveys sites that pay in cash, you can check out my Top 10 survey sites and see which ones are offering this option (most of the sites in my top 10 do).
How do I sign up for M3 Panel?
It only takes a few minutes to sign up. You go to M3 Panel's website, where you can sign up.
If you decide to sign up, you might be interested in reading a few tips and advice I have written below.
Advice and tips for M3 Panel
Use your points in time:
If you have points on your account that are more than 3 years old, they will be deleted. 3 years is a long time, so most people will probably have used the points before. But still nice to know in case you are planning to save up as many points as possible before getting a reward – just remember to get your reward before the points are 3 years old.
Fill out your profile to get more surveys:
When you first sign up, you can take several small profile surveys. It is a very good idea to do these, as it will increase your change of getting matched to a survey. Also they will give you a good amount of points right from the start.
Can be worth it even if you only want cash paid surveys:
M3 Panel does not exchange points into cash. But with the types of vouchers for shops, supermarkets and websites they offer, it is almost the same as cash. So even though you are only interested in surveys that pay cash, M3 Panel can be worth considering.
Do not be inactive more than 2 years:
If your have not taken a survey for 24 months, your account will be closed. I am guessing that if you join, it is because you are planning to be active, take surveys and get rewards, but still good to know.
M3 Panel overview
Money/time ratio

Frequency

Usability
Summary
M3 Panel is definitely worth considering joining, if you live in Sweden, Norway, Finland or Denmark, where it is available. It is very user-friendly, you get a pretty good reward for the time spent, and you will never have to attempt a survey without getting a reward for it. It does however not pay out in cash, so if this is what you want, you should check out other survey sites instead.