There are many online reward sites that claim you can join and easily start earning some extra money online for free.
There are so many sites that it can be quite confusing to find out which ones you should join. And one of the many sites you may have encountered is called Yandex Toloka.
But is Toloka legit and a real way to earn, or is it a scam to stay away from?
Let me reveal right away that Toloka is not a scam. It is a legit GPT site that will pay you for completing offers and other activities. However, the big question is if it offers a good way for you to earn extra cash?
Well, to answer that question, we need to take a look at a few things first. This Yandex Toloka review will give you an inside look and show exactly what it offers and what you can expect so you can easily decide if it is worth joining or not for you.
What is Yandex Toloka and what does it offer?
Let's start by going over the name as it can be a bit confusing. The platform used to be called Yandex.Toloka. However, it has since updated its name and website and now it is by most people just simply called Toloka.
However, you will also still sometimes see it called Yandex Toloka, and one of its websites also still has a URL that is toloka.yandex.com. But they now also have another website with the URL toloka.ai.
But no matter which of the websites you are using and which name you hear, it is all the same platform.
It is basically a GPT site that will pay you for completing tasks. Yandex is a Russian multinational corporation that specializes in Internet-related products and services. Think of it as a Russian version of Google.
Toloka is their platform for earning. With Yandex Toloka, you can complete tasks in the web version as well as the mobile app for Android and iOS. So, it's actually a multi-platform online rewards site.
Now, to truly understand how well you can earn from Toloka, we have to take a closer look at the earning opportunities it offers.
I have made a video that will give you an inside look and show exactly how it works and what it offers. You can also read all the details below the video.
Recommended: Check Out the Top GPT Sites
Option 1 – Paid tasks
The main earning opportunity this site offers is paid tasks. The paid tasks they offer are quite different from the tasks you would normally encounter on other GPT sites.
On most GPT sites, paid tasks will usually just ask you to answer surveys, sign up to websites, watch videos, etc.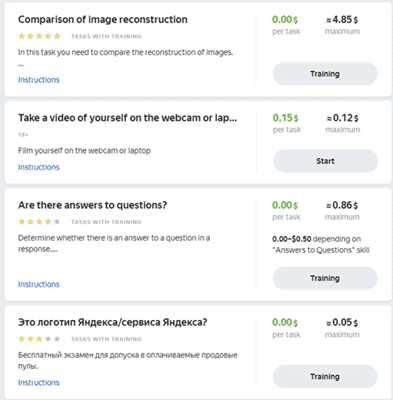 But on Toloka, their paid tasks are rather different. Some tasks will only involve answering questions, while some will ask you to take pictures. Others will ask you to compare images. The tasks will mostly vary depending on who requests them and will mostly be related to the services that Yandex offers.
But apart from the type of tasks, you will be asked to complete, the process for completing tasks and receiving rewards on this site is pretty much the same as other GPT sites. First, log in to the site/app and view all the tasks available.
Look for a task you want to do. When you start a task, you will be given a set of instructions you need to follow. Once you finish the task, you have to submit your work for review. When Toloka finishes checking your work and finds that it meets their requirements, you will receive the reward promised.
That's all you really need to do. The tasks made available to you will mostly depend on your rating and skill level. Your rating is the quality of responses you provide in the tasks combined with the activity you do on the site. So, if you provide good quality responses and you perform tasks frequently, you will have a high rating.
Your skill level, on the other hand, relates to how well you do a task. So, every time you finish a task, Toloka will rate your skill in handling it. Over time, your skill level might increase or decrease depending on how well you do your tasks. I will explain later how these two factors will affect your earnings.
Option 2 – Referral program
Another way you can earn from this site is by inviting other people to join it. This is called a referral program.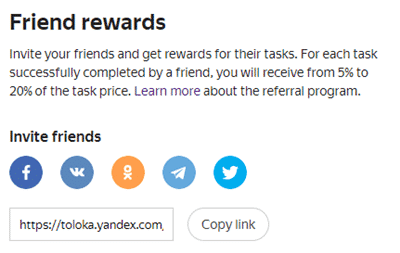 The way their referral program works is when you invite people to join the site and they successfully register as a member, they will become your referral and you can potentially earn a bonus when they earn.
But I must say that the referral program on Toloka is one of the most confusing I have seen so it is not easy to get an overview of how it works.
Toloka has several referral bonus programs and you can earn 5 to 20% of what your invited friends will earn. The caveat is, that the only bonus that will be awarded to you will be the program with the highest reward you get.
Sounds complicated right? Well, it definitely also is. But let me give you a couple of examples so it hopefully becomes clearer.
One of the programs they have is where you will earn 20% of the task rewards if your referral completes field tasks performed in certain cities. This is, however, only relevant if the friends you invite live in certain cities in Belarus, Russia, or Uzbekistan.
If someone you invite instead completes tasks in Vietnamese, you will get $5 once your friend has completed tasks for a total of at least $5.
For all other tasks, you will get 5%-10% of the amount earned by your friend. The percent will depend on the total amount of bonuses you received over the past year:
5% if your bonus amount for the year is less than $10
7% if your bonus amount for the year is less than $100
10% if your bonus amount for the year is more than $100
Also, be aware that you will only get these bonuses in the first month after your friend registers for Toloka. This seriously limits the earning potential.
Normally, other GPT sites just award you with a fixed referral bonus or a fixed percentage of what your referral will earn and you will get it for life.
So it is not a great referral program, in my opinion, and it is very confusing compared to any other referral program I have seen.
This does not mean you cannot earn extra cash by inviting friends because you definitely can. And if you invite people that are very active and live in specific cities or do tasks in Vietnamese it can, in particular, give some nice extra earnings.
Recommended: Check Out the Top GPT Sites
How do you get paid?
Every task you complete on Toloka or every referral bonus you receive will be in US dollars. They don't use a point system like some other GPT sites, so it's very easy to figure out how much you've earned. You don't have to mentally convert your points.

To withdraw your earnings, you have 4 options (refer to the photo above). You can either choose to withdraw your earnings via PayPal, Skrill, or Payoneer.
If you live in Turkey, you can also choose to withdraw your earnings via Papara. If you live in Russia, you can withdraw your earnings to your phone but only if you are using any of these networks: Beeline, MegaFon, MTS, or Tele2.
Take note that you can add only one account of each type. So, make sure the account you will be adding will be the final account you will be using. For PayPal, you can withdraw at least $0.02 once a week. The next succeeding withdrawals within the week will have to be at least $1.
For Skrill, it will be $1 for your first withdrawal of the week and $5 for the succeeding withdrawals within the week. As for Payoneer, you will need to earn $20 before you can withdraw your earnings. Each payment method will also have a processing fee involved which will be deducted from the amount you will withdraw.
So, as you can see, their payment process is a bit convoluted but I do like the fact they offer PayPal as a payment option because, in my opinion, this is the most convenient and most used payment method today.
If you are interested in more sites that pay via PayPal, I suggest you check out the top sites that pay via PayPal as well.
How much money can you make?
Now, let's talk about the earning potential of this site. The best way to figure out the earning potential of a site is to take a look at the possible amount you can earn. And with Toloka, since it only has two earning opportunities offered, the amount you can earn will mostly depend on how well they pay and how many tasks will be made available for you.
Unfortunately, you don't have any control over what tasks will be made available to you. Task availability will mostly be based on your location.
As for the amount you can earn from each task, most of them will pay around $0.10 to $1 at most. It's a fairly decent rate, in my opinion, but it's also not that high. So, if you want to earn a significant amount, you will have to do a lot of tasks.
There are also a lot of tasks that won't pay you anything but these tasks are like training tasks you can do to increase your rating and skill level. Remember I mentioned these two earlier? Well, this is actually how you will be able to maximize your earnings from the site.
If your rating is high, you get paid more for each task you complete. If your skill level is high, you get qualified for more tasks. So, by keeping these two high, you are essentially increasing your chances of earning more from the site.
That's why you have to make sure that you do your best work on every task you do. But overall, I would still say this site doesn't have a high earning potential.
But if you are patient and willing to put in some effort to earn a bit extra on the side, then it can be an option. Just don't expect to earn too much.
Can you use it on mobile?
As mentioned at the start of this review, Toloka is a multi-platform online rewards site. That means aside from it being available for laptops and desktops, you can also complete tasks on a mobile device since it has an app you can download.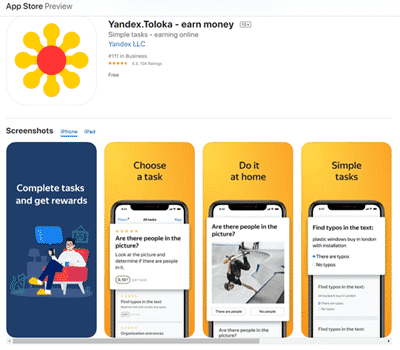 Their app is available for download on both Android and iOS app stores. Plus, it's also user-friendly, which makes it easier for you to earn without sitting in front of a computer.
This can also help alleviate the low earning potential of the site since you can just earn anytime and anywhere.
Who can join Yandex Toloka?
The site is available globally. So, you will be able to sign up as a member regardless of where you live.
You also have to be at least 18 years of age to be eligible. To become a member, first, you need to fill out their sign-up form (refer to photo below).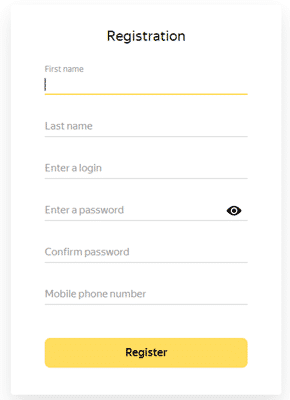 As you can see, when you sign up, you will be asked to provide your mobile number. This will be needed later on to confirm your registration. Once you've completed the sign-up form, you will then have to complete your Yandex account.
If you notice on the photo above, the sign-up form won't ask you for your email address, that's because when you sign up to the Toloka platform, you will also be signing up for a Yandex account. The username you will provide will also become your Yandex email address.

To complete your Yandex account, you will have to provide a backup email (your regular email address). Once you have finished all of that, you can then log in to the Toloka platform and start performing tasks.
Can you get support?
A good thing about Toloka is they have a pretty comprehensive FAQ section. You will be able to find the answers to the most common questions or issues you encounter on the site. They also provide troubleshooting tips, which can be very useful when trying to resolve any issue on your own.
However, if you can't find the answers you are looking for on their Help/FAQ page, you can get in touch with their support team through their contact form. The contact form on their website is hidden. There are certain questions on their FAQ page that will allow you to get to the contact form.
What they are trying to do is try to make you find the info yourself and only show the form in the places where it really is necessary It seems. But if you are using the app, you can easily find the contact form.  
That is the only downside to their otherwise good support system. But overall, I would still say they provide good support for their members.
Final Verdict
Yandex Toloka is legit and is a real GPT site that pays you for performing tasks. It has a couple of good features to offer but it also has its limitations.
So, let me wrap up this review with a summary of its pros and cons to help you decide if this is a site you should sign up for or not.

Pros:
Low payout threshold for some payment options
Offers payment via PayPal
Has a user-friendly mobile app
Quite a lot of available tasks (depending on your country)

Cons:
Low rewards
Complicated payment system
Complicated referral program
In my opinion, if you are looking for extra secondary sites to earn from, Toloka can be a viable choice. It has a low payout threshold and offers convenient payment methods and it offers earning methods you cannot find on other GPT sites.
However, don't expect to earn a lot from it because the rewards aren't that high. Their mobile app does, however, help make you become a more efficient earner.
But if you are looking for primary sites to earn from, I would highly suggest you check out the top GPT sites instead. The sites on this list offer multiple earning opportunities and also have good earning potential. Plus, you will also be able to find a site you can join regardless of where you live.
If you have any comments, questions, or have any experiences with Yandex Toloka yourself, I would love to hear from you in a comment below.