AAMusic is an app that claims you will be able to earn by simply listening to songs from your favorite music streaming platforms. So, if you already use a popular music streaming platform, then you might be thinking about downloading this app.
However, I would suggest you hold your horses for a bit. It is important to know you are not heading into a trap. So, first of all, is AAMusic legit or is it another scam?
This AAMusic app review will look into the legitimacy of the app as well as examine if this app is really worth using or not. After all, the goal here is to find an app that is not only legit but that will also allow you to earn a decent amount in a short amount of time.
This review will examine everything the app has to offer so you'll know exactly what to expect before you even hit the sign-up button. That way, you can decide if it is really something you should invest your time into or not.
What is AAMusic and what does it offer?
At its core, AAMusic is a Get-Paid-To (GPT) app that will pay you for listening to new songs. It is indeed a legit app because you will really earn from it. And later on, I will discuss how you get paid.
But for now, let's take a closer look at how you will be able to earn from this app so you will have a better understanding of how it works and how well you can earn from it.
Here is a video I made that gives you an inside look and shows the the earning opportunities AAMusic offers. You can also read all the details below the video:
Option 1 – Streaming music
The main earning opportunity of AAMusic is by streaming music from popular music streaming services like Spotify, Apply Music, Napster, and more. Once you finish installing the app, you can log in and start earning.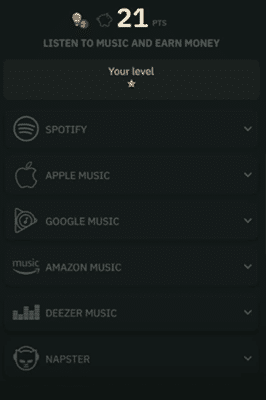 All you have to do is choose a music streaming platform to use and press it. You will then be asked what kind of genre you want to listen. Choose which one you prefer and hit the "Open our playlist" button.
Now, keep in mind that you have to install the music streaming app you will be using on your mobile device as well. So, make sure to do that first before you start using AAMusic.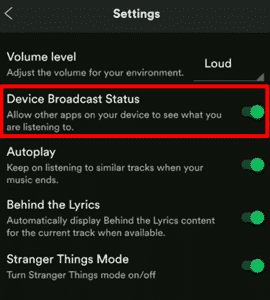 One thing you need to keep in mind is, you have to set your music streaming app to allow other apps to see what you are listening to (refer to photo above). All the music streaming apps offered on AAMusic have this kind of setting, so make sure to enable it so you will be able to earn.
Once you've done everything that needs to be done, you can just sit back and listen to the playlist. You can then go back to the AAMusic app to view the points you've earned. For every minute you are listening to the playlist, you will earn points. Later I will explain more about how much you can earn.
As for how the app is able to pay you for listening to music, while they don't really exactly explain this and they don't have a site to confirm it (or deny for that matter), it seems like the record label of new up-and-coming artists (or even the artists themselves) pay AAMusic to increase the number of plays for their songs. AAMusic, in turn, creates playlists of these songs for you to listen to.
Option 2 – Referral program
Another way you can earn points from AAMusic is by inviting other people to use the app through their referral program. All you have to do is share your invite code with the person you want to invite and make sure to remind them to input the code during sign-up.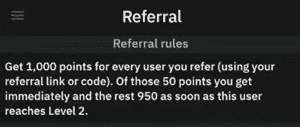 Once they've installed the app and finished the sign-up process using your code, they will become your referral. You will then receive 50 points immediately and you will receive an additional 950 points when your referral reaches level 2 in their account.
To do that, they just have to keep listening to songs using the app and they will eventually level up. I will explain later how levelling up your account impacts your earnings.
Recommended: Check Out the Top GPT Sites
How do you get paid?
As explained above, you will earn points for every minute you listen to their playlists. You can then convert the points you've earned into cash, cryptocurrency, or a gift card.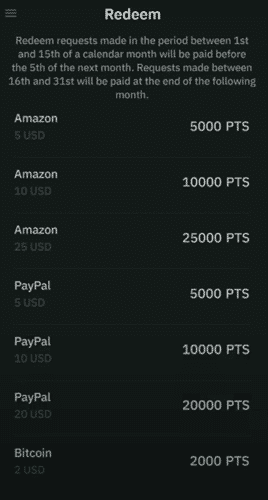 If you wish to convert your earnings to cash, you can withdraw via PayPal once you've earned at least 5,000 points. That will be worth $5. So, the threshold is quite low if you want to receive cash.
If you prefer cryptocurrency, you can convert your points to Bitcoin once you've earned 2,000 points ($2).
So, the threshold is actually lower if you want to convert your points to Bitcoin. For gift cards, the only gift card you can redeem is an Amazon gift card. Just like PayPal withdrawals, you will also need to earn at least 5,000 points ($5) to redeem an Amazon gift card.
As for when they pay you, they pay 60 days after the end of a month. Of course, that is assuming you reached the threshold for that payment method during that time. It's definitely a long wait, which isn't good, in my opinion.
If you prefer platforms that pay rather quickly, I recommend you check out the top sites that pay you in Bitcoin.
How much money can you make?
The amount you can earn from AAMusic will depend on how often you listen to their playlists. Also, users from the US, Canada, Europe, and Australia, in general, earns more than users in other countries. But as your level progresses, you will earn more per minute.
And in order to level up, you have to unlock achievements or milestones. To view the things you need to do to unlock these achievements/milestones, just go to the Achievements section of the app.
Think of this level-up system as a loyalty program that will give benefits the longer you keep using the app. It's also quite smart for them to apply this kind of system because it helps keep members interested in using AAMusic.
But overall, I would still say the earning potential of this app is really quite low especially since there is a time limit per day per streaming service you use. So, even though you can let the app run on multiple devices using the same account, you still won't be able to earn more because of the time limit imposed.
All you will really be doing if you use multiple devices for one account is decreasing the time it takes to consume the maximum time you can stream their playlists.
Another reason why it has low earning potential is, you will only start to earn decent money once you get to the higher levels since the money-to-time ratio will be a bit better.
But to do that, you will have to invest a lot of time. The real value this app offers is, it provides music lovers with a way to discover new songs. You can just think of the earnings as a bonus.
Can you use it on a desktop?
AAMusic is a mobile-only platform. So, you will need to use a mobile device to earn from it. And based on how you will be able to earn from this app, you will really want to use it on a mobile device so you can maximize your earnings since you will be able to earn anytime and anywhere.
Now, if you use an iOS mobile device, then, unfortunately, this app is not for you because AAMusic will only work with Android devices. I would instead suggest you use Current if you want to earn by listening to music.
As for the app, it's quite user-friendly and it's not spammy. So, it's pretty easy and convenient to use.
Who can join AAMusic?
The app says it is available worldwide. But if you look at their app page on Google Play, it says it is available in many countries. And upon testing and getting feedback from people all over the world, I found that it isn't really available worldwide. So, the contradicting information can cause a bit of confusion.
So, just to be clear, it isn't available worldwide. But they are not clear about exactly which countries it is available in. The best way to find out if it is available in your country is to search for it in the Android app store. If it is in the search results, then it's available in your country.
If it isn't, you can download their APK installer instead and install it manually. However, I don't really recommend you use this approach because if there are any major updates to the app, which will certainly happen sooner or later, then your app will stop working unless you download a new and updated APK and that can take quite some time.
So, I would only recommend you use AAMusic if it is available in your country. One thing to note about AAMusic is, you can use several devices with the same account at the same time so you can earn more. So, it's not a very restrictive app, which is good.
Can you get support?
If you have any questions about the app, they don't have a site you can refer to. But, their app has a FAQ page you can check out. It discusses the basic topics you need to know about the app.
If you can't find the answers you are looking for, you can contact their support team through the Contact Us section of the app.
Overall, I would say the app has a decent support system in place since they offer a way for you to communicate with their support team. But I do wish they had a website to help explain the app and what it does.
Final Verdict
AAMusic is a GPT app that will pay you for listening to their playlists on different music streaming apps. It has a couple of good features but it also has certain limitations you need to consider.
So, let me end this review with a summary of its pros and cons to give you a better overview of what the app has to offer. Then, you can make an informed decision on whether this app is the right fit for you or not.

Pros:
Offers a fun and interesting way to earn
Has a low payout threshold
Offers payment via PayPal

Cons:
Limited earning opportunities offered
Low rewards
Slow payment processing
If you are looking for an app that will allow you to earn a decent amount without having to invest a lot of time, then this app is definitely not for you. While it offers a fun and interesting way to earn, its lack of earning opportunities and low rewards offered means it will not be an ideal app to earn from.
However, if you are just looking for an app that will allow you to enjoy music and you don't care about how much you can earn, then it can be a decent option. That is, of course, if you are using an Android device.
You will be introduced to a lot of new songs when you use this app. Just think of the earnings as a bonus for using their app.
Now, if you are purely looking to earn extra cash, I would recommend you check out the top survey and GPT sites in your country instead. The sites and apps on this list all have good earning potential and most of them offer multiple earning opportunities so you can earn a decent amount on a regular basis.
Plus, you will definitely find a site or app you can join regardless of where you live.
If you have any comments, questions, or have any experiences with AAMusic yourself, I would love to hear from you in a comment below.