AdWallet is a site that promises to pay you for watching ads. Sounds simple enough, right?
Well, before you sign up for this site, you have to verify if it is legit or just a scam. After all, you don't want to waste your time on a site that, in the end, will not pay you for your time.
Aside from verifying if it is legit or not, you also have to make sure if it is a site worth joining or not.
This AdWallet review will do both of the things mentioned above. It will reveal all the details you need to know about the site so you exactly what to expect and can determine if it is really worth using or not.
What is AdWallet and what does it offer?
At its core, AdWallet is Get-Paid-To (GPT) site that will pay you for watching ads and doing other activities. It is indeed a legit site.
So, you will get paid, provided you reach their threshold (which I will talk about later).
Here's a short video explaining what AdWallet is all about.
Now, to truly comprehend how this site works and how well you can earn from it, we have to take a closer look at the earning opportunities it offers.
So, here's how you can earn from AdWallet.
Option 1 – Watching ads
The main earning opportunity of AdWallet is their ads. As stated on their homepage, to earn, you simply have to watch ads. Yes, that means you have to watch video ads.
There are two ways you can watch an ad on AdWallet. First, you can log in to their site and view all the available ads you can watch. The other method is by clicking the link in the text message that will be sent to you by AdWallet.
Whenever there's an ad you can watch, AdWallet will actually send you a text message with a link to watch the ad. So, just click the link and watch the ad. You will then have to answer a few short questions. This is done to make sure you paid attention to the ad you were watching.
Once you finish answering the questions, you will then earn $0.50. This will be the fixed amount you will earn per ad you view regardless of how long the ad is. But you can actually earn more if the ad will ask you to do other stuff like share it on a social media platform like Facebook or Twitter.
You can earn $0.25 more by sharing the ad on Facebook or Twitter. Take note, you don't have to share it on both platforms to earn the reward. You can just choose one.
Some ads will also show you offers you can take advantage of – but this is not a requirement.
Overall, it's really a very simple way to earn. You just have to make sure you pay attention to the ad you are watching so you can answer the following questions.
Option 2 – Referral program
The other way you can earn from AdWallet is by inviting other people to join the site. This is called a referral program.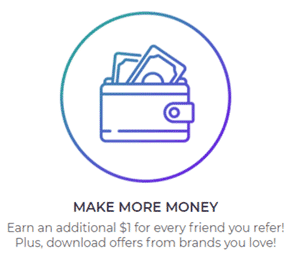 To earn from their referral program, just share your invite link with the person you want to invite. Once the person you invited signs up to the site, you will earn $1. At least that's what they claim.
But in my experience, your referral usually has to be active on the site before you will receive your referral reward.
Recommended: Check Out the Top GPT Sites
How do you get paid?
As already mentioned, you earn $0.5 for every ad you watch. This, in my opinion, is a more convenient reward system because you won't have to mentally convert your rewards to cash like you have to on GPT sites that use a points-system. You will know right away how much you've earned.

Now, in order to withdraw your earnings, you have to reach their $10 threshold (which, in my opinion, is relatively low).
Once you hit the threshold, you can then choose to withdraw your earnings via direct bank transfer or you can convert it to Amazon or Target gift cards. You can also just donate your earnings to charity.
I like the fact that you can withdraw your earnings directly to your bank account. This, in my opinion, is one of the most convenient payment options.
If you are interested in more sites that allow bank transfer withdrawals, I recommend you also check out the top sites that pay via direct bank transfer.
How much money can you make?
In my opinion, the earning potential of AdWallet isn't really that good. The reason for this is, they don't offer any other earning opportunity aside from the two mentioned earlier.
If there aren't any available ads to watch, you won't earn anything unless you spend time inviting people to join the site.
Usually, you might only receive one to three ads per month. And in some cases, even fewer.
So, you can't really expect to earn a lot from it. So, their relatively low payout threshold won't really be that beneficial since you will still have to wait a long time before you can earn enough to get paid.
The only upside, in my opinion, is that it offers a very simple and effortless way to earn. So, you don't really have to spend a lot of time on the site.
Can you use it on mobile?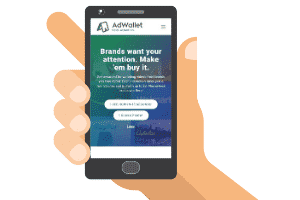 They used to have a mobile app you could download, but at the time of writing this review, their app isn't available anymore.
They explain this in their FAQ section. They say that "apps published on both Apple and Android platforms require developers to in many cases provide these companies access to your personal data."
Because of this, AdWallet has chosen to be a web-based platform. The good news is, their site is mobile-friendly. So, you won't have a hard time navigating through their site and reading all the content. The links are also very easy to tap.
And as you already know, if there are available ads to watch, you will immediately receive a text message with a link to watch the ad. So, you don't actually need to be in front of a computer to earn from it.
You can simply click the link in the text and watch the ad. Just make sure you have a stable connection on your mobile phone so you can watch the videos properly.
Who can join AdWallet?
AdWallet is only available in the US. So, if you live somewhere else, then this site is not for you. You also have to be at least 13 years of age to register as a member.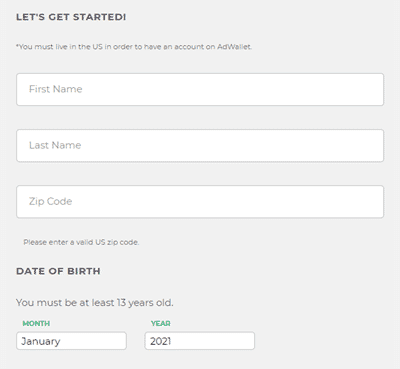 To become a member, you will have to fill out their sign-up form. You will have to provide your mobile number to complete the registration.
This has to be a legit mobile number because in order to complete the registration, you will have to click on the link that they will send to the number you provide.
So, if you are not comfortable sharing your mobile number, then this site is not for you. There's no way around it. If you want to be a member, you have to provide your mobile number.
Can you get support?
You can check the FAQ section on their homepage if you have any questions about the site. But I doubt that it would be of any help since it only discusses a few of the basic topics.
So, if you have any inquiries, you will have to send it to their support team using the contact form provided on their website. Overall, I would say their site has a decent support system in place since you can get in touch with their support team easily.
Final Verdict
AdWallet is a legit GPT site that will pay you for watching video ads. It has a couple of good features to offer but it also has certain limitations you need to be aware of.
So, let's conclude this review with a summary of its pros and cons to help you on your decision on whether this site is truly worth joining or not.

Pros:
Offers a very simple way to earn
Their site is very user-friendly
Has a relatively low payout threshold

Cons:
Limited earning opportunities offered
Low rewards
If you are looking for a primary site to earn extra cash from, AdWallet is not the most ideal site to join. You simply won't earn a lot from this site because of the limited earning opportunities it offers.
However, in my opinion, it can serve as a decent secondary site to join to supplement what you can earn from your main sites. The reason for this is, you don't actually have to spend a lot of time on this site to earn. You can simply go in, watch ads, and log out if there aren't any more ads to watch. So, it only takes more or less 5 minutes to complete.
Now, if you are looking for primary sites to earn from, I would instead suggest you check out the top survey and GPT sites in your country. The sites on this list all have good earning potential and most of them will allow you to earn on a regular basis.
Plus, you will definitely find a site you can join regardless of where you live.
If you have any comments, questions, or have any experiences with AdWallet yourself, I would love to hear from you in a comment below.