Many people have asked me about a platform called Audius, so I decided to check it out for myself. In case you don't know, Audius is a platform that claims you'll be able to earn crypto for uploading or listening to music.
It's certainly a unique way to earn, and since I'm always on the lookout for new ways to earn online, I decided to test this platform to find out what it has to offer.
In this Audius review, I will reveal everything the platform offers, so you will know exactly what to expect from it.
That way, you will be able to know if this platform is legit or if it is a scam. I'll also explain the pros and cons of the platform to help you in deciding if it is really a platform worth joining or not.
What is Audius and what does it offer?
Audius is a music streaming platform that was developed to help musicians, especially those that are not signed to a label, promote their music. That being said, you can still join this site even if you are not a musician because you can still earn without actually making your own music.
And yes, it is indeed a legit platform because you will really get paid to participate in the earning opportunities it offers or upload your own music.
So, how does this platform work exactly?
To understand how you can earn from it, we have to take a closer look at the earning opportunities it offers.
For that, I have made a video that gives you an inside look and shows exactly how Audius works. You can also read all the details below the video.
Recommended: Check Out the Best Passive Income Apps
Option 1 – Completing tasks
Just to be clear, I will be focusing more on the opportunities provided for regular members to stay in line with the goal of finding ways to earn extra cash online.
The primary way to earn from Audius is to complete short tasks. When you log in to the member dashboard of Audius, you can view the available tasks by clicking on the "Earn $Audio" button on the left side of the dashboard.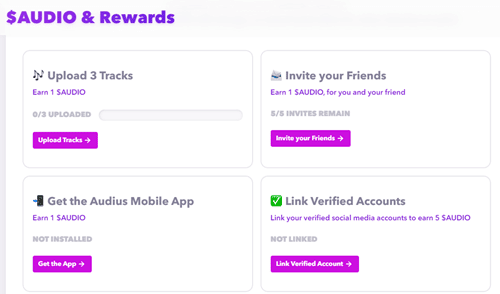 There aren't many tasks available, so don't expect to earn a lot from this opportunity. As you can see in the photo above, the tasks are very simple. One task will ask you to invite people to join Audius, and another will reward you just for completing your profile.
Once you meet all the requirements for the task, the reward will be credited to your account balance. And just to be clear, you will earn Audius tokens which are called $Audio.
Just be aware that the tasks will vary from time to time, and new tasks are also added once in a while, but not very often, in my experience.
Option 2 – Playlist contest
Technically speaking, this is not an earning opportunity meant for listeners because these contests are geared towards musicians/creators.
However, I decided to include this as a way for you, the listener, to support your favorite musicians/creators on the platform.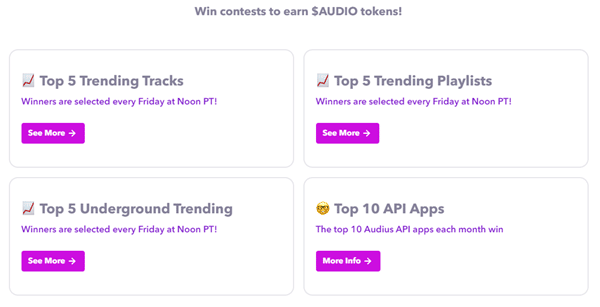 You see, Audius holds various contests at any given time. These contests will reward the most popular creators/musicians every week.
Your part as a listener will be to just consume the content these creators/musicians upload on the platform. In other words, all you have to do is listen to the music of your favorite musicians on the platform. At the end of every week, the top musicians/creators will receive 100 $Audio.
Recommended: Check Out the Best Passive Income Apps
How do you get paid?
As explained above, you will earn crypto, specifically Audius tokens, for every task you successfully complete. These tokens have monetary value already since they are currently being traded.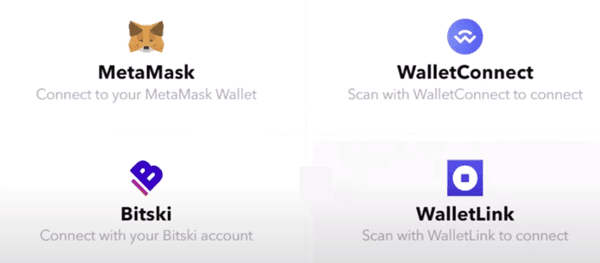 And since you'll be dealing with crypto, it goes without saying that you'll need a crypto wallet to take out your earnings. The photo above shows the crypto wallets that Audius supports.
I personally use MetaMask because it's a very beginner-friendly crypto wallet, and it is one of the more popular crypto wallets around. When you become a member of Audius, you'll have to link your crypto wallet (any of the four shown in the photo above).
When you've linked your crypto wallet, whenever you will earn Audius tokens, it will automatically show up in your chosen crypto wallet. Now, if you want to convert your Audius tokens to actual money, you'll have to transfer them to a crypto trading platform like Binance.
Overall, I would say the payment system is relatively straightforward, especially if you are used to dealing with cryptocurrencies already. If you are new to crypto, it can take a bit of time to get used to the transactions you have to do.
One thing I would say, though, is that the Audius token is a relatively new cryptocurrency, so it's not considered one of the stablecoins. If you prefer to earn crypto that's more stable (in terms of monetary value), I would recommend you check out the best sites that pay in Bitcoin instead.
How much money can you make?
As mentioned earlier, there aren't a lot of tasks available for you to earn Audius tokens. Once you've finished the first wave of tasks, you won't earn anything for a while. But from time to time, Audius does add a few tasks so that you can earn more.
That's why I would say the earning potential of this platform is very low. However, the value this platform offers isn't really a way for you to earn. In my opinion, this platform is a good way for you to discover new music.
So, I would only recommend you join this site if you really love to listen to music and are looking for new artists to listen to. If you are just looking to earn, you are better off joining other platforms where there are more opportunities for you to earn crypto or even cash.
Can you use it on mobile?
Audius has a mobile app you can download to stream music from your mobile device. The app is available for both Android and iOS devices.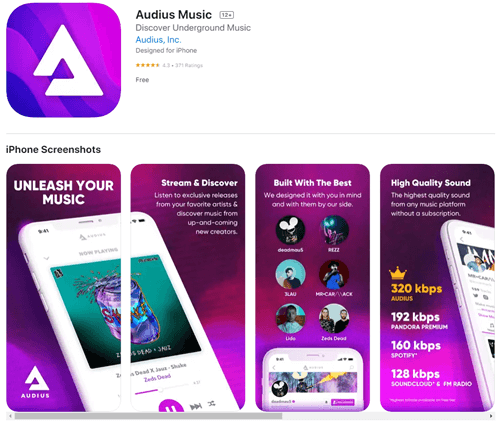 It is very user-friendly, and you will not encounter any annoying pop-up ads while using it, which is all you really want from a mobile app, in my opinion. The overall user experience it offers is relatively good. I would even recommend you install it so you can stream music from your mobile device.
Who can join Audius?
Audius is available more or less worldwide. Just be aware that it may not be available in countries where there are local crypto restrictions. So, just make sure to keep that in mind before you decide to use it.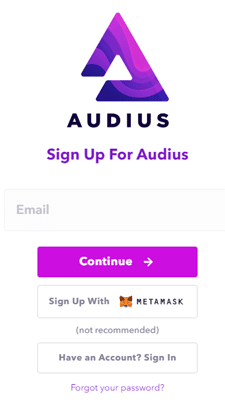 The sign-up process is very straightforward. You can register using your email, or you can also use your crypto wallet (any of the four crypto wallets it supports) to sign in.
Once you are logged in to the site, you have to complete the registration by verifying your account. This is also one of the tasks you can complete to earn, so I suggest you do this first before doing anything else.
Can you get support?
Audius doesn't have a FAQ page or even a support page you can refer to if you have any questions about the platform or your account. However, it has a Discord server you can join so you can interact with any of its representatives. You can use this platform to resolve any questions or inquiries you might have.
Overall, I would say Audius has a decent support system for its members since it offers a convenient way for you to communicate with their team. I just wish they would also provide a FAQ or even a support page to reduce the instances of you needing to talk to a representative.
Final Verdict
Audius is a legit music streaming platform where you can sometimes earn crypto for completing short tasks. It has a couple of good features, but it also has a few limitations you need to consider.
Let me finish this review by summarizing its pros and cons to give you an overview of what the platform offers. Then, you can decide if you should go for it or not.

Pros:
The app is user-friendly
Offers an interesting way to earn crypto

Cons:
Very limited earning opportunities offered
Doesn't offer cash rewards
In my opinion, if you are mainly just looking to earn crypto or even extra cash, Audius is not a good option. That's because this platform offers very limited earning opportunities. You will not be able to earn a significant amount from it.
I would only recommend you join this platform if you love listening to music because this is the real value this platform offers. If you just want to earn, I would instead recommend you check out the top survey and GPT sites in your country.
The sites on this list all have good earning potential, so you'll be able to earn on a regular basis. Plus, most of these sites offer cash rewards as well.
If you have any comments, or questions, or have any experience with Audius yourself, I would love to hear from you in a comment below.