Axion Data Entry Services is a site where you can find data entry work. So, if you are looking to earn extra cash, you might want to consider this site.
However, before you go ahead and sign up, I suggest you pause for a bit and read this Axion Data Entry Services review first.
This review will give you an inside look and will show what the site has to offer so you will know exactly what to expect from it. Then, you can make an informed decision on whether it is really a site worth joining or not.
And I do have to say that there are a few things you need to know about this site. So, let's go ahead and get this review started, shall we?
What is Axion Data Entry Services, and what does it offer?
As you can probably tell from the name of the site, Axion Data Entry Services is a website that specializes in providing data entry services to its clients. But to earn from this site, you will have to become one of their independent contractors and land a job.
Now, to fully understand how to earn from this site, we must take a closer look at the earning opportunity it offers. By doing so, you will be able to gauge the amount of time and effort needed to earn from it. So, here's how to earn from Axion Data Entry Services.
The earning opportunity – Data Entry Projects
The only way to earn from Axion is by working on data entry jobs offered by Axion. To do so, you have to first apply as a data entry operator.
As a data entry operator, your responsibilities are as follows:
Enter data from various sources into the Axion database and/or client portals within project time limits
Ensure appropriate turnaround time on all data entry
Transcribe information into the required electronic format
Review and enter data in the appropriate format
Proactively verify data for accuracy and correct data where necessary
Comply with security backups and regular information security checkups to ensure the safety of the database
Comply with data integrity and security policies
Communicate effectively with project managers as needed
If you get accepted as a data entry operator, you will be able to specify your own work schedule, which makes it a flexible job option.
Then, Axion will assign projects to you from time to time. You will receive an email if there are projects available for you. All you have to do is complete the project before the deadline to get paid.
Most projects will involve filling out forms, which will usually only take a couple of minutes to do. However, from time to time, you will be offered projects that will ask you to fill out forms that can take up to an hour to finish. For this kind of project, you will be paid a higher rate.
For short forms, the rate will usually be around $0.05 to $0.10 per form. For the longer forms, the rate can be anywhere from $5 to $9. Of course, the latter are few and far between, so don't expect to work on those forms a lot.
Recommended: Check Out the Best Data Entry Sites in Your Country
How do you get paid?
You will be paid a flat rate for every project you work on. As explained above, the amount that Axion will pay you will depend on the type of forms used for the project.
Now, you'll be responsible for tracking how many forms you've submitted to the Axion database. When the project is completed, you will have to send the invoice to Axion for how much you will receive for completing it.
Axion will review the invoice, and if everything checks out, the earnings will be credited to your account.
Now, for your first cash out, you will have to wait approximately six weeks before you will receive your earnings.
Normally, Axion will pay you every two weeks via direct bank transfer, but there will be a 28-day waiting period to receive your first payment as per the rules stated by the site.
Once you've made your first cashout, you'll receive your pay every two weeks, provided, of course, you've earned something within that 2-week span.
Overall, I would say the payment system of Axion Data Entry Services is relatively straightforward. I like the fact that you don't need to reach a threshold to get receive your earnings. I also like the fact that it offers a convenient payment method like a direct bank transfer.
If you are interested in more sites that offer a convenient payment method, I recommend you check out the top sites that pay via direct bank transfer as well.
How much money can you make?
The amount you can earn from Axion Data Entry Services will mostly depend on how many projects you can complete. And unfortunately, you don't really have any control over how many projects will be sent your way.
The rates that Axion offers are relatively decent, which is what you can expect from data entry jobs. Now, from what I can gather, there aren't a lot of projects available. So you can't really expect to earn regularly from this site.
This is why I would say the earning potential of Axion Data Entry Services is not that good. Plus, there's no guarantee you will be assigned projects on a regular basis.
Can you use it on mobile?
When you work on projects, you will need to use a laptop or a desktop to fill out the forms. While it is certainly possible to do the work on your mobile device, you will be less efficient and prone to typing errors, which are the two most important aspects of data entry work.
You have to be efficient and accurate when typing in the data. So to answer the question above, NO, you can't. But you will still be able to access the website conveniently from a mobile device since it is optimized for mobile use.
Who can join Axion Data Entry Services?
While you may be able to apply as a data entry operator regardless of where you live, Axion will only accept applicants who live in the US. So, if you are not a US resident, then this site is not for you.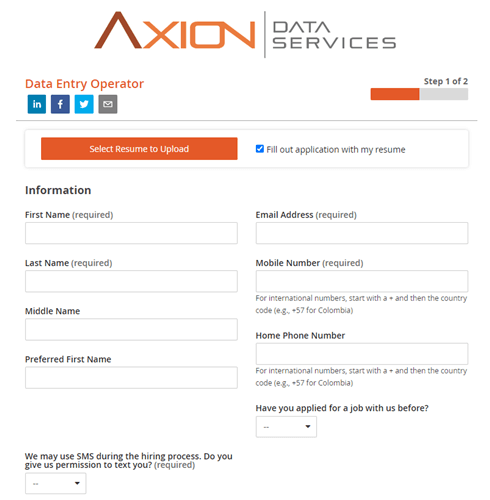 As mentioned earlier, you will first have to apply as a data entry operator. During the application, you will be asked to fill out a form, and you also have to submit your resume.
Once you submit your application, Axion will review it. However, they aren't always accepting new applicants, so most of the time, applicants will be placed on a waiting list. Now, here's the important thing you need to remember.
For you to be placed on their waiting list, you will need to pay a fee of $5 to $10, depending on how long you wish to be placed on the waiting list. This is the first time I've actually encountered a site that will ask you to pay a fee to be placed on a waiting list, so I was quite surprised.
Personally, I wouldn't pay for something like this, but the site says this is their way of deterring scammers from joining their platform. They want to make sure that the only people who will be joining their team are those that are really serious about working for them.
If you get accepted, you will also have to go through criminal background investigation as well. You need to allow them to do this if you want to start earning as a data entry operator.
Can you get support?
The site doesn't have a lot of information about working as a data entry operator. Most of the information shown is for clients who are interested in data entry services. The site does have a FAQ section, but it only discusses a few basic topics, which aren't very helpful.
So if you have a question about your account or the site in general, you will have to speak to their support department directly. The problem is that their site only shows contact information for clients and not for contractors, so I'm not exactly sure how you will be able to contact their support team.
I also couldn't find any support information online. That is why I would say the site doesn't provide good support for its members since they don't provide an accessible way for you to get in touch with its support team.
Final Verdict
Axion Data Entry Services is a legit site that will pay you for working on data entry projects. It has a couple of decent features, but there are a few limitations you need to consider.
Let me finish this review by summarizing its pros and cons to give you an exact overview of what the site offers. Then, you can decide if this is the right opportunity for you or not.

Pros:
Offers a convenient payment method
No payout threshold

Cons:
Limited earning opportunities offered
Very long registration process
You have to pay a fee to be included on their waiting list during registration
Contact information is not easily accessible
Axion Data Entry Services isn't a bad site to earn extra cash from. However, it also doesn't offer any good reason for you to go for it. There aren't a lot of projects to work on, so you won't be able to earn on a regular basis.
Plus, it doesn't help that you have to go through hoops and pay a fee just to be considered as one of their contractors. This is why if you are looking to earn from data entry work, I suggest you check out the best data entry sites to earn extra cash from.
Or you can also just go for easier ways to earn. If you prefer a simpler way to earn extra cash, I recommend you check out the top survey and GPT sites in your country instead. The sites on this list all have good earning potential, so you will be able to earn a decent amount in no time.
Plus, you will definitely find a site you can join regardless of where you live.
If you have any comments, questions, or have any experience with Axion Data Entry Services yourself, I would love to hear from you in a comment below.