Are you looking for a site you can use to earn a bit of extra money? Or perhaps you've already encountered a site called BeerSurveys and are wondering if BeerSurveys is a scam? Either way, this article will be able to help you out.
BeerSurveys is a site that promises to pay you for completing offers and other activities. The good thing about this site is it is indeed a legit site. It does what it promises to do.
However, this doesn't necessarily mean BeerSurveys is a good site to join if you want to earn money. To figure out that, we have to first consider a couple of things.
This BeerSurveys review will reveal all the details you need to know about this platform so you can make an informed decision on whether you should join this site or not.
What is BeerSurveys and what does it offer?
BeerSurveys is a Get-Paid-To (GPT) site that will reward you for completing offers among other things. It is owned by the popular online rewards forum BeerMoneyForum.com or BMF as they like to be called.
BMF thought it is was time to build a survey site with lots of ways to earn cash. On this site, they say most of the revenue goes to members and they take a small cut to maintain the website.
I have made a detailed video and tutorial giving you an inside look so you can see exactly how it works. You can also read all the details below the video:
Now, to truly understand how well you can earn from BeerSurveys, we have to take a closer look at the earning opportunities it offers.
That way, you can get a clear understanding of how the site works as well. So, here's how you can earn from this site.
Option 1 – Tasks
One way you can earn rewards on BeerSurveys is by completing short tasks. When you log in to the site, just go to Earn panel and you will immediately see all the tasks you can do.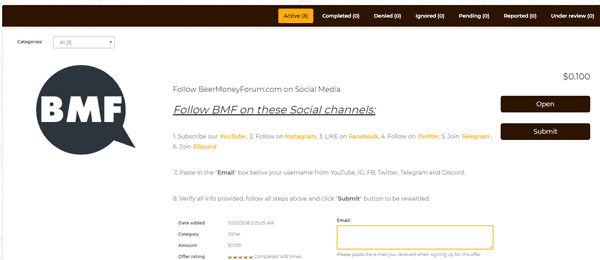 Every task will display the instructions you need to do. So, make sure to read the instructions carefully because if you miss a step, you will wind up not completing it and you won't earn the reward. Every task will also tell you how much you will earn.
This makes it easier for you to prioritize which tasks to do if you are in a hurry. When you do the task, make sure to click the submit button once you've provided all the necessary details. BeerSurveys will then check your work to see if you qualify for the reward.
If you did the task properly and BeerSurveys approved it, the reward will then be credited to your BeerSurveys account.
At the moment of writing this review, there are, however, not a lot of tasks here. They are mainly just tasks where you can earn a bit by following BMF on different social media sites.
So it is mainly a way for them to grow their following and there will not be a lot of tasks for you to do. But if you would like to get updates from BMF, then why not earn a bit by following them.
Option 2 – Paid offers
Another way you can earn is by completing paid offers. You can access the paid offers by going to the earn panel and clicking on Offer Walls.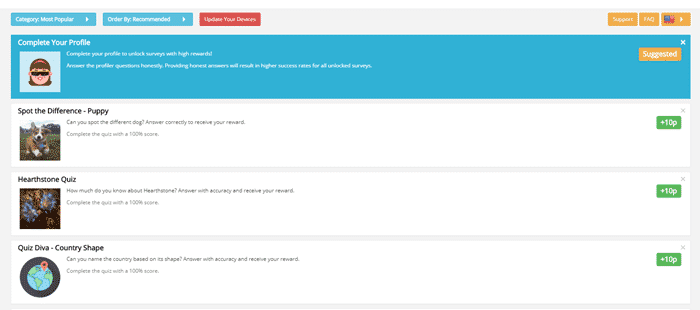 Paid offers are like short tasks in a sense. You will be asked to either answer a survey or quiz, register to a site, download an app/program, play a game, or watch a video. Each offer will have a set of instructions you need to follow just like the tasks offered by BeerSurveys.
The main difference between paid offers and tasks are where it comes from. Tasks will come from BeerSurveys while paid offers will be from popular Offer Walls providers like Peanut Labs, Personaly, Wannads, and a lot more.
Every offer will have a corresponding reward in the form of points (I will discuss later what you can do with the points you will earn). When you complete the offer by following the instructions given, you will receive the points promised.
Option 3 – Referral program
Just like any other GPT site, BeerSurveys also has a referral program where you can earn a commission for inviting people to join. You stand to earn 10% of your referral's earnings as commission and it will be shouldered by BeerSurveys.

To invite a person to join the site, you can share your referral link with them or you can embed your invite banner to your website (if you have one). If you go through the referral link route, make sure to remind the person you are inviting that they should use your link to sign up for the site.
Otherwise, they won't be credited as your referral. As for the referral banner, every person that clicks that banner and successfully signs up to the site will become your direct referral.
The 10% commission you will get is not really a lot. But it is still a nice bonus to have because it will be a form of passive income.
That being said, their referral program will only become advantageous to you if the people you invite are really interested in working on the site.
How do you get paid?
BeerSurveys' reward system is a bit complicated compared to other GPT sites. As you already know, this site has two types of rewards.
One is in the form of points. This is what you will earn from doing paid offers. The other is a specific amount in US dollars, which can be earned from tasks and their referral program.
When you check your account balance, you will notice there will be three types of balance, the main balance, point balance, and commission. Your main balance is the total money you've earned from the site.
Your point balance can be converted into your main balance with a conversion rate of 100 points to $0.1. So, the way it works is, when you earn points, you have to transfer it to your main balance so you can withdraw it.
Your main balance will be the sum of everything you've earned including the amount you've transferred from your point balance. The commission, on the other hand, will be directly reflected in your main balance.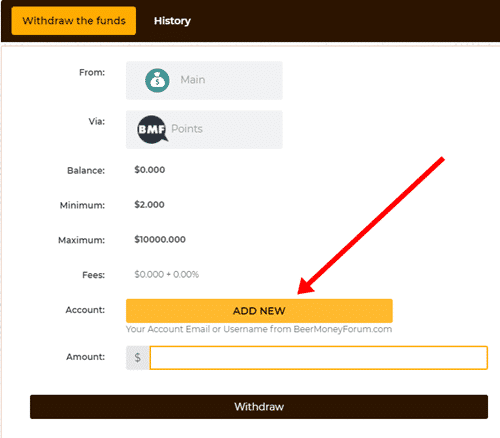 Now, once you've earned at least $2 in your main balance, you can withdraw it to your BMF account in the form of BMF tokens. This is the currency their forum is using. You can then use those tokens to redeem rewards in their forum.
So, to receive your earnings from this site, you will have to create a BMF account which you will then have to provide in their withdrawal page (refer to the photo above). That's how complicated their payment system is.
In a sense, you are not actually earning cash directly from this site but you are instead converting it to BMF currency. You can then withdraw your BMF earnings via Payeer, PerfectMoney, AdvCash, Bitcoin, and Skrill. The minimum cashout for BMF is $1 and will be sent every 25th day of the month.
It's a fairly complicated process and if you aren't really into becoming a BeerMoneyForum.com member, then this site will be of no value to you. In my opinion, it would have been better if BeerSurveys has its own payment option like PayPal or even Payeer.
If you are interested in sites that offer less complicated payment methods, I recommend you check out the top sites that pay via PayPal instead.
How much money can you make?
The amount you can earn from BeerSurveys will mostly depend on how much time you will invest in it. And seeing as they don't pay that well, you will definitely need to invest a significant amount of time to earn a decent amount.
And it does not really live up to its claim about wanting to create a site with something special – in fact, it just offers many of the same offers and surveys as many other sites – but in many cases, they just do not pay quite as well.
So, compared to other GPT sites, in my opinion, BeerSurveys has a lower earning potential.
The amount you will usually earn from Tasks and Paid Offers will usually not exceed $0.5. So, even though they have a low payout threshold, it can still take quite some time to reach it.
Can you use it on mobile?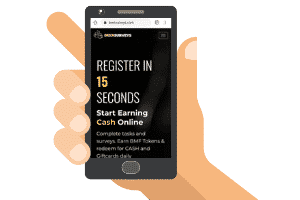 Fortunately, you will be able to use the site on a mobile device. You can access their site from a mobile device using a web browser.
The good thing is, their site is mobile-friendly and most of the tasks and offers can be done on a mobile device with little to no problems at all.
This will definitely alleviate the low earning potential the site offers because you can earn rewards even when you are not in front of your computer.
You can conveniently earn rewards when you are traveling to and from work or if you are waiting in line at some store or maybe even in a bank (you get the drift).
Who can join BeerSurveys?
BeerSurveys did not list down which countries it is available in but it did list down which countries it isn't valid in. You won't be able to join this site if you live in any of the following countries:
China
Vietnam
Afghanistan
Albania
Antarctica
Azerbaijan
Cuba
Kazakhstan
Iran
Iraq
North Korea
Nigeria
If you live in a country not listed above, you will be able to join the site. You just have to be at least 13 years of age to join.
And as explained earlier, before you sign up to this website, I suggest you sign up to BeerMoneyForum.com first if you don't have an account yet.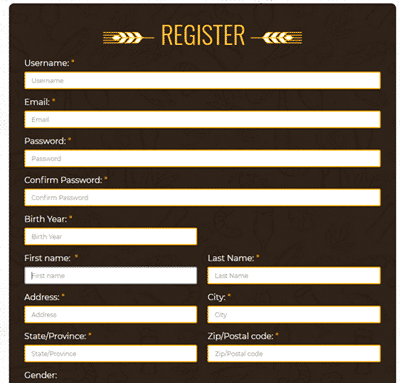 To become a member, all you have to do is fill out their registration form. Once you are done with that, you can log in to the member dashboard and start earning rewards.
Take note though that you have to log in at least once every 30 days or your account will be deleted and all your earnings will be forfeited. Plus, only one account is allowed per household.
So, if there are other people interested in joining this site in your household, you better talk amongst yourselves to determine who will sign up. The site is also very strict with using VPN or proxy servers.
The use of such programs will automatically disqualify you for the site or your account and IP address getting banned. Plus, if they find out you have provided fraudulent information, they will ban your account too.
Can you get support?
Another factor that can influence your decision on whether you should join this site or not is if the site provides good support. BeerSurveys, in my opinion, does have a good way of providing support for its members.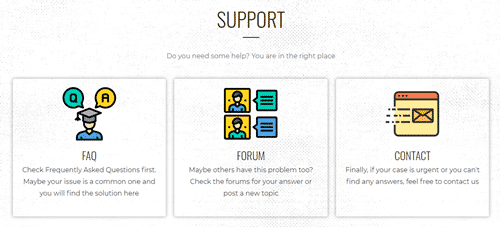 You can refer to their FAQ page for common questions about the site. And if you can't find the answer you are looking for, you can always go to their forum (BMF) and check from there.
If your issue still can't be resolved, you can always get in touch with their support team by sending them a message through their contact form. The good thing about their contact form is you can attach an image or images to support your issue.
Final Verdict
BeerSurveys is a legit GPT site that does reward you for participating in the activities they offer. It has a couple of good features to offer but it does have some drawbacks that are hard to brush off.
Let me finish this review by summarizing its pros and cons to give you a better overview of what the site has to offer. That way, you can decide if joining this site is really a good idea or not.

Pros:
Low payout threshold
Available in many different countries
Provide good support for its members

Cons:
Low rewards
Complicated reward system
You lose earnings if you do not log in for 30 days
If it weren't for the complicated reward system and the low rewards it offers, I would say BeerSurveys is a decent GPT site to join. It has a low payout threshold and is available more or less worldwide.
However, the fact that you don't actually get paid a lot from its earning opportunities severely impacts the earning potential of the site. You will have to invest a significant amount of time just to earn a decent amount.
It just does not live up to the intention of creating a special the site says it has, in my opinion.
That amount of time can be better spent on other sites that pay better. For a list of sites with better earning potential, I suggest you check out the top GPT sites instead.
The sites on this list offer higher rewards per earning opportunity and they also have simpler payment/reward options where you don't have to sign up to another site just to receive your earnings.
Plus, you will also find a site you can join regardless of where you live.
If you have any comments, questions, or have any experiences with BeerSurveys yourself, I would love to hear from you in a comment below.