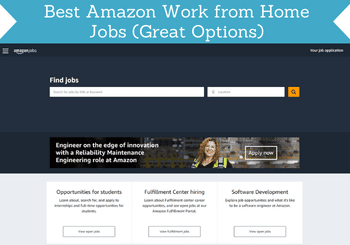 Are you looking for real Amazon work-from-home jobs?
If so, then keep reading this article.
A lot of people have been asking me if I know any great Amazon work-from-home jobs. So I decided to make this guide to help you figure out which are the best of these jobs to look for.
I will include a summary of each option, so you can easily identify which jobs suit you best.
So let's go ahead and get this guide started, shall we?
What to expect from these jobs?
Before we go over the actual jobs, let's first discuss what you can expect from jobs so you'll have a clear idea of the basic things you need to know to help you when you apply for these jobs.
First of all, you have to think of these jobs just like any other normal job.
That means you have to apply for the position, so there's no guarantee the spot will be given to you once you apply.
Another thing you need to keep in mind is that some jobs will require training, so if you get chosen, don't be alarmed if you will be asked to go through a training program first before you can start earning.
Other jobs will also require certain skill sets and levels of experience. That's why you need to be careful when choosing jobs to apply for. You have to make sure you meet all the requirements.
Another thing you need to be aware of is that not all jobs are available in all locations, even though they are remote jobs.
There are jobs for specific areas, while there are also jobs that don't care where you live.
Lastly, the salary for the jobs offered will mostly depend on your position and experience, like any other job. Entry-level jobs, based on my experience, start at $11 per hour, but that would still depend on where you are located, your experience, and your skill set.
But in general, you can earn a full-time income from these jobs. So, if a full-time job is what you are looking for, then these jobs can be a viable option.
7 Best Amazon work-from-home jobs
Let's now discuss the actual jobs you can choose from. But first, you have to know where to find these jobs in case you don't already know. All you have to do is go to the Amazon Jobs website.
Once you get to the site, you can just use the search bar to look for specific jobs. You can also just view the available jobs by category, which is what I prefer personally. To do this, just click the menu option on the left side and select "Job Categories".
Now that you know where to find these jobs, it's time we talk about the actual jobs you can choose from. The options I will be listing down below are the options that are usually available at any given time.
In other words, these are the most common job offers found on Amazon Jobs.
#1 – Administrative Support
Administrative support jobs are ideal for people who don't have the specific skills for other jobs but know their way around the office.

As you can see in the photo above, the positions that need to be filled are usually for admin assistants, receptionists, executive assistants, and office managers.
While the receptionist and office manager positions aren't suitable for remote work, the other two are popular positions that can be done at home.
#2 – Sales, Advertising, & Account Management
These types of jobs are suitable for people who have experience in sales. These jobs require a certain set of skills and mentality because I have to admit, not all people are suitable for sales and advertising jobs.
You have to be patient, creative, and flexible when working in these positions. But the whole reason why it is included on this list is that this category probably has the most available job positions.
It's not surprising, considering Amazon is in the selling business, so naturally, they need people for sales and advertising. So if you are confident that you can build and maintain relationships with customers, this is the ideal job category to check out.
#3 – Customer Service
Another type of job that is always in demand is customer service. Amazon is always looking for individuals who are able to provide customer service due to the nature of their business.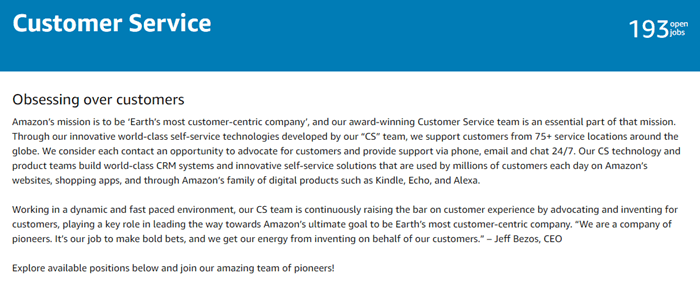 I do have to tell you that working in Customer Service will require a lot of patience compared to the other types of jobs offered on this site. This is because you will be dealing with various people day in and day out.
The good thing, though, is that many of the customer service jobs offered will require extra training, so you will learn how to deal with customers properly. This makes it a great option for people who are just starting out or looking for their first job.
#4 – Editorial, Writing, & Content Management
If you have writing skills, then you can go for this type of job. It is also one of the more popular job categories on Amazon Jobs because the company needs to build a massive amount of written content.
Amazon needs a lot of different writers, so you will be able to find a position regardless of the writing skills you have. You can work as a technical writer, copywriter, marketing/business writer, publisher, digital editor, and more.
I do have to tell you that since you will be working with a big company, you have to have the writing skills to back up your application. If you just write as a hobby, this is probably not a great option.
#5 – Public Relations & Communications
Public Relations & Communications may not be the most popular job category on Amazon Jobs, but this kind of job pays more than most of the other jobs.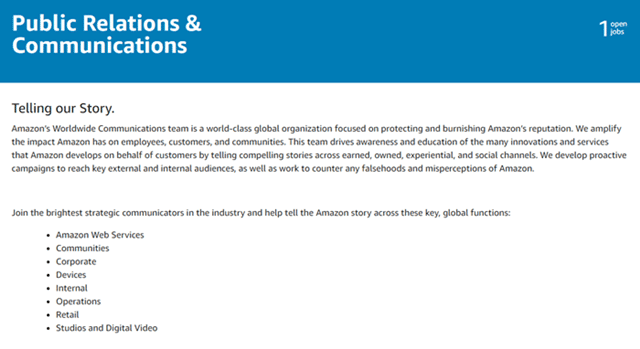 That being said, you will need to have a certain skill set to perform the work required for these jobs. The whole goal of positions in this category is to develop proactive campaigns to reach Amazon's key external and internal audiences.
I do have to tell you that most positions in this category require previous experience from applicants, so it's not an ideal option for people who are just starting out.
#6 – Software Development
Software development is very much in demand these days, so it is no surprise Amazon is also looking for individuals to fill their positions. And since Amazon is all about online selling, they naturally always have the need for software developers.
This is why this category always has a lot of openings available. And the best thing about this job category is that they have a lot of positions available for different locations (where Amazon is available).
#7 – Legal
This isn't as popular as the other job categories listed above, but this kind of job offers great pay.
Amazon is always looking to fill positions for its legal team because they have a growing list of exciting business opportunities that require legal expertise.
Of course, this requires a very specific skill and degree of education, but as mentioned above, the positions available offer great pay. Plus, they emphasize that their legal team is all about working hard and having fun at the same time.
More Amazon Jobs
As you can see, Amazon offers a lot of various job positions that need to be filled. But the list above isn't even half of what Amazon Jobs provides. If you go to the job category list on the Amazon Jobs site, you will find all the available positions that need to be filled.
If you are looking for remote work, I highly recommend you check out that page. You will find a lot of options to choose from.
Final Thoughts
Just to sum it up, if you are looking for work, you can go ahead and check out Amazon Jobs. There are plenty of opportunities available at any given time, and most offer full-time positions. Some positions can be done remotely, so you can work in the comfort of your own home.
Just bear in mind that there's no guarantee you will be accepted once you apply. Just like with any other job offer, you will be evaluated based on your education, skills, experience, and more. But with enough patience, you will most likely land a job that is suitable for you.
Also, keep in mind that some of these jobs will require you to work on a specific time schedule, so be prepared to do that if you want to work for Amazon.
But if you are looking to earn a full-time income on a flexible schedule, I suggest you check out how you can earn a full-time income through online methods instead.
If you have any comments, questions, or you know Amazon work-from-home jobs that you think belong in this guide, I would love to hear from you in a comment below.