Mystery shopping can be a fun and interesting way to earn extra money.
If this is your first time hearing about this kind of earning opportunity, being a mystery shopper is like being an undercover customer.
You will be asked to go to a certain location and purchase a product or try out a service. In return, you will have to provide feedback about what you observe during your visit, so you will essentially get paid to shop
One site that offers this kind of opportunity is called BestMark.
But is Bestmark legit or a scam to stay away from?
Well, let me answer this question right away so we can discuss more about what the site offers.
Yes, it is indeed a legit mystery shopping site that pays you for being a mystery shopper. However, to truly recognize if this site offers a good way for you to earn extra money, we have to take a look at a few things first.
This BestMark review will show you what it really offers so you can decide if this is a site worth joining or not.
What is BestMark, and what does it offer?
Since 1986, BestMark has helped many businesses improve employee and customer experiences through their services, one of which is mystery shopping.
The earning opportunity it offers is a bit more complicated than what survey and Get-Paid-To sites offer, but it can also be more interesting and fun, in my opinion.
Let me explain to you earning opportunities it offers so you can get a clear picture of how well you can earn from this site and if it will be relevant for you or not. So, here are its earning opportunities.
Option 1 – Mystery shopping
As mentioned, you will have to become a mystery shopper to earn rewards from this site. Being a mystery shopper means you have to go to a certain location and, well, shop.
When you become a mystery shopper, you can log in to the site and view all the shops you can visit and perform mystery shopping activities. You have the option to schedule your visit to a certain store. So, the work hours are very flexible, which is a good thing.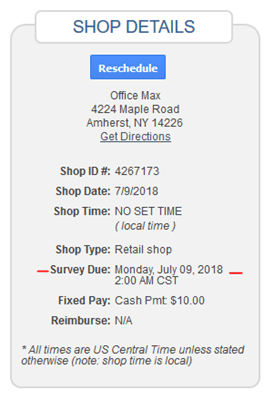 When you schedule a visit, you have to make sure you read the Dispatch Assignment Sheet and, if possible, print it out and bring it with you to the shop. Or, you can just log in to the site from your mobile device and review it once you are on the location.
The Dispatch Assignment Sheet will contain all the instructions you need to follow, so make sure to read and understand what it is asking you to do. Typically, a mystery shopping assignment will ask you to purchase a product or service.
Sometimes, it will ask you to buy food. Then, you will be reimbursed for the money you spent to purchase the items. So, essentially, you will be getting free meals or products. You just need to make sure you take a clear photo of your receipt because you will have to submit it for review.
Every mystery shopping assignment has a checklist you need to follow. So make sure you tick off all of the items on your checklist. You will then have to submit your report to BestMark once you are done.
Their editors will then evaluate your work and sometimes even offer feedback. Once they see everything is in order, you will receive the reward promised for completing the assignment.
The key thing to remember when doing mystery shopping assignments is to make sure to follow the checklist down to the letter. One misstep and your work might be considered invalid, thus wasting your precious time and money (since you won't be reimbursed if your work is not approved).
So, make it a habit to understand what the assignment is asking you to do before you start doing it.
Option 2 – Referral program
Like most online rewards sites, you have the opportunity to earn extra rewards by simply inviting people to join their platform.
Once they become a mystery shopper, you will then be eligible to receive a referral bonus ($5).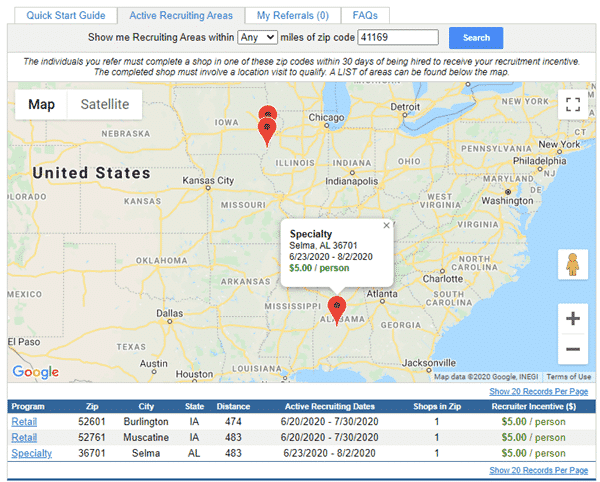 However, the key thing about inviting people to BestMark is, that you won't receive the recruiter bonus as soon as they become a member. They have to actually complete a mystery shopping assignment before you get the incentive.
As shown in the photo above, your referral must complete a shop in one of the zip codes shown on the map within 30 days of being hired as a mystery shopper. It's a requirement that, unfortunately, they have to meet for you to earn the incentive.
So, make sure the people you invite are really interested in becoming a Bestmark mystery shopper. Otherwise, it won't really offer any value for you.
To invite a person, you can either share your invite link with them or give your invite code. If you go the invite code route, make sure to remind them to input your code during registration. Otherwise, they won't become your referral.
Recommended: Check Out the Best Mystery Shopping Sites
How do you get paid?
BestMark offers three payment options. You can either choose to get paid via PayPal, direct bank transfer, or convert your earnings to gift cards.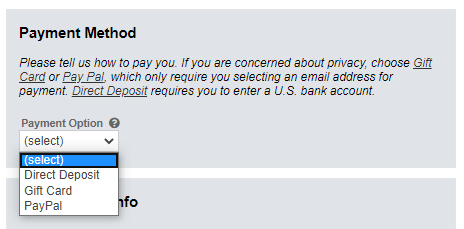 If you choose the direct bank transfer option, you can only use a U.S. bank account. Anything else won't be accepted.
Payments will be processed automatically on the 15th day of each month and the last day of each month. So, you don't actually have to reach a threshold to redeem your rewards. You will get paid automatically, which is very convenient, in my opinion.
Assignments you've completed by the 5th of each month will be processed on the 15th, and those completed between the 6th and the 20th of the month will be processed on the last day of the month. Depending upon your payment method, funds will generally be available within 24 hours of payment processing.
I do like the fact they offer both PayPal and bank transfer as payment options because, in my opinion, these are the most convenient payment method available today if you want to get paid in cash.
If you are interested in more sites that pay via PayPal, I suggest you also check out the top sites that pay via PayPal.
How much money can you make?
Mystery shopping gigs, in my experience, typically pay a significant amount. The caveat is it is a bit risky.
You have to make sure everything is in order when you submit your report because you won't get paid if you make a mistake.
So, if you are new to this kind of process, you might have to expect a few hiccups before you can earn a significant amount.
Usually, mystery shopping assignments from BestMark will allow you to earn around $5 to $10, which isn't bad. However, the main problem most users encounter is the availability of shops.
Not all locations offer the same frequency of available assignments. For example, California residents have access to more opportunities than those who live in let's say, Kentucky.
So, the earning potential will really rely on where you live. If you live in an area where there are plenty of opportunities, then you will be able to earn a significant amount from this site.
However, even though the tasks themselves pay fairly well, you have to factor in that you also have to spend time and potentially money on gas to get to the store and back.
So it will only really be profitable if you happen to live close to some of the stores they mention or happen to be out shopping in the stores with mystery jobs anyway.
Can you use it on mobile?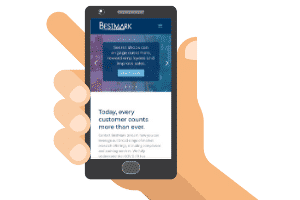 BestMark doesn't have a mobile app you can download, but you will be able to access their site from a mobile device.
The good thing is, that their site is mobile-friendly, so you won't have a hard time using it from a mobile device.
This can prove especially useful because you can easily review the tasks you need to do on-site. Plus, uploading receipts is simpler when done through mobile devices, and as you may already know, uploading receipts is a very important part of being a mystery shopper.
Who can join BestMark?
BestMark is only available in the US and Canada. They don't specifically say that on their website, but during registration, you will notice there will only be two options in the country field (refer to the photo below).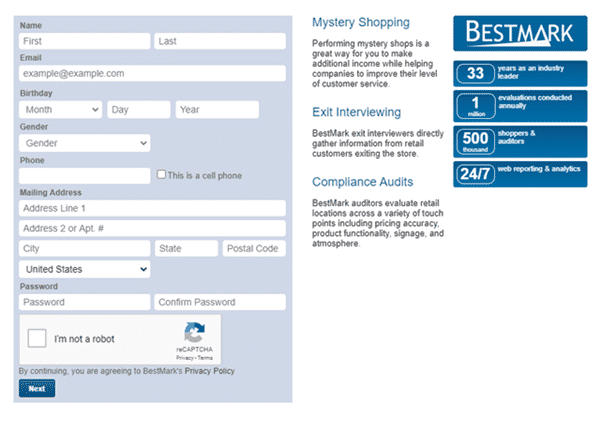 You can only choose US or Canada. To sign up as a shopper, you need to be at least 18 years of age or older.
Once you are done with the sign-up form, you will have to answer a short profile survey. This is to help BestMark identify the mystery shopping opportunities to send your way.
Once you are finished with the profile section, you can log in to the member dashboard and start choosing assignments.
Can you get support?
BestMark has a very detailed FAQ page that discusses most of the important topics you need to know.
By reading their FAQ page, you will be very familiar with how to do your work as a mystery shopper. But you probably really can't avoid instances where you will need to talk to their support team.
Fortunately, they do offer a way for you to do that. All you have to do is go to their contact page and fill out their contact form. Just make sure to choose the appropriate subject for your inquiry.
You also have the option to call the toll-free number provided on their contact page if you really want to get in touch with their support team immediately. Keep in mind, though, that their customer support only operates within business hours.
So, don't expect your call to be answered if you've made it beyond business hours. But overall, I would say they provide good support for their members.
Final Verdict
BestMark is a legit mystery shopping site that pays you for being a mystery shopper and for inviting people to join the site. It has a couple of interesting features, but it also has a few drawbacks.
So, let me end this review with a summary of its pros and cons to give you a better overview of what the site really offers so you can decide if it is worth joining or not.

Pros:
No payout threshold
Processes payment automatically
Offers payment via PayPal and bank transfer
Cons:

Limited earning opportunities offered
Earning potential will depend on your location
It can be time-consuming to go to the stores
As with all mystery shopping sites, the earning potential will mostly rely on where you live.
If you live in an area where there are plenty of opportunities (usually metropolitan areas), it can be very beneficial to join. But if you live in rural areas, opportunities are few and far between.
So, your decision to join should be based on the city you live in, in my opinion. But overall, I would say you should give it a try if you like to do mystery shopping assignments. It offers convenient payment methods, and it pays rather well.
But if you prefer to earn without doing any shopping, I would suggest you check out the top survey sites in your country instead. The sites on this list all have good earning potential. Plus, you will definitely find a site you can join even if you live outside the US or Canada.
If you have any comments, questions, or have any experiences with BestMark yourself, I would love to hear from you in a comment below.