Big Time Cash is an app that claims you can play free games and win cash.
If you love playing mobile games, then you might be tempted to use this app.
But is Big Time Cash really legit and an easy and fun way to earn, or is it a waste of time?
I have tested it thoroughly myself, and in this Big Time Cash App review, you will learn all the details, so you know exactly what to expect and can find out if it is an app that is worth using or not.
After all, you don't want to waste your time on an app that won't pay you decently for your time.
So, let's start this review, shall we?
What is Big Time Cash, and what does it offer?
Big Time Cash is a Get-Paid-To (GPT) app that will reward you for downloading and playing free mobile games.
It is an app developed by the company WINR Games.
It is indeed a legit app since it does what it claims to do which is reward you for the time you spend playing these mobile games.
However, it still isn't a clear indication of whether this app is really worth your time or not. To determine if Big Time Cash is an app worth using, we have to examine the earning opportunities it offers in detail. So, here's how you can earn from it.
I have, therefore, made a video that gives you an inside look and shows exactly how you can earn from Big Time Cash. You can also read all the details below the video.
Recommended: Check Out the Top Sites to Earn Money by Playing Games Online
Option 1 – Playing games
One way to earn from Big Time Cash is by playing the games they offer. By doing so, you will earn tickets that can be used to join their prize draw or you can convert them to cash (I will discuss later how to do this).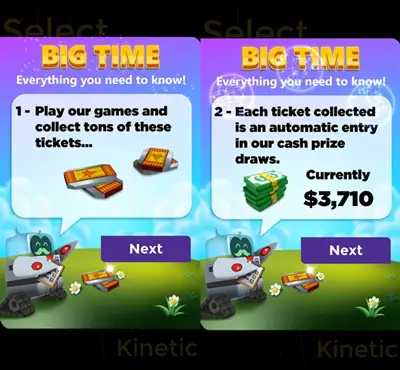 Now, let me explain how this works. When you log in to the app, you will immediately see all the games you can play. The good thing about these games is, you actually don't have to install them on your mobile device.
They are already pre-loaded in the app. So, just choose which game you want to play. Each game will have a tutorial you have to go through first. Just follow the instructions to finish it. After you've finished the tutorial, just play the game normally.
At the end of every game, you will know how many tickets you've earned. One thing to note is that you will earn more tickets if you've set a new high score for the game. So, if you want to earn more, always aim to get the highest score.
You can play the games as many times as you want and you will keep earning tickets.
But I would recommend that if you haven't achieved the highest score in quite some time, you should move on to another game so you can set another high score and earn more tickets. That would be the more efficient way of earning tickets.
Most, if not all, of the games they have, will involve solving some form of a puzzle. So, if you love playing these kinds of games, then you will have fun using the app.
Option 2 – Daily bonus
You can claim a free prize once a day. This is their daily bonus. The prize you will receive will be random (refer to the photo below).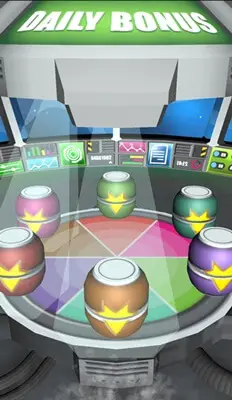 To claim your daily bonus, just go to their daily bonus section and pick a pod to open. The typical prize you will receive will be a ticket ranging from 100 to 1,000. You can also get a ticket multiplier which can be used to multiply the number of tickets you've earned from a game.
Option 3 – Paid offers
Another way to earn from Big Time Cash is by completing their paid offers.
If you've been a member of GPT sites before, then this opportunity will be very familiar. But if this is your first time hearing about this kind of earning opportunity, then let me explain to you how it works.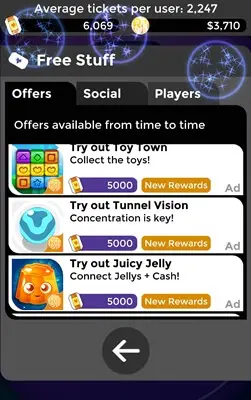 A paid offer is basically a short task you can do to earn rewards. The majority of tasks found on Big Time Cash will be about installing mobile games and playing them. There are also other tasks that will ask you to visit social media pages or watch videos.
When you see an offer you are interested in, just press it and it will open a new window. If you chose an offer that asked you to play a game, it will redirect you to the corresponding app store page so you can download the app.
Once you've completed everything the offer asked you to do, you will receive the reward that was promised.
Their offers are relatively simple compared to the offers you will find on other GPT sites and apps. However, the number of offers they have does pale in comparison to other popular GPT sites and apps.
Option 4 – Referral program
Lastly, you can also earn additional rewards by inviting other people to download and install the app. This is called a referral program.
To invite a person, all you have to do is share your referral code with them. Then, make sure to remind them to input the code during the registration process. Once they have installed the app on their device, you will then receive 2,500 tickets and $0.10.
It's a relatively simple process and the good thing is, there are no additional requirements needed to claim the reward.
Recommended: Check Out the Top Sites to Earn Money by Playing Games Online
How do you get paid?
As you already know, the tickets you've earned will be used as an entry for their prize draw. You can convert the tickets you've earned to cash if you want a guaranteed way to earn. Once you've converted your tickets and have at least $10, you can withdraw via PayPal.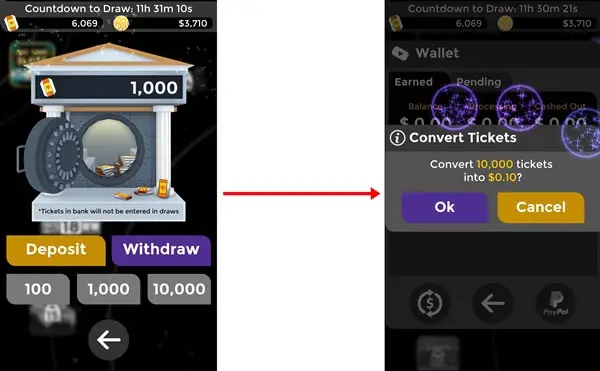 To convert your tickets, you have to go to their payment section and deposit your tickets (refer to photo above). Remember to do this before their prize draw happens because every ticket that was not deposited to your account will be used as an entry for the draw. There will be a timer displayed showing when the prize draw will happen.
You can only deposit tickets in increments of 100, 1,000, and 10,000. As for their conversion rate, 10,000 tickets is equivalent to $0.10.
I like the fact that they offer a convenient payment method like PayPal. It makes the withdrawal process a lot easier. If you are interested in more sites that pay via PayPal, I recommend you check out the top sites that pay via PayPal.
As for how their contest works, if you win their grand prize, you will be notified via email. The email you will receive will also contain the instructions on how to claim your prize.
How much money can you make?
The amount you can earn from this app will mostly depend on how much you use the app. Obviously, the more games you play and the more offers you complete, the more tickets you will earn.
But, in my opinion, the earning potential of this app is VERY low. As you can see, 10,000 tickets will only be worth $0.10. So, while you think you have already earned a lot of tickets, especially from their offers (they typically pay around 5,000 tickets), they really aren't worth much.
You will literally have to earn hundreds of thousands of tickets just to earn a few dollars. And that will take a looong time.
So, you will have to invest a lot of time just to reach their threshold and withdraw your earnings.
Can you use it on a desktop?
Big Time Cash is a mobile-only platform, so you will definitely need a mobile device to earn from it. The good thing is, their app is available for both Android and iOS devices.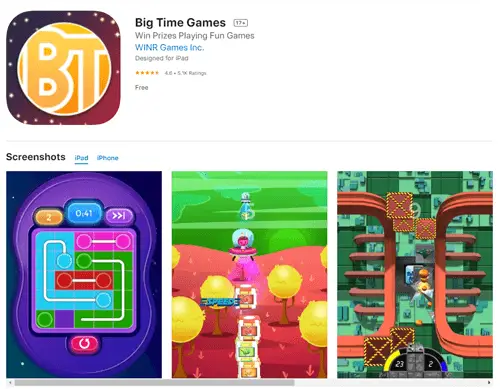 It's also quite user-friendly. But it is a bit spammy though. Ads will pop up from time to time and it can get quite annoying having to keep closing these ads because some of them take a bit of time before you can close them.
Who can join Big Time Cash?
The app is available globally. So, you'll be able to download and install the app regardless of where you live. You just have to be at least 14 years of age to do so.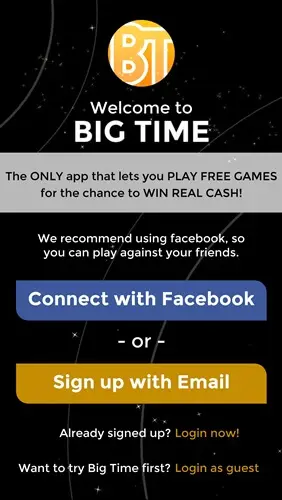 To sign up as a member, you can use your Facebook account or sign up with your email address. Either way, once you complete the registration, you will receive a confirmation email.
Make sure to click the link in that email because by doing so, you will also receive a joining bonus of 1,000 tickets. It's not much, but at least you get something right from the start.
Can you get support?
Their app doesn't have a FAQ page you can refer to but their website (winrgames.com) does have one. However, it's not as comprehensive as you might hope. It only discusses a few of the basic details about the app. Their app does have a tutorial you can view to learn how it works.
Now, if you have questions about the app or your account, you can use the contact form provided on their site, or you can email them at contactus@winrgames.com.
Overall, I would say they have a decent support system in place for their members because they offer a couple of ways for you to get in touch with their support team.
Final Verdict
Big Time Cash is a GPT app that will pay you for playing their games and completing their offers. It has a couple of good features but it also has glaring limitations you need to consider.
So, let me wrap up this review with a summary of its pros and cons to give you an overview of what the app has to offer so you can decide if it is really worth your time or not.

Pros:
Offers a fun way to earn rewards
Payment via PayPal is available
Available globally

Cons:
Limited earning opportunities offered for a GPT app
Low rewards
Takes A LOT of patience to earn
If your goal is to find an app you can efficiently earn decent money from, then this app is not for you. It will take you A LOT of time and a lot of effort to reach their payout threshold because they don't really pay that well.
The only way you will be able to earn a significant amount from this app in a short amount of time is if you win the grand prize in their prize draw.
But if you are just looking for an app you can use to pass the time, then this can be an option. And then you can earn a bit extra at the same time. But the focus should then not be on the earnings but just about enjoying the games.
Now, if you are looking for great ways to earn extra cash online, I would recommend you check out the top survey and GPT sites in your country instead. The sites (and apps) on this list all have good earning potential and pay relatively well for every earning opportunity they offer. So, you don't have to spend a lot of time to earn a decent amount.
If you have any comments, questions, or have any experiences with Big Time Cash yourself, I would love to hear from you in a comment below.