There's a site called BitcoinGet that claims it offers the easiest way to earn free Bitcoins. So, if you are looking for ways to earn Bitcoins, then you might be interested in joining this site.
But before you register, I suggest you read this BitcoinGet review. This review will verify if the site is really legit or if it is just another scam you need to stay away from.
It will also reveal the full details about what the site has to offer so you'll know exactly what to expect before you even sign up.
That way, you can properly gauge if this site is really worth investing your time into or not. So, let's go ahead and take a closer look at BitcoinGet.
What is BitcoinGet and what does it offer?
BitcoinGet is GPT (Get-Paid-To) site that will reward you for completing small tasks. It is indeed a legit site which will really pay you in Bitcoins.
But whether it will be worth it or not is a different matter and that is what you will find out in this review.
Now, how does the site work exactly? To answer this question, we have to examine the earning opportunities it offers.
This will be the best way to understand the ins and outs of the site, and it will also give you an idea of how well you can earn from it.
I have, therefore, made a short video that gives you an inside look and shows exactly how to earn from BitcoinGet. You can also read all the details below the video:
Option 1 – Paid surveys
One way to earn from BitcoinGet is by answering paid surveys. However, just be aware that BitcoinGet doesn't have its own surveys. Instead, it relies on survey providers to provide their members with surveys.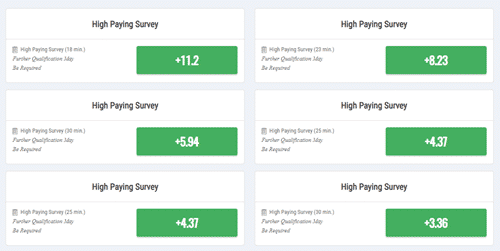 The way their paid surveys work is pretty much the same as the paid surveys found on most other survey sites.
To answer a survey, just click on it and it will open a new browser tab. If there are surveys available in your region, you will have to go through a qualifying process first. If there aren't any surveys for your area, it will just show that there aren't any surveys available.
As for the qualifying process, it will simply be a set of basic questions to determine if you belong to the demographic group the survey is intended for. If you pass the qualifying part, you get to answer the actual survey.
Once you complete the actual survey, you will receive the reward promised. But sometimes, it can take time before the reward will be credited to your account.
When that happens, it means the survey provider is still verifying your answers. So, all you can really do is wait. If you fail to qualify, then the process stops and you just have to move on to the next survey available.
During my testing, I kept getting the "No surveys available in your location" message. It took a while before I managed to get one and qualify for it. So, it's definitely something you need to be patient with because you will not always have available surveys and you will not always qualify for the surveys. that are there
Option 2 – Paid offers
Another way to earn rewards from BitcoinGet is by completing paid offers. This is pretty similar to their surveys, the only difference is, the things you need to do to earn rewards will be a bit more varied.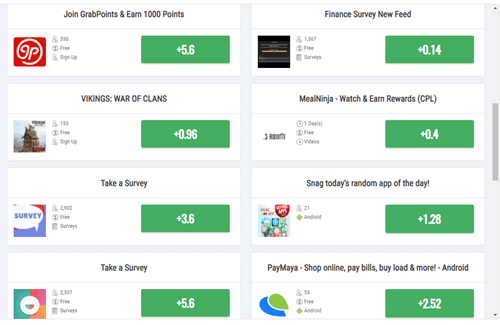 Their paid offers will usually ask you to also answer surveys or quizzes, download mobile apps, play games, sign up to certain websites, and watch videos.
But regardless of what it will ask you to do, the one thing you need to remember with paid offers is, you have to make sure you follow all the instructions. If you miss even just one step, you will not be able to complete the paid offer and you will not earn anything.
So, make it a habit to understand what the offer is asking you to do before you start working on it. Once you complete an offer, you will receive the reward promised, but just like with paid surveys, sometimes, the reward won't be credited to your account right away.
Option 3 – Watch videos
You can also earn more rewards by watching videos. These videos will be provided by a site called HideoutTV. The premise of this opportunity is really simple.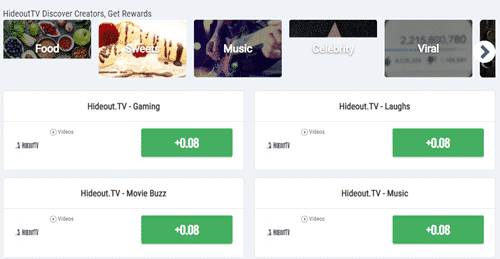 Just click on any video available and watch it. However, there is something you need to remember – you actually don't get rewarded for watching the videos.
Instead, you will be rewarded by watching the ads that will be played before the video, during the videos, and in between the videos.
So, you get paid to watch the ads. That's really how it works. It's a fairly simple way to earn but the one thing you need to remember with this opportunity is, it doesn't really pay that well. This is one of the lowest paying earning opportunities you will find on GPT sites.
So, it's not really worth doing, in my opinion unless you have nothing else to do on the site. Or you can just let it run on a screen you are not using and then earn a bit extra passively – but just be aware that it will not earn a lot from it.
Option 4 – Referral program
You can also earn additional rewards by participating in their referral program. If you are not familiar with what a referral program is, it's basically a program designed to promote the website.

To earn from their referral program, all you have to do is share your invite link. Once the person you invite sign up as a member using your invite link, they will become your referral. You will then receive a commission every time your referral earns something on the site. This reward will be shouldered by BitcoinGet and will not be deducted from your referral's earnings.
You will receive a 10% commission every time your referral completes a survey and 5% for every paid offer they complete. It's not much but it's a passive form of earning. You just need to make sure you invite people that are really interested in earning on this site.
Recommended: Check Out the Top GPT Sites
How do you get paid?
If you are looking to earn cash from this site, you will be disappointed. The only thing you will earn from BitcoinGet is cryptocurrency.
So, for every earning opportunity you complete on this site, you will actually earn a certain number of Bits (a smaller denomination of the Bitcoin). Once your account balance reaches at least 1,000 bits, you can then withdraw it to your Bitcoin wallet.
The value of 1,000 bits will depend on the Bitcoin exchange rate, so it's hard to calculate an exact value of how much you can earn as the price of Bitcoin varies quite a lot.
This is the only payment option they offer, so before sign up, I would recommend you create a Bitcoin wallet first. If you are looking for more sites that pay in cryptocurrency, I recommend you also check out the top sites that pay in Bitcoin.
How much money can you make?
The amount you can earn from BitcoinGet will mostly depend on how active you are on the site.
BitcoinGet offers a decent number of earning opportunities, but it actually pales in comparison with say a more popular GPT site like PrizeRebel.
BitcoinGet also does not pay that well. For surveys, you will only earn around 5 to 11 Bits per survey. For paid offers, it will be lower than that. That's why I would say the earning potential of BitcoinGet is really low.
It doesn't have a lot of earning opportunities offered and it also doesn't pay that well. So, it will definitely take a bit of time before you can earn a decent amount from this site.
Can you use it on mobile?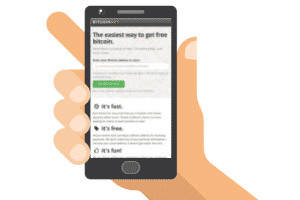 BitcoinGet doesn't have a mobile app, but you can access their website from a mobile device using a web browser. Their site is mobile-friendly, so you'll be able to navigate through the site with relative ease. You can also read the content properly without zooming in.
However, I don't really recommend you use a mobile device when working on this site unless you are working on a paid offer that is asking you to download a mobile app (since that's the only way to complete the offer).
The reason for this is, it can get quite inconvenient trying to keep closing browser tabs on your mobile web browser. That's why it's best to use it on a laptop or desktop if you want a smoother experience.
Who can join BitcoinGet?
BitcoinGet is available globally. You can register as a member regardless of where you live. All you have to do is provide the address of your Bitcoin wallet (refer to photo below).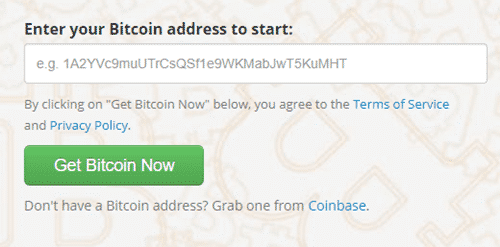 Their registration process is actually quite unique because instead of providing your email address and password like you normally would with other GPT sites, BitcoinGet will instead require you to provide your Bitcoin address.
That's why if you don't have a Bitcoin wallet set up, I recommend you do that before you sign up.
Now, while the site is available globally, as mentioned earlier, the availability of earning opportunities (especially surveys) will actually depend on your location. So, if you live in a country where there aren't a lot of surveys available, then you won't earn a lot from this site.
This is one of the main things you need to consider before you make your decision about joining or not.
Can you get support?
BitcoinGet does have a FAQ page you can check out if you have any questions about the site. It discusses some of the basic topics you need to know.
But if you have any questions about their surveys or paid offers, you have to use the support section for those opportunities. Yes, the support for surveys and offers are different from the support the site offers.
If your concern is about their surveys or offers, you'd have to contact the support team of the survey or offer provider. You can do that by clicking on the "Support" link on the upper right-hand of the page where the survey or offer is listed.
But if your concern is about your BitcoinGet account, you'll have to contact the support team of BitcoinGet through their Facebook page. You just have to message them on that platform.
Overall, while it's a bit confusing that there are separate support teams for this platform, I would still say it has a decent support system in place since BitcoinGet does offer a way for you to get assistance. You just have to get used to it though.
Final Verdict
BitcoinGet is a legit GPT site that will reward you for answering surveys and completing short tasks. It has a couple of good features but it also has some drawbacks you need to consider.
So, let me summarize its pros and cons to give you an overview of what the site has to offer. That way, you can properly gauge if this site is really worth investing your time into or not.

Pros:
Offers a simple way to earn rewards
Available globally

Cons:
Limited earning opportunities offered
Low rewards
Limited payment options available
If you are looking for a site to earn free Bitcoin, this can be a decent option provided you don't set your hopes too high. It will take time to earn a decent amount from this site because it doesn't have as many earning opportunities compared to other GPT sites. It also doesn't pay that well.
Now, if you are looking for great sites to earn from, there are simply far better options. For a list of these sites, I would suggest you check out the top survey and GPT sites in your country instead. The sites on this list all have good earning potential and their payment methods are more versatile and accommodating than BitcoinGet.
If you have any comments, questions, or have any experiences with BitcoinGet yourself, I would love to hear from you in a comment below.