Do you want to earn extra cash without a lot of effort? If so, there's an app called Cash Raven that claims you'll be able to earn money by simply sharing your internet with their network.
But is Cash Raven legit or is it a scam?
And if it is really legit, should you join? These are valid questions and I too was curious about whether it really is worth it because I'm always on the lookout for new ways to earn extra cash and this passive form of earning seems promising.
That's why I've decided to test this app to see if it really does what it claims it does. I will share everything I've learned about this app with you in this Cash Raven review. That way, you'll learn the truth of what it has to offer before joining.
So, let's go ahead and take a closer look at Cash Raven, shall we?
What is Cash Raven and what does it offer?
As mentioned above, Cash Raven is a platform you can use to share your unused internet connection to earn extra cash. It's very similar to Honeygain which is another app that offers the same kind of earning opportunity.
And yes, it is indeed a legit app since you will really get paid to share your internet connection with their clients. But the question is, is it worth it?
To answer this question, the first thing we need to do is understand how it works. That way, you'll know how much time and effort you'll need to invest to earn. So, here's the earning opportunity Cash Raven offers.
The earning opportunity – Sharing your internet bandwidth
Cash Raven only offers one earning opportunity and that is through sharing your internet bandwidth with their clients. To start earning, all you have to do is download their software.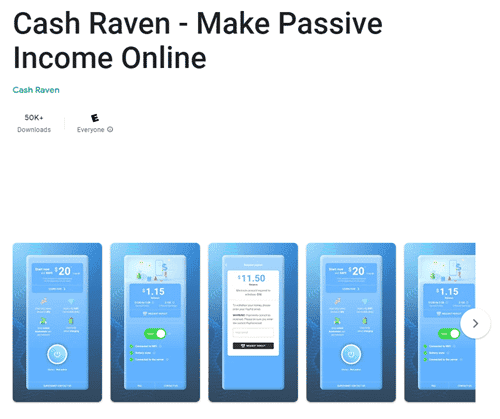 As of the time of writing this review, the software will only work with Android devices (refer to photo below), so you'll need to use an Android device. Once you've installed the app to your mobile device, then all you have to do is open it and let it run in the background.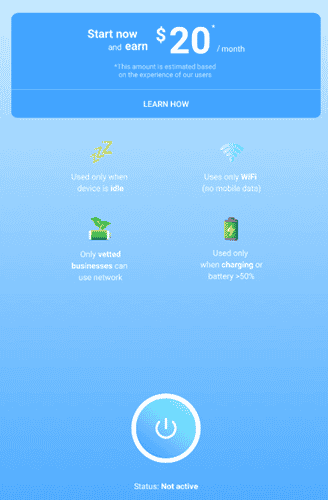 You just need to press the power button (refer to photo above), and it will start earning. Now, you have the option to either enable or disable the battery-saving feature of your device. If you enable the battery saving feature, you will earn less because the app will not run to its full capability to save your device's battery.
If you disable the battery-saving feature, the opposite will happen. You'll earn more, but the battery of your mobile device will be drained a bit faster. The app also has an option to allow the use of mobile data.
By default, this app will only run if your device is connected to WiFi. But you can enable it to use mobile data as well. When you do that, you'll earn more. This is a good option if you have an unlimited data plan. If you don't have one, I would recommend you disable this.
You can install it on multiple devices, but Cash Raven doesn't recommend you do this because your earnings will be decreased if all the devices are connected to the same network. For example, if you have three mobile devices at home, you don't have to install the app on all three devices to earn more.
This is because the app will only look at the IP address of your device, and if all three are connected to the same WiFi, they will all share one IP address. So, even though the app is running on all three devices at the same time, their system will only view it as one device because of the shared IP address.
When that happens, your earnings will go into three different devices instead of just one. If you are going to install the app on multiple devices, make sure these devices are connected to different networks.
What I would recommend is that you can set up one at home and one at the office. That would be the best way to maximize your earnings.
The app will only share your connection if it is idle. If you are using your mobile device, the app will pause its function so you can use your device smoothly.
As you can see, the earning method requires minimal effort on your end. All you have to do is install it and let it run in the background when you are not using your mobile device.
Recommended: Check Out the Best Passive Income Apps
How do you get paid?
Cash Raven will pay you in cash. You will earn $0.10 per gigabyte of data you share using the app.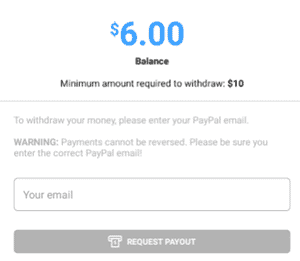 Then, once you've earned at least $10, you can cash out your earnings via PayPal. Cash Raven is still in the process of adding more cashout methods, and they are letting its members vote on which cashout methods to add.
Overall, the payment system of Cash Raven is relatively easy to understand. I like the fact that it offers a convenient cashout method like PayPal because it is one of the most convenient cashout methods available today.
If you are interested in more sites that use a convenient cashout method, I would recommend you check out the top sites that pay via PayPal.
How much money can you make?
The amount you can earn from Cash Raven will depend on a few factors. One of the greatest factors that can affect your earnings is your location.
Certain countries will have larger earnings because many of Cash Raven's business customers need data from there.
Another factor that contributes to your earnings is your internet speed. The faster your internet connection is, the more you can earn. And lastly, as explained earlier, the number of IP addresses available to you and your devices will also affect your earnings.
It is not productive to set up multiple devices in the same home because every device in that home likely has the same IP address. So, if you want to maximize your earnings, consider installing the app in various locations where the IP address differs.
Their rate per gigabyte shared is almost the same as the other platforms that offer this kind of earning opportunity (like Honeygain and Peer2Profit), so overall, I would say the earning potential of this app is relatively decent.
But really, the best thing about this app is you won't have to exert any effort to earn. That, in my opinion, is the greatest appeal this app offers.
Can you use it on a desktop?
Other platforms that offer the same earning opportunity will allow you to earn using your desktop. But as mentioned earlier, Cash Raven is only currently available for Android devices. They are currently working on the Windows version of the app, and it will be available soon (around October 2022).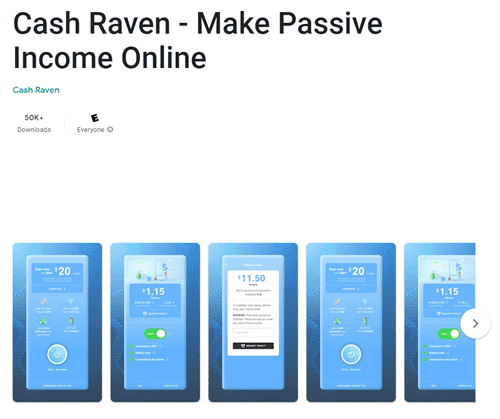 The app can be downloaded from the Android app store, and installing it will be very easy. It is also very user-friendly, so you won't have a hard time getting used to how it works.
But I do have to warn you, though, that the app consumes your battery fairly quickly, so I would advise you to enable the battery-saving feature if you plan to take your mobile device with you when you leave the house.
Who can join Cash Raven?
Cash Raven is available more or less worldwide, so that you can use it anywhere in the world. But as explained earlier, the earning potential of the app will depend on the country you live in. So, don't expect that the earning potential will be the same in all countries. You also have to be at least 18 years of age to use this app.
Technically speaking, you won't have to go through a registration process to start using the app. When you install the app and open it for the first time, you'll just be asked to accept its Terms and Conditions, and you are good to go.
This also means you won't be able to share your account on multiple devices. It's a convenient feature, but the downside is that if you uninstall the app from your mobile device, you will lose all your earnings. You'll have to start from scratch when that happens.
The app is still in the alpha stage, so they are still developing more features. Who knows, if it is officially released, they might add the registration feature, and you can then use your account on multiple devices.
Can you get support?
If you have any questions about the app or your account, you can refer to the FAQ page, which is accessible from their website and from the app as well. The FAQ page discusses most of the basic topics you need to know about the app.
If you can't find what you are looking for, you can submit your inquiry to their support team via email. Their email address is support@cashraven.io.
Overall, I would say the app has a decent support system in place for its members since it provides an easy way for you to communicate with their support team.
Final Verdict
Cash Raven is a legit app that will allow you to earn extra cash by sharing your unused internet bandwidth. It has a couple of good features, but it also has a few limitations you need to consider.
Let me wrap up this review by summarizing its pros and cons to give you an overview of what it has to offer. Then, you can decide if Cash Raven is really worth it or not.

Pros:
Offers a passive way of earning
The app is user-friendly
Offers payment via PayPal

Cons:
Limited earning opportunities offered
Limited to one mobile device only
Will consume your mobile device's battery
In my opinion, Cash Raven can be a way to earn a bit, and it is great it offers you to earn passively. Personally, I'm a fan of this kind of earning method because it doesn't require any effort to earn. You can just sit back and wait until you've reached the payout threshold to withdraw your earnings.
But, you do have to be aware that using the app will consume your battery faster even if you enable the battery-saving feature. If you frequently use your mobile device, I would recommend you hold off on using the app until the Windows version is released.
But if that doesn't bother you, then, by all means, you can go ahead and install the app to start earning. However, personally, I prefer to use other platforms to earn this way as there are many better options, in my opinion.
Now, if you are looking for other ways to earn extra cash passively, I would recommend you check out the best passive income apps you can use as well. The apps on this list all have good earning potential so you'll be able to earn a decent amount in no time.
If you have any comments, questions, or have any experience with Cash Raven yourself, I would love to hear from you in a comment below.