Do you find yourself spending hours and hours watching videos on the internet?
If so, then there's a site you might be interested in and it's called Chainflix. This site claims you can earn cryptocurrency for watching videos.
So, if you spend a lot of time watching videos on the internet, why not earn from it, right? Well, before you go ahead and sign up, I would recommend you read this Chainflix review first since I will be sharing an honest look at what this site has to offer.
I have personally tested this site so I can give you real insights about whether it is really worth it or not. Then, after reading this review, you can decide if you should sign up as a member or not. So, let's go ahead and get started.
What is Chainflix and what does it offer?
Chainflix is a Peer-to-Peer blockchain-based video streaming platform that will allow you to earn by watching videos. It is indeed a legit platform since you can really earn from watching videos.
However, if you want to know if it is worth it or not, you must first understand how it works. And the best way to do that is to examine the earning opportunities it offers. So, here's how to earn from Chainflix.
Option 1 – Watching videos
One way to earn from Chainflix, as mentioned earlier, is to watch videos on the platform. However, before you can start earning from this platform, you will have to complete the KYC process on the site.
If you don't already know, KYC, or Know Your Customer, is a process of verifying your identity that is typically used by entities in the investment industry or websites that have their own cryptocurrency. This will usually involve filling out a form and providing a photo of the document you select (refer to photo below).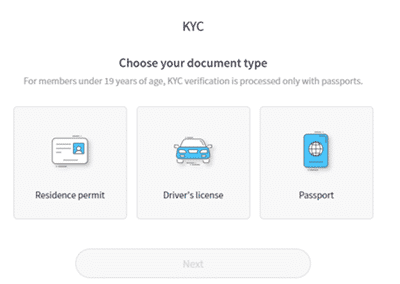 As you can see, you can either use your passport, driver's license, or residence permit to complete the KYC process.
When you select an option, you will have to take a photo of the document you select and upload it to the site. There will be guidelines you need to follow when taking a photo of the document. Make sure you follow all the instructions provided.
Once you've submitted all the requirements, you just have to wait for Chainflix to approve your submission. It usually only takes a day or two for your application to be approved. When it is approved, you can now start earning CFXT, which is the name of the cryptocurrency Chainflix is using.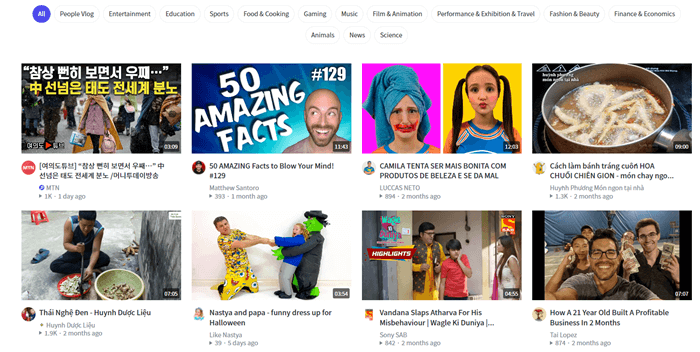 To earn CFXT, just choose any of the videos posted on the site or their app (I will talk more about the app later). When you click a video, you will immediately see the coins offered for watching the video on the right side of the title. However, you won't exactly earn all the coins displayed because a portion will go to the owner of the video.
You see, 55% of the coins offered will be sent to the owner of the video, while you will earn 45%. So, for example, if a video says it is worth 1 CFXT when you watch it, you will receive 0.45 CFXT and the remaining 0.55 will go to the video owner.
That's how their compensation works. The number of CFXT offered per video will depend on the length of the video. The longer it is, the more CFXT you will earn. You have to fully watch the video in order to earn the CFXT.
If for some reason, you forgot that you've already watched a video, you will immediately know it by simply looking at the section for the CFXT coins earned for watching it. If it already says 0 CFXT, that means you've already watched the video and you won't earn anything if you watch it again.
That's all you really need to know about how to earn from watching videos.
Option 2 – Becoming a Flixer
A Flixer is really just the term the site uses for a person who uploads videos on the platform. As explained earlier, video owners will earn 55% of the coins offered when a member watches it.
This is a great way to earn passive income on the platform. However, earning from this opportunity isn't as easy as you might think. As you already know, you will only earn if someone watches your video. If nobody watches it, you won't get compensated.
The strategy that applies to this kind of earning method is the same one that YouTubers use, which is to upload interesting videos or videos that are related to any trending topic.
Before you can become a Flixer though, you will first have to apply for the position. And to do that, you have to go through the KYC process first. When all that is done, you just have to follow the instructions provided during the application process.
I personally didn't try this feature out since I did not really have any plans of becoming a Flixer because this kind of opportunity really takes a lot of time to become profitable and I prefer posting videos on my YouTube channel. So, I can't really tell you the exact details on how to become a Flixer. That being said, Chainflix does a good job at guiding people on what to do. So, you shouldn't encounter any issues when applying to become a Flixer.
Recommended: Check Out the Top Passive Income Apps
How do you get paid?
As I've mentioned earlier, you will only earn cryptocurrency on Chainflix. So, if you are looking to earn cash, then this is not for you.
Before you sign up on Chainflix, you should first make sure that you have a crypto wallet that can support CFXT. Once you have that, you will now be able to withdraw your earnings from Chainflix anytime you want since they don't really have a payout threshold you need to reach to withdraw your earnings.
That's the good thing about this site. You can withdraw your earnings easily. If you are interested in more sites that pay in cryptocurrency and will also allow you to withdraw your earnings easily, I would recommend you also check out the top sites to earn Bitcoin for free.
How much money can you make?
The amount you can earn from Chainflix will depend on how much time you invest in it. As explained, the easiest way to earn from this site is to watch videos, and doing so will take a lot of time.
Plus, the amount of CFXT you can earn will depend on the length of the video you watch. But since it will reward you with cryptocurrency, it will really be hard to put an exact figure on how much you can earn since the monetary value of CFXT will change regularly.
Overall though, I would say it doesn't really have a high earning potential and it isn't the most efficient way to earn. The time-to-money ratio isn't that good. That's why I would only recommend you join this site if you really like watching videos.
If you are purely looking for ways to earn extra cash, there are better options out there.
Can you use it on mobile?
As mentioned earlier, Chainflix has a mobile app you can download so you can watch videos conveniently on your mobile device.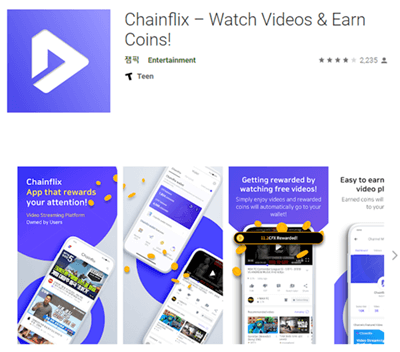 However, as of the writing of this review, the app will only work with Android devices. They do say that the iOS version is already up for review and it should be available in the near future. It might even be released by the time you are reading this review.
As for the app, it is very easy to use. All the features found on their web-based platform are also available inside the app. So, there's really little difference between the two.
Using the app can help you earn efficiently as well because you can just watch videos anywhere and anytime.
Who can join Chainflix?
The best thing about Chainflix, in my opinion, is that it is available globally. You can register as a member regardless of where you live. Plus, you only have to be at least 15 years of age to register.
But, as explained earlier, you will need to go through the KYC process in order to get paid. And for that, you will need your passport or driver's license.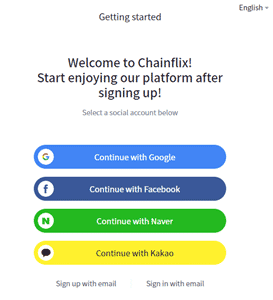 Signing up is also very easy. As you can see in the photo above, you can sign up using your Google, Facebook, Naver, or Kakao accounts. Alternatively, you can also just use your own email address and password to sign up.
After registering, I highly recommend you complete the KYC first so you can start earning as soon as possible.
Can you get support?
If you have any questions about Chainflix or your account, you can check out the FAQ page on their Help page. It discusses most of the common questions you will encounter. The Help page can also be accessed inside the app, which is good since you can get the answers you are looking for even if you are not in front of your computer.
But if you can't find what you are looking for, you can use the contact form provided on the Help page so you can submit your inquiry to their support team. Just fill out the necessary fields and upload any photos or screenshots if necessary to best explain the issue you encountered.
Overall, I would say Chainflix has a good support system in place for its members since it offers a convenient way for you to ask for assistance.
Final Verdict
Chainflix is a legit video streaming platform that will allow you to earn by watching videos. It has a couple of good features, but it also has some disadvantages you need to be aware of.
Let me end this review with a summary of its pros and cons to give you an overview of what it has to offer. Then, you can decide if this is a good fit for you or not.

Pros:
No payout threshold
The app is user-friendly
Available globally
Offers an easy way to earn

Cons:
Limited earning opportunities offered
Low rewards
In my opinion, if your goal is to find a site to earn extra cash from, Chainflix isn't really the most ideal option. The reason why I say this is, the earning potential of this site isn't really that good. It will take a lot of time before you can earn a significant amount.
But if you just looking for a site to watch interesting videos, this can be a valid option, in my opinion, because at least, you get something out of it. It will not compare to YouTube in terms of the volume of videos available, but I like the premise it offers where you can earn while watching videos.
Now, for great sites to earn from, I would instead suggest you check out the top survey and GPT sites in your country. The sites on this list all have good earning potential and you won't have to invest hundreds of hours just to earn a significant amount.
If you have any comments, questions, or have any experiences with Chainflix yourself, I would love to hear from you in a comment below.