If you want to get started with cryptocurrency investing, you will likely eventually encounter a website called CoinMarketCap.
You will usually visit this site to check how much your cryptocurrency assets are worth and find a lot of other great info about the many different tokens and coins.
But did you know you can actually also earn crypto from this site?
In this guide, I will talk about how to get free coins on CoinMarketCap, so you can add it as an additional source of earning cryptocurrency assets. It has a section called CoinMarketCap Earn that will allow you to acquire crypto assets in a fun and low-risk way.
And after reading this CoinMarketCap Earn review, you will be able to start your cryptocurrency investing journey smoothly. So, let's go ahead and take a closer look at CoinMarketCap Earn, shall we?
What is CoinMarketCap?
Before we talk about how you can earn free coins, you must first understand what CoinMarketCap is.
As mentioned above, it is essentially a price-tracking website where you can see the value and a lot of details of more or less all cryptocurrencies.
So, if you are into cryptocurrency investing, you will eventually have to visit this site to find out how much your crypto assets are worth and more. I personally visit this site on a daily basis just to see the movement of my cryptocurrency assets.
But as mentioned, this site also offers an opportunity for you to earn cryptocurrencies once in a while and that's what we will now talk about.
How to earn on CoinMarketCap Earn?
Let's now talk about the earning opportunity this site offers which is called CoinMarketCap Earn.
Once you sign up as a member of CoinMarketCap Earn (I will talk about their registration process in detail later), you just have to log in to the website.
Then, you have to provide your Binance ID before you can start earning. So, make sure to create a Binance account first (if you haven't yet) before registering to CoinMarketCap.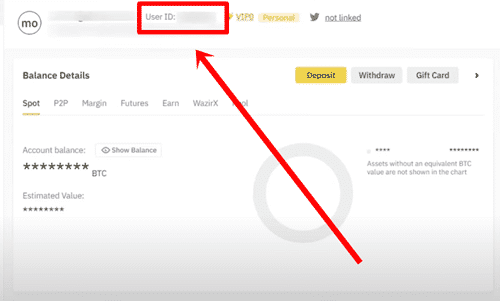 To get your Binance ID, just log in to the Binance site and go to your dashboard (refer to photo above). You will then see your user ID in the dashboard. Simply copy it and go back to the CoinMarketCap member dashboard.

Once you've provided your Binance ID, the next step is to "learn". Yes, you read that right. To earn from this site, you need to learn about the top and emerging crypto assets, so not only will you be earning a bit of cryptocurrency, but you can also increase your knowledge about up and coming cryptocurrencies.
Plus, the good thing about this opportunity is, it can actually be very useful for future investments. You can get a good glimpse of potential crypto assets to invest in. The "learning" part of this opportunity is also not that boring since you will mostly be watching videos.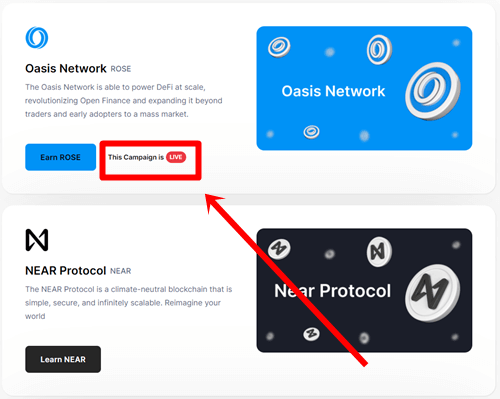 To start watching videos, just go to the earn page of the site. Then, you will see all the available earning campaigns. You will immediately see all the campaigns you can earn from because it will be marked "Campaign is live."
To start the process, just click the Get Started button and follow the instructions.
You will have to watch a video about the crypto project and after watching it, you will be asked to answer a quiz. If you paid attention to the video, you won't have a hard time answering the quiz. My best recommendation is to take down notes when you are watching the video.
That way, you can just refer to your notes while you are answering the quiz. It's easier this way instead of re-watching the video. After answering the quiz, you will receive the reward which will be a certain amount of the cryptocurrency discussed in the campaign.
Keep in mind that these are all up-and-coming cryptocurrencies, so don't expect to earn any established crypto like Bitcoin, Ethereum, Dogecoin, etc.
Another thing you need to remember is, there won't always be live campaigns available, but you can subscribe to the site and get notifications via email if there are new campaigns that are live.
Recommended: Check Out the Top Sites To Earn Bitcoin for Free
How do you get paid?
As explained above, you will earn new cryptocurrencies from this site. All the cryptocurrencies you will earn will show up in your CoinMarketCap portfolio. Then, you can withdraw it to your crypto wallet so you can consolidate all your earnings.
The good thing is, you can just use your Binance account to withdraw your earnings since Binance also doubles as a crypto wallet. You also don't have to reach a threshold to withdraw your earnings, so you won't really have a hard time withdrawing your earnings.
But if you prefer to earn cash, I would recommend you check out the top sites that pay via direct bank transfer instead.
How much money can you make?
It's really hard to put an exact number in what you can earn from this site since you will be earning cryptocurrency. And as you may already know, the value of any cryptocurrency can be very volatile.
But there's one thing I can say though, the amount you can earn from this site will not be comparable to what you can earn from a full-time job. So, don't go thinking you can earn a living from this site.
It's just a way to earn some extra money and as I've mentioned earlier, it can potentially be a good long-term investment since you will essentially be earning up-and-coming crypto assets. That is why you should set your expectations properly if you decide to go for this opportunity.
Can you use it on mobile?
CoinMarketCap doesn't have a mobile app you can download, but you can still access their website from a mobile device conveniently because the site is optimized for mobile use. You don't have to zoom in to read the content or click links.
This also means you can also just use your mobile device to earn since you can still conveniently participate in the live campaigns. That's a good thing really because you can join an active campaign immediately even if you are not in front of a computer.
Who can join CoinMarketCap?
The good thing about CoinMarketCap is, it doesn't care where you live. As long as you are able to access the website, you will be able to sign up as a member.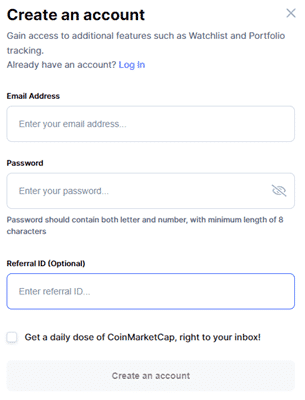 To register as a member of CoinMarketCap, all you have to do is fill out their sign-up form and click the confirmation link that will be emailed to you. After you've clicked the link, you can now start earning.
But as I've explained earlier, you also need to have a Binance account to earn from it and your account must be KYC-verified as well. Fortunately, getting KYC-verified on Binance is relatively easy and they provide a step-by-step guide on how to do it.
Can you get support?
If you have any questions about the site or your account, you can check out the FAQ page of their Earn section. It discusses most of the important topics you need to know. But if you can't find the answers you are looking for, you can get in touch with their support team by filling out the contact form provided on their support page.
Overall, I would say the site has a good support system in place since they ensure you have a convenient way to communicate with their support team. Plus, the FAQ page is actually also quite useful if you are just starting out.
Final Verdict
CoinMarketCap Earn is a legit opportunity to earn up-and-coming crypto assets. It has its advantages, but it also has some limitations you need to consider.
Let me wrap up this review with a summary of its pros and cons to give you an overview of what CoinMarketCap Earn has to offer so you can decide if you should go for it or not.

Pros:
Offers a simple way to earn cryptocurrency
No payout threshold
Available globally

Cons:
Limited earning opportunities offered
Doesn't offer cash rewards
If you are into investing in new cryptocurrencies, this can be a worthwhile endeavor, in my opinion.
The reason why I say this is, the earning opportunity is really very easy to do, and it is also very informative. So, not only will you be earning, but you will also gain knowledge about potential long-term investments.
But if you just want to earn extra cash, then this site is not for you since it doesn't offer any cash rewards. Instead, I would recommend you check out the top survey and GPT sites in your country. The sites on this list all have good earning potential and most of them (if not all) offer cash rewards.
If you have any comments, questions, or you know of any methods to get free coins on CoinMarketCap that you think belong on this tutorial, I would love to hear from you in a comment below.