If you like answering surveys and completing other short tasks, you might be interested in giving CoinSpiller a go. But before you do, I would recommend you read this CoinSpiller review first.
This review will verify if this site is really legit or just another scam. It will also give you a detailed inside look so you can figure out if it is really worth joining or not.
At the end of, I will give recommendations based on all the information provided as well as the tests I've done with the site.
So, let's go ahead and examine CoinSpiller.
What is CoinSpiller and what does it offer?
CoinSpiller is a GPT (Get-Paid-To) site that will reward you for answering surveys, completing small tasks, and more. It is indeed a legit site since it will really pay you for doing such things.
Now, the question is, is it worth it or not? To answer this, we have to consider a few things. And the first thing we need to look at are the earning opportunities CoinSpiller offers.
We need to examine how you can earn from this site so you can understand how it works and you can also get an idea of how much you can earn.
So, here's how to earn from CoinSpiller.
Option 1 – Offerwalls
If you are not aware of what offerwalls are, they are basically just in-site/app advertising platforms that are meant to promote websites and apps through offers. And these offers are just short tasks you can do to earn rewards.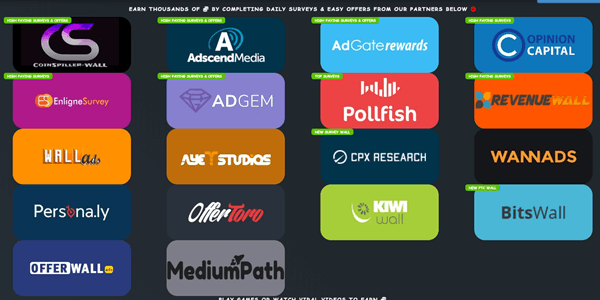 When you log in to the site, you can view all the available offerwalls by clicking on the "Earn" link in the menu and hitting Offerwalls. It will then display all the offerwalls you can work on. During my testing, there were 18 offerwalls available. That's a good number because you will have plenty of options to choose from.
This also ensures you won't run out of things to do to earn rewards. To start working on an offerwall, just click which one you are interested on. Then, click on any offer you want to work on.
Usually, the offers found on their offerwalls will ask you to answer surveys or quizzes, download mobile apps, play games, sign up for certain websites, watch videos, and more. When you click on an offer, it will show you the instructions you need to follow.
Make sure to understand what the offer is asking you to do because if you miss even one step, you won't be able to complete it and you won't earn the reward.
Once you successfully complete an offer, you will receive a certain number of CoinSpiller coins, and it will be credited to your CoinSpiller account balance.
There are some offers though that take longer to be verified. So, don't be surprised if you still haven't receive the reward. You can check the status of each offer you worked on by clicking the "Offer History" link found on the upper right-hand corner.
Option 2 – Roulette game
Their roulette game is actually a betting game, so you have to exercise caution when playing it. To play this game, you have to bet a minimum of 5 tokens. All you need to do is click HIGH, LOW or RED, BLACK then place your BET and click the 'SPIN' button to see if you will win.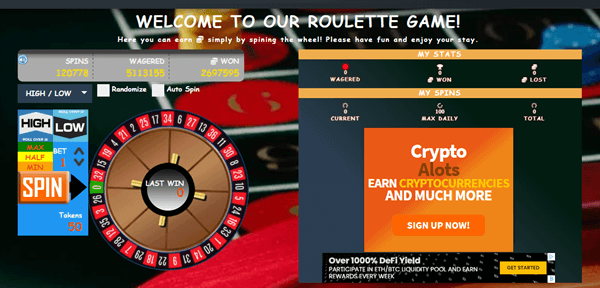 If you win, you will receive the same amount of tokens (the currency the site is using) you bet. If you lose, the tokens will be deducted from your account balance.
You will need to earn more EXP by completing different activates on CoinSpiller to level up. Once you level up, the tokens you can bet will be increased by 5. The maximum number of tokens you can bet is 50. To do that, you have to reach level 10.
Option 3 – Watch videos
You can also earn rewards by watching videos from HideoutTV and Videofox. To earn from this opportunity, just click the "Earn" link in the menu again and click HideoutTV or Videofox. You will then see the videos you can watch to earn.
But what you need to know about this opportunity is, you won't actually be earning for watching the videos. Instead, you will earn for watching the ads that will be shown, before, in the middle, or after the video. That's how you get rewarded.
The thing with this opportunity is, it's a very effortless way of earning rewards, but it isn't the most efficient. That's because you won't earn a lot from it. The rewards are actually quite low. So, it's not the best way to spend your time. I would only suggest you do this if you have nothing else to do on the site.
Option 4 –Challenges
Another way to earn additional rewards is to complete their daily challenges. Think of these challenges as a checklist of what you need to do on the site for the day or the week. That would be the most effective way to go about it.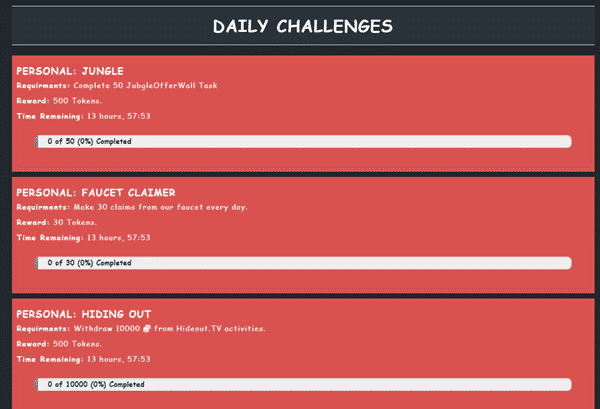 These challenges will usually involve completing a certain number of offers on their offerwalls, or completing other earning opportunities of the site. Once you complete the challenge, just claim the reward by clicking it. You will usually receive 500 tokens for every challenge you complete.
Option 5 – Jobs
Another way to earn rewards is to complete micro-jobs. This earning opportunity will only be available once your account reaches level 2.
When this is unlocked, you will see all the available jobs you can work on. It works just like the paid offers you will find on their offerwalls.
These jobs will usually just ask you to answer surveys, register to websites, watch videos, play games, download apps, etc. To complete a job, you will have to follow all the instructions the job is asking you to do.
When you've done everything the job is asking you to do, you will receive the reward promised.
Option 6 – Promo codes
You can earn more rewards by using promo codes provided by CoinSpiller. To get to this section, just click "Earn" in the menu and click "Redeem Code".

As shown in the photo above, you can get promo codes from their Twitter page or newsletter. When you redeem these codes, you will typically earn a certain number of CoinSpiller coins or cryptocurrency like Bitcoin.
To redeem the code, just type it in the Enter a Promo Code box and hit Apply. You will then receive the reward.
Option 7 – Referral program
Lastly, you can earn rewards by inviting other people to join the site. This kind of opportunity is called a referral program and it is very common on GPT sites.
(Pic of referral program)
To get a referral, you have to share your invite link with the person you want to invite. When that person clicks the link and registers to the site, they will become your referral.
You will now receive a commission based on your account level every time your referral will earn rewards on the site. The commission will be shouldered by CoinSpiller and it will not be deducted from your referral's earnings. You will start at 1% if you are at level one. The maximum commission will be 20%.
Aside from that, when your referral earns a total of 100,000 CoinSpiller coins, you will both receive 20,000 coins as a bonus. It's a nice bonus, but it's quite hard to achieve. So, don't expect to receive this bonus immediately.
Recommended: Check Out the Top GPT Sites
How do you get paid?
As mentioned earlier, you will earn CoinSpiller coins for every paid offer you complete. But aside from coins, you will also earn tokens. Tokens are extra points given to you as a bonus when you're completing daily or weekly challenges.
The value of 1 token is currently 2.5 coins which can be changed at any time. And as explained earlier, you can also use your tokens for their roulette game.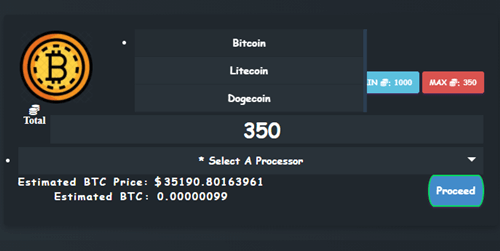 Once you've earned at least 1,000 coins, you can convert it to Bitcoin, LiteCoin, or Dogecoin. Then, you have to choose which cryptocurrency wallet to withdraw it from. CoinSpiller only supports Coinbase and Faucetpay. So, you'll need to have an account from any of the two to withdraw your earnings.
To give you perspective, 1,000 coins is equivalent to $0.1. That means their payout threshold is actually very low. You can withdraw your earnings quite easily.
Their payment system is relatively simple but it's not very versatile since the only reward CoinSpiller offers is cryptocurrency. So, if you are not into cryptocurrency and you are looking to earn cash, I would recommend you check out the top sites that pay via PayPal instead.
How much money can you make?
I would definitely say the earning potential of this site is quite low. The amount of money you can earn from CoinSpiller won't be that much. That's because the site doesn't really pay that well.
Sure, it offers a lot of earning opportunities, but most of these opportunities will only pay you around 100 to 500 CoinSpiller coins. If you convert that to cash, that will only be $0.01 to $0.05, which is quite low.
Sure, there are offers that are worth more than a thousand coins, but these offers will usually require more time to complete. So, the time-to-money ratio of this site is really pretty bad. In order to earn a decent amount from it, you will literally have to complete hundreds of offers, which will definitely take a lot of time.
That time investment can be better spent on websites that pay better, in my opinion. Plus, it also doesn't help that you will only earn cryptocurrency from it. It's much more ideal if there were also other payment options like gift cards or cash so you had the choice.
Can you use it on mobile?
CoinSpiller, in my opinion, is meant to be used on a laptop or a desktop. But there are times when you'd have to use it on a mobile device (like when you have to install mobile apps). So, it helps if you are able to conveniently work on the site from a mobile device.
While CoinSpiller doesn't have a mobile app, you can still access it from a mobile device by using a mobile web browser. Their site is mobile-friendly, so you'll be able to navigate the site easily.
However, you should know that their site is quite spammy. There are a lot of ads that will pop up. Sometimes, the ads will take you to a different website and you can't go back to CoinSpiller by just pressing the back button. You'd have to type the address back in the address bar.
It gets quite annoying, in my opinion and it severely impacts the user-experience in a negative way.
That's why, you should work on CoinSpiller on your laptop or desktop as much as possible. It would be easier to close pop-up ads when you are on a computer rather than a mobile device.
Who can join CoinSpiller?
CoinSpiller is available globally. You can register as a member regardless of where you live. You just have to be at least 18 years of age to sign up.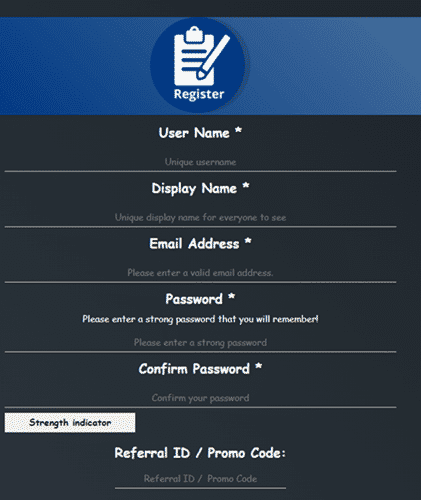 To become a member, just fill out their registration form. The site will then send a confirmation email. Just click the confirmation link to complete your registration. As soon as you confirm your membership, you can now log in to the site and start earning.
Can you get support?
If you have any questions about their site or your account, you can refer to their FAQ page first. It discusses most of the basic topics you need to know about the site. But if you can't find the answers you are looking for, you can use the contact form provided on their website.
Overall, I would say the site has a decent support system in place for its members since it at least provides a way for you to get in touch with their support team.
Final Verdict
CoinSpiller is a GPT site that will reward you for completing offers and the doing the other earning opportunities. It has a couple of interesting features but it also has certain limitations you need to consider.
Let me wrap up this review with a summary of its pros and cons so you can get an overview of what the site has to offer. Then you can decide if it is really worth joining or not.

Pros:
Has a low payout threshold
Has a decent number of offerwalls available

Cons:
Limited payment options available
Low rewards
The site is very spammy
In my opinion, CoinSpiller isn't really a good site to join if you are looking for ways to earn extra cash. The main reason for this is its low earning potential. They don't really pay that well compared to other GPT sites.
You will have to invest a lot of time just to earn a decent amount and it has a lot of spammy pop-up ads. Plus, you will only earn cryptocurrency from this site. So, if you are looking to earn cash, I would recommend you check out the top survey and GPT sites in your country instead.
The sites on this list all have good earning potential. You will be able to earn a decent amount without investing a lot of time. Plus, you will definitely find sites you can join where you can earn cash.
If you have any comments, questions, or have any experiences with CoinSpiller yourself, I would love to hear from you in a comment below.