Is Crypto Idle Miner legit or is it a scam? This is the right question you should be asking if you are interested in using this platform.
It's also the same question I asked myself when I first encountered this platform. So, I decided to take it for a spin to figure out if it is an app worth using or not.
This Crypto Idle Miner review will give you a detailed look at everything Crypto Idle Miner has to offer so you know exactly what to expect and can decide if you should give this a go or not. So, let's go ahead and examine this app, shall we?
What is Crypto Idle Miner and what does it offer?
Crypto Idle Miner is a mobile game that incorporates crypto mining in its mechanics. And I will tell you right now, there are some details you need to know about this app before you go ahead and decide if it is worth your time or not.
Now, the first thing we need to do to figure out if this app is worth it or not is to understand how it works. And the only way to do that is to examine the earning opportunities it offers.
I have, therefore, made a video that gives you a detailed inside look and shows exactly how Crypto Idle Miner works. You can also read all the details below the video.
Recommended: Check Out the Best Ways to Earn Money by Playing Games Online
Option 1 – Playing the game
The idea behind the game is to set up your mining factory to mine crypto.
If you've been playing other idle games before, then this will be very familiar. But if it's your first time playing a game like this, then let me explain how it works.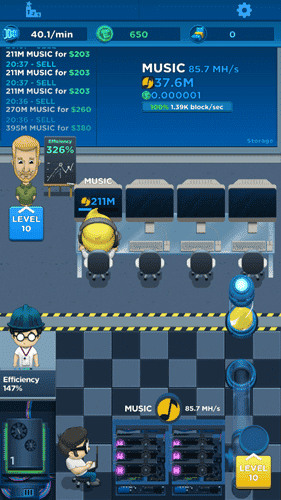 When you start playing the game, you will go through a tutorial and it will teach you what you need to do to increase your mining rate. At first, you'll have to do things manually. You'll have to set up mining rigs and crypto traders to sell the crypto you've mined.
Take note that these are not actual cryptocurrencies. This will just serve as the in-game currency that will let you progress through the game. Then, you will have to hire managers to facilitate the automated process of mining and trading crypto. When you reach this point, you'll be able to just leave the game and check on it from time to time to perform upgrades.
Upgrades are needed to further increase your production and therefore earn more. That's the idea behind the game. You'll need to balance out the efficiency of your mining and your trading. That's the goal when you play this game.
From time to time, you can boost the production of your factory by watching video ads. The boost will usually last for several hours, so you don't have to do this often.
Option 2 – Referral program
Another way to earn from Crypto Idle Miner is through its referral program. The idea behind this opportunity is to invite people to play the game.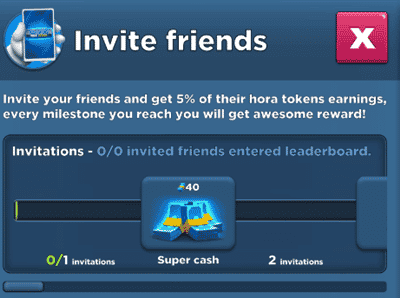 All you have to do is share your invite link with the person you want to invite. When the person clicks the link and installs the game and plays it, he/she will become your referral. You will then earn 5% of the total Hora tokens (the actual cryptocurrency the app will reward you with) your referral will earn.
It's a passive way of earning, but in the next section, I will explain why it is currently pretty much useless.
Recommended: Check Out the Best Ways to Earn Money by Playing Games Online
How do you get paid?
The app will pay you in HORA tokens. This is the actual cryptocurrency the app is using to reward its members. However, there's one big problem with this crypto.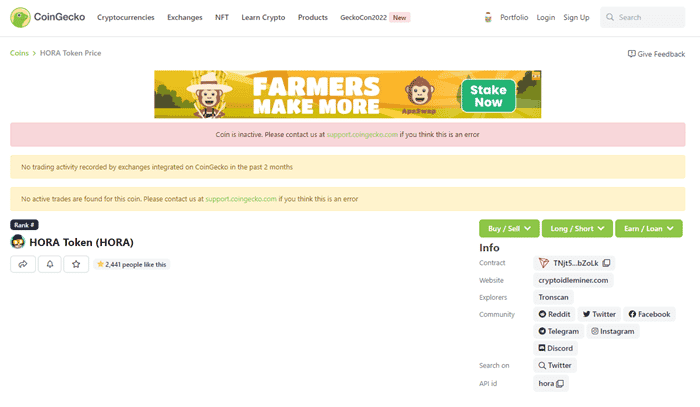 As of the writing of this review, as you can see in the photo above, the HORA token is currently inactive. That means it doesn't have any real-world value. In short, you won't be able to exchange this crypto for cash or for other cryptos.
This is probably also the reason why the app will not let you withdraw or convert the in-game currency to HORA tokens.
While I was playing the game, I encountered a message saying the app will stop allowing members to withdraw HORA tokens last December 2021 because they will be switching to a new network (BSC or Binance Smart Chain).
It has been more than six months at the time of writing this review since that message appeared and there are still no changes. I would consider this a big issue because your time won't really be rewarded as it is now. You will essentially be wasting your time if you keep playing this game expecting to get paid.
If you are looking for guaranteed ways to earn crypto, I would suggest you check out the best ways to earn Bitcoin for free instead.
Can you use it on a desktop?
Crypto Idle Miner is a mobile-only platform. That means you'll have to use a mobile device to play it.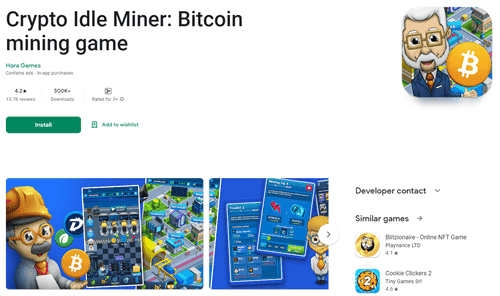 The app is currently only available for download in the Android app store. On the app's website, there's a link to the iOS app store but it is currently not working. I'm not sure if it has been taken down by Apple or if the link is broken. I'm betting on the former.
If you will be playing this game, as I've mentioned earlier, you'll have to deal with watching video ads to get a few bonuses. It can get quite annoying, in my opinion, but it's something you can't avoid if you want to speed up your progress.
Who can join Crypto Idle Miner?
The game is available worldwide. You'll be able to download it from the app store regardless of where you live. You do have to be at least 18 years of age to play this game (although I wonder how they are able to verify your age because the game won't really ask how old you are).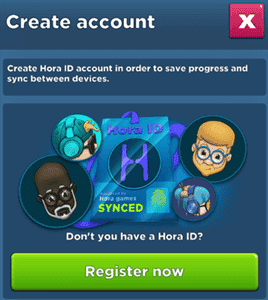 To sign up, you'll have to install the game first and then play it as a new user. Then, you'll have to go to the account settings to sync your progress so you can use the app on other devices with the same account.
Take note that you'll need to have a Hora Games account in order to do this. I personally don't recommend you do this since there's no point because you won't get to earn anyway. But if you like playing the game, you can do so.
Can you get support?
If you have any questions about the app, you can check out the Help Center which can be accessed from the app. I doubt though that you'll find anything useful especially if your concern is about earning from the app.
You can join their Discord channel if you really want to speak to a representative immediately.
Overall, I would say the app does provide decent support since they offer a way for you to get in touch with their support team. But I would warn you not to expect anything helpful from them regarding the earning issue.
Final Verdict
Crypto Idle Miner is a mobile game that is supposedly able to let you earn crypto for free by playing the game. However, there are a few disadvantages you need to be aware of when playing this game.
Let me conclude this review with a summary of its pros and cons to give you an overview of what the app has to offer. That way, you can decide if it is truly worth your time or not.

Pros:

Cons:
The crypto they are using is currently inactive
There are lots of video ads you'll have to watch to speed up your progress
Crypto Idle Miner is a fun game to play. I admit I got hooked when I started playing this game. Sadly, there's no way to earn crypto from this app anymore. I'm not sure if this will ever change in the future, so I would recommend you avoid playing it if all you are really after is earning crypto because you won't be able to do so as of writing this review.
But if you are just looking for a fun game to play during your free time, you can give this a try. Just don't expect to earn from it.
Now, if you are looking for ways to earn extra cash, I would recommend you check out the top survey and GPT sites in your country instead. The sites on this list all have good earning potential so you'll be able to earn a decent amount regularly. Some of them will even allow you to earn crypto for free.
If you have any comments, questions, or have any experiences with Crypto Idle Miner yourself, I would love to hear from you in a comment below.