If you are reading this article, then you must be looking for free ways to earn cryptocurrency. And you must be interested in a platform called CryptoTab. This browser claims you can mine cryptocurrency simply by installing their browser.
It's certainly an interesting offer, but before you use CryptoTab, we have to talk about a few important details.
First of all, is CryptoTab legit or just a scam? Before you join any platform, you have to make sure it is legit and will really pay you.
And you can actually potentially earn with the CryptoTab browser.
Now, the real question is, is it worth using or not? To answer that, there are a few things we must consider. This CryptoTab review will give details about everything CryptoTab has to offer so you will know exactly what to expect before you even join.
This will be a real user review and in the end, I will also give my recommendations. So, let's get this review started, shall we?
What is CryptoTab and what does it offer?
CryptoTab browser is a web browser that is designed to mine cryptocurrency. It's a unique browser because it offers an opportunity for you to earn cryptocurrency through mining.
What's unique about it is, normally, when miners mine cryptocurrency, they use computers that are built for that specific purpose and nothing else, whereas if you use CryptoTab for mining, you can still use your computer to do other stuff.
Here's a video explaining what CryptoTab does.
Now, to fully understand how CryptoTab works and if it will be worth it, we have to take a closer look at the earning opportunities it offers. So, here's how to earn from CryptoTab.
Option 1 – Mining
As mentioned above, you can earn from CryptoTab by mining currency. This is actually the main earning opportunity of the platform.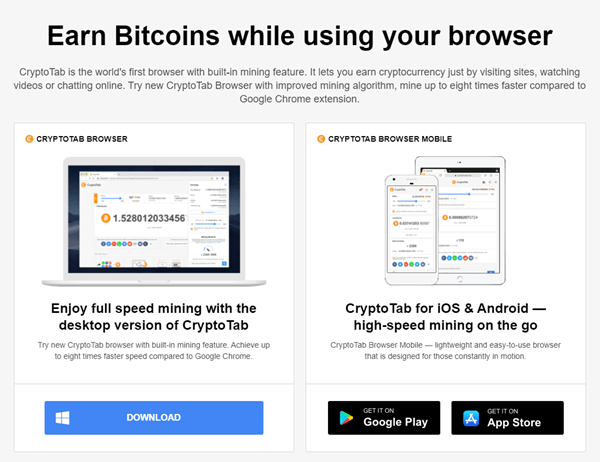 To start mining cryptocurrency, you will have to install the CryptoTab browser. This is the only prerequisite for this earning opportunity.
I just want to make a small warning here that when I installed it, my antivirus program at first blocked it and said it could be harmful.
I am not saying it will necessasrily harm your computer but just sharing what warning I got so you know to consider this as well and make your own decision whether this is for you or not.
The browser is powered by Chromium, the same engine Google Chrome uses. So, it won't feel very different from Chrome. You can also use the same browser extensions.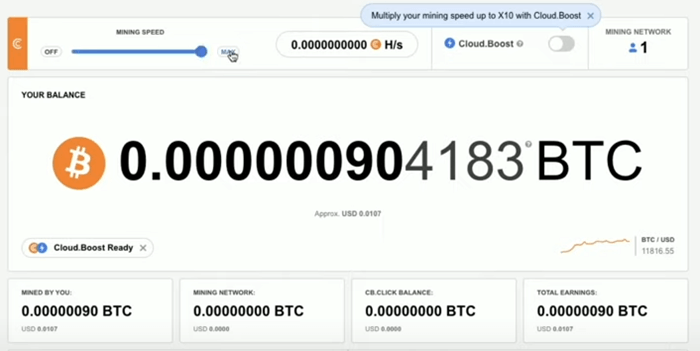 To start mining, you just have to open the browser and enable the mining feature. Now, you can set the mining speed of the browser to your preference. If you don't know what this means, then let me elaborate.
If you set the mining speed higher, CryptoTab will be able to mine more cryptocurrency but at a certain cost. Your computer will consume more electricity when you set the speed higher. You will even notice it because you will start to hear your computer's fans rotate faster.
The computer does this to compensate for the heat that your computer will generate because it will be employing more processing power. So, increasing the mining speed comes with two major disadvantages. It will consume more electricity and it will wear your computer down a lot faster due to the heat generated.
That's why you actually have to find the proper balance when setting the mining speed. You can't just crank the speed up and expect that your electricity bill won't change and your computer won't break down in the long run.
There's a reason why miners build computer rigs solely for mining. Your ordinary laptop or desktop isn't really suitable for this kind of process in the long term.
That's why I would recommend you hold your horses when you set the mining speed if you don't want to shorten the lifespan of your computer.
Option 2 – Affiliate program
The other way to earn from CryptoTab is to participate in their affiliate program also called a referral program.
The idea is really simple. You invite people to use CryptoTab using an invite link. When the person clicks the link and downloads CryptoTab and install it on their computer, they will become your referral.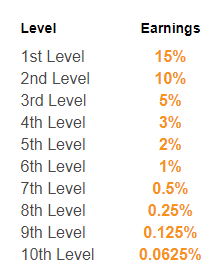 Their affiliate program is 10 levels deep. So, when your referral invites another person to use CryptoTab and they accept, he or she will become your 2nd level referral and so on and so forth until the 10th level. That's how their referral program works.
The deeper the referral level, the lower the reward you will receive. Now, as shown in the photo above, for your level 1 referral, you will receive a 15% commission every time your level 1 referral earns using CryptoTab.
The commission will be shouldered by CryptoTab and will not be deducted from your referral's earnings. It's a nice way to earn a passive income considering it goes 10 levels deep. But you have to make sure the people you invite are really interested in using CryptoTab.
The downside to this opportunity is, if no one is mining, then you won't earn. Later on, I will explain what this would mean to the earning potential of CryptoTab.
Recommended: Check Out The Top Sites To Earn Free Bitcoin
How do you get paid?
If you were expecting to get paid in cash with CryptoTab, you will be disappointed. You will only earn cryptocurrency from it, specifically Bitcoin. So, if Bitcoin is not your thing, then CryptoTab is not for you.
To withdraw your earnings, you will need to have a cryptocurrency wallet. A good example is Binance, which is the platform I am using myself as a Bitcoin wallet. Now, before you can withdraw your earnings, you will have to earn at least 0.00001 BTC (which is roughly $0.37 at the time of this writing).
The payout threshold is very low, but that doesn't necessarily mean you can withdraw your earnings very quickly (I will discuss why in the next section). Now, if you are looking to earn cash instead, I would recommend you check out the top sites that pay via PayPal.
How much money can you make?
The amount of money you can earn from CryptoTab will mostly depend on how often you mine and how many referrals you can get. But let me be blunt, the earning potential of CryptoTab is really very low.
The amount of Bitcoin you can mine will simply not cover your expenses, in most cases. If you compare what you can mine from CryptoTab with say a dedicated computer for mining, the difference is very significant. The computer built for mining will outperform CryptoTab by a lot.
When I did my testing, I mined for a day and I wasn't even close to the payout threshold. I only managed to earn around 0.0000009 BTC which is a far cry to their payout threshold. I would have to mine for more than a month just to reach the threshold.
And as I've explained earlier, mining will consume a lot of electricity and if you look at the rate of earning from CryptoTab, I'd have to mine for more than a month just to reach their payout threshold that is only worth $0.37.
So, it's not really an efficient way to earn. Now, you could argue that you can supplement your earnings through their referral program because it is ten levels deep. So, there's plenty of opportunity to earn.
That's actually a misconception. The amount you can earn from their referral program will depend on your referral's mining activity. So, if mining through CryptoTab isn't really profitable, what would be the point of doing it?
The end result will be that potentially no one would be mining and you won't earn anything. That's why I don't really see the value of using this browser to mine Bitcoin. I would rather invest in setting up a dedicated computer to mine for Bitcoin since that would be more profitable.
Overall, I don't really see any value in using CryptoTab, to be honest. If you want to earn Bitcoin, there are far better ways to do it. If you want to use other browsers, then there are also better and more reliable options out there, in my opinion.
Can you use it on mobile?
CryptoTab can be used on mobile devices since it has an app you can download. The app is available for both Android and iOS devices. However, it is not a free app. You'd have to buy it from the respective app store.
It is a cheap app (less than $1), but I still do not quite understand why they charge for it as that just makes it even harder to make a profit.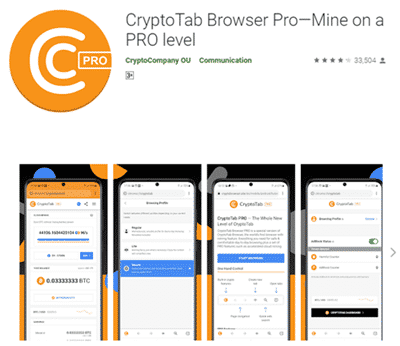 Also, I don't really recommend you mine using your mobile device since it will require a lot of processing power which will lead to your battery draining pretty quickly. There's really no incentive to using their app, in my opinion.
Your mobile device already has a built-in web browser and if you still want to use another one, there are better options like Google Chrome or even Opera, in my opinion.
Who can use CryptoTab?
CryptoTab is available globally. You can download and install it on your device regardless of where you live.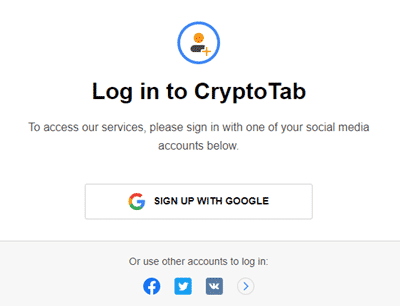 Once you've installed the browser, you can sign up using your Google, Facebook, Twitter, or VK account. When you've signed in, you can start earning. You can set up your preferred mining speed and you can also set up your payment details.
Can you get support?
If you ever need any assistance or if you have any questions about CryptoTab, you can refer to the FAQ page on their website first. It discusses all of the important topics you need to know about the browser.
But if you can't find what you are looking for, you can get in touch with their support team by scrolling all the way down to the bottom of their website and clicking on the "Contact Support" link.
It will walk you through the troubleshooting process and if still isn't resolved, you can then submit your inquiry through the contact form the site will provide. Overall, I would say they have a decent support system in place for their members since they offer a convenient way for you to contact support.
Final Verdict
CryptoTab is a browser that will allow you to earn Bitcoin by mining. It has a couple of good features but it also has several drawbacks you need to factor in.
So, let me wrap up this review by summarizing its pros and cons to give you an overview of what it has to offer. That way, you can decide if this is really a good fit for you or not.

Pros:
Offers a simple way to earn Bitcoin

Cons:
Limited earning opportunities offered
Low rewards
Their app is not free to download
My antivirus program gave me a warning when installing it
If you are looking to earn extra cash or even cryptocurrency online, CryptoTab isn't really a good option. The main reason is the low rewards it offers. You won't earn a decent amount without having to invest a lot of time and resources.
Its earning opportunity isn't really cost-efficient. If your goal is to mine Bitcoin, you are better off building a dedicated computer for it because at least, with that, you are guaranteed to profit. With CryptoTab, you are potentially wasting your time and resources, in my opinion.
I would instead suggest you check out the top survey and GPT sites in your country if you are looking to earn extra cash online. The sites on this list all have good earning potential and will be far more profitable.
If you have any comments, questions, or have any experiences with CryptoTab yourself, I would love to hear from you in a comment below.