I have tested hundreds of ways to earn extra money online, but none is as sweet as being able to earn passively. That's what Decentr claims to offer. It says on its website that you can earn by just browsing the web.
Sounds simple enough, right?
Well, I decided to learn more about this browser by downloading and testing it. That way, I can give you the proper recommendation on whether or not Decentr is really worth using or not.
In this Decentr review, I will show you exactly what it offers so you will know what to expect from it and you will know what to do if you ever decide to use it. So, let's go ahead and get this ball rolling, shall we?
Disclosure: Some articles on this website contain affiliate/sponsored links. Click for more info.
What is Decentr and what does it offer?
Decentr, as mentioned above, is a relatively new web browser that will let you earn when you use it to browse the web. And yes, it is indeed a legit site since it really does what it claims to do.
However, the fact that it is legit isn't really the best way to gauge if it is worth using or not. To find out if it is worth it, you have to first understand how it works and the best way to do that is to take a closer look at the earning opportunity it offers.
I have, therefore, made a video that gives you an inside look and shows exactly how you can earn from Decentr. You can also read all the details below the video.
Click to Join Decentr and Get a 10 DEC Welcome Bonus
The earning opportunity – Browsing the web
As of writing this review, the only way to earn from Decentr is to use it when browsing the web. That means you will have to replace your current browser with this one. So, if you are not willing to do that, then you won't really be able to maximize your earnings from Decentr.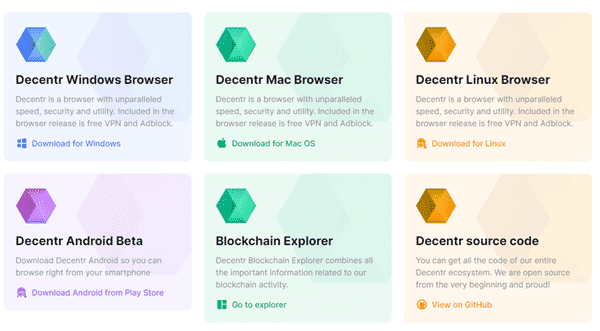 The first thing you need to do is download the browser. As you can see in the photo above, their browser will work with Windows, Mac, and Linux computers. It will also work with Android devices too.
However, they are working on making it available for more or less all devices in the near future.
After you've installed the browser, you will have to go through the registration process (I will discuss later how to sign up). Once you've signed up, you can now start using the browser to earn.
The good thing about Decentr is, you don't have to do anything special to earn. You just have to use the browser to do what you usually do on the internet. But how do you earn exactly from browsing?
Well, what Decentr does is it tracks the data you provide when browsing websites. Now, if you are worried that Decentr collects sensitive data from you like your passwords, bank account numbers, and the like, then you don't have to worry.
Decentr promises it doesn't collect any sensitive data. In fact, after you've installed the browser, you will be asked what type of data you want to share with Decentr (refer to photo below).

As you can see in the photo above, the data that Decentr collects will only be regarding your location, search history, cookies, and the ID of advertisers, so your passwords and bank account are safe.
You also have control over which type of data you are willing to share. You just have to slide the bar to the right (refer to photo above) if you are willing to share that type of data with Decentr.
So, how will Decentr determine the amount it will pay you for collecting data? Well, it will use the data collected to calculate your Personal Data Value or PDV. The more data you are able to share, the higher your PDV will be and the more rewards you will earn.
You can always see the value of your PDV by clicking the blue icon on the upper right-hand corner of the browser. Now, what exactly will you earn? I will talk about that in the next section.
Bonus opportunity – Joining bonus
You can also receive a hefty bonus by simply signing up using an invitation link.
If you click the link at the end of this review, you will also receive a 10 DEC bonus. It's a good head start, in my opinion, and if you are really interested in this platform, you should take advantage of this opportunity.
You can read the exact conditions to get that bonus when you click the link.
Recommended: Check Out the Top Passive Income Apps
How do you get paid?
If you were hoping to earn cash from Decentr, then you will be disappointed. That's because you can only earn cryptocurrency if you use this browser.
They have their own cryptocurrency which is the Decentr Token (DEC, which is not to be confused with Dark Energy Crystals, which is another cryptocurrency for an NFT game).
If you click the link above, you will know exactly the value of 1 DEC token. If you want to find out the exact value of their token, just click the link above. But the thing with cryptocurrency, as you may already know is, it has the potential to become worth more. I'm not saying that its value will significantly increase in the future, but it has the potential as with all legit cryptocurrencies.
Now, how can you claim your earnings? The DEC tokens are automatically distributed into all accounts approximately once per month, or when the blockchain reaches the necessary block height. You can check the block height in the dPortal.
There is currently no way to manually claim these rewards. The tokens will be deposited directly to your Decentr account which also doubles as your DEC wallet. So, you don't really need to use a third-party crypto wallet to claim your earnings. You can then trade your DEC tokens on Uniswap to swap them for other cryptocurrencies and then swap them to real-world currency after.
It can be a bit complicated to convert your Decentr earnings into actual cash if you are new to the world of cryptocurrency, so you will need to do a bit of research on this first.
If you prefer sites that offer a simpler payout system, I would recommend you check out the top sites that pay via direct bank transfer instead.
How much money can you make?
The amount you can earn from Decentr will mostly depend on how often you use the browser. As I've mentioned earlier, if you are not willing to make this your default browser, you can't expect to earn a decent amount from it.
And as explained earlier, the Decentr token's monetary value will fluctuate, so, it's really hard to give an exact value of how much you can earn from it. When I contacted them, they did give me an approximate value of how much you can if you use the browser on a regular basis.
They say that you can earn around $10 to $15 worth of their cryptocurrency in a month, which, in my opinion, isn't a bad rate. However, there have also been examples of people warning as much as $50 per month.
The good thing about Decentr is, it's actually a useful browser, in my opinion. I've tested plenty of other browsers before and so far, Decentr works a lot like Google Chrome which is arguably the most popular browser today. I didn't really experience any issues when I was using this browser.
It also has a good adblocker feature. Plus, in the future, they will be adding more features to the browser including other earning opportunities.
So, if you aren't really particular about which browser you are using, then this can be a great browser to use since you can earn at the same time. That's really the best value this browser brings to the table.
Plus, I have been in contact with them during my testing, and I can say that they are really serious about developing Decentr and adding more features in the future. That's why I can say that it is worth considering because of the potential it offers.
Can you use it on mobile?
As mentioned earlier, Decentr has a mobile app you can download that will work with Android devices. They say that they are still currently working on the iOS version, so it will be available in the near future.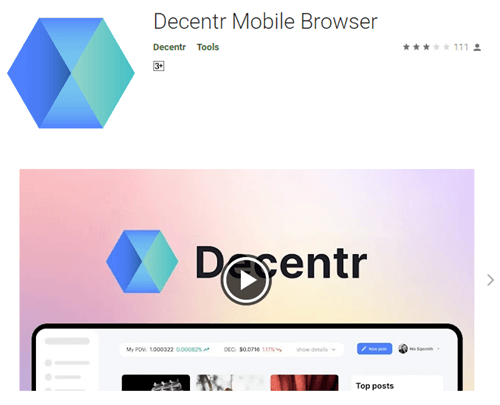 But in the meantime, you can download the mobile version of the browser from the Android app store. The mobile version of the browser is also very easy to use and it doesn't eat up a lot of your device's resources.
You can find all the features in the web-based version of the browser on the mobile version. So, it is a very usable app, in my opinion.
Who can join Decentr?
The good thing about Decentr is, it is available globally. So, you can download and use the browser regardless of where you live.
The registration process is also very simple. First, you have to download the browser and install it to your device. Then, the browser will walk you through the registration process step by step.
After you've finished the registration, you will have to set the type of date the browser will collect. You can always adjust this later in the browser settings. After you've finished the setup process of the browser, you can start using it and earn right away.
Can you get support?
The website doesn't have a comprehensive FAQ page, so if you have any questions about the browser, you will have to forward your inquiry to their support team. Fortunately, you can do that easily. You just use the contact form provided on their website.
Just fill out the necessary fields and hit submit. The site also has a roadmap posted on their website on the schedule of implantation of additional features. So, you will more or less know when to expect the additional features of the browser.
Overall, I would say Decentr has a decent support system in place for its members since it offers a convenient way for you to get in touch with their support team, which is also very responsive, I might add. But I do wish they would add a more comprehensive FAQ page so that people won't have to always get in touch with their support team if they have any questions.
Final Verdict
Decentr is a legit browser that will let you earn passively by simply using it to browse websites. It has a couple of good features to offer, but it also has some limitations you need to be aware of.
Let me wrap up this review with a summary of its pros and cons to give you an idea of what it has to offer. Then, you can decide if this is a good fit for you or not.

Pros:
Available globally
Offers a very easy way of earning rewards
The browser is user-friendly

Cons:
Limited earning opportunities offered
Limited payment options offered
If you are not very particular with the kind of browser you use to surf the internet, then I would recommend you use this browser if you want to earn a bit of cryptocurrency on the side. The browser is very easy to use and it has some cool features too.
Plus, their cryptocurrency has potential so it might end up being a good long-term investment, depending on how the market goes. But if you are fine with using your current browser or you are looking to earn cash, I would recommend you check out the top survey and GPT sites in your country instead.
The sites on this list all have good earning potential and most (if not all) of them offer cash rewards as well.
How to join Decentr?
If you are interested in using Decentr as your primary browser, all you have to do is click the join button below. It will take you to their download page. Just choose the appropriate download link for your device. Then, it will walk you through the registration process.
And as I've mentioned earlier, you will receive a 10 DEC bonus after you've signed up using the link below.
If you have any comments, questions, or have any experiences with Decentr yourself, I would love to hear from you in a comment below.