I recently found a site called DollarsHunt. This site claims you can earn money by sharing your opinions. So, I took the time to investigate and test to see if it does what it claims to do.
That way, if you are interested in joining it, you can just read this DollarsHunt review and then you'll know what to expect before you even sign up.
This review will check if this site is legit or a scam. It will also examine everything the site has to offer so you can determine if it is really worth joining or not.
So, let's go ahead and dive in to everything the site has to offer, shall we?
What is DollarsHunt and what does it offer?
DollarsHunt.com is a GPT (Get-Paid-To) site that will pay you for completing the earning opportunities they offer. It is indeed a legit GPT site since it really does pay you.
And speaking of earning opportunities, we have to examine exactly what it offers so you can understand how the site works. It will also give you an idea of how well you can earn from.
So, here's how to earn from DollarsHunt.com.
Option 1 – Paid surveys
One way to earn from DollarsHunt is by completing paid surveys. One thing to note though is, they don't really offer surveys of their own. Instead, they only act as a survey router.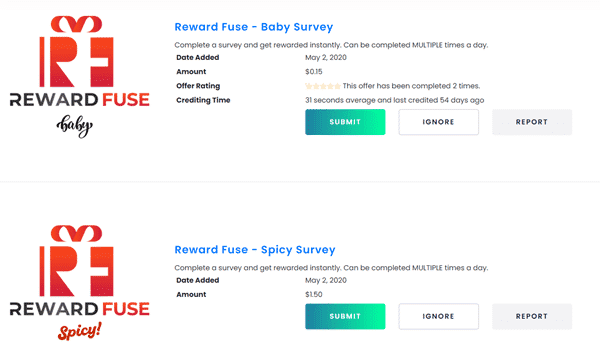 If you are new to survey routers, they are basically websites that list down various surveys from different survey panels in one spot. And the good thing is, you don't have to be a registered member of the survey panel to answer their surveys. So, it's basically a one-stop shop for surveys.
To answer a survey from DollarsHunt, you have to go to their "Daily Surveys" section. Then, click on any survey offer. It will then open a new browser tab where you will be taken to the survey provider's website.
You'll have to provide basic info like your email, gender, age, and few more. Then, if there are surveys available for your profile, they will be displayed in the same window. Simply click on a survey (if there are any) and answer the qualifying questions provided.
If you qualify, then you get to answer the actual survey. If you fail to qualify, you just have to move on to the next available survey.
Once you complete the survey, you have to go back to the "Daily Survey" page and click the "Submit" button to have the site review your submission. For some reason, DollarsHunt will have to verify first if you really completed the survey.
It's a bit weird because usually, in my experience, GPT sites will be able to check on their end if the survey you answered has been completed. So, I'm a bit surprised why they still require you to click the "Submit" button.
But nevertheless, you need to do this to earn from the survey you completed.
Option 2 – Offerwalls
Another way you can earn rewards from DollarsHunt is by completing paid offers found on their offerwalls.
If you don't know what an offerwall is, it's an in-site/app advertising platform that promotes certain websites and mobile apps through their paid offers.
Paid offers are short tasks you can do to earn rewards. Usually, these paid offers will ask you to answer a survey or quiz, download a mobile app, register to a certain website, watch a video, or play a game.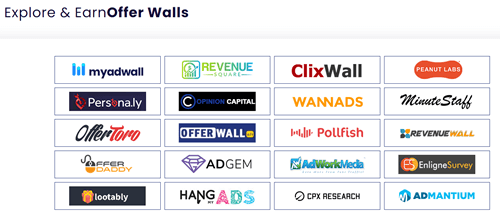 And as you can see in the photo above, DollarsHunt has a decent number of offerwalls available. So, you basically won't run out of things to do to earn rewards.
To earn from this opportunity, just pick an offerwall you want to work on and click it. You will then see a list of paid offers. Just click which one you are interested in and it will open a new browser tab. In the new tab, you will see the instructions you need to follow to complete the offer.
Make sure to take note of all the steps you need to do because if you miss one, you will not be able to complete the offer. When you complete an offer, you will earn a certain number of points and it will be credited to your point balance. Later on, I will explain what you can do with your points.
Option 3 – Referral program
You will also be able to earn additional rewards by inviting other people to join the site. This opportunity is called a referral program.
All you have to do is share your referral link with the person you want to invite. Once they click the link and sign up as a member, they will become your referral.
You will then receive a 10% commission every time your referral will earn rewards on the site. This commission will be shouldered by DollarsHunt and will not be deducted from your referral's earnings.
Your referral will also receive a $0.10 bonus once they sign up using your link. So, it's a win-win situation for the both of you.
Option 4 – Monthly contests
Lastly, you can win prizes from their monthly contests. There are two types of monthly contests being held. There's one for offers + surveys and one for referrals.

The premise is really simple. Every month, DollarsHunt will have a leaderboard on who has earned the most from paid offers and referrals. The top 10 earners will win a bonus prize which will be based on the amount they have earned.
For example, the #1 earn for paid offers and surveys will receive an additional 10% of the total amount they earned from surveys and 10% of the total points they earned from paid offers.
As shown in the photo above, the last prize will be 2% which isn't really that bad since you don't really have to do anything special to win. You simply have to be as active as you can on the site.
While you really can't expect to earn from this opportunity regularly, it's a nice goal to set your eyes on. Think of it as motivation to keep being active on the site.
Recommended: Check Out the Top GPT Sites
How do you get paid?
As explained earlier, for paid surveys, you will earn a certain amount. And for paid offers from offerwalls, you will earn a certain number of points. You can then convert the points you've earned to cash (refer to the photo below).

One point will be equivalent to $0.01. Once you've converted your points, you can then withdraw it via PayPal if you've earned at least $2, which is a very low threshold.
If you live in India or the US, you can also convert your earnings to Amazon gift cards but the threshold will be $5. You can also withdraw your earnings via direct bank transfer if you live in India. The threshold for this payment method is $3. And lastly, you can also withdraw via Paytm if you've earned $5. This option is also only available in India.
Overall, their payment system is relatively simple. And as you can see, there are more payment options for people who live in India.
I also like the fact that they offer payment via PayPal because, in my opinion, it's one of the most convenient payment methods around. If you are interested in more sites that pay via PayPal, I suggest you also check out the top sites that pay via PayPal.
How much money can you make?
As mentioned earlier, you won't really run out of things to do to earn from DollarsHunt. So, you will be able to earn on a regular basis. However, as to the amount you can earn, it will mostly depend on how well the site pays.
As to the surveys they offer, you will usually earn around $0.2 to $2 (at most) per survey. That's not a bad rate, in my opinion. Just keep in mind that it can take some time to qualify for surveys. So, you'll need to be a bit patient.
For their paid offers, the reward rate is around $0.05 to $1.5 per offer. However, there aren't a lot of offers that pay more than $1. So, you'll have to complete a lot of offers to reach their payout threshold.
Overall though, I would say DollarsHunt has a decent earning potential. Their rewards aren't that low but they aren't that good either.
Can you use it on mobile?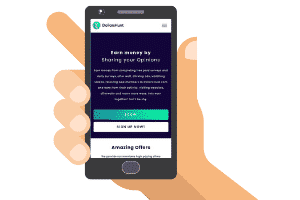 DollarsHunt.com doesn't have a mobile app you can download, but you will be able to access their site from a mobile device using a mobile web browser. And the good thing is, their site is mobile-friendly. So, you'll be able to navigate through the site with relative ease.
You also don't have to zoom in to read all the content. This can come in quite handy especially for paid offers that will ask you to download mobile apps. The reason for that is, obviously, you will need to use your mobile device to complete the offer.
So, it's good that you can conveniently complete these kinds of offers from your mobile device. It adds to the overall usability of the site, in my opinion.
Who can join DollarsHunt?
You will be able to register to this site regardless of where you live since it is available globally. You just have to fill out their registration form.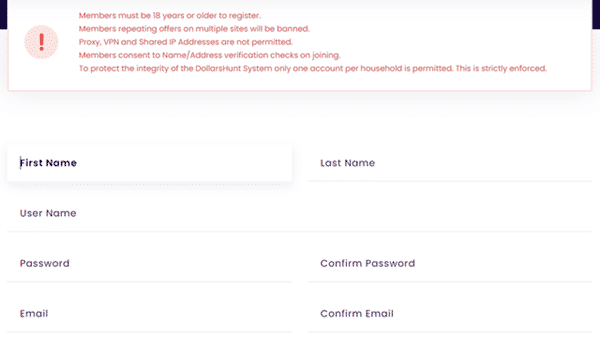 And as shown in the photo above, there are a few stipulations you need to meet. You have to be at least 18 years old to join the site. You are also not permitted to use a VPN when working on the site. Doing so will result in your account being banned. And believe, they will really recognize if you are using a VPN or not. So, don't even risk it.
Also, only one account per household is allowed. So, if there are other members of your household that are interested in joining this site, you should talk it out to see which one gets to sign up.
Once you are done signing up, you can log in to the site and start earning right away.
Can you get support?
If you have any questions about the site or your account, you can check out their FAQ page first to see if you can find the answers you are looking for. Their FAQ page is accessible even if you don't log in to their member dashboard, which is a good thing.
If you can't find the answer, you can then contact their support team using their contact form. You also don't have to log in to access their contact form.
Overall, I would say they have a decent support system in place for their members since they offer a convenient way for you to get in touch with their support team. I also like the fact that you don't have to log in to their site to get support.
Final Verdict
DollarsHunt is a legit GPT site that will really pay you for answering surveys and completing offers. It has a couple of good features to offer but it also has a few drawbacks.
Let me summarize its pros and to cons to wrap up this review. That way, you can get an overview of what the site has to offer so you can decide if it is really worth your time or not.

Pros:
Offers payment via PayPal
Has a low payout threshold
Available globally

Cons:
A lot of their offers and surveys don't pay that well
Payment options are a bit limited if you don't live in India
DollarsHunt is a pretty decent GPT site, in my opinion. In fact, the only reason why I don't consider this site a top-tier GPT site is because their rewards aren't that high and it only offers one payment option if you live outside of India.
But if you can live with that, then I would say this site can serve as a decent secondary site to earn from. You just have to be a bit patient since as mentioned, they don't pay that well. It will take a lot more time to reach their payout threshold even though it's rather low.
Now, if you are looking for primary sites to earn extra cash, I would recommend you check out the top survey and GPT sites in your country instead. The sites on this list all have a slightly better earning potential than DollarsHunt.com. Plus, most of the sites on this list offer different payment methods regardless of where you live.
If you have any comments, questions, or have any experiences with DollarsHunt yourself, I would love to hear from you in a comment below.