Do you want to know how to potentially earn big money by selling books on Amazon without ever having to write a single word?
Then I would suggest you keep reading because this guide will show you the easiest and fastest way to do this.
This type of earning method involves several steps, but I will explain each step so you will know exactly how to do it, so you can find out if it is the right opportunity for you.
And just so you know, this involves taking advantage of the Amazon Kindle Direct Publishing (Amazon KDP) platform, which means you will get access to a huge audience (and potentially huge earnings).
So, without further ado, let's get this guide started, shall we?
Disclosure: Some articles on this website contain affiliate/sponsored links. Click for more info.
Why is Amazon KDP a great way to earn money?
Before we talk about the actual process of selling books on Amazon, let's first discuss why Amazon KDP is a great option.
Well, the first reason why using this platform is a great option is that there's no upfront fee you need to pay. You don't have to invest in anything to start earning.
The way it works is that you publish books on Amazon KDP, and you earn up to 70% royalty for every book you sell.
Plus, Amazon KDP will do all the hard work for you including the printing, shipping, and even customer service. So, there's practically no risk involved. And best of all, it is available worldwide, so you can participate regardless of where you live.
Once you become a member of this platform, your goal is to make low-content books, which is what I will discuss in the next section.
How to make money with low-content books?
Earlier I mentioned that you can earn big money by selling books on Amazon without ever having to write a single word. This is what I'm actually talking about.
You see, you can publish low-content books like journals, and notebooks, or you can go for sketchbooks, coloring books, and more. This is what you will be "selling," and believe me, there's a huge market for this kind of stuff.
You just have to upload your books to Amazon KDP, and when someone buys them, Amazon will take care of the printing and shipping. You will then get paid a royalty for every sale. It's that simple.
Now, the next thing you need to know is how to create these low-content books. In the next sections, I will discuss which platform I have found to be the easiest and fastest way to create these books.
What is Book Bolt and what does it offer?
To create these low-content books, you can sign up for a platform called Book Bolt. This site offers tools you can use to make low-content books.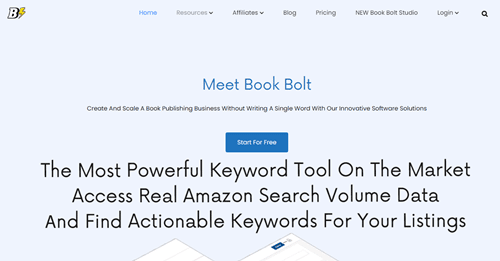 But it does not only help you create the books. It also helps you with the very important part of finding profitable topics for your books.
Book Bolt has a lot of tutorials you can watch to help you create the book you want. You can access these tutorials once you log in to the member dashboard of Book Bolt. And you also get access to weekly live calls where you can ask questions to the platform's founder.
Now, to truly understand how Book Bolt works, let me discuss the step-by-step process of how to create a book on this platform.
For that, I have made a video showing you exactly how to make a low-content book on Book Bolt. You can also read the details below the video.
>>>: Sign Up For Book Bolt Here (20% discount code: paidfromsurveys )
Step 1 – Finding a profitable niche
The first thing you need to do is find a niche for the book you want to make.
It is important that the niche is profitable because the goal, after all, is to sell books, and it will be pretty hard to do that if the niche you chose is not popular or no one is interested in it.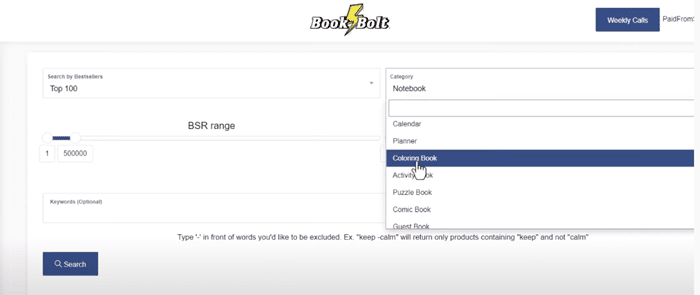 Just log in to the member dashboard and click on the "Cloud" link on the left side. Then, you can choose the category of the book you prefer (refer to the photo above) as well as the keywords. After you've set the parameters for your search, just press the "Search" button to see all the potential niches to choose from.
You can get some inspiration from the results displayed. You can even get an idea of how much these books cost and the estimated monthly sales. So, it's really a great way to get some inspiration on what type of books you should make.
Step 2 – Checking the search volume for your book topic
After you've chosen the niche for your book, it's time to figure out the topic. And the best way to do that is to check the search volume of potential topics for your books.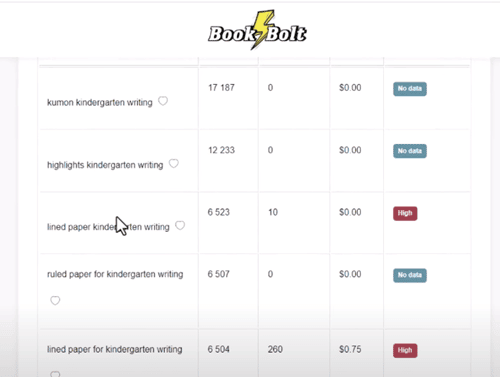 To check the search volume of the topic you have in mind, just log in to the dashboard again and click the "Keywords" link. Then, just type in the keyword to see the results.
In the results, you will more or less see which keywords will have the highest search volume. This should help you figure out the topic for the book you want to make.
Step 3 – Creating the book
After you've finalized the topic for the book, you can start creating it. And as I've mentioned earlier, you can easily do it on Book Bolt because it has what they call the BookBolt Designer, which will help you make the book in just a few clicks.
The designer is a very user-friendly tool that will guide you on how to design your book. It's web-based, so you can design your book by using your web browser.
The great thing about this tool is that there are a lot of templates you can choose from. So you don't have to waste a lot of time trying to conceptualize how your book will look like. You can just choose and template and go from there.
Once you are done creating your book using the BookBolt Designer, you have to download it. Remember earlier that I mentioned that if you want to sell your books on Amazon KDP, you just have to upload it? Well, this is that part.
Once you've downloaded your book from Book Bolt, you can just go to the Amazon KDP and upload it, and they will know what to do.
How much does Book Bolt cost?
Now that you know the process of creating low-content books, it is important that you know how much this platform will cost you.
Because of the convenience Book Bolt offers, you will have to expect to pay some kind of amount. You will not find a tool and support like this for free.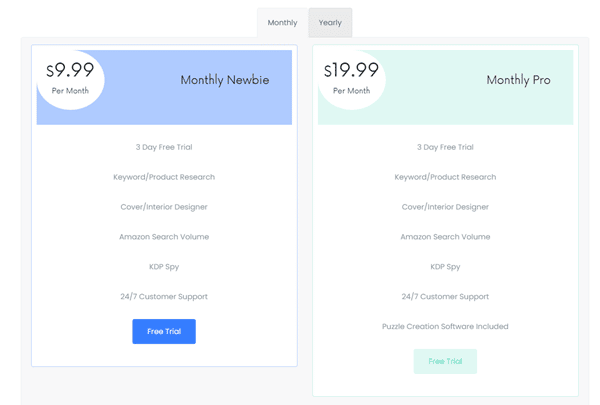 Book Bolt has two packages you can choose from. You can go for the "Newbie" package, which will only cost $9.99 per month or $89.99 per year. The "Pro" option will cost more at $19.99 per month or $199.99 per year.
The difference between the two packages is that with the Pro option, you'll have access to significantly more templates. It will essentially give you more options for books to make.
If you are interested in joining this platform, you can use the code "paidfromsurveys" to get a 20% discount for the subscription fee. That's why I would recommend you go for the annual package because you can save a significant amount.
You also get a 3-days free trial, so you can test the tool before actually having to pay.
>>>: Sign Up For Book Bolt Here (20% discount code: paidfromsurveys )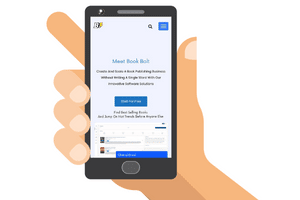 Can you use it on mobile?
Book Bolt doesn't have a mobile app you can download, but you can still use it on a mobile device because the site is optimized for mobile use. You will be able to read the content properly without having to zoom in.
This can be quite handy because you can do your keyword research on the go. If you suddenly have an idea for a book, you can just log in to the member dashboard of the site and check the search volume of your idea.
This is very useful because as a creative, it is always best to act on an idea immediately to avoid losing momentum. And being able to do that from your mobile device can become invaluable.
How to create an Amazon KDP account and upload books?
Now that you know how Book Bolt works and how to sign up for it, the next thing we need to discuss is how to create an Amazon KDP account. As mentioned earlier, this platform is available worldwide, so you shouldn't encounter any issues signing up.
The process is really simple. You can even just use your regular Amazon account. Then, you'll have to provide some information like your bank account (which will be used to withdraw your earnings).
After you've set up your account, you can now start uploading books that you want to sell. To upload a book, just log in to your Amazon KDP account and go to the "Bookshelf" section. Then, you can choose what type of book you want to upload.
You can choose from Kindle eBook, Paperback, Hardcover, and Series page. If you are planning to sell low-content books, you have to choose Paperback. Then, just fill out the necessary fields and upload the manuscript.
How much money can you make?
After you've uploaded your book, Amazon KDP will then show you the printing cost so you can factor it in when you finally set the pricing for your book. Now, this is what will dictate the amount you can earn from this earning method.
You can set the price of the book you want to sell. When setting the pricing, you will also immediately see the royalty you will receive when your book gets sold. So, you can adjust your pricing if you want to receive a specific amount in royalty.
But overall, the money you can make will depend on the books you want to sell. Keep in mind that earning as a creative is a tough job. You need to take the time to create a good selection of books you want to sell. By doing so, you can potentially earn good money.
That's why I would say the earning potential of this earning method will depend on how good you are at creating books for selling.
Final Thoughts
That concludes my guide on how to earn by selling books on Amazon. And as explained above, while Amazon KDP requires no financial cost upfront, the platform you will have to use to create books will cost a certain amount per month.
So, if you decide to earn money this way, be prepared to shell out a few bucks every month, so you can use Book Bolt to find topics and create books you can sell. The good thing is that it is really a tool worth using, and it will make finding topics and creating books significantly easier, so you'll get your money's worth, in my opinion.
If you want to use this earning method, you can use my discount code paidfromsurveys" to get a 20% discount when you sign up on Book Bolt through the button below.
If you have any comments, questions, or have any experience with Book Bolt and Amazon KDP yourself, I would love to hear from you in a comment below.