EarnIn is an app that claims you can access the money you've earned from your work before payday. So if you are looking for an app where you can get money quickly, you might be tempted to use this app.
However, you might also be wondering if this app really is legit or if it is just another scam to stay away from. If you are interested in using this app, I highly recommend you continue reading this EarnIn app review.
It will show you the full details of what the app has to offer so you will know exactly what to expect from it. Then you can make an educated decision on whether this app is really worth it or not.
So let's go ahead and examine EarnIn, shall we?
What is EarnIn, and what does it offer?
First of all, let me tell you that EarnIn is unlike most of the apps that I have reviewed over the years. It is not an online rewards app, but it does offer something unique, so I decided to take a closer look at it.
EarnIn is what you call an Earned Wage Access (EWA) app. What it does is that it allows you to access your paycheck ahead of payday quickly and easily.
Now the question is, is it worth using?
Well, the only way to answer this question is to understand how the app works. And the best way to do that is to take a look at the "earning" opportunity it offers. So let's go ahead and do that.
The earning opportunity – Cashing out using the app
Technically speaking, EarnIn doesn't offer its own earning opportunities. What it does, as mentioned above, is that it allows you to access your paycheck before your payday.
Say, for example, you've already worked three days during the current pay cycle, and you need money to buy groceries. But since payday is still 12 days away, you don't have any money to buy groceries.
What you can do is to use the money you've earned from your three days of working and cash out using EarnIn. With the EarnIn app, you will be able to withdraw your earnings for three days directly to your bank account, so you don't have to wait until payday to do your grocery shopping.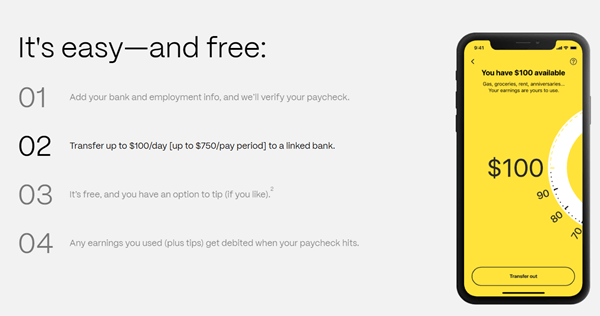 To do so, all you have to do is connect your bank account to the EarnIn app. Then you'll have to add your employment info to help EarnIn recognize your pay schedule. There are three ways to add your earnings to the app:
An electronic or printed timesheet
Your employer-provided work email address
Automatically via our Automagic Earnings (GPS) feature if you work from a fixed work location
Once you've done this, you will be able to cash out up to $100 per day or $750 per pay cycle using the EarnIn app. It's a convenient way to gain access to extra cash, in my opinion.
Now you might think that the EarnIn app is just a loan app, but apparently, it isn't. You see, loans have interest rates and charge mandatory fees. EarnIn doesn't do that. There's no interest when you "borrow" from EarnIn, plus, there are no mandatory fees involved.
But how does EarnIn make money for providing this service?
Well, they offer what is called a Lightning Speed transfer. This transfer method will allow you to receive your earnings just minutes after you make a request. This type of transfer method will involve a certain fee.
But you have the option to just withdraw cash the normal way. It will take longer (up to 3 business days), but you will still get the cash you requested. You can also tip EarnIn for the service they provide. You can give up to $14 as a tip for allowing you to gain access to your paycheck earlier.
As you can see, EarnIn does have avenues for earning, so it can continue providing this service to its users. Plus, the money you technically "borrowed" will be paid once your paycheck arrives. You see, EarnIn will automatically deduct the money you cashed out when your paycheck is credited to your bank account.
This is how they are able to afford "lending" you money because that is essentially what the app does.
They don't like calling it a loan, which technically it isn't, since there are no interest rates and fees involved, but that is what really happens, in my opinion.
Recommended: Check Out the Top Passive Income Apps
How do you get paid?
When you cash out using the EarnIn app, the money will be sent directly to your bank account that is linked to your EarnIn account. However, your account must be a checking account because EarnIn is unable to send money to prepaid and savings accounts or pay earnings from unemployment, as well as Supplemental Security Income (SSI) or disability pay.
As for paying back the money you cashed out, EarnIn will automatically deduct the total amount from the cash outs you made during the pay cycle from your bank account. You can see these transactions under the Pay Details of the app.
Overall, the payment system of EarnIn is relatively straightforward, and I like the fact that it uses a convenient payment method like direct bank transfer. If you are interested in more sites that offer a convenient payment system, I recommend you also check out the top sites that pay via direct bank transfer. 
Can you use it on a desktop?
EarnIn is a mobile-only app, so you will definitely need to use a mobile device with an internet connection to use it. EarnIn says that letting members log in with a computer will involve several security risks since computers tend to be used by multiple people.
To avoid this kind of security risk, they decided that EarnIn should only be a mobile-only platform, which makes sense, in my opinion.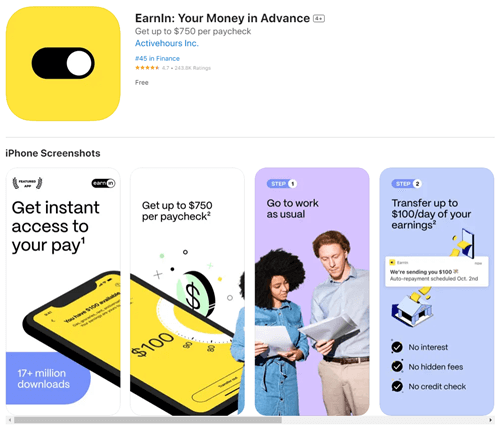 As for its app, it will work with both Android and iOS devices, so you shouldn't encounter any compatibility issues. It is also relatively easy to use, which is a good thing, in my opinion, since it involves transferring money.
Overall, the user experience the app offers is relatively good, which is all you can ask for from an app that involves money transfers.
Who can join EarnIn?
EarnIn is only available in the US, and you have to be at least 18 years of age and, as mentioned earlier, must have a US checking account. You must also own a valid U.S. cell phone number, and you must have a consistent pay schedule.
You also must have at least one of the following:
a fixed work location
an employer-provided email address
an electronic or printed timesheet system
If you have all the things required, then you have to go to the website and provide your mobile number. Then EarnIn will send an SMS message with the link to download the app.
After you've downloaded and installed the app, you just have to follow the instructions provided so you can sign in. Once you've logged in to the app, you'll have to connect your checking account to your EarnIn account. Then you have to live up to all the requirements before you can request a cash-out.
Can you get support?
If you have any questions about the app or your account, you can check out the Help Center on their website. It discusses most of the important topics you need to know. If you encounter any issues while using the app or have concerns about the money you cashed out, you can contact their support team via chat.
The chat support is available 24 hours a day all year, so you will always be able to request assistance.
Overall, I would say EarnIn provides good support for its members since it offers a convenient and real-time method to get in touch with their support team.
Final Verdict
EarnIn is a legit app that will allow you to access your paycheck before payday. It has its advantages, but it also has its drawbacks.
Let me wrap up this review with a summary of its pros and cons to give you an overview of what the app offers. Then you can decide whether this is a good fit for you or not.

Pros:
Offers a convenient way for you to gain access to quick money
The app is user-friendly

Cons:
Doesn't offer any earning opportunity
Has a lot of requirements to join
In my opinion, EarnIn is not an app that is suitable for everyone. If you find yourself constantly needing access to quick money, then this can be a decent app to use. But if you are looking for a way to earn extra cash, then this app is not for you since it doesn't offer any earning opportunities.
All it effectively does is allow you to access a portion of your salary before payday, so if you are in a bind and you need money immediately, this can be a viable app to use as long as you are eligible to join, of course.
Now if you are looking for ways to earn extra cash, I suggest you check out the top survey and GPT sites in your country instead. The sites on this list all have good earning potential, and they offer simple earning opportunities, so you can earn a decent amount.
Plus, this list will provide you with sites you can definitely join, regardless of where you live.
If you have any comments, questions, or have any experiences with EarnIn yourself, I would love to hear from you in a comment below.