EasyHits4U is a website that claims you can promote your website or blog and easily gain traffic for free.
If you have a website or a blog, or if you are an affiliate marketer trying to promote your affiliate links, you might be tempted to use this site.
However, before you do, I urge you to read this EasyHits4U review first. It will reveal the full details of what the site has to offer, so you will know exactly what to expect from it before you even sign up.
And let me just reveal right away that there are some very important details you need to know.
After reading it, you can make an informed decision on whether this site is worth joining or not. So let's go ahead and examine everything EasyHits4U has to offer, shall we?
What is EasyHits4U, and what does it offer?
EasyHits4U is a traffic exchange platform where you can promote your site, ads, or affiliate links for free.
It is indeed possible to get traffic from it. However, this doesn't automatically mean the traffic you are getting is worth it.
To fully understand if EasyHits4U is worth it or not, you must first understand how it works, so you can gauge the amount of time and effort you need to invest in it, as well as the value it offers. And the best way to do this is to examine the earning opportunities it offers.
The video below will give you an inside look and show exactly how the site works. You can also read the full details below the video.
Recommended: Check Out the Best Way to Create a Full Time Income Online
Option 1 – Offers
The idea behind the opportunity this platform offers is for you to get traffic for your link/website, you must first give traffic to other members.
You can bypass this process by spending some money, so you can buy credits that will allow you to promote your links/website.
But doing so will be a bad idea, in my opinion (more on this later), so for the purpose of this review, we'll stick to the free method.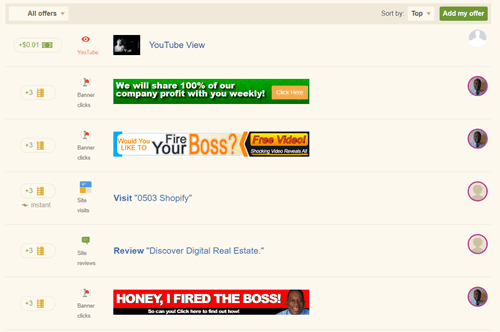 To get started, you have to log in to the member dashboard to see all the offers. This is the part where you can earn free credits to promote your own links/sites.
The process is really simple. All you have to do is click the links in the offers to earn the reward indicated. Once you do that, a new browser tab will open, displaying the offer that another member is promoting.
I do have to warn you that most (if not all) of the offers you will find on EasyHits4U are spam offers, or offers that are not really worth it, so I highly recommend you don't believe any of the offers shown. After you've clicked the offer, you'll earn a certain number of coins as a reward.
These coins will serve as your credit for buying traffic. You just have to keep doing this to earn enough coins to buy your own promotion. When you've earned enough coins, then you can create your own offer.
Every member who views your offer will be awarded a certain number of coins, and it will be deducted from your coin balance. If your coins run out, your offer will be removed from the list of available offers, so if you want to keep getting traffic, you also have to keep earning coins.
It's a rinse-and-repeat process, so it's a very simple process to comprehend. But that doesn't mean the traffic you will be getting will provide any value for you. Later, I will discuss why this is the case.
Option 2 – Referral Program
Another way to earn credits is to participate in its referral program. If you've been a member of GPT or survey sites, then this opportunity will be very familiar to you.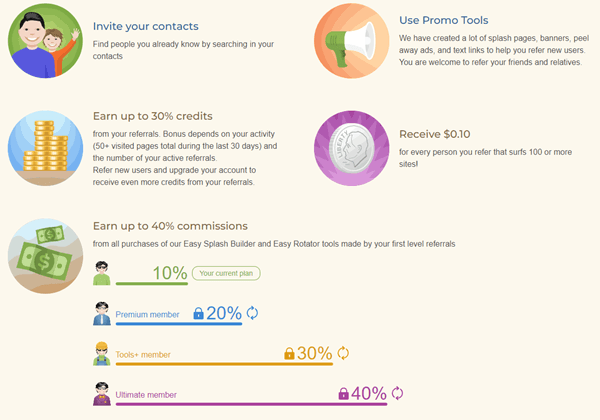 The idea is that for you to earn credits, you have to invite people to join the platform. To do so, you have to share your invite link with the people you want to invite. When they click the link and sign up as a member, they will become your referral.
But for you to earn credits, your referral must become an active member of the site. In other words, they also have to view offers. When they do, you'll receive up to 40% (depending on your current membership plan) of the credits they will earn.
It's a very simple process, but the problem is, in my opinion, this site is not worth promoting, and you will understand why later.
Recommended: Check Out the Best Way to Create a Full Time Income Online
EasyHits4U Membership Plans
As mentioned above, EasyHits4U has membership plans you can choose from. By default, when you sign up, you'll automatically belong to the Free Membership plan.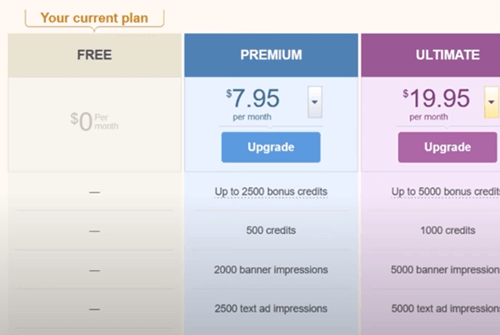 As shown in the photo above, you can pay $7.95 or $19.95 per month to upgrade your membership to the Premium or Ultimate membership plan. These plans will come with certain bonuses, which will eventually lead to more traffic for your links/sites.
However, the monthly fee you have to pay is not worth it, in my opinion. I will explain why in the next section.
Does EasyHits4U really work?
The simple answer is YES. You will really get traffic from this site. However, this doesn't mean you'll get any value from the traffic you are getting from this site. Let me explain why.
You see, the people who will be viewing your links/sites are just the other members of the site looking to promote their own offers. And these people are not interested in any of the offers found on the site. They are just there to get traffic for their links/sites, so what will happen is that even though you get visits/views, you will more or less not get any conversions.
And if you are an affiliate marketer, you know that conversions are the key to success, so if you will not get any conversions from the traffic you are getting, you are essentially getting worthless traffic.
Hence, if your ultimate goal is to get conversions, traffic exchange platforms like EasyHits4U, are not the ideal approach.
How do you succeed with Affiliate Marketing?
If you are an affiliate marketer and you are looking for conversions, the best way to succeed, in my opinion, and experience, will involve several steps, all of which will be focused on providing value to your target audience.
The first step is to identify the niche you want to work with. You will want a niche that you have knowledge about, so you can actually provide quality content. After you've figured out your niche, you'll have to choose the channel you want to use to promote your niche.
It can be anything from a YouTube channel, social media pages, or even a blog or website. Now regardless of what channel you choose, your main focus must be quality. You need to provide quality content to build trust with your audience.
Aside from that, you also have to keep the quality content coming. Once you do, your audience will realize that you want what is best for them. That's the time they will begin to trust you, and as a result, you'll start getting conversions.
I am also an affiliate marketer, and everything I'm discussing is based on my experience. The steps I have discussed above are the steps I have taken to promote my affiliate links, and they have been successful. I'm not saying that this is the only effective way to promote affiliate links, but this is the way that has worked for me.
To succeed at affiliate marketing, you will need to be very patient, and you have to be prepared to do the work. As with everything, there's no shortcut to success, so if you see any videos or sites online claiming you can earn hundreds of dollars quickly, those are most likely scams you need to stay away from, based on my experience.
Final Verdict
EasyHits4U is a traffic exchange platform that will allow you to get free traffic for your links/websites. However, this doesn't automatically mean the traffic you are getting will be of use to you.
To make it worth it, you have to get conversions, and you will not get that from EasyHits4U or any traffic exchange platform in general, in my opinion. That's why you are better off investing your time in methods that are guaranteed to provide you with real value.
To do so, you have to be prepared to do the work because affiliate marketing (or any online business, for that matter), is a multi-step process. You have to lay out the groundwork to reap the benefits. If you do it correctly, you stand to earn a good amount of money.
If want to learn how to do this, I highly suggest you check out the ultimate guide on how to earn a full-time income online. It will guide you on how to get started as an affiliate marketer.
These are the exact steps I have used to build a great online income with affiliate marketing and CPA marketing.
If you have any comments, questions, or have any experiences with EasyHits4U yourself, I would love to hear from you in a comment below.