If you are a fast typer or you are just looking for a simple way to earn extra cash, you might have already encountered a site called EasyTypingJob.com. This site promises you'll be able to earn good money by solving captcha.
Now, there are a lot of sites that offer this kind of opportunity, so you might be thinking, this site is really just similar to those sites. However, it is actually quite different from most other sites.
So is EasyTypingJob a scam or really a legit and unique opportunity to make money online?
This EasyTypingJob review will show you everything the site really offers – and let me just reveal right away that are there a lot of things you are not told before joining.
And you need to be aware of all the details so you know what you are getting into before investing any time or money on this platform. So, let's get right to it then.
What is EasyTypingJob and what does it offer?
At its core, EasyTypingJob.com is a captcha solving site that promises to pay you for simply solving captchas.
There are many sites that offer this so there is nothing unusual about that. However, if you look at its website, it has some pretty extraordinary claims.
But in order to verify if their claims are actually true or not, we have to take a closer look at the earning opportunity this site offers.
I have made a short video that will give you an inside look and show exactly how EasyTypingJob works. You can also read all the details below the video:
The earning opportunity – Solving captcha
The only way to earn from this site is by solving captcha. If this is your first time hearing about this kind of opportunity, you can check out my guide on how to earn money solving captcha.
Now, as for EasyTypingJob's captcha solving process, it is surprisingly easy, which is kind of strange.
When you log in to their site, you will immediately see the section to earn by clicking on the "Earn Money" link on the left side of the dashboard.

As shown in the photo above, you can earn by simply typing in the captcha shown on your screen. What I find weird about their earning opportunity is, even though it says to type in the number (refer to photo), the captcha that appears will always be just random letters.
For every captcha you type in, you will supposedly earn $0.03, which, if you read my guide on solving captcha, is a quite unusually high rate (more about this red flag later).
The reason for this is, most captcha solving sites will only pay you once you've solved a thousand captchas.
And if they do pay you per captcha you solve, it would be for a significantly lower amount than what EasyTypingJob is offering. If you do the math, a thousand captchas for $0.03 will be equivalent to $30, which is actually an extraordinary good amount for a captcha solving site.
But enough about how much you can earn from solving captcha for a minute. I will discuss later what this implies. But for now, let's continue with how their earning opportunity works.
For every captcha you solve, the reward will be credited to your EasyTypingJob balance. Now, as to how you can withdraw your earnings, we'll talk about that in the next section.
Recommended: Check Out the Top GPT Sites
How do you get paid?
As mentioned above, for every captcha you solve, you will earn $0.03 which will be credited directly to your EasyTypingJob account balance. And as explained above, if you've ever solved captchas before, you will know that this is an extremely unrealistic amount.
The reason for this is, on most captcha sites, you will only usually earn around $1 to $3 per thousand captchas you solve. So, there's quite a huge difference between that and what EasyTypingJob.com offers.

Now, one problem this site has is it actually doesn't have a section that will explain how you can withdraw your earnings.
You won't even know how much you need to earn to withdraw your earnings. You will only find out of their payout threshold when you check out their membership upgrade page (which I will discuss in the next section).
It says on their membership upgrade page that if you are using their free account, you can only withdraw your earnings once you've reached their $100 threshold, which is a very high amount, and for a captcha solving site that is in itself a big red flag.
But if you upgrade your membership level, it still won't say how you can withdraw your earnings except for the most expensive upgrade. So, there's really no clear information about their payment process, which is another big red flag, in my opinion.
Most online rewards sites usually explain very clearly how you can withdraw your earnings and what your options are so, you'll know how to withdraw your earnings even before you hit their payout threshold.
If you are interested in sites that offer a hassle-free withdrawal option, I suggest you check out the top sites that pay via PayPal instead.
How much money can you earn?
As for how much you will earn, as explained earlier, they pay $0.03 per captcha you solve, which is quite a high amount for a very simple way of earning. In my experience, simple and effortless earning opportunities usually pay a very small amount.
And as mentioned, if you do the math, you can earn $30 for solving a thousand captchas which is pretty good money. But there's actually a kicker to their earning opportunities. For basic/free members, you are only allowed to do 100 entries per day.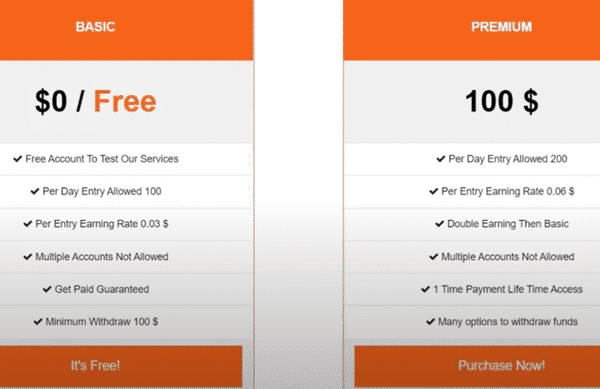 So, there's a cap to how much you can earn per day. But as you can see in the photo above, if you become a premium member, you can solve more captchas per day, which will supposedly allow you to earn more. They will also pay you more for every captcha you solve.
Their upgrades range from $100, $250, and $500. The $500 option is where they say you can withdraw your earnings via PayPal, Payoneer, or direct bank transfer. That's about the only payment information they mention.
So, as you can see, they really push you to upgrade your account for more earnings, which isn't really strange, in my opinion. What's strange is the lack of information they provide about their payment methods and payment processing, which are huge red flags.
However, there are several other red flags you need to be aware of before joining so let's go over these next.
Other red flags you need to know about
Aside from the lack of payment information on their website and the unrealistic amount you can earn from their earning opportunity, EasyTypingJob also has other red flags you need to be aware of.
Red flag #1: Fake testimonials
If you look at their website, you will immediately see a testimonial from a woman claiming that joining the site was one of the turning points of her life. Theoretically speaking, there's really nothing wrong with what she's saying.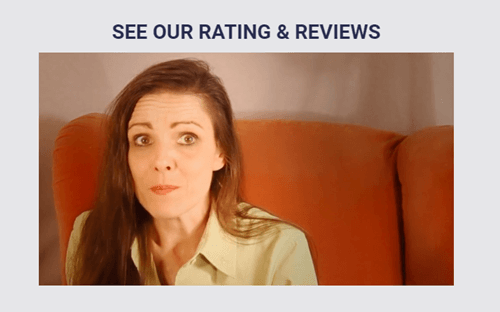 But I noticed something unnatural about how she was speaking. So, I thought maybe she's just not that used to speaking in front of a camera. But I did some digging nevertheless.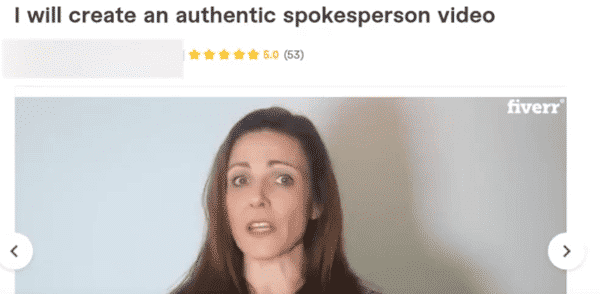 When I went to the freelance platform Fiverr, I actually found the same woman offering her services as a spokesperson. On her page, she says she can create a video as a spokesperson for any product, site, or service for a fee. So, anyone can just hire her to make a video, like say a video testimonial.
That clearly shows that the testimonials shown on their website are not actually real. There are other testimonial videos found on their site from other people and the same people have an account on Fiverr offering the same kind of service.
That's why I would say the testimonials found on their website are actually worthless and using fake testimonials like this is a clear deal-breaker for me.
Red flag #2: Plenty of scam complaints
I did some digging to see what other members think of the site and I found that there are plenty of complaints from members who are saying that they were not paid. In fact, this is the most common complaint about the site.
And I have not seen one single reliable payment proof from anyone actually getting paid.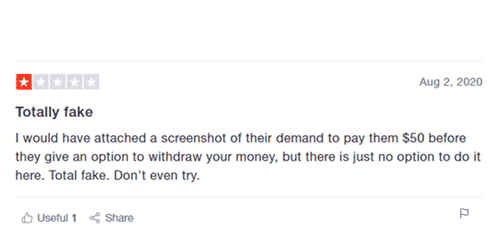 As you can see in the photo above, a former member says that before he could withdraw his earnings, the site asked him to you pay a certain amount before they would tell him how to withdraw the earnings. Most of the complaints about this site say the same thing.
I have not encountered a legit site that has asked for money before they will allow you to withdraw your earnings. Online rewards sites usually just allow you to withdraw your earnings once you've reached their payout threshold which is usually a lot lower than the threshold on EasyTypingJob.
Now, there might be some fees associated with the withdrawal, but that's just normal. But for a site to request for payment before you can process your reward withdrawal is just out of the question, in my opinion.
This also coincides with the red flag I mentioned earlier about their payment system.
The reason why they probably won't tell you right away how you can withdraw your earnings is because they will charge a fee when it's time to withdraw your rewards.
So, if you aren't really experienced in these kinds of things, you might be tempted to pay the amount just so you can receive your earnings – however, no legit site would ever charge a fee like this so NEVER pay a fee like this if you come across a site that charges something like that.
Red flag #3: No info about owner
In my experience, online rewards sites usually have a page where you can see the details about who owns the site. It's like a guarantee that a site is legit because you will know who to go after in case you experience any problems (like not being paid, for example).
But with EasyTypingJob, you won't really find any information on their site about who owns the site, or where it is located. You won't even find a Privacy Policy or Terms and Conditions page, which definitely needs to be there.
So, there's really no information about who you can hold accountable if you have any issues with the site.
And there's no explanation as to what they will do with the information that they have gathered from you (during sign-up) since they don't have a Privacy Policy page.
Final Verdict
EasyTypingJob is a captcha solving site that promises lucrative earnings once you become a member. It has some outrageous claims that can, in my opinion, be very enticing if you aren't really used to these kinds of sites.
So, let me conclude this review with a summary of its pros and cons to give you an overview of what the site has to offer. That way, you can understand why this site is really not worth your time.

Pros:

Cons:
Offers unrealistic earnings
Uses fake testimonials
A lot of complaints from people not getting paid
Not transparent about the payment methods they offer
Extremely high payout threshold
Expensive memberships (it should not cost money to solve captchas)
If you are looking for an easy way to earn extra cash, I highly recommend you look somewhere else. I don't recommend you join EasyTypingJob. There are simply far too many red flags so it will be quite a risk to join this site, in my experience.
I am saying this after having tested hundreds of sites where you can earn extra cash online and I know how to spot a good from a bad option – and EasyTypingJob.com is definitely NOT a good option.
There are plenty of other sites that offer simple ways to earn and these sites are transparent with what they have to offer. You will learn from the start how you will be able to earn and how you can withdraw your earnings.
For a list of these sites, I recommend you check out the top survey and GPT sites in your country. The sites on this list all have good earning potential and don't have any of the red flags you will encounter on EasyTypingJob. And you will definitely be able to find a site you can join regardless of where you live.
If you have any comments, questions, or have any experiences with EasyTypingJob yourself, I would love to hear from you in a comment below.