We are now in the social media era where almost everyone has a social media account. More and more interactions are done through social media platforms.
Now, if you are reading this review, you are most likely looking to take advantage of this fact and you want to know how to earn from social media platforms.
Well, there's this site called Everve that claims you'll be able to earn by doing simple social media tasks like liking pages, commenting on posts, etc. Sounds simple enough, right? And if you are already doing this on a regular basis, then why not earn from it?
That's a very sound idea, but before you hit the sign-up button, I would suggest you read this Everve review. This review will check if this site is truly legit or if it is just another scam you have to stay away from.
And if it is really legit, it will then check if it is really worth your time or not. It will take a look at everything the site has to offer so you can decide if it is really a good way to earn extra cash or if there are other better options out there. So, let's go ahead and get started.
What is Everve and what does it offer?
At its core, Everve.net is a social media exchange platform that offers opportunities to earn by performing simple social media tasks. It really will pay you for doing such tasks – however, the ethical side of it is a whole other thing you also need to consider and I will explain more about this later.
To figure out if it is really worth your time, we first have to take a closer look at the earning opportunities Everve offers. That way, you can understand how it works and its potential for earning extra cash. So, here's how you can earn from Everve.
Option 1 – Social media tasks
The primary earning opportunity Everve offers are social media tasks. When you log in to the site, you will be able to view all the tasks you can do by clicking the "Perform Tasks" link in the left side of their dashboard.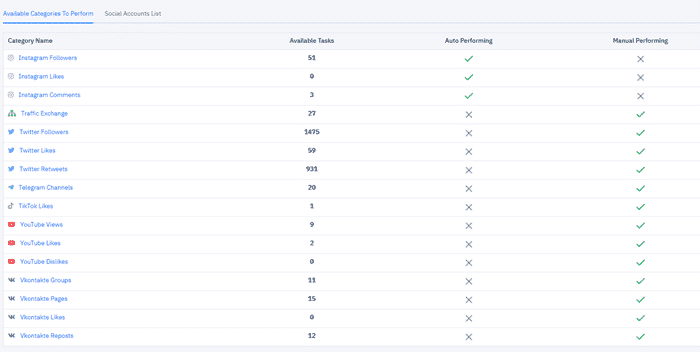 As shown in the photo above, the social media platforms involved are Instagram, Twitter, TikTok, YouTube, and Vkontakte. And if you look into the task categories, you will see how the tasks for this platform can be done.
For Instagram tasks, it has to be done automatically and I will explain later how you can do it. As for the rest of the social media platforms, these tasks have to be done manually and we'll talk about that first.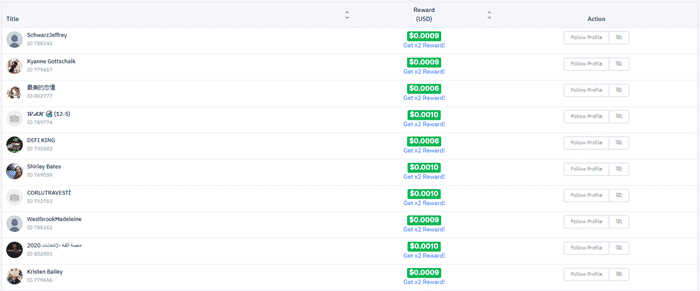 In the photo above, you can see the tasks for following specific Twitter pages. And as you can see, the amount you will earn, is pretty small, in my opinion. There are also other tasks like liking tweets or retweeting them. But regardless of what you have to do, one thing doesn't change. The reward you will earn will be very small and it is true across all the platform.
And remember, you have to do all these tasks manually. So it can be quite boring, in my opinion, doing these repetitive tasks especially since you won't really earn a lot. This is where the automatic earning can come in handy.
As explained above, you can do Instagram tasks automatically. This is through Everve's Google Chrome plugin. This plugin will allow you to perform Instagram tasks automatically once it is set up on your Google Chrome browser.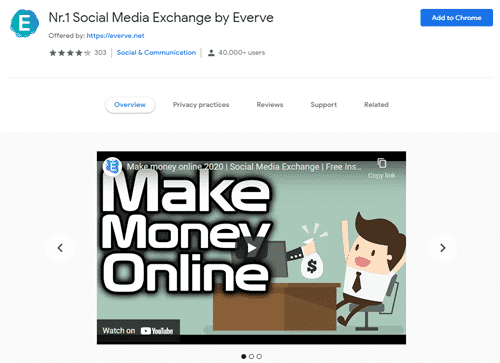 The plugin uses Artificial Intelligence to mimic human gestures so that Instagram will see the interactions as being done by a person and not a bot. This is an important aspect because Instagram does implement shadow bans, which if you are not familiar with, is a form of account restriction that will reduce the reach of your posts and interactions.
So, once the plugin is installed, you just have to set it up according to your preference and it will perform all the Instagram tasks according to your settings. This will essentially allow you to earn passively since the plugin will do all the work.
Now, one thing you need to keep in mind when doing these tasks is, the social media account you should be using should not be empty accounts. Meaning, these accounts should look like they are real and active. That means you have to invest a bit of time to create a "real" account for each platform.
You need to make sure the account has a profile photo, friends or subscribes, and several posts. If you don't do this, Everve will not pay you for completing the tasks. And Everve will really be able to detect if you are using "empty accounts". So, don't even try to test if you can get around it.
They need to do this because their whole system is based on getting paid to increase followers and interactions of social media accounts and social media platforms are now able to purge "empty" followers and interactions.
However, personally, I really dislike platforms that sell fake engagement. There is so much BS going on online today and anyone can just buy thousands of subscribers or likes and try to convince people he or she is successful and in some cases, use this to scam others.
Naturally, social media platforms also try to detect this and block accounts.
So overall, this is an unethical way of earning, in my opinion, as you will earn by helping other people fake their accounts. And you have no idea what this will be used for.
Option 2 – Referral program
You can supplement your earnings from their tasks by participating in their referral program. To earn from their referral program, you just have to invite other people to join their platform.

Just share your invite link with the person you want to invite. When they click the link and sign up as a member, they will become your referral. And as shown in the photo above, you will earn 15% from your referral's advertising spend and 25% from their earnings.
So, you need to make sure the people you invite are really interested in using Everve either as a way to earn extra cash, promote their social media platforms, or both.
Recommended: Check Out the Top GPT Sites
How do you get paid?
As explained above, you will earn a small amount for every task you complete on Everve.net. This will be credited to your Everve account balance. You then have two options on how to spend your earnings. You can either withdraw your earnings or you can use it to set up your own social media campaign.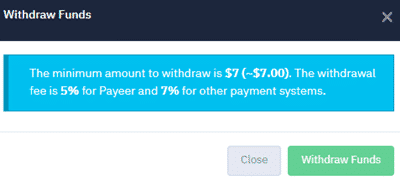 If you wish to withdraw your earnings, you have to earn at least $7 to do so. This is their payout threshold, which is quite low, in my opinion. You have three options on how to withdraw your earnings. You can either withdraw it via Payeer, Yandex.Money, or QIWI.
As shown in the photo above, if you withdraw via Payeer, there will be a 5% transaction fee which will be deducted from the total amount you will withdraw. For the other payment methods, the fee will be higher (7%). So, don't expect to receive the full amount.
Overall, these fees are quite high and you need to be aware of this.
If you wish to create a social media campaign of your own to promote your own social media pages, then you will have to set up a campaign, which I will not discuss since it's really not the focus of this review. You can check out their support page on how to do that.
How much money can you make?
As mentioned earlier, the tasks won't really pay you a lot. You will earn less than a dime for every task you complete. So, even though they have a low payout threshold, you will literally have to complete thousands of tasks before you will be able to withdraw your earnings.
That's why I would say the earning potential of Everve is quite low.
Also, as explained earlier, the earning opportunity it offers poses an ethical issue, in my opinion.
Can you use it on mobile?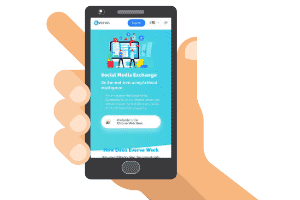 Everve doesn't have a mobile app you can use but you will be able to access their site from a mobile device using a mobile web browser. And the good thing is, their site is mobile-friendly, so you'll be able to navigate through their site conveniently.
You will be able to complete the manual tasks of the site quite easily. But as for their Instagram tasks, these have to be done from a laptop or desktop since you will have to use their Google Chrome plugin. While Google Chrome has a mobile version, you can't really install plugins in it.
Who can join Everve?
One good thing about Everve is, it is available globally. So, you'll be able to register as a member regardless of where you live. They're also not very particular about your age, but in my experience, you typically have to be at least 16 years of age to join this kind of site.
Signing up is also quite easy. You just have to use your Google account to sign in. This is the only sign-in method they offer. So, if you don't have a Google account, better sign up for one first before you work on Everve.
One thing to note about Everve is, unlike other online rewards sites, the availability of tasks will not be dependent on your location. So, regardless of where you live, you will have equal access to tasks.
Can you get support?
If you have any questions about their site or your account, you can refer to their FAQ page which can be accessed when you log in to their dashboard. Just click the FAQ link in the left side of their dashboard.
If you can't find the answers you are looking for, you can send your inquiry to their support team by submitting a support ticket. Just click the "Support Service" link in their dashboard to create a new support ticket.
What I like about how they provide support is you will be able to easily track your inquiries by simply going to their Support Service page. It's a better way to provide support, in my opinion, compared to having to constantly check your email inbox to see if their support team has replied.
Final Verdict
Everve is a social media exchange platform that will pay you for completing simple social media tasks like following pages, liking posts, etc. It has a couple of good features to offer, but it also has certain limitations you need to consider.
Let me finish this review by summarizing its pros and cons to give you an overview of what the site has to offer. That way, you can figure out if this site is a good fit for you or not.

Pros:
Offers a simple way to earn
Has a low payout threshold
Available globally

Cons:
Limited earning opportunities offered
Low rewards
Fake engagement can potentially hurt other people
High fees for cashing out
In my opinion, Everve isn't really a good site to join if you are looking to earn extra cash. The main reason for this is, they don't really pay that well and it is an unethical way of earning, in my opinion.
You will have to complete thousands of tasks just to reach their payout threshold and then they will charge high fees when you cash out. While their tasks don't really require a lot of effort to do, there are simply better options out there that have a better time-to-money ratio.
Now, if you are looking for great ways to earn extra cash online, I would recommend you check out the top survey and GPT sites in your country instead. The sites on this list all have good earning potential and pay well for every task/opportunity you complete. So, you won't have to invest a lot of time to earn a decent amount.
If you have any comments, questions, or have any experiences with Everve yourself, I would love to hear from you in a comment below.