One thing I can say about survey sites is, it is one of the best sites to earn extra cash for free because it is very straightforward. All you have to do is answer surveys and you get paid. Of course, you need to make sure the survey site you join is a good survey site.
If you've been doing your research and encountered a site called Finger on the Pulse Community, then you must be wondering, if this site is legit or a scam?
So, let me just answer your question right away. Yes, Finger on the Pulse Community is a legit survey site that does reward you for answering surveys. But before you sign up for this website, we have to take stock of what it has to offer first.
And this Finger on the Pulse Community review will reveal all the details you need to know so you will know exactly what to expect and be able to decide if this site is for you or not.
What is Finger on the Pulse Community and what does it offer?
As explained above, Finger on the Pulse (FOTP) is a survey site that will reward you for answering their surveys.
This survey site is owned by HorizonMedia and it is using the same survey engine that Toluna Influencers uses.
Now, to fully comprehend how well you can earn from this survey site, we must take a closer look at the earning opportunities it offers. That way, you can more or less get a clear picture of the earning potential of this site.
So, here's how you can earn from FOTP.
Option 1 – Paid surveys
The main earning opportunity this site offers, as you can probably tell, is paid surveys. When you become a member of this panel, you'll get a chance to share your valuable input and get rewards in return.
From time to time, you will be qualified to take a survey. It's a bit different from other survey sites because it does the qualifying for you.
Usually, on other survey sites, you will have to answer a set of qualifying questions first. If you qualify, then you get to answer the actual survey.
But with FOTP, if you get invited to answer a survey, that means you are already qualified for it. All you have to do is finish the survey and you will receive the reward. This is a good thing because it will save you time.
There are very few survey sites where you are guaranteed to qualify once you get invited. One of the few others that offer this is PaidViewpoint. So this is a quite unique feature.
As for how you qualify for surveys, they will base it on the information you have provided. Usually, surveys will be sent your way based on your occupation or certain fields of interest.
But the thing to remember here is, there's no guarantee you will receive surveys on a regular basis. In fact, in my experience, survey sites that employ this kind of system usually don't offer a lot of surveys. So, don't expect to receive a lot of surveys.
The one good thing about the surveys they offer though is, they are relatively short and usually interesting. So, you won't get bored when answering surveys and you might possibly learn a few things.
Option 2 – Discussion boards
Another way you can earn rewards is by participating in discussion boards. When you log in to the site, you can find a forum where topics are being discussed. However, they don't exactly elaborate on how the reward system works for this.
It's not clear whether you get rewarded for every comment you make or if a moderator will decide if you get rewarded or not. In my experience, it will usually be the latter. It would be kind of impractical for them to just reward anyone who participates in the discussion.
The result will be a lot of replies with no substance at all. So, in the interest of moving forward with the topic being discussed, you only get rewarded if you are actually able to contribute to what is being discussed. At least, that's how I see it.
It would still have been better if they were more clear about this. Anyway, I will elaborate on this later.
How do you get paid?
On their site, they mention you get rewarded with points for every survey you complete or discussion board you participate in. But they don't exactly give you an idea of how many points you will earn for every activity.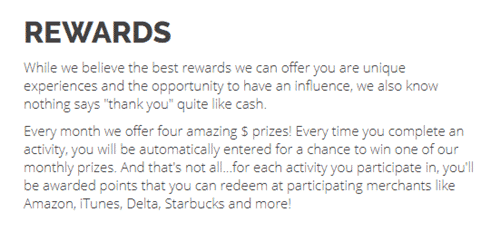 The only thing that is clear is, every time you complete an activity, you will be automatically entered for a chance to win one of their monthly prizes.
They don't elaborate on what the prizes are though.
As for the points you will earn, you can exchange them for gift cards from Amazon, iTunes, Delta, Starbucks, and more. But again, there's no information about how many points you will need to redeem the said gift cards.
If you are interested in sites that will allow you to redeem rewards quickly, I suggest you check out the fastest paying sites.
How much money can you make?
As explained above, you won't exactly be earning cash from this site. All you can earn are gift cards. The only way you can earn cash is if you get lucky and win in their monthly contest.
So, this survey site isn't exactly very dependable in terms of cash earnings. And seeing as the availability of surveys won't be that frequent, then, you won't also be earning rewards on a regular basis.
That's why I would say that this site has a low earning potential.
Can you use it on mobile?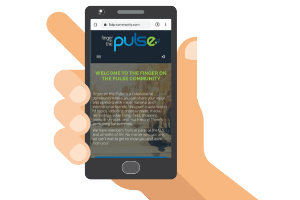 The one good thing about this site, in my opinion, is that you will be able to use it on a mobile device.
That's because their site is mobile-friendly. You will be able to read all the content properly and you will be able to navigate through the site with relative ease.
This makes it easier for you to participate in their activities because you don't need to sit in front of a computer to do so. You will be able to answer surveys and participate in discussion boards anytime and anywhere.
Who can join Finger on the Pulse Community?
FOTP is a US-based survey site and they only accept members who live in the US. So, if you are not a US resident, then this site is not for you. You won't even get the chance to sign up because the Register button won't be available.
The site is free to join. The only problem is, they are very strict with who they accept as members. Sure, you will be able to fill out their sign-up form but they will have to first approve your registration before you become a member.
And based on feedback from other members, they seem to be a bit selective with who they accept. So, it's kind of hard to join this site.
If you are interested in US-based survey sites that are a bit more accepting than FOTP, then I suggest you check out the top survey sites in the US.
Can you get support?
It's already pretty obvious that Finger on the Pulse Community isn't very transparent with what it has to offer. So, naturally, if you are interested in signing up, then you must have a couple of questions about the site, at least.
You can check out their FAQ page to see if your question will be answered. But by looking at their FAQ page, they don't actually discuss in detail most of the common questions about the site. So, there's a good chance you won't find anything useful.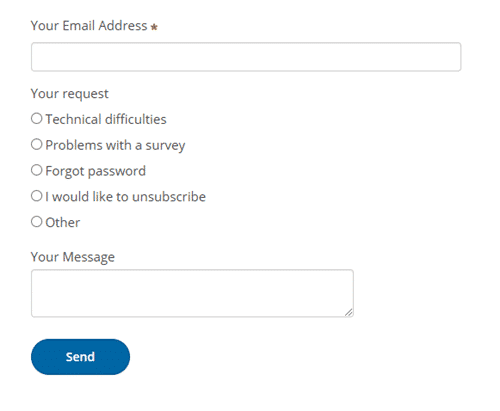 That being said, they do provide a way for you to get in touch with their support team. You can use the contact form provided on their Contact page. You just need to make sure you choose the appropriate topic for your inquiry.
All in all, I would say that they do provide decent support for their members. I just wished they would be more transparent with the earning opportunities they offer and discuss it in detail even on their FAQ page.
Final Verdict
Finger on the Pulse Community is a legit survey site that does reward you for participating in the activities it offers. It has a couple of interesting features but it also has certain disadvantages that are hard to ignore.
Let me finish this review with a summary of its pros and cons so you can get a better overview of what the site offers and you can decide if you should join this site or not.

Pros:
Has a mobile-friendly site
Has plenty of interesting discussions where you can learn a few things
You will always qualify for the surveys offered

Cons:
Limited earning opportunities offered
No cash rewards offered
Not transparent with their reward system
Not very inclusive because the member-selection process is pretty strict
At first glance, it looks like Finger on the Pulse Community is a good survey site to join. But then, you will find that they don't easily accept members. Plus, it is only accepting US residents.
But the real issue with this survey site is, it isn't very transparent with how their reward system works.
You won't really have any idea how you will be rewarded unless you get accepted as a member. In my opinion, a site that is clear with what it has to offer is usually more appealing than the contrary.
Plus, the availability of their surveys won't be that frequent. So, if you ever get lucky and get accepted as a member, you still won't be able to earn rewards on a regular basis. The fact that they don't offer cash rewards also doesn't help their case.
That's why I would say, you are better off joining a survey site that is more clear about what it has to offer and offers better earning potential in general. For a list of these sites, I recommend you check out the top survey sites in your country.
The sites on this list all offer good earning potential and you will know right away exactly what you can get from them. Plus, you will definitely find a site you can join regardless of where you live.
If you have any comments, questions, or have any experiences with Finger on the Pulse Community yourself, I would love to hear from you in a comment below.