Are you looking for a flexible job where you do not have to commute and where you can get more freedom?
Then there's a site called Flexjobs that claims it is the number one platform to find vetted remote, work-from-home, and flexible job opportunities.
I'm constantly looking for ways to earn that offer more freedom than a regular job, and this site is one of the more popular ones I've encountered during my research.
So, is Flexjobs legit and really a great opportunity, or is it a scam?
I decided to test it to find out, and I will share everything I have learned about it in this Flexjobs review. That way, you don't have to try it out for yourself to see if it is a site you should join or not.
So, let's go ahead and take a closer look at Flexjobs, shall we?
Disclosure: Some articles on this website contain affiliate/sponsored links. Click for more info.
What is Flexjobs, and what does it offer?
Flexjobs is essentially an online job board that offers an opportunity for you to find full-time or part-time jobs that can be done remotely. It is indeed a legit site because it really does what it claims to do, which is provide you with job opportunities.
Now, to properly gauge if this site is a good fit for you or not, you must first understand how the site works. And the best way to do that is to examine the earning opportunity Flexjobs offers. So, here's how you can earn from Flexjobs.
The earning opportunity – Jobs
As mentioned above, Flexjobs is an online job board, so the way for you to earn from this site is by taking on certain jobs.
You see, once you become a member of Flexjobs, you can look for various jobs in different fields.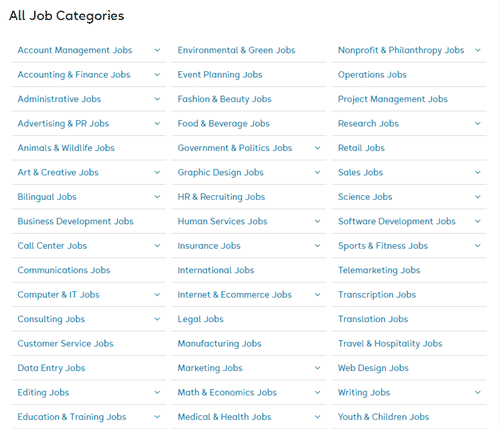 The photo above shows the types of jobs you can apply for. As you can see, there are a lot of jobs posted, and new job opportunities are added all the time.
The jobs are from entry-level to executive level, so no matter your background and experience, you can potentially find work here.
Now, here's the important part you need to remember about the jobs offered by Flexjobs. The application process will differ depending on the employer.
You see, each employer decides how it wants you to apply for jobs through Flexjobs. Employers can set up the job post to allow you to apply through Flexjobs or require you to apply directly from the careers page on their websites.
Some companies may request that you e-mail your resume and cover letter instead of going through the site. If this is the case, the e-mail address of the employer will be provided in the job listing on Flexjobs.
The job offers posted on Flexjobs may or may not disclose the salary you will receive once you get accepted.
You log in to the site, type the specific job type you are interested in in the search bar, and hit the search button. Then, you will see a bunch of listings. Pick one you are interested in and submit your application.
Keep in mind that when applying for a job, you will need to submit your resume. If you don't have one yet, you will be able to create one inside Flexjobs.
As with all the jobs you can apply for, your resume will be the key factor for employers to determine if you are eligible for the position or not.
The thing with Flexjobs is that its responsibility is only limited to the posting of job listings on its website. The employers will handle everything else. The employers will conduct final interviews, onboarding, and other hiring procedures.
It is important that you remember this because if you encounter any issues with your job or you have inquiries regarding the work, you should direct your inquiries to the employer and not Flexjobs.
So, that's it. That is how you will be able to earn from Flexjobs. The service the site offers is really simple. It posts job offers, and it's up to you which job you want to apply for.
But what makes FlexJobs different than other job boards?
Well, there are quite a few differences between FlexJobs and other job boards I have come across.
First of all, every single job on FlexJobs is reviewed by an intelligent human for legitimacy. Only those who pass the screening are allowed on FlexJobs.
This means that there will be no ads, no scams, and no exaggerated fake opportunities, which is definitely something other job boards could learn from, in my opinion.
Also, you get access to skill tests and micro-lessons that can make it easier for you to find the right job. And you can also get career advice and discounts on different tools you might need for your work-from-home career.
Now, what if you've already been hired? How are you going to get paid? I will talk about that in the next section.
Recommended: Check Out FlexJobs for Yourself
How do you get paid?
It is, of course, important to know the Flexjob payment methods before joining so you know how to receive your salary.
When you get hired by one of the employers partnered with Flexjobs, you are considered an employee of that company/business. Therefore, the payment for the work will be settled by the employer.
As mentioned earlier, Flexjobs' responsibility will only be to present job opportunities and to make sure you get the best opportunities to find a flexible job.
Anything beyond that will be the employer's responsibility. That means how they will pay you will be up to the employer.
Based on my testing, the usual payment options are direct bank transfer and PayPal, which is a good thing because both methods are very convenient, in my opinion.
Employers will usually pay you once you've completed the job, or if it is a part-time or full-time job, you'll get paid whenever their payday is.
How much money can you make?
The amount you can earn from Flexjobs will depend on how well your employer pays. As with any job, there will be employers that pay a good amount, and there will be employers that don't pay a good amount.
It will be up to you how you can identify the better-paying jobs from the bad-paying jobs. That's why having a bit of knowledge of how much certain jobs should pay will be very beneficial. And as mentioned earlier, there will be job offers where the salary will not be disclosed.
It is very normal for employers on a job board not to disclose the salary upfront, and often the salary is also negotiable depending on your skills and experience.
Overall, though, I would say the earning potential of Flexjobs is very good.
You can find jobs for all levels and skills, and you can earn at least as much as you can with a regular job in most cases, but you will just have more flexibility.
Can you use it on mobile?
A great thing about Flexjobs is that it has a mobile app you can download to search for jobs even when you are not in front of a computer.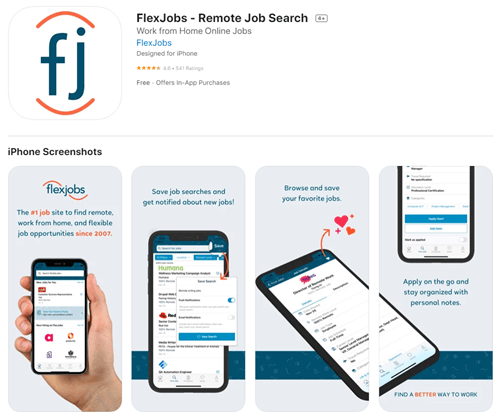 However, the app will only work with iOS devices. There is no mention they have any plans to create an Android version of the app, so if you are an Android user, you just have to access the site using a mobile web browser. Fortunately, the site is mobile-friendly, so you shouldn't have difficulty navigating it.
The app is also very easy to use. The user interface is intuitive. It will only take you a couple of minutes to get used to navigating it, which is really all you can ask for from a mobile app.
Who can join Flexjobs?
First and foremost, Flexjobs is not a free online job board. There will be a subscription fee involved if you want to get full access to the posted jobs and get access to all the benefits on this platform (refer to photo below).
However, this is not necessarily a bad thing, as I will explain below.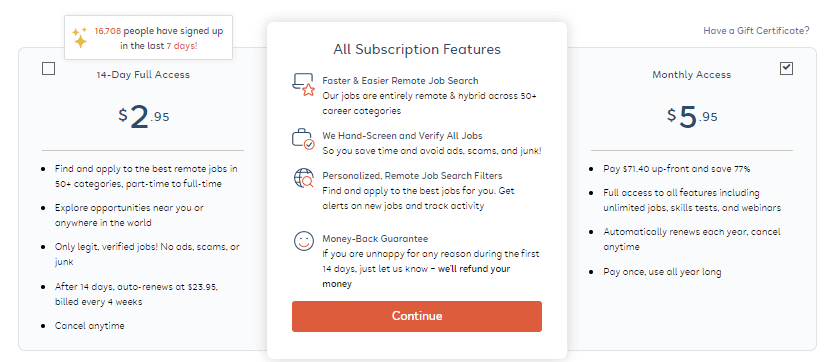 As you can see in the photo above, the minimum subscription you can go for is a 14-day trial, and it will only cost $2.95.
They have actually recently changed the pricing and made it cheaper to get started. And getting 14 days to test their services for that low a price is definitely a good deal, in my opinion.
And maybe you will even end up finding a full-time job in that time span.
Just be aware that after the 14-day trial, the price will be $23.95 monthly. If you want to continue your membership, you can, however, save a lot by going yearly.
A yearly membership costs only $71.40, which translates to $5.95 per month. So, if you think you will be using it long-term, it is definitely worth considering going yearly, in my opinion.
I know it is tempting to just stick to free job boards, but, in my opinion, the money you spend on a FlexJobs membership can definitely be worth it, and you can easily earn back the amount you paid to register.
Firstly, because it makes sure to vet all the jobs, so you know the jobs you can find here are legit and you will not waste your time. You know that you are only dealing with serious employers, and the employers also know they only deal with serious applicants, making the whole process better and smooth.
Also, you will get access to several tools and support that can help make your search for a flexible job a lot easier.
Now, as to which countries it is available in, they don't really say. It will depend on the employer you find.
But in the overview of the job search section, you can choose between different regions, and this shows you can find jobs from more or less any country.
They even have a section for jobs you can do from anywhere, and as of writing this review, that category alone has more than 1200 job posts.
And you can see most of the available jobs before you join to get a good idea of whether there will be jobs for you or not.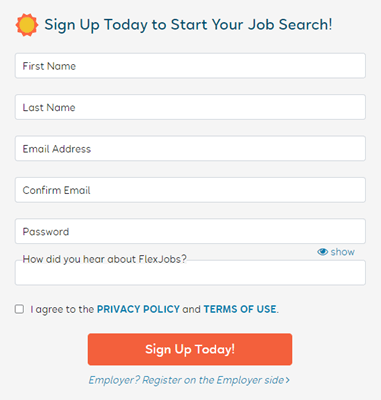 The registration process is very easy. You fill out the sign-up form, choose a subscription plan, and pay for it.
Once you've paid for the subscription, you can start searching for jobs and using the different tools Flexjobs gives you access to.
Can you get support?
If you have any questions about the site or your account, you can check out the FAQ page of Flexjobs. It discusses most of the topics you need to know. If the FAQ page is of no help, you can use the contact form provided on the website.
Flexjobs also has a number you can call if you need to get in touch with a representative right away. You can find the contact number on the Contact Us page of the site.
But if your inquiry or concern is regarding the job, as I've mentioned earlier, you will need to contact your employer. By the time you get hired, you will be given contact details, so contacting your employer shouldn't be a problem.
Overall, I would say the site has a decent support system in place for its members because they offer convenient ways for you to communicate with their support team.
Final Verdict
Flexjobs is a legit online job board that will help you find a flexible full-time, part-time, or freelance job. It has its pros and it has its disadvantages.
Let me end this review with a summary of its pros and cons to give you an overview of what it offers. Then, you can decide if you should push through with the registration or not.

Pros:
You can find full-time, part-time, and freelance opportunities
Jobs pay well
Jobs for all levels and all locations
Has a user-friendly app
You get access to tools to help you find jobs faster

Cons:
Has a subscription fee you need to pay for (but that is the reason the platform is so good)
If your goal is to find flexible work, whether you want to work part-time, full-time, or as a freelancer, Flexjobs is a great option. There are plenty of jobs listed, and you know all the jobs are legit and from serious employers. Also, most of these jobs pay a decent amount, so you can definitely earn a good amount.
But if your goal is to just look for an extra site to earn from for free, then Flexjobs is not for you. You are better off joining survey or Get-Paid-To (GPT) sites since these sites are often free to join.
But if you are looking for an actual job where you can potentially make a living on flexible terms, then Flexjobs definitely can be a great option. Yes, it does cost a fee to join, but that fee is the reason the platform is so good and will make your job search a lot faster and better.
How to join Flexjobs?
If you want to join Flexjobs, you just click the button below that will take you to the sign-up page, and then you can quickly get started with your job search.
If you have any comments, questions, or have any experiences with Flexjobs yourself, I would love to hear from you in a comment below.