Joining a Get-Paid-To (GPT) site can be a good way to earn extra money provided you join a good GPT site that will allow you to earn efficiently.
So, if you've been looking for a GPT site to join, you may have already encountered FluxRewards and are thinking about signing up. Before you register and become a member though, it would be in your best interest to take check out what this site is all about.
That way, you can determine if this site is a good fit for you or not. So, is FluxRewards legit? Let's just get this out of the way so we can discuss other important details of the site. Yes, FluxRewards is a legit GPT site.
It does pay you for completing their offers. But is it worth your time and effort though? That is another matter.
This FluxRewards review will answer that question and more. After reading this article, you know exactly what to expect and can decide if you should join or not.
What is FluxRewards and what does it offer?
As mentioned, FluxRewards is a GPT site that will pay you for completing the offers available on their site. Since it is a GPT site, you can expect to earn in several ways.
And the best way to figure out if this site indeed offers good earning potential is to take a closer look at how you can earn from it. So, here are the earning opportunities offered on FluxRewards.
Option 1 – Paid Surveys
One of the ways you can earn from FluxRewards is by answering paid surveys. If you've been a member of a survey site before, you will be very familiar with this opportunity.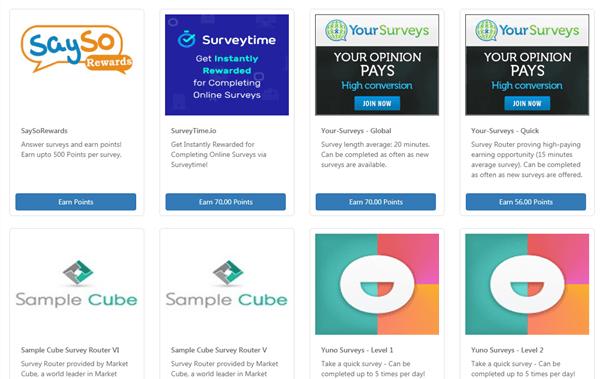 When you log in to the site, you can gain access to the paid survey offers by clicking the Surveys tab. You will then see a list of paid survey offers. All you have to do is pick the one you like and click on it.
It will then open a new tab where you will start the survey answering process. You will usually have to provide your profile information first before you get to the survey itself. Once you've done that, you will then have to answer a couple of qualifying questions.
This is to make sure you do belong to the demographic the survey is targeting. If you qualify, you get to answer the actual survey. If you don't, then just move on to the next survey offer.
When you complete the survey, you will then receive the reward promised (which I will talk about later). Take note that you can complete some of the survey offers several times.
The surveys offered on FluxRewards will come from other sites. So, don't be surprised if you get taken to a different website when you click a survey offer.
In reality, FluxRewards acts as a survey router. That's a pretty common occurrence on GPT sites though.
Option 2 – Video Offers
Probably the simplest earning opportunity offered on FluxRewards are their video offers. You practically have to just sit back and watch videos in order to earn.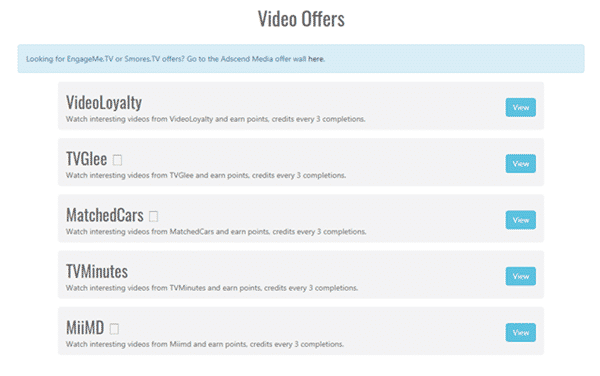 As shown in the photo above, to start watching videos, you just need to click the view button. It will then open another tab where you can start watching the videos. You will need to watch at least 3 videos in order to earn rewards.
You can continue watching videos as long as there are videos to watch. That will be your choice. But you do have to consider that although it is an easy way to earn rewards, it isn't the most efficient one simply because you won't get paid a lot.
So, in terms of time-to-money ratio, answering surveys is a lot better than watching videos. So I would only recommend watching the videos when you have nothing else to do on the site.
Option 3 – Paid Offers
A GPT site won't really be a GPT site if it doesn't have any paid offers available. Paid offers are what make a GPT site a GPT site.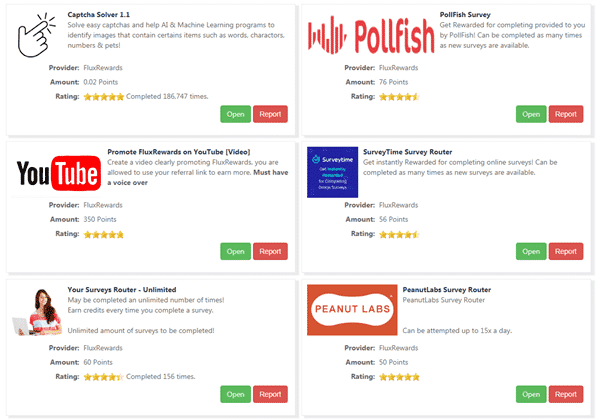 If this is your first time hearing about paid offers, they are basically small tasks you can do to earn rewards. Most of the offers will ask you to answer a quiz, go to a certain website and sign up, play games or watch videos.
When you click on a paid offer, you will see a set of instructions that you will need to follow in order to earn the reward promised. It is important to follow the instructions down to the letter to make sure you get the reward.
Just like the paid surveys, you will receive the reward once you complete the paid offer.
FluxRewards has a quite big amount of paid offers so it can definitely be a way to boost your earnings.
You just have to choose the offers carefully and read the conditions before taking any offers – some of them are great and easy and others do not have so great conditions.
Option 4 – Referral Program
FluxRewards also has a referral program in place that you can take advantage of in order to add to your earnings. You can invite people to join the site and receive a commission for doing so.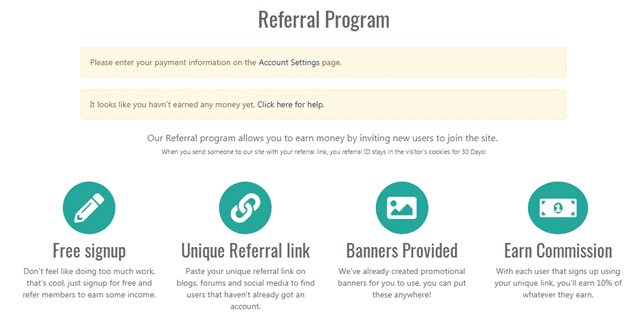 To invite a person to join, you can either share your referral link with them or embed your referral banner to your website (if you have one). If you go through the banner route, every person that clicks the banner and signs up to the site will become your referral.
You will then earn a 10% commission for everything your referral earns. This commission will be shouldered by FluxRewards of course and not by your referral.
It's a decent form of passive income, in my opinion. You just need to make sure the person you invite is really interested in working on the site.
How do you get paid?
Every offer you complete on FluxRewards will earn you a certain number of points. You can then exchange the points for cash which can be withdrawn via PayPal or as Bitcoin.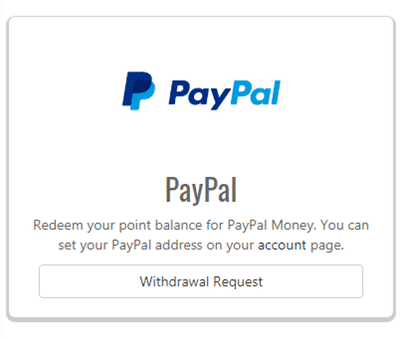 You will need to accumulate at least 100 points in order to withdraw your earnings. To put it into perspective, 100 points is equal to $1. So, in reality, FluxRewards does have a very low cashout threshold.
That will make it easier for you to start withdrawing your earnings. Every withdrawal can take up to 5 working days to be completed after being accepted. What happens is, when you request payment, FluxRewards will still have to review it.
Once they see everything is in order, they will accept the request. That's the time you can consider as the start of the payment processing. It's a pretty long wait, in my opinion. The good thing is, you will be able to see the status of your payment request if you check their Withdraw page.
I do like the fact that they offer PayPal as a payment method since it is the most convenient payment method available today, in my opinion.
If you are interested in more sites that pay via PayPal, I suggest you also check out the top sites that pay via PayPal.
How much money can you make?
With GPT sites, there two things that factor into the amount of money you can earn. The first is the availability of offers. Since it is a GPT site, you can expect that there will be plenty of offers available on a regular basis.
That's one of the advantages of joining a GPT site. However, that doesn't automatically translate into more money earned. The other factor that affects how much you can earn is how well they pay.
And the bottom line is, FluxRewards doesn't really pay you that well. Most of the offers available will only allow you to earn 50 points at most (which is equal to $0.50). So, in order to earn a significant amount, you will have to complete more offers.
So, I would say that the earning potential of FluxRewards isn't really that good. But, it can serve as a decent secondary site to earn from mainly because there are plenty of offers you can do.
You will just have to invest a significant amount of time in order to earn a significant amount of money from this site.
On FluxRewards you can see a list of the top earners every month and this gives you a good indication of what to expect to earn.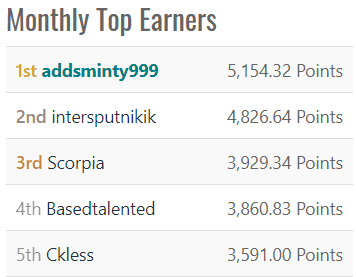 At the time of writing this review and taking the screenshot above of the top earners, it is towards the end of the month.
As you can see, the top 5 have earned between 3,591 – 5,154.32 points. This equals $35.91 – $51.54. And these are the top earners.
So it is possible to make some side cash, but as you can see, it will not make you rich but if you do it with the right expectations, a little extra money can also be nice.
Can you use it on mobile?
FluxRewards doesn't have an app you can download so you can work on offers conveniently on your mobile device. But, you will be able to access their site on a mobile device using a web browser.
And the good thing is, their site is also optimized for mobile use. So, you won't have a hard time navigating through the site on your mobile device.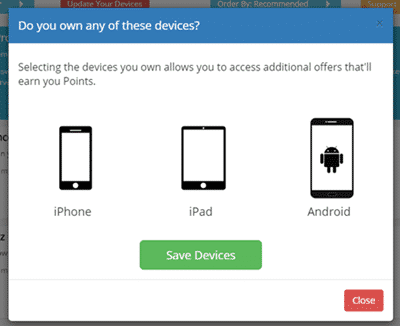 Plus, as shown in the photo above, FluxRewards does allow you to use a mobile device when working on offers. In fact, they encourage it because some of the offers are only accessible if you use a mobile device (for example, offers asking you to download an app).
FluxRewards will also allow you to select the device you own so that it will remember what devices you can use and then tailor the offers it will present to you. That, in my opinion, is a nice little feature that will certainly help you earn more from this site.
Who can join FluxRewards?
This GPT is available worldwide. That means you will be able to register as a member regardless of where you live. You just have to be at least 18 years old to sign up.
They don't explicitly mention this on their site but it is implied since they are using PayPal as a mode of payment and the required age to sign up for a PayPal account is 18.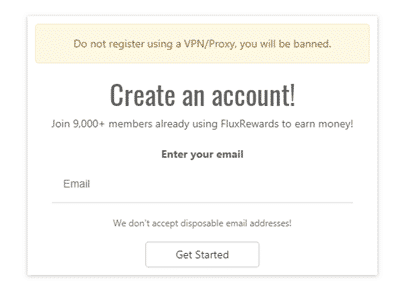 To become a member of the site, all you have to do is fill out their registration form. It's a relatively simple registration process, which is a good thing. Once you are done with the form, you just need to activate your account by clicking on the confirmation link in the email that will be sent to you.
You can then start earning once you've done that. A couple of things you need to remember when working on FluxRewards are:
Don't use a VPN or proxy server when accessing the site because it will get you banned
Only one account per household is allowed
If you break any of these rules, your account will be banned.
Can you get support?
FluxRewards doesn't have an FAQ page like most other sites do. So, if you have a question that needs to be answered, you will have to contact their support team.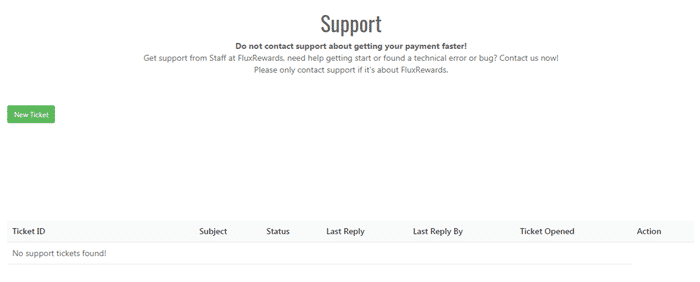 You can send them a message by creating a support ticket on their Support page. They are pretty strict with what questions they can answer. They will only attend to your inquiry if you need help getting started or if you've found a technical error or bug.
They do not want you to contact their support team about getting your payment faster. That, in my opinion, isn't really the proper way of providing support for your members.
As a proprietor of a website, any inquiry should always be welcome no matter what type it is. It shows that you are really interested in providing the member with the best possible user experience.
Warning your members not to contact them about payments is not really a professional way of conducting business, in my opinion. But anyway, that is their policy. So, you just need to follow it if you are really that interested in joining the site.
Final Verdict
FluxRewards is a GPT site that will pay you for completing their offers. It has some nice qualities to offer but it also has some obvious drawbacks.
Let me end this review with a summary of its pros and cons to give you an overview of what the site can offer. That way, you can better decide if you should join or not.

Pros:
Payment via PayPal is available
Low cashout threshold
Available globally

Cons:
Low rewards
Support options could be better
On paper, FluxRewards is a good GPT site. It offers plenty of ways for you to earn. Plus, it has a low cashout threshold. Those two things can seem attractive at first glance.
But the fact of the matter is, FluxRewards doesn't really have good earning potential because of the relatively low rewards it offers. In order to earn a significant amount, you will need to spend a significant amount of time completing offers.
It can serve as a viable secondary site to earn from due to the abundance of offers. But if you are looking for primary sites to earn extra cash, I suggest you check out the top GPT sites instead.
The sites on this list all have good earning potential and they are more accommodating in terms of providing support to their members. Plus, you will be able to find a site you can join regardless of where you live.
If you have any comments, questions, or have any experiences with FluxRewards yourself, I would love to hear from you in a comment below.