Joining focus groups can be a good way to earn extra money. However, it's not easy to find this kind of earning opportunity.
But there's a website called Focus Group Panel that claims it is your one-stop shop for all focus group-related earning opportunities.
The question is, should you believe their claim? In other words, is Focus Group Panel legit or is it a scam?
I've decided to find out for myself and examine what this site has to offer compared to the hundreds of other earning opportunities I have tested.
In this Focus Group Panel review, I will share all my experiences, so you'll know exactly what to expect before you even join this site and you can decide if it is truly worth your time or not.
What is Focus Group Panel and what does it offer?
Technically speaking, FocusGroupPanel.com is a focus group aggregator that compiles a list of all focus group earning opportunities in certain areas. For all intents and purposes, it is a legit site.
But that doesn't exactly mean this is a site worth joining. To find out if you should join this site, you have to first understand how it works, and to do that, we must examine all the earning opportunities it offers.
So, here are the ways to earn from this site.
Option 1 – Focus groups
As the name suggests, the primary way of earning from this site (supposedly) is to join focus groups.
In case you don't know what a focus group is, it is a method of research that brings together a certain group of people to discuss a topic in a moderated setting.
That means, somebody in the group will act as a moderator and the rest will be participants. This is done to get the pulse on specific topics. In return, the participants will receive compensation usually in the form of cash.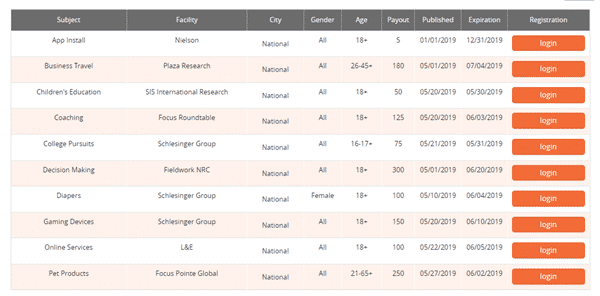 However, there's one thing you need to know about the focus groups being offered by this site. As mentioned above, this site only acts as a focus group aggregator. That means, the focus groups it offers don't come from them. Instead, these are focus groups offered by other companies/sites.
All they do is point you in the right direction. The idea is, if you are interested in a focus group listed on the site, you just have to click the link to get to the actual focus group opportunity. That's really what the site does.
As for how you get paid if you participate in a focus group, it won't come from the Focus Group Panel website. Instead, the one paying you will be the site/company that conducted the focus group.
But there's really something wrong with the focus groups the site is listing. If you have a sharp eye, you might have noticed it too. It's a big red flag form and I will discuss it in a later section.
Option 2 – Clinical trials
Another way to supposedly earn from Focus Group Panel is to participate in clinical trials. And just like with the focus groups, the site lists down a few clinical trials you can choose from.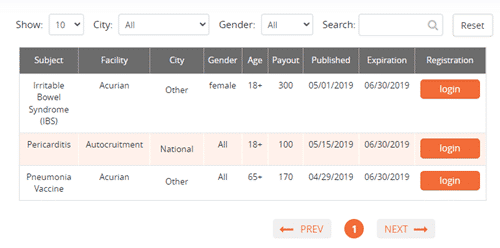 If you're not familiar with clinical trials, they are a type of research where the aim is to evaluate the effects of tests and treatments on human health. Usually, clinical trials are done to test drugs that cure certain diseases.
It's not an opportunity that's fit for everyone, but I do have to say that this kind of opportunity usually pays well. But again, just like the focus groups being offered, the clinical trials listed by this site will come from other sites/companies.
So, if you click the link for the clinical trial you are interested in, it should take you to the site/company that is conducting the trial. But just like the focus groups being offered, I spotted another red flag with the clinical trials listed on the site and I will discuss it later.
Option 3 – Paid surveys
Lastly, you can answer surveys to earn more rewards. But I do have to tell you, the site doesn't have its own surveys. It only acts as a survey aggregator.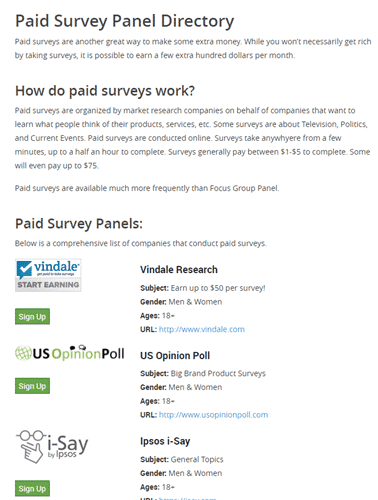 All it does is list down a bunch of survey sites you can join. And as the photo above shows, these survey sites are actually legit sites that I have tested before. So, they are actually referring to useful survey sites, which is the only thing going for them, in my opinion.
However, it does not seem to be an updated list as I saw panels on there that have been closed for a long time.
That's why if you are interested in joining survey sites, I would instead suggest you check out the link below.
Recommended: Check Out the Top Survey Sites in Your Country
How do you get paid?
As explained above, technically speaking, the site doesn't offer its own earning opportunities. Instead, it only acts as an aggregator.
So, to answer the question above, no it won't pay you anything. The site or company that offered the focus group or clinical trial will be responsible for any compensation you will receive.
Now, if you are looking for sites that will really pay you, I would recommend you check out the top sites that pay via PayPal instead.
Red flags you need to be aware of
Now that you know how the site works, let's talk about the red flags I noticed while I was testing the site.
I'll be honest with you, there were actually a couple that was quite obvious that would really lead you to conclude that this site isn't really worth joining. So, let's proceed.
Red flag #1 – Expired earning opportunities
If you notice in the photo below, the focus groups and clinical trials posted are actually way past the expiration date. So, these are no longer valid opportunities, which means you won't earn from them.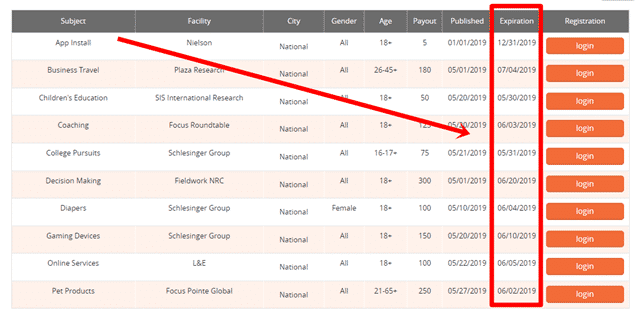 The same thing goes for the clinical trials they posted on their site. They are also way past the expiration date. And some of the survey panels they recommend do not exist anymore either.
That would lead you to question, why would the site post expired earning opportunities? I can't really think of any good reason why that would be. The only thing I can think of is, the site hasn't updated its listing in a long time.
This reason led me to the next red flag that I noticed.
Red flag #2 – Domain was registered after the actual expiration of listings
When I noticed the expired focus groups and clinical trials, I immediately checked when their domain was registered to see if it coincided with the expiration dates of their focus group and clinical trials. To my surprise, the site was registered in 2020.

That means they already knew the focus groups and clinical trials they've posted are not valid anymore because their site came after the expiration date. So, why would a new site list down opportunities that are not valid?
The only reason I can think of is that they don't really care if you earn or not. They are actually only after your information, which is your email address. The reason why I say this is, your email address is the one important thing they can get from you once you become a member.
They can use it to send you offers which they may have been paid to promote. And true to my suspicion, I checked online to see if any of the people who registered to the site received any offers, and I did find some in Reddit.
So, it seems like the true intention of this site is to get your information and use it so send promotions to you because the earning opportunities they offer don't really, well, allow you to earn.
They do say on their "Terms of Service" that their Service may contain links to third-party websites or services that are not owned or controlled by them. While what they are doing is certainly not illegal, it's also not ethical, in my opinion.
Red flag #3 – Copyright year of website doesn't coincide with the date it was registered
Lastly, if you look at the bottom of their website, you will see the copyright year. It says in that section that the copyright of the site is 2019. That's, however, not really, in my opinion, because upon checking the date when the domain was registered, it shows that it was registered on August 2020.
That alone should tell you that the site isn't upfront with all the information it presents.
And I would say all these red flags are the reasons why I would strongly advise you not to register to this site because you won't really get anything from it. All you will get is a bunch of spam messages crowding your email inbox.
Final Verdict
Focus Group Panel is a research study aggregator that really doesn't offer anything for you to be honest. But let me finish this review by summarizing its pros and cons to explain why you should avoid joining this site.

Pros:

Cons:
Doesn't offer valid earning opportunities
The site is not transparent
I never really found any reason during my testing to warrant the use of this site. If you are looking for ways to earn extra cash, you are better off finding it elsewhere because this site doesn't really offer any valid earning opportunities.
All you will get from registering on this site is a bunch of promotional messages in your inbox. That is why I don't recommend you waste your time on this site. I would instead suggest you check out the top survey and GPT sites in your country.
The sites on this list all have good earning potential and they all offer guaranteed earning opportunities. Plus, all the sites on this list are upfront with what they have to offer.
If you have any comments, questions, or have any experiences with Focus Group Panel yourself, I would love to hear from you in a comment below.