There's a certain allure to receiving free stuff via mail. It makes you all giddy knowing you got something without spending any money.
Now, if you want to keep receiving free stuff, there's a site called FreeFlys that claims you can receive free samples and other stuff if you become a member of their site.
I know it sounds fishy, that's why I've decided to make this FreeFlys review to verify if the site is really legit or if it is just a scam. After all, you wouldn't want to join a site that doesn't do what it claims it does. That will just be a total waste of time.
This review will reveal all the details you need to know about the site so you can determine if you should really sign up for this site or not. So, let's go ahead and dive right in, shall we?
What is FreeFlys and what does it offer?
FreeFlys is a site that will provide you with ways to get free samples, products, and even deals. It is indeed a legit site since all the offers they post are really legit. So, you'll really receive free stuff.
It's a bit different from most of the sites I've reviewed, but nevertheless, let's talk about the opportunities it offers so you can understand how the site works. By doing so, you can also get a snapshot of the potential of FreeFlys.
So, here are the opportunities FreeFlys offers.
Option 1 – Free samples
There are two types of offers found on FreeFlys and the first one we will be talking about is their free samples. Just in case it's not clear enough for you yet, this is the part where you can get free products.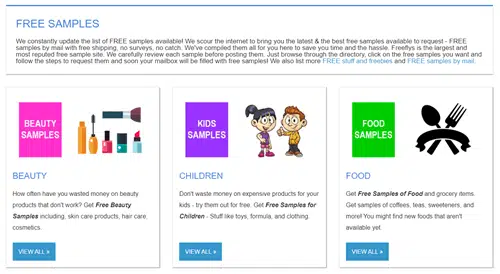 You see, the thing with FreeFlys is, there's no membership required to claim free samples. You just have to visit the website and go to their free samples page and look for a sample that you are interested in.
Then, you just have to click that offer and it will show you the details on how to claim the free sample. Usually, it will ask you to fill out a form. It will also tell you which regions the free sample is available in.
The challenge can just be to find the right link to click on FreeFlys in between all the ads covering the site?. But that is just something you have to accept if you want to use the site as it is their way of making money and be able to provide so much info about free samples.
Most free samples have a limit to how many people can receive it. Once you've filled out the form, you will be notified via email if you are still eligible to receive the free sample. If you aren't, then you'll be notified as well.
That's all there is to it really. Just check their directory of free samples and see if there's anything you are interested in. Just keep in mind that all these free samples are on a first-come-first-serve basis. So, make sure to visit the site frequently if you want dibs on certain products.
Option 2 – Money-saving offers
Another opportunity FreeFlys offers is their money-saving offers. If you've been a member of cashback sites before, then this will be very familiar to you. These money-saving offers are actually just cashback offers from other sites.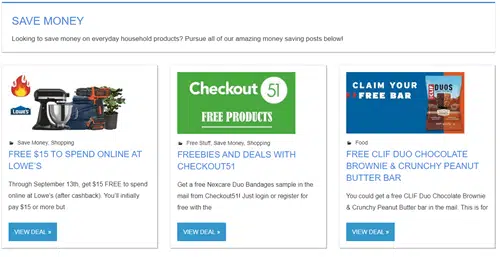 To claim an offer, just click on any money-saving offer you are interested in. Typically, you will be asked to sign up as a member of a site before you can claim the offer. Just follow the instructions provided to claim the offer.
Some offers don't involve any cashback rewards, but instead are just discounted offers. But the idea is still the same. You will still be able to save a few bucks if you avail of the offer.
Option 3 – Money-making offers
Lastly, FreeFlys also serves as a directory for websites that will allow you to earn a bit of extra cash. Most of the offers you will find in this section will come from survey and Get-Paid-To (GPT) sites.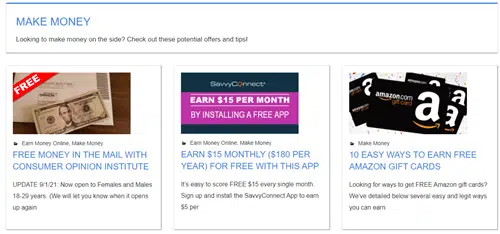 So, all this is really doing is pointing you in the right direction. In fact, if you really think about it, that's all FreeFlys is really doing. It's pointing you in the right direction to get free products, get cashback rewards, and sites that you can join to earn extra cash.
When you click on an offer from their money-making section, it will just ask you to sign up for the website that offers opportunities to earn extra cash. So, you go ahead with the registration and when it is completed, you can start earning from that site.
However, the big issue about this section on FreeFlys, in my opinion, is that it does not give you any in-depth info at all to help you find the right opportunities for you. It is mostly just superficial info and some promotional links they get paid to promote.
So if you are looking for help to filter the good from the bad options, then this will not really be of any help to you, in my opinion.
Also, just remember, when it is time to withdraw your earnings, you have to do it from the site where you earned the rewards and not from FreeFlys.
FreeFlys is just a middleman that links to other sites but not a site where you will actually earn rewards.
Recommended: Check Out the Top GPT Sites
How do you get paid?
As I've mentioned earlier, you don't actually have to sign-up to FreeFlys to avail of the opportunities it offers. You will instead be taken to different websites to register.
So, to answer the question above, the method of payment offered will depend on the sites that you've joined. Some sites will offer payment via PayPal, while some offer other payment methods like gift cards and prepaid credit cards.
The key thing to remember is, FreeFlys will never pay you anything. It is the sites that FreeFlys will refer you to that will pay you. As I've explained earlier, all FreeFlys does is it will point you in the right direction.
Many brands want you to sample their products. They believe that if you love their products, then you may buy them. That's why they want to give you samples to try for free.
FreeFlys believes in this philosophy and that's why does its best to collate every offer they can find because some brands and companies will also pay them to do so.
Now, if you are looking for websites that will actually pay you for completing the earning opportunities it offers, I would recommend you check out the top sites that pay via PayPal instead.
How much money can you make?
Technically speaking, you won't be earning anything from this site. Instead, you will earn from the other sites it will refer you to.
So, let's talk about the common products that you can usually get for free from this site. Most of these products will be in the category of beauty, food, or health. And these products can cost anywhere from $5 to $50.
So, you'll actually be able to save a decent amount from the free products. But as for the money-making offers, it would be harder to pinpoint an exact amount of what you can earn because there are a lot of factors affecting the earnings.
Your location and the time you invest in these sites are what will mostly contribute to the amount you can earn from these sites. Now, if I were to categorize the earning potential of FreeFlys, I would say it's pretty decent.
There are a lot of free products available in their directory. So, you will eventually find something that you will be interested in or something that will be very useful for you.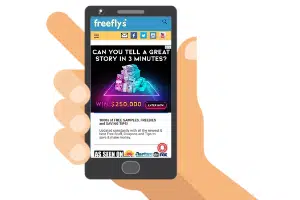 Can you use it on mobile?
FreeFlys doesn't have a mobile app you can download, but you can still access their website from a mobile device. All you have to do is open a mobile web browser.
Their website is optimized for mobile use, so you will be able to navigate through the site conveniently. You also won't have to zoom in just to read the content.
However, as already mentioned, there are a lot of ads on the website, and that becomes even more annoying on mobile, in my opinion.
But using your mobile can be very useful since as you already know, the free samples are on a first-come-first-serve basis. So, the fact that you can access these offers even when you are not in front of a computer can greatly increase your chances of being one of the first people in line, which will, in turn, significantly increases your chances of getting free stuff.
Who can join FreeFlys?
As I've explained earlier, you don't really need to register to FreeFlys. You will instead be registering to the sites it will refer you to. As for the offers, they aren't always available globally. In fact, most products are only available in the US.
You will seldom find free samples that are available globally. I'm not saying there aren't any free samples for people who don't live in the US. All I'm saying is there will be more free samples for people in the US.
Can you get support?
If you have any questions about how the site works, you can refer to their FAQ page. It discusses most of the basic topics you need to know about the site. But as for specific concerns from the sites, it will refer you to, you will have to use the specific support page of those websites.
Now, if you have any inquiries about FreeFlys, you can use the contact form provided on their website. Overall, I would say the site has a decent support system in place since they provide a way for you to get in touch with their support team conveniently.
Final Verdict
FreeFlys is a legit free sample directory that will point you in the right direction of where to get free samples, which sites to earn cashback rewards, and which sites will allow you to earn extra cash.
It has a couple of interesting features, but it's also a pretty limited site. Let me wrap up this review by summarizing its pros and cons so you'll get an overview of what the site has to offer. Then, you can decide if it is really a good fit for you or not.

Pros:
Has plenty of free sample offers
Their site is mobile-friendly

Cons:
Only acts as a directory for free samples
There aren't a lot of free samples that are available worldwide
Most of the info is quite superficial
There are a lot of ads which makes it harder to navigate
If you are just looking for a site where you can get free samples, then FreeFlys is a decent site to consider. It has plenty of free sample offers. But if you are mainly looking for a site where you can earn extra cash, then this is not for you.
All it will really do is point you in the direction of where you can earn extra cash but it only gives superficial info and no info to help you find the right options for you. So, you are better off joining other sites to earn without the help of FreeFlys.
For a list of these great sites that you can join, I would recommend you check out the top survey and GPT sites in your country instead. The sites on this list all have good earning potential and you can start earning as soon as you become a member.
Plus, you will definitely find a site you can join regardless of where you live.
If you have any comments, questions, or have any experiences with FreeFlys yourself, I would love to hear from you in a comment below.