Can you really earn good money if you join FreelancerCareers?
This is probably the question running through your mind when you encountered this site. It's a valid question to ask, and I do it every time I encounter a new site that offers a way for you to earn cash.
You see, I'm always looking for ways to earn extra cash online and I've recently encountered FreelancerCareers.org as well. So, my curiosity got piqued and I decided to test this site to see what it offers.
I will share everything I have learned about this site in this FreelancerCareers review. That way, you'll know the full truth of what this site has to offer and you can decide if it is really worth investing your time into or not.
What is FreelancerCareers and what does it offer?
FreelancerCareers, as the name suggests, is a freelancing site that specializes in offering freelancers an opportunity to earn by taking on writing jobs. It is indeed a legit site since you will really get paid for working on the writing jobs it offers.
Now, to fully understand how it works, we must take a closer look at the earning opportunity it offers.
That way, you can properly gauge the amount of time and effort required to earn from this site. So, here's how to earn from FreelancerCareers.
The earning opportunity – Jobs
The only way to earn from this job, as mentioned above, is to take on writing jobs. Once you become a member of this site, you will gain access to all the job opportunities it offers.
All you have to do is log in to the member dashboard and you will immediately see all the available jobs you can work on. Keep in mind that the jobs displayed will be according to the type of writer you selected during sign-up.

As the photo above shows, there are three types of writers you can choose from. You can be an essay writer, technical writer, or resume writer. The first two types will require you to choose a field of expertise.
You need to make sure the field you will be choosing is really the field you are most knowledgeable in. That's because these will be the jobs that will be offered to you. So, you have to be careful of the fields you will choose because it will really show in your writing that you are not knowledgeable of the topic you are writing about.
If you decide to accept a job offer, you will have to make sure you do not miss the deadline. Jobs are ranged from urgent to ones with few weeks or even months to finish. The more urgent the job is, the better rate of pay will be offered.
What you need to know when you accept a job is that late work might not be accepted or result in a penalty. That is why you must submit the work by the due date.
But if there is an emergency that will prevent you from being able to meet the deadline, you can actually inform FreelancerCareers in advance so you won't be penalized. Of course, you'd have to provide a very valid reason why you cannot meet the deadline. If you were not able to inform FreelancerCareers in advance about the difficulties you experience, they will have to remove your profile from their database.
That's why you must be able to deliver the requirements on or before the deadline. Otherwise, you risk getting banned from the site and losing all your earnings.
Once you've submitted your work, FreelancerCareers will have to review it. It usually doesn't take more than a couple of days before you hear back from the. If the quality of the work you submitted doesn't meet their standards, you will not get paid. However, they will provide feedback to help you improve in the future.
So, if you work on a job offered by FreelancerCareers, there's still no guarantee you will earn from it. Your work has to be approved to get paid. It's a bit risky, in my opinion, that's why it's not for everybody.
Recommended: Check Out the Best Freelance Sites You Can Join
How do you get paid?
Every time you will be able to successfully complete a job, you will be compensated according to the number of words you've written, the difficulty, if the assignment is urgent or not, and your educational level.
Then, when your work is approved, it will be credited to your account balance. It will be up to you when you want to receive your earnings. You can choose to get paid every two weeks, or you can get paid at the end of every month. You won't have to reach a certain payout threshold to withdraw your earnings.
You can get paid via PayPal, Skrill, or wire transfer. Take note, though, that if you choose PayPal as a payment option, you'll have to inform the Billing Department if PayPal is your preferred payment method.
Overall, the payment system of FreelancerCareers is relatively simple. I like the fact that it offers convenient payment methods like a wire transfer.
If you are looking for more sites that offer a convenient payment method, I would recommend you check out the top sites that pay via direct bank transfer.
How much money can you make?
As explained above, the amount you can earn per job will mostly depend on the urgency of the job, the number of words you need to write, the education level required, and more. Basically, the more complicated the job is, the higher the pay.
Normally, if the job isn't urgent, you can earn around $10 to $20. While that may sound like a lot, keep in mind that you'll have to write, and writing takes a bit of time and a lot of effort, especially if you are a technical writer, because you'll have to do research.
There's a decent number of jobs available at any given time, but based on what I've observed, the pay isn't that great. That's why I would say the time-to-money ratio this site offers is actually quite low. You'll have to spend a lot of time to potentially earn a decent amount.
The only time I can say that this site offers great pay is when there are urgent jobs offered. These kinds of jobs will pay a bit better. But don't expect to receive these jobs often, though.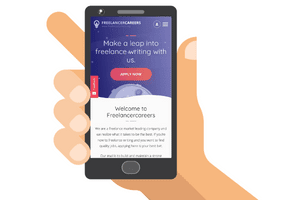 Can you use it on mobile?
FreelancerCareers doesn't have a mobile app you can download. And to be honest, the earning opportunity it offers isn't really suitable for mobile apps.
That being said, the site is optimized for mobile use, so you can actually access the site from your mobile device. This can come in quite handy if you are not in front of your computer, but you want to take on a job.
You can just log in to the site from your mobile device and choose the jobs you want to work on. Then, when you get home, you can start writing.
Who can join FreelancerCareers?
You can apply to become a writer regardless of where you are in the world. However, the sign-up process is a bit longer compared to other sites.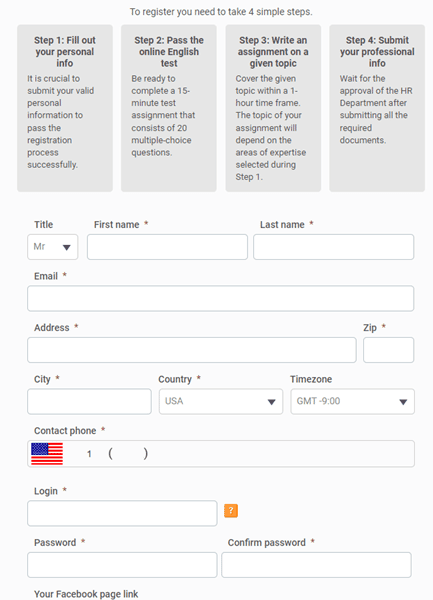 You see, before you can earn from this site, you'll have to go through a 4-step application process.
First, as shown in the photo above, you'll have to fill out your personal information. This will include choosing the type of writer you want to be (as explained earlier in this review).
Then, you'll have to take a test that's 20 questions long. It's a fairly easy test as long as you are good at English. Once you pass the test, you'll be asked to write a 300-word article about a certain topic.
You will only have one hour to submit the article. Failure to do so will result in your application being denied. So, I would only suggest you go through with this once you are ready because once you accept it, the timer will start running.
When you've submitted the article, you will then have to provide your professional information. This will include providing a copy of your diploma. That means to become a writer, you actually have to graduate from a university or finish a Bachelor's degree.
In all honesty, this is the first freelance site I've encountered that will require you to be a Bachelor's degree holder before you can join. I find it weird that they would require this because most freelance sites don't really care about your education as long as you can deliver what is required.
But anyway, those are the requirements to join the site. It's a bit of a long process, and the site is quite demanding in terms of who they accept as writers for their site. So, it's not a site that is for everyone.
Can you get support?
If you have any questions about the site or your account, you can check out the FAQ page first. It discusses some of the basic topics you need to know about the site. It's not as comprehensive as you might've hoped, so it might not be as helpful.
Fortunately, they provide a way for you to communicate with their support team in case you can't find the answers you are looking for. You can email them at support@freelancercareers.org or call the number displayed on the Contact page.
Overall, I would say the site has a decent support system in place for its members since they provide a couple of ways for you to get in touch with their support team.
Final Verdict
FreelancerCareers is a legit freelancing site that will allow you to earn money by working on writing jobs. It has a few good features, but it also has a couple of drawbacks you need to keep in mind.
Let me finish this review by summarizing its pros and cons to give you an overview of what it has to offer. Then, you can decide if it is worth your time or not.

Pros:
Available worldwide
Offers payment via PayPal

Cons:
Doesn't offer guaranteed earnings
Low salary
The registration process will take a bit of time to finish
You have to be a degree holder to join
In my opinion, FreelancerCareers isn't a site worth joining. The fact that you have to have a degree to join this site already makes it a site that is not flexible enough, in my opinion.
Plus, they aren't really offering anything special that you can't find on other freelancing sites. So, if other sites can do what they do, why not just join those other sites where they don't require you to finish college first to earn and where the application process is faster, right?
It also doesn't help that they don't offer guaranteed earnings, but that is really the reality of freelancing. There will be times when you will not get to earn anything even if you did the work.
That's why if you are looking for a more stable way of earning online, I would suggest you check out the simplest and safest way to build a profit-ready online business instead. That way, you'll learn how to create your own online business and earn a stable income.
If you have any comments, questions, or have experience with FreelancerCareers yourself, I would love to hear from you in a comment below.