If you love playing games, there's a site called GameGleam that claims you can earn rewards by playing games and doing other tasks. It sounds pretty great since you can earn and have fun at the same time.
However, before you hit the sign-up button, there are a few things we need to talk about. First and foremost, we need to verify the legitimacy of the site. So, is GameGleam legit or is it a scam?
This is a very important concern, so let me answer it right away. Yes, it is indeed a legit site that will really reward you for playing games as for completing other short tasks.
Now, the question is, is it worth joining this site or not? To answer that, we have to consider a few things and this GameGleam review will give you the lowdown and show exactly what the site has to offer so you can determine if it is really worth joining or not.
What is GameGleam and what does it offer?
GameGleam is a GPT (Get-Paid-To) site that will reward you for playing games and completing quests (which I will explain later). It's pretty similar to Reward XP, which is another site that will pay you for playing games.
Here's a short video explaining how you can earn from GameGleam.
Now, to fully understand how this site works, we have to take a closer look at the earning opportunities it offers. This is the best way to get a clear picture of how well you can earn from the site. So, here's how to earn from GameGleam.
Option 1 – Quests
One way to earn from GameGleam is by completing quests. Just like when playing video games, you will encounter quests where you can earn rewards. To view all the available quests, just log in to the site and click the "Quests" option on the left side of the dashboard.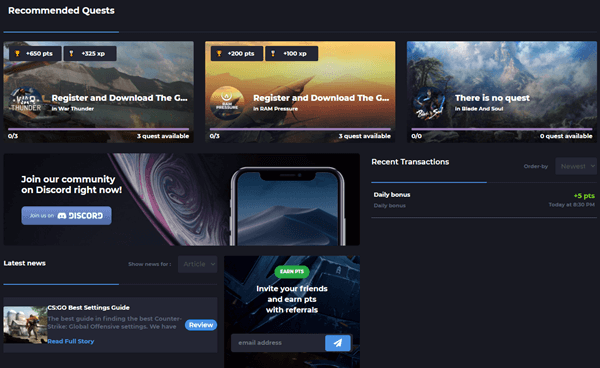 This is where playing games will come in. You see, most of the quests available will involve playing a certain game. It can be a pc game or a mobile game. That means, before you can work on quests, you have to install the game on your device (pc or mobile device).
Once it is installed, you have to register for the game. Make sure to take note of the username you will use because you will have to input that on the quest page of the site. Once you've successfully completed the objectives of the quest, you have to take a screenshot showing you've completed the objectives.
Then, you have to submit the screenshot together with your username and wait for GameGlean's approval. Once your submission is approved, you will receive the reward promised. You will receive a certain number of points as well as experience points (I'll explain what to do with these points later).
Option 2 – Offerwalls
Another way to earn rewards from GameGleam is to work on their offerwalls. For the uninitiated, offerwalls are in-site/app advertising platforms that promote specific websites or mobile apps through their paid offers.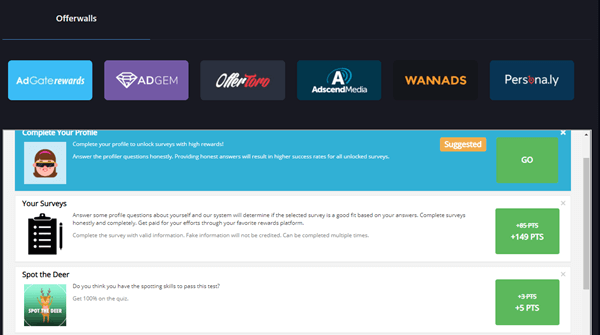 These paid offers are what you can complete to earn rewards. Paid offers are really just short tasks that will usually ask you to answer surveys or quizzes, play mobile games, watch videos, sign up for certain websites, and more.
To start earning from their offerwalls, just click the "Offerwalls" option on the left side of the dashboard. Then, choose an offerwall you want to work on. During my testing, there were only 6 offerwalls available, which is quite a low number, in my opinion.
Then, you will see all the paid offers available for that specific offerwall. Just click the one you want to work on and you will see the instructions you need to follow to complete the offer.
Make sure to understand what the offer is asking you to do because if you miss even just one step, you will not be able to complete the offer and you won't receive the reward. Once you've completed the offer, you will receive the reward promised.
Option 3 – Creating content
You can also earn more rewards by creating content for GameGleam. You can either make a YouTube video or an article promoting the website.

The premise of this opportunity is really simple. You create a video or article promoting the site. If you will be creating a video, you have to upload it on YouTube and not on any other video hosting platform.
Once you've uploaded the video, you have to send the link to GameGleam for review. Once they deem everything is in order, they will award you a certain number of points. You will be able to determine how many points you will earn for the video by clicking the "Add Video" button.
For articles, you will have to submit it to GameGleam. There's no specific word count that needs to be met when submitting articles, but it will still be up to the discretion of GameGleam on whether they will publish the article or not.
If it gets published, you will receive a certain number of points depending on the length and quality of the article. Unfortunately, there's no breakdown on how they will award points.
Option 4 – Referral program
Lastly, you can invite people to join the site and earn a referral reward. This is called a referral program.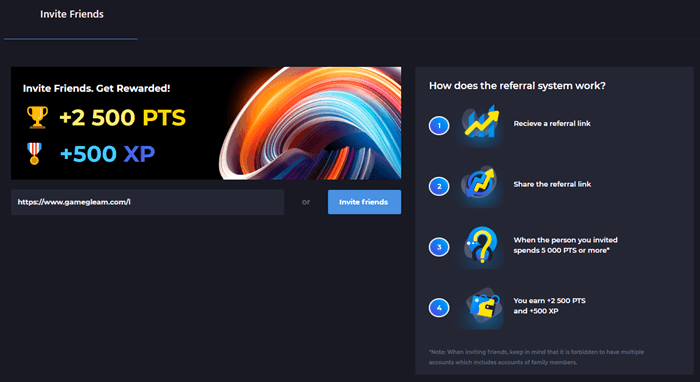 To invite a person, you just have to share your invite link with the person you want to invite. Or you can also submit the person's email address to GameGleam so that they can send an email invite to that person.
When the person you invited clicks the invite link and signs up as a member of GameGleam, they will become your referral. But, there's a condition that needs to be met before you will receive your referral reward.
Your referral must spend at least 5,000 points on the site first. That means they have to redeem rewards which would naturally mean they have to be active on the site. When that condition is met, you will receive 2,500 points and 500 experience points.
So, make sure to invite people that are really interested in earning from this site.
Recommended: Check Out the Best Ways to Earn Money by Playing Games Online
How do you get paid?
Every earning opportunity you complete will earn you a certain number of points. You can use these points to redeem various rewards. You can redeem gift cards as well as in-game currency using your points. But what about the experience points you earn?
Well, just like in games, your account will level up the more quests you complete and when you invite other people to join the site. Then, your account level will determine what type of rewards you can redeem (refer to photo below)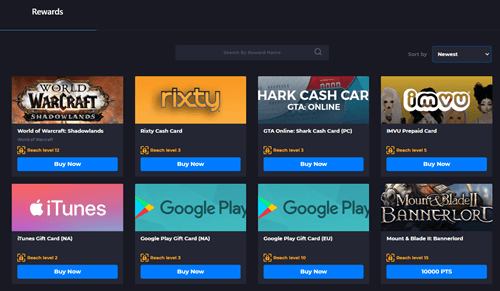 As you can see in the photo above, certain rewards will require you to reach a certain level before you can redeem them. For example, if you want to redeem a Google Play gift card, you will have to reach level 3 first.
The number of experience points required to level up will keep increasing as your level increases. The first few levels won't require a lot of experiences points. So, they will be easy to reach.
However, there's one form of reward that will not require you to reach a certain level. The reward I'm talking about is a PayPal withdrawal and the minimum amount you can withdraw is $10. In order to make a $10 PayPal withdrawal, you only need to earn at least 4,450 points.
So, it's a relatively easy condition to meet. So, aside from gift cards and in-game currency, you can also convert your points to cash via PayPal.
Overall, their payment system is relatively easy to figure out and I like the fact that they offer payment via PayPal. However, I do find it quite strange that there are certain rewards you cannot just redeem without reaching a certain level and that is not something I have seen on any other platform (and I have tested hundreds of sites).
How much money can you make?
The amount of money you can earn from GameGleam will depend on how active you are on the site and where you live (I will explain more about this later). Another factor to consider is how well the site pays. In this regard, I would say GameGleam pays a decent amount. Let me explain.
Most of the quests you can complete will allow you to earn around 100 to 700 points. If you convert that to cash, that would be around $0.2 to $1.5 per quest, which isn't that bad. However, some quests can take some time to finish, so in terms of the time-to-money ratio, GameGleam's score isn't that good.
That's why I would say the earning potential of GameGleam isn't that great but it's not that bad either. But, in my opinion, the best value GameGleam can offer is that it will allow you to have fun and earn a few bucks at the same time.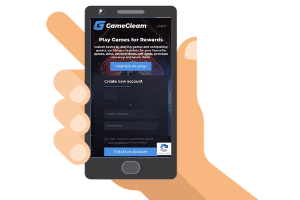 Can you use it on mobile?
GameGleam doesn't have a mobile app you can download, but you can still access their website from a mobile device using a mobile web browser. Their site is optimized for mobile use, so you can conveniently browse the website and read all the content easily.
This can help a lot especially when you are working on quests or paid offers that require the use of a mobile device which you will definitely have to do if you want to maximize your earnings from this site.
So, I would say that it's good that you can work on this site from a mobile device conveniently. It adds to the overall usability of the site, in my opinion.
Who can join GameGleam?
GameGleam is available globally. So, you can sign up as a member regardless of where you live. Their registration process is also very simple.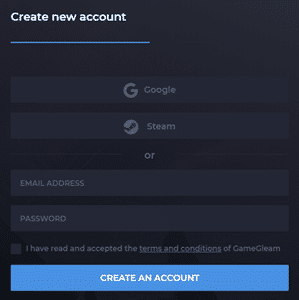 You can sign up using your Google or Steam account. You can also provide your own login details. Once you are done with the sign-up form, you can log in and immediately start earning.
However, while GameGleam is available worldwide, the availability of quests will mostly depend on your location. In some countries you can find more quests than in others – particularly the US, Canada, and the UK offer the most options. So, the overall earning potential of the site will mostly depend on where you live.
Can you get support?
If you have any questions about the site or your account, you can refer to their FAQ page first. It has a fairly comprehensive list of topics about the site you can read. But if you can't find the answers you are looking for, you can contact their support team.
To do that, you can go to their Contact page and submit a support ticket. For offerwall concerns though, you have to use the contact link on the specific offerwall you are working on since each offerwall has its own support platform. Each offerwall has its own FAQ page as well.
Overall, I would say the site has a decent support system in place since you will be able to get in touch with their support team quite easily.
Final Verdict
GameGleam is a legit GPT site that will pay you for playing games and completing other tasks. It has its merits but it also has a few disadvantages you need to be aware of.
So, let's conclude this review with a summary of its pros and cons to give you an overview of what the site has to offer. That way, you can decide if this site is a good fit for you or not.

Pros:
Relatively low payout threshold
Offers a fun way to earn rewards
Offers payment via PayPal

Cons:
Limited earning opportunities offered
Availability of opportunities will depend on your location
Overall, I would say GameGleam isn't a bad GPT site. But it's not that good either. It doesn't stand out, in my opinion. You can earn a decent amount from it if you live in the US, UK, or Canada. But if you live somewhere else, you might not have access to all of its earning opportunities.
So, I would only recommend you join this site if you live in any of the countries I've mentioned. Otherwise, you are better off joining other GPT sites that will give you access to their earning opportunities regardless of where you live.
And even if you live in one of these 3 countries, there are just many sites where you can earn more.
For a list of these sites, I would suggest you check out the top survey and GPT sites in your country. All the sites on this list all have good earning potential and you will be able to earn a decent amount in a short amount of time regardless of where you live.
If you have any comments, questions, or have any experiences with GameGleam yourself, I would love to hear from you in a comment below.