If you are a gamer, you probably already know too well that it can be a very expensive hobby. The hardware needed alone will cost you hundreds of dollars. Once you get into the actual games, it will cost more and it will just keep piling up the more games you play.
Now, there's a site called Gamekit that promises to help lighten the burden. This site claims you can collect points by playing games and completing quests. You can then exchange the points for skins, full games, and gaming currency.
Sounds like you'd be able to at least save on in-game purchases, right? Well, before you click the sign-up button, there are a few things you have to check. And the first thing you need to verify is if this site legit or is it just a scam?
This Gamekit review will answer that question and more. It will tell you everything you need to know about the site so you can decide if it is really worth joining or not.
What is Gamekit and what does it offer?
Gamekit, at its core, is a Get-Paid-To (GPT) site that will reward you for playing games and doing tasks. It is indeed a legit site, which means you will be able to redeem rewards for the points you've earned.
But in order to fully understand how the site works and how well you can earn from it, let's take a closer look at the earning opportunities it offers.
So, here's a video that gives you an inside look and shows exactly how you can earn from Gamekit. You can also read all the details below the video:
Recommended: Check Out the Top Sites to Earn Money Playing Games Online
Option 1 – Playing games
The majority of the rewards you will earn from Gamekit.com will come from playing games. When you log in to the site, you will immediately see all the available games you can play.
As you can see in the photo above, every game you can play will have a certain set of requirements you need to meet to earn the rewards. Most games will require you to reach a certain level before you can claim the reward.
Some games will require you to win a certain number of times before you get the rewards. But regardless of what the game will ask you to do, the most important thing you need to remember is, you have to click the button that says "Get Started" to get to the game you want to play.
That will be the only way Gamekit will be able to track the game you are playing. I have read some members complaining they didn't get the reward promised but the one thing they forgot to do was that one simple thing.
Option 2 – Paid surveys
You will also be able to earn additional rewards by answering surveys. Their surveys are powered by Samplicio.us, a survey site that usually partners with other GPT sites.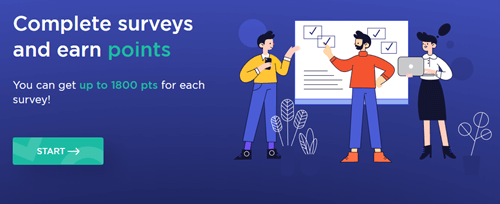 When you go to the surveys section of Gamekit, you will first have to answer a couple of profiling questions. Once you are done with these questions, you will find out if there are surveys available that you can answer.
If there are, simply click on one and go through the qualification process. You will again have to answer a set of questions to determine if you are eligible to take the survey. If you are qualified, you get to answer the actual survey and you will receive the reward promised (up to 1,800 points per survey).
If you fail to qualify, you simply move on to the next survey available (if there are any). It can take a bit of patience to qualify for surveys on Gamekit. So, don't expect to qualify for every survey available.
Option 3 – Referral program
Lastly, you can earn additional rewards by inviting other people to join the site. This is called a referral program. And if you've been a member of other online rewards sites before, then this is a very familiar opportunity.

To receive a referral reward, you will have to share your invite link with the people you want to invite. Once they sign up to Gamekit using your link, they will become your referral. However, you won't receive the referral reward (which is 15,000 points) until your referral receives his/her first payment.
In other words, your referral must redeem a reward from Gamekit before you will receive your referral rewards. That's why the people you should invite are those that are really interested in earning from this site. Otherwise, you'll just be wasting your time.
Recommended: Check Out the Top Sites to Earn Money Playing Games Online
How do you get paid?
Every activity you complete on Gamekit will earn you a certain number of points. You can then exchange the points you've earned for various in-game items, game platform currencies, and more.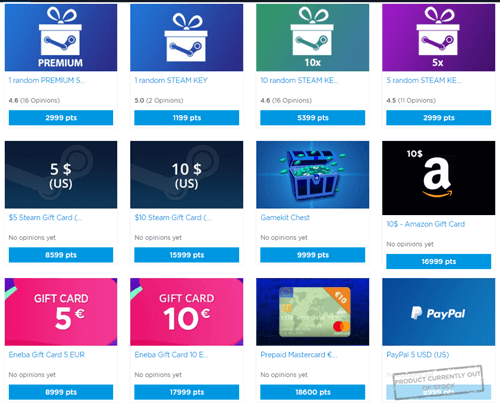 As you can see in the photo above, the number of points required to redeem rewards will vary.
The points to $ conversion rate is hard to figure out because there's no set number of points for a certain amount.
For example, if you want to redeem a $5 Steam gift card, you will need 8,599 points. But if you want to redeem a $10 Steam gift card, you will need 15,999 points. So, it's hard to calculate how much each point is worth.
During my testing, the PayPal option was not available. It said it is out of stock. So, the only option for a cash reward is by redeeming a prepaid Mastercard. Most of the rewards they offer require a significant number of points except for the random Steam game keys.
This may sound very appealing but there have been a lot of complaints about members redeeming duplicate game keys. So, it's not the most ideal way to spend your points, in my opinion.
Their payment system is a bit more complicated than most other GPT sites, in my opinion. If you are looking for sites that have more convenient payment options or those that offer cash rewards, I recommend you check out the top sites that pay via PayPal instead.
How much money can you make?
The amount of money you can earn from this site will depend on how active you are. Gamekit does have a decent number of games you can play, so you won't run out of things to do to earn rewards.
But completing the requirements to earn the reward for each game requires a bit of time. So, it's not like you can breeze through all the available games.
As for the rewards you will receive for playing games, you will typically earn around 2,000 to 20,000 points, which is pretty decent. In my opinion, this rate is fair considering you will have to invest quite a bit of time when playing a game.
So overall, I would say the earning potential of this site is pretty decent. But you have to invest a lot of time on Gamekit. If you are not prepared to do that, then this site is not for you.
Can you use it on mobile?
Gamekit has an app you can download so you can complete the game offers that are available for mobile devices. The app is only available for Android devices, so if you are using an iPhone, then you just have to settle with the web version of Gamekit.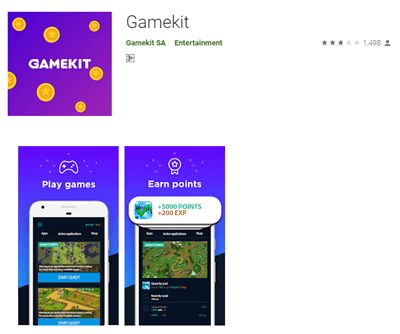 That being said, there are only a few mobile games you can play on Gamekit. So, most of the time, you will have to work on your computer to earn rewards. But it's nice to know that they do provide an option for mobile devices.
Who can join Gamekit?
According to Gamekit's terms, it seems to be available in all countries. However, from feedback I have received from visitors on my website from all over the world, it seems like their terms or not updated and it is not possible to join in all countries.
The countries you can definitely join from are:
Belgium
Denmark
Finland
Latvia
Malta
Norway
Portugal
Sweden
Ukraine
Canada
USA
Argentina
If you live in any of the countries listed above, you will be able to join Gamekit as long as you are at least 13 years of age. For the countries below, however, you have to be at least 14 years old to join.
Austria
Bulgaria
Cyprus
Estonia
Italy
Lithuania
Spain
Mexico
And if you live in the Czech Republic, Chile or France, you must be at least 15 years old to join the site.
As mentioned earlier, accoridng to their terms, you are able to join from other countries as well but it does not seem to be all countries. But you can still try from other countries as it might be availble.
The registration process is very simple. You can sign up using your Google, Facebook, or Steam account. You can also provide your own login details.
Only one account per household is allowed and you can't use a VPN to bypass the geographic restrictions. Their system is designed to easily detect if you are using a VPN, so you will immediately get banned.
Can you get support?
If you have any questions about the site or your account, you can refer to their Help page. It discusses most of the common questions you will encounter when using the site/app. If you can't find the answers you are looking for, you can send your inquiry to their support team.
You can create a support ticket with your question and just wait for their reply. Overall, I would say they have a decent support system in place since they offer a way for you to communicate with their support team.
Final Verdict
Gamekit is a legit GPT site that will reward you for playing games and answering surveys. It offers a couple of good features but it also has some limitations you need to be aware of.
But let's finish this review with a summary of its pros and cons to give you an overview of what Gamekit has to offer, so you can decide if it is worth joining or not.

Pros:
Offers a fun way to earn rewards
Offers decent rewards

Cons:
Earning opportunities take a bit of time to complete
Limited cash reward options offered
Their app is only available for Android devices
If you are looking for a site where you can earn a decent amount from, Gamekit isn't a very good option. The main reason for this is, the only way you can get cash rewards is by redeeming prepaid Mastercard.
But if you are a gamer and you want to earn in-game items or game platform currencies, then this can be a decent site to join. Just be prepared to invest a bit of time on this site because every earning opportunity (except for their surveys) will take quite a lot of time to complete.
Now, if you are looking for sites you can earn cash from, I would instead suggest you check out the top survey and GPT sites in your country. The sites on this list all have good earning potential and most of them offer cash rewards.
Plus, you will be able to find a site you can join regardless of where you live.
If you have any comments, questions, or have any experiences with Gamekit yourself, I would love to hear from you in a comment below.