If you are looking to earn extra cash online, you're probably searching for sites you can join and you've encountered a site called GetPaidTo. So, you may be wondering, is this site worth joining or not?
Before we answer that question, there's a much more pressing issue that needs to be addressed. Is this site legit or is it a scam? Before you join any site, this is important to determine as you want to make sure you join a site that will really pay you (not all sites will).
So, let me address this concern right away. Yes, GetPaidTo.com is a legit site that will really pay you for participating in the earning opportunities it offers. But is it really worth it or not?
This GetPaidTo.com review will give you an inside look so you'll know exactly what to expect before you even sign up. That way, you can properly decide if you should register or not. So, let's begin.
What is GetPaidTo and what does it offer?
As the name of the website suggests, GetPaidTo.com is Get-Paid-To (GPT) site that will pay you for doing small tasks. GPT sites typically offer multiple ways of earning and GetPaidTo is no different.
Now, to understand how this site works, we have to examine the earning opportunities it offers. So, here's how you can earn from GetPaidTo.com.
Option 1 – Paid surveys
One way to earn from this site is by answering paid surveys. This kind of earning opportunity is typically offered on survey sites but most GPT sites also offer them. The only difference is, GPT sites don't have their own surveys. They usually rely on survey routers to provide their members a supply of surveys to answer, so to speak.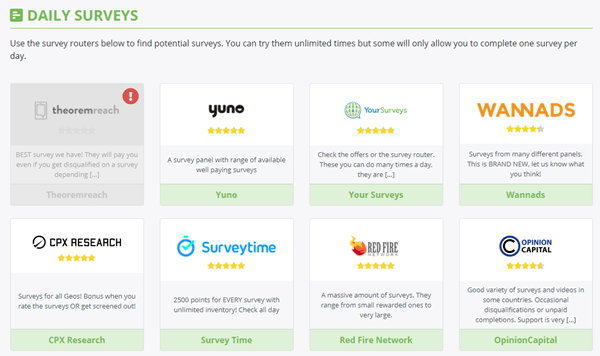 As shown in the photo above, there are several survey routers to choose from if you want to earn from paid surveys. Just choose which router you want to work on and follow the instructions it will ask you to do.
You will typically have to provide your basic information first when you try to answer a survey from a survey router. Then, you'll have to answer a set of qualifying questions so that the router can determine if you fit the demographic their surveys are targeting.
If you qualify, you get to answer the actual survey. If you don't, then you just have to move on to the next available survey. Once you complete the actual survey, you will receive the reward promised, which you will see immediately see when you view all the surveys available.
The one thing I noticed about the rewards they offer is that they are quite low compared to what you can get for surveys on many other sites.
But later I will go into more details about the full earning potential of the site.
Option 2 – Quick points
Quick points is another type of earning opportunity GetPaidTo offers. This earning opportunity will ask you to watch videos from video providers like Hideout.tv and other sites that deal specifically with videos.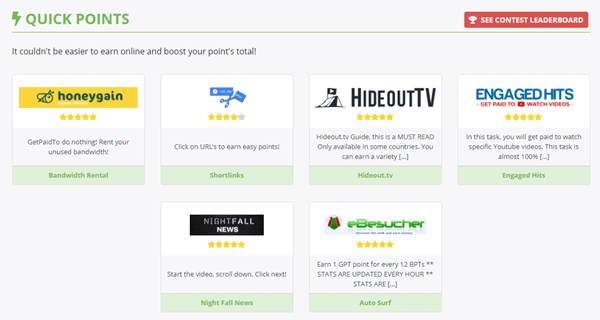 Aside from that, you can also view shortlinks (which is their term for visiting a certain website by click a link that has been shortened) to earn rewards. However, personally I would recommend you to NOT click any of the shortlinks.
They will usually take you to some spammy pop-up ads and in some cases, you will be asked to download certain browser extensions. You should NOT download anything from any of these ads as it is not always safe, in my experience.
My antivirus blocked a lot of pop-ups when I tested it.
And in general, I really dislike when sites offer these types of shortlinks as they usually give a very bad user-experience and often show inappropriate ads and you, sometimes, even are at risk of getting things on your computer you do not want – and then they pay very low rewards.
But overall, Quick points is basically a collection of offers from some of GetPaidTo's partner sites. But you need to choose wisely as some of them definitely will not be worth it as described above.
Option 3 – Offerwalls
If this is your first time hearing about the term "offerwalls", then let me explain to you what it does.
Offerwalls are basically in-site/app advertising platforms that are designed to promote certain websites and mobile apps.
They do this by providing short tasks which are called paid offers. These paid offers will typically ask you to answer surveys and quizzes, register to certain websites, play mobile games, and download mobile apps. The apps you will have to download and sites you need to register to are what they are promoting.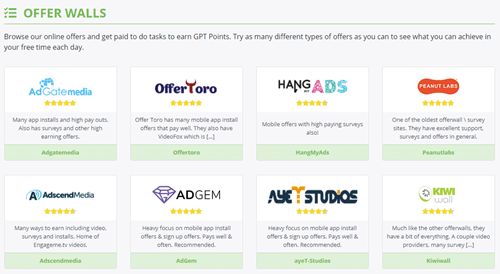 As you can see in the photo above, they do have several offerwalls to choose from. During my testing, there were 12 offerwalls available. That's a decent number but there are other GPT sites I have encountered that offer more.
To earn from their offerwalls, just choose which one you want to work on and click it. You will then see all the paid offers you can do. Every paid offer has a set of instructions you need to follow. So, make sure to follow the instructions down to the letter to ensure you get rewarded. If you miss one step, you will not be able to complete the offer and earn anything.
Option 4 – Playing games
GetPaidTo has several games you can play so you can earn rewards. These games don't need to be installed since they are available in-site, which is nice.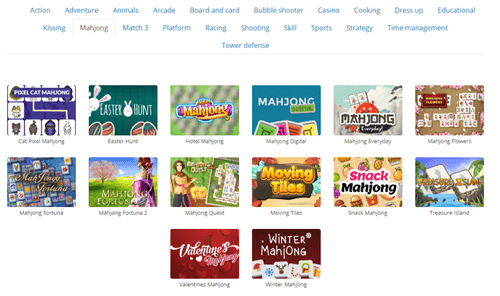 Just choose which game you want to play and click it. There are plenty of games you can choose from and they are organized per game type. To play, just choose the type of game you want to play and select a game from the list.
When you click on the game you want to play, it will open a new window. You will have to watch a couple of video ads before the game loads. When the game loads, just play it for at least 30 seconds to earn the reward.
And speaking of rewards, they do say that they had to lower the rewards to 1 point per game due to low ad revenue on games. So, you won't exactly earn a lot from playing. That's why I would only suggest you do this if you literally have nothing else to do.
There's also no incentive for playing a game longer than 30 seconds because you will still receive the same reward (1 point). Plus, there's a limit to how many points you can earn from playing their games. You will immediately see the maximum number of points you can earn when you go their Games section.
Option 5 – Raffle
GetPaidTo.com also holds a daily raffle you can join to win the jackpot prize. Technically, this isn't really an earning opportunity since earning rewards from it will be based on chance (which is quite low, if you ask me).
But nevertheless, if you get lucky and win the jackpot, you stand to earn lot of points.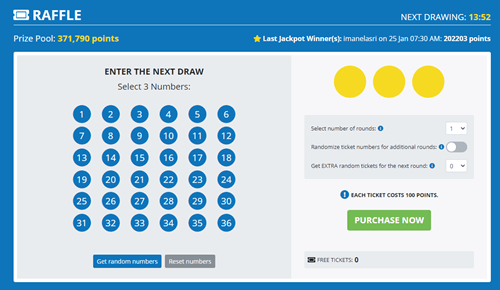 To join the raffle, you have to buy a ticket which is worth 100 points. You will then have to choose 3 different numbers. Their raffle has several conditions to win. You only need to meet one condition to claim a prize.
For example, if all the 3 numbers you've chosen are drawn in the same exact order, you will win 50% of the pot. If there are multiple winners, the 50% will be split between them. So, it's like the lottery.
The points spent to buy tickets for the raffle will actually be the jackpot prize. The one thing I don't like about this earning opportunity is, you won't get the full jackpot prize. The maximum amount will always be 50% of the jackpot, which is kind of weird, in my opinion.
This is the only site that I've encountered that has reward system for their raffle that is structured this way. It feels a bit greedy, in my opinion. If you win, it doesn't actually feel like you won the jackpot because you only get at most, half of what the prize is.
That one part is a bit disappointing and doesn't really convince you to join their raffle. It's hard enough to win, but if you do get lucky, you only win half of the prize? I mean, do you get my point? But anyway, that's how their raffle system is structured.
Option 6 – Referral program
You can earn bonus rewards for inviting other people to join the site. This opportunity is called a referral program.

To invite a person to join the site, just share your invite link with them. And when they click the link and register, they will become your referral. And as the photo above shows, you will receive a 15% commission every time your referral will earn points from the site.
So basically, it's a form of passive income. You just have to make sure the person you want to invite is really interested in earning from the site. Otherwise, you'll just be wasting your time.
Option 7 – Leaderboard contest
Lastly, you can earn additional points if you are one of the top earners for the week. This isn't really an earning opportunity per se. It's more of a bonus, in my opinion.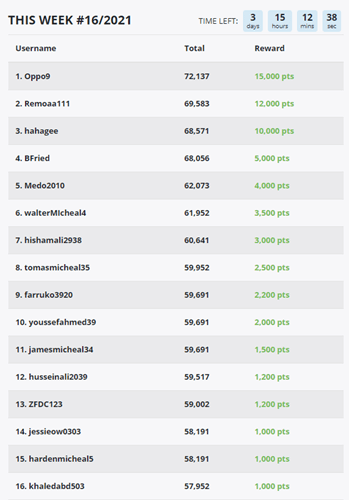 Every week, the site will list down all the top earners from their offerwalls and quick points. Each earning opportunity has a separate list. So, there will be two leaderboards.
If you are among the top 20 earners at the end of the week (Sunday at 00:00 EST), you will receive additional points. The top earner will receive 5,000 points, while the 20th place will receive 600 points.
It's not much, but it's a nice goal to target, which is really just the purpose of this contest, in my opinion. It can serve as a motivation to stay active on the site.
Recommended: Check Out the Top Survey Sites in Your Country
How do you get paid?
GetPaidTo.com uses a point-system. For every earning opportunity you complete, you will earn a certain number of points which will be credited to your account balance. You can then convert the points you've earned to various rewards (refer to photo below).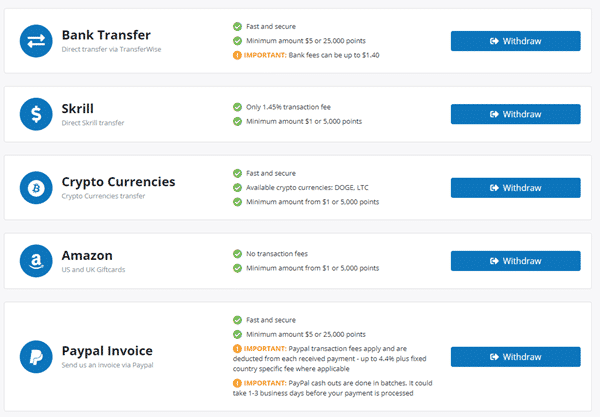 You can convert your points to cash via direct bank transfer, Skrill, or PayPal. Or you can convert your points to cryptocurrency (DOGE or Litecoin) or Amazon gift cards. The points required to redeem a reward will depend on the reward you choose.
For direct bank transfers and PayPal withdrawals, you will need 25,000 points, which will be equivalent to $5. For the other reward options, you will only need 5,000 points ($1). There will be a transaction fee for cash withdrawals (direct bank transfer, PayPal, and Skrill).
For crypto currency or Amazon rewards, there won't be any transaction fees involved.
Their payment system is relatively straightforward, in my opinion. I like the fact that they offer direct bank transfers as a payment method because it is one of the most convenient payment methods around.
If you are interested in more sites that use this kind of payment method, I would suggest you also check out the top sites that pay via direct bank transfer.
How much money can you make?
For paid surveys, you will mostly earn around 500 to 3,000 points per survey you successfully complete. While that may sound like a lot, that will actually only be worth $0.1 to $0.6 per survey.
For paid offers, the rewards will be a bit lower (around 200 to 1,000 points for most). There are a few paid offers that pay more than 10,000 points, but these paid offers typically take longer to complete. So, the time-to-money ratio isn't really that great.
While the rewards aren't really that high, the one good thing about GetPaidTo is that it has a lot of earning opportunities you can do. So, you'll be able to earn rewards on a daily basis.
I would say the earning potential of this site isn't that bad, but it's not that good either. It's somewhere in the middle.
Can you use it on mobile?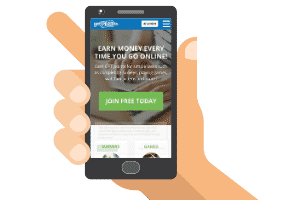 GetPaidTo.com doesn't have a mobile app you can download, but you will be able to access their site from a mobile device by using a mobile web browser. Their site is optimized for mobile use, so you don't have to zoom in just to read all the content properly.
This can be useful when you are working on paid offers that will ask you to download mobile apps. But apart from those opportunities, I would recommend you work on it from your laptop or desktop.
It would be much more comfortable to work from a laptop or desktop because most of their earning opportunities will involve opening and closing new browser tabs and that can get quite inconvenient when done from a mobile device.
Who can join GetPaidTo?
GetPaidTo is available worldwide. That means you can register as a member regardless of where you live. You just have to be at least 13 years old to join their site. However, you can only participate in any gambling or casino related earning opportunities if you are 18 years old or older.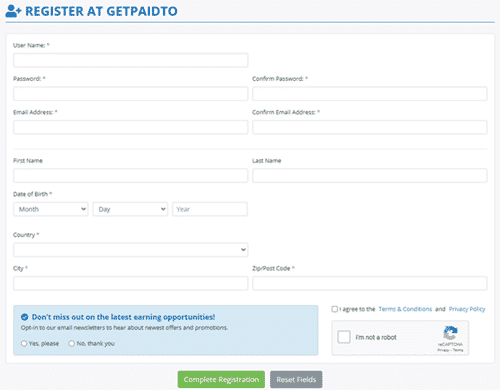 To become a member, you just have to fill out their sign-up form. Once you are done with the form, you will receive an email with the activation link. Simply click the activation link to complete the registration.
Once you are done with that, you can log in to the site and start earning. The site does recommend you complete your profile first before working on the earning opportunities.
Can you get support?
The site has a few guides you can refer to and I would suggest you read those guides first before trying to earn because they are pretty detailed. But if you have any questions or if you encounter any issues about the site or your account, you can refer to their FAQ page first and see if your concern can be resolved using that page.
But if you can't find what you are looking for, you can always get in touch with their support team. Just log in to the site and go to the support section and file a support ticket.
Overall, I would say they have a decent support system in place for their members since they offer a way for you to get in touch with their support team. I also like the fact that they have a guide you can follow for the dos and don'ts of the site.
Final Verdict
GetPaidTo.com is a legit GPT site that will pay you for participating in the various earning opportunities they offer. It's a fairly decent site with a couple of good features but it also has a few drawbacks you need to consider.
So, let me wrap up this review with a summary of its pros and cons. That way, you can properly decide if this site is a good fit for you or not.

Pros:
Offers plenty of earning opportunities
Offers convenient payment methods
Has a low payout threshold

Cons:
Relatively low rewards
Some earning opportunities are spammy
Transaction fees when withdrawing
GetPaidTo.com is an ok GPT site, in my opinion. It's not the best, but it's also not bad either. You just have to be a bit more patient with this site because some opportunities don't pay that well.
Also, you have to choose the ways you earn carefully and especially stay away from the shortlinks, in my opinion.
Overall, I would say this can serve as a secondary site to earn from since it has a low payout threshold and it offers convenient payment methods.
But if you are mainly looking for a primary source of extra cash online, I would recommend you check out the top survey and GPT sites in your countryinstead. The sites on this list all have good earning potential since they offer higher rewards than GetPaidTo.com.
Plus, you will also find sites you can join regardless of where you live.
If you have any comments, questions, or have any experiences with GetPaidTo.com yourself, I would love to hear from you in a comment below.