Everybody loves free stuff. And there's a site called GiveawayPros.com that promises to reward you for doing basic tasks. Sounds like a pretty good deal, right?
Well, before you go ahead and sign up, we first have to verify if this site is actually legit or not. This is the most important thing you need to know about the site, so I'll address this concern right away.
Yes, GivewayPros.com is a legit Get-Paid-To (GPT) site that will reward you for doing basic tasks. But how good is it and is it worth joining? That's an entirely different matter.
And to answer those questions, there are a few things we must consider. This GiveawayPros.com review will show you what the site really offers so you'll know what to expect before you even join. That way, you can decide if you should sign up or not.
What is GiveawayPros.com and what does it offer?
As explained above, GiveawayPros.com is a GPT site that offers rewards for completing simple tasks. It is a relatively straightforward GPT site.
But for you to get a clear picture of how well you can earn from this site, we must examine the earning opportunities it offers.
This is also the best you for you to learn how to work on the site and find out if it is the right option for you. So, here's how you can earn from GiveawayPros.com.
Option 1 – Offerwalls
The main earning opportunity this site offers is its offerwalls. If you haven't heard about offerwalls yet, they are basically 3rd party advertising platforms that promote websites, mobile apps, and a lot more through paid offers or as what the site calls basic tasks.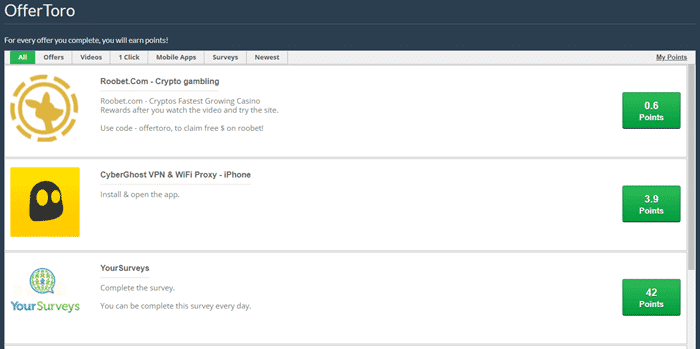 As you can see in the photo above, each offer is worth a corresponding number of points. You will receive the points indicated once you complete the offer.
It will also show you what you need to do to complete it. Make sure to take note of the instructions provided because it is very important when completing an offer. If you miss a step, you won't earn the reward.
The first thing I noticed about their offerwalls is, it does not have as many as most other GPT sites that offer this kind of opportunity.
Normally, in my experience, there are several more offerwalls you can choose from. But GiveawayPros.com only have 4 offerwalls available.
This can severely impact the earning potential of the site because there are fewer offers available. Usually, GPT sites have more than 5 offerwalls you can choose from. Some might even have 10-15.
Another thing I noticed about their offerwalls is, most of the available offers can also be found on other GPT sites. So, their earning opportunities aren't really that unique.
Most of the offers you can find on their offerwalls will ask you to answer a survey or quiz, sign up to a website, play a game, watch a video or download a mobile app. To start completing an offer, simply click on any offer you are interested in.
It will then open a pop-up window or tab (depending on the offerwall) and show you the instructions you need to follow to complete it. As I've mentioned, you need to understand what you need to do to complete the offer.
So, before you start working on the offer, make sure you read the instructions until you understand what it is asking you to do. Once you complete the offer and all the requirements are met, you will be eligible to receive the reward.
But don't be alarmed if the reward is not credited to your account balance right away. It usually takes around 24 hours before it will show up on your account.
If it has been more than 24 hours and the reward hasn't been credited yet, you can contact the support team of each offerwall by clicking the Support button found on the page.
Option 2 – Daily giveaways
As the name suggests, you can also receive additional rewards by joining in their daily giveaway.
You can access this opportunity on their member dashboard by clicking the Daily Giveaway tab found on the topmost part of their dashboard.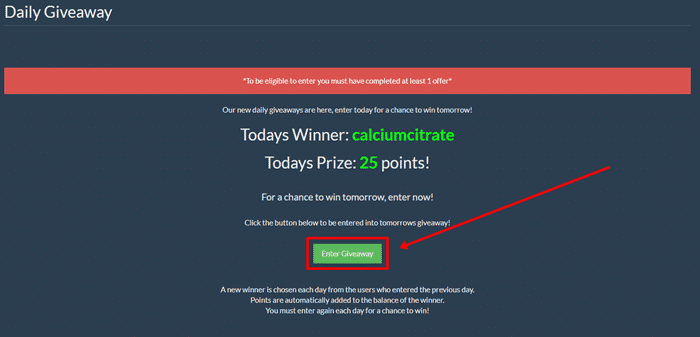 Before you can join the daily giveaway though, you have to complete one offer on their offerwall. This is the only requirement you need to meet to enter their raffle.
Once you've completed an offer, simply click the Enter Giveaway button and you will be entered into their daily giveaway. If you win, you will receive 25 points.
Their server will randomly select a winner from those eligible every day at midnight. The username of the winner will be posted on their Daily Giveaway page. So, make sure to check daily who won their giveaway.
If you win, you must claim your prize by clicking the green claim button. Failure to do so will result in the prize being unclaimed and rolling over to the next day.
It is not really a great incentive, in my opinion. First of all, the 25 points is a very tiny reward (more about the value of points later). Secondly, you have to remember to check every day if you have won so as not to lose your potential winnings, and finally, it is based on pure luck.
So this is not an option you should expect much from.
Option 3 – Referral program
Most, if not all, GPT sites have a referral program in place so you will be able to earn additional rewards by inviting other people to join the site.
Simply share your invite link with them and when they sign up to the site using your link, they will become your referral.
You will earn 10% of all of the points they earn. So, as you can see, it's not enough to simply invite people to join the site if you want to earn. You also have to explain to them that they have to be active on the site in order for you to receive your referral rewards.
How do you get paid?
As mentioned, every offer you complete will earn you a certain number of points. You can then exchange these points for cash via PayPal or redeem an Amazon gift card.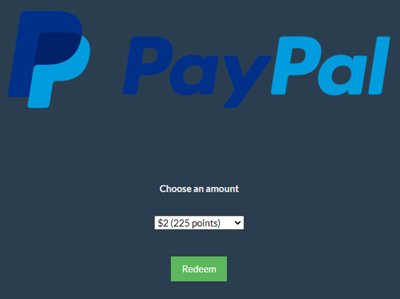 You will need to earn a minimum of 225 points if you want to withdraw your earnings via PayPal. This will be equivalent to $2. For Amazon gift cards, you have two choices, you can either redeem an Amazon UK gift card or Amazon US gift card.
The minimum number of points required will be 225 points Amazon US gift cards and 295 points for Amazon UK gift cards. The UK variant is slightly higher because they convert it to Sterling Pound.
But I do like the fact that they offer PayPal as a payment method because, in my opinion, this is the most convenient payment method to use if you want to earn cash.
If you are interested in more sites that offer a convenient payment method, I suggest you check out the top sites that pay via PayPal.
How much money can you make?
The thing with GPT sites is, they usually have plenty of earning opportunities available. So, the availability of ways to earn rewards won't really be a problem.
But, as you can see, GiveawayPros.com doesn't have that many offers for you to complete.
The number of points you can earn from each offer will range around 1 to 20 points at most. From time to time, you will see offers that are worth more. But the points are not worth a lot so you have to take a lot of offers to earn any real money. This average isn't really groundbreaking.
Plus, many of the offers you will find on their offerwalls can also be found on other offerwalls on other GPT sites that have more opportunities available and often also for a higher reward.
So, there's really little incentive to complete offers on this site when you can find the same offers on other sites where you will be able to earn more.
In that aspect, I would say their earning potential is quite low for a GPT site.
Can you use it on mobile?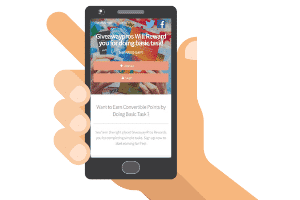 If you were hoping this site has mobile app you can download so you can work on offers conveniently, then you will be disappointed because they don't have one. However, you can still access their GiveawayPros.com from a mobile device.
Their site is also mobile-friendly, so you can still work on it from a mobile device. That being said, except for offers that will ask you to download mobile apps, I would recommend you only work on the site from a laptop or a desktop.
That's because every offer will involve having to open a new browser tab. And when done on a mobile device, it can get quite inconvenient and annoying in the long run. So, if you want a smoother user experience, it is best to work on this site from a computer, unless of course, you are doing mobile offers.
One thing I noticed about their site though is, once you get inside their member dashboard, loading a page can get painfully slow.
I'm not sure if it's a hosting issue or that's how their site really is but it certainly wasn't caused by something on my end because the other parts of their site loads properly (not to mention other sites work fine).
Who can join GiveawayPros.com?
As with most GPT sites, GiveawayPros.com is available globally. That means you will be able to sign up as a member regardless of where you live.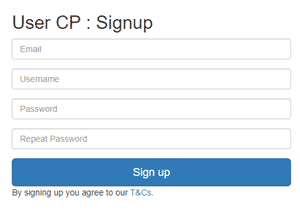 All you have to do is fill out their sign-up form and once you are done registering, you will immediately be taken into their member dashboard. But as I've mentioned, when I signed up, it took longer than usual for the page to load.
So, if you experience the same problem, then just wait a bit longer and it will eventually load.
One thing you need to remember before signing up to the site is, if you plan to withdraw your earnings via PayPal, you have to be at least 18 years old since that's the age requirement to open an account on PayPal.
Can you get support?
GiveawayPros.com does have a FAQ page that discusses most of the important topics you need to know about the site. But, you will only be able to access it when you log in to the site.
If you need assistance and the FAQ is of no help, you can send your inquiries using the contact form provided on their website. Again, you first have to log in to the site to access the form.
In my opinion, they do provide decent support for their members, but I do wish their support system would have been readily available even when you are not logged-in to the site.
Final Verdict
GiveawayPros.com is a legit GPT site that will pay you for completing their offers. It has a couple of good qualities you would expect from a GPT site but it also has some surprising drawbacks that you need to consider before you make your decision.
So, let's finish this review with a summary of its pros and cons to better aid you in making your decision on whether you should join this site or not.

Pros:
Low payout threshold
Available globally
Pays via PayPal

Cons:
Limited earning opportunities available for a GPT site
Their dashboard loads very slowly
Low value of the points you earn
In my opinion, you should only join GiveawayPros.com if you want to join as many GPT sites as possible. It simply isn't rewarding enough because there aren't as many offers available as on many other sites.
Plus, the offers you will find on the site can be found on other GPT sites with more earning opportunities offered.
So, practically speaking, it would be much more efficient if you just joined the sites with more opportunities since you'll be completing the same offers anyway. That way, you'll have a better chance at earning more.
That's why I suggest you check out the top survey and GPT sites in your country instead. The sites on this list all have better earning potential. Plus, you'll be able to find a site that loads quickly regardless of where you live.
If you have any comments, questions, or have any experiences with GiveawayPros.com yourself, I would love to hear from you in a comment below.