If you are looking for a side hustle you can do in the comfort of your home, there's a site called Guru that claims you'll be able to find job opportunities if you sign up as a member.
But is Guru legit or is it a scam? This is a valid question and I will address it later.
But first, let me tell you what you can expect from this Guru review. I've tested the site so I can accurately show you all the features it offers. That way, you'll know exactly what to expect from it before you even sign up.
Then, you can decide if Guru is a good fit for you or not. So, let's go ahead and get this started, shall we?
What is Guru and what does it offer?
Guru is a freelance site that offers freelance jobs for its members. It is indeed a legit site since you will really earn by taking on the freelance jobs the site offers.
Now, the question is, is it worth it?
Well, before you can determine if a site is worth it or not, you must first understand how it works. And the best way to do that is to start by examining the earning opportunity it offers. So, here's how to earn from Guru.
The earning opportunity – Jobs
The only way to earn from Guru is through the jobs it offers. To gain access to the job opportunities, you have to first sign up as a member (I will discuss later how you can do this). Once you are registered, all you have to do is log in to the web-based member dashboard to view all the jobs available.
Once you are logged in, simply click the "Find Work" link to view the available jobs. However, before you can apply for any job, you must first get your account verified.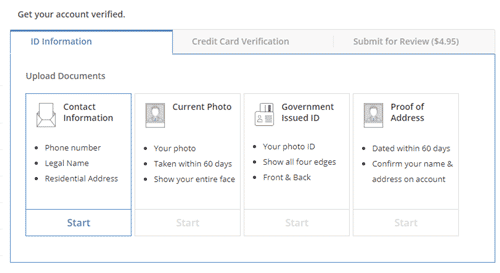 To become verified, you will need to submit a bunch of photos. You will have to submit a photo of yourself, any government-issued ID, as well as a photo of any document that will provide proof of your address.
Then, you'll have to provide your credit card details as an additional step to get verified. After you've provided all the necessary documents and information, you'll have to submit them for review. To do this, you will need to pay a review fee worth $4.95.
Personally, I don't like this kind of verification since it involves shelling out some cash. But this is how Guru works, so if you are interested in joining, you have no choice but to pay the fee. It takes up to two business days for your account to become verified, so you can expect to hear back from them within that time frame.
This also means that you can't start earning right after you finish signing up, so if you are in a hurry to earn, this is not a great option.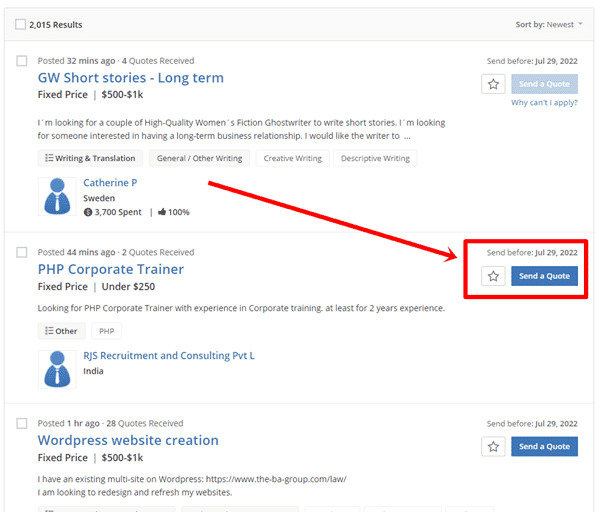 Once your account gets verified, you can apply for jobs. As you can see in the photo above, you will immediately see the range of the amount you can earn from each job offer. But I would like you to focus on the button that says "Send a Quote".
This is how you'll be able to apply for the job. It functions a lot like the bidding system you will encounter on many freelance sites. The idea is that the quotation you will be sending will actually be the pay you are proposing to the employer.
It's like you are saying I'm willing to do this job for this amount.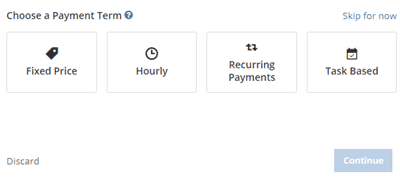 When you send your quote, you'll be asked how you would like to be paid. You can choose to get paid at a fixed price, by the hour, task-based, or recurring payments. Then, you'll have to provide the scope of work as well as your contact details.
Once you've submitted all the required info, all you have to do is wait for confirmation that your quotation was accepted by the employer.
When the employer accepts your quotation, you'll receive a notification as well as an email informing you that your quotation was accepted. So, you should check your email inbox regularly because there's no exact timetable on when you'll hear back from the employer.
It also means you are hired. It's up to you if you want to accept the job or not. If you decide to accept the job, then you'll start your correspondence with the employer. Afterward, all that's left to be done is to perform the work required of you.
You will receive the payment according to what you've set in the quotation. In the next section, I will elaborate on how you will get paid.
Most of the jobs you will find on Guru will be about basic freelancing jobs like graphics design, writing, web design, data entry, and programming. During my testing, there were actually a lot of jobs available, so you'll have plenty of options to choose from.
Recommended: Check Out the Best Freelance Sites You Can Join
How do you get paid?
For every job you complete, you will be paid a certain amount. All your earnings will be reflected in the Guru Cash Account under the Payments tab. To withdraw funds, you'll need to add a transfer method.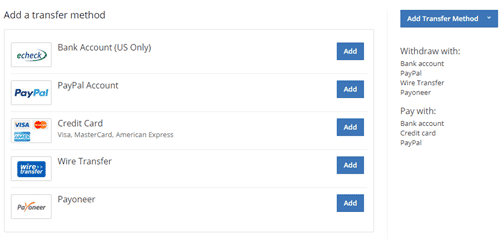 There are various transfer methods to choose from. As you can see in the photo above, you can withdraw your earnings via direct bank transfer (for US residents), PayPal, Payoneer, or wire transfer.
For PayPal withdrawals, you'll need to have at least $25 in your Guru account. For Payoneer, the threshold will only be $15. If you live in the US, the most convenient option will be the direct bank transfer option because it won't require a threshold for you to reach to withdraw your earnings.
For the wire transfer option, the threshold will be significantly higher ($50). Direct bank transfer, PayPal and Payoneer withdrawals will not incur any withdrawal fees, so you'll get the full amount. For wire transfer, there will be a flat $9 withdrawal fee plus additional charges that your bank may charge you.
Overall, the payment system of Guru is relatively easy to understand and I like the fact that you can withdraw your earnings conveniently. If you are interested in more sites that offer a convenient payment method, I would recommend you check out the top sites that pay via direct bank transfer.
How much money can you make?
The thing about Guru is that you get to dictate how much you will earn from every job you work on. You have control over the pay. But, if you are just starting out as a freelancer, it can take a while before you will be able to figure out the right amount you can offer in your job quotations.
You have to know the market for specific jobs so you'll have an idea of how much you can earn and that will take a bit of research and experience, so you have to be patient.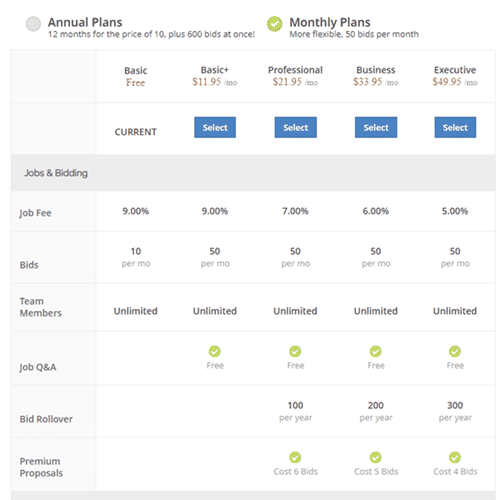 Now, what Guru doesn't tell you right away is that it has several membership levels and each one can impact how much you can earn from the site.
As you can see in the photo above, you can go for the free membership, but that will only allow you to send a maximum of 10 quotations per month. If you go for any of the paid plans, the number significantly increases (50 quotations per month), so your chances of getting hired will also increase.
There are pros and cons for both the free and paid memberships and you should go for whichever one is suitable for you. If you don't have a lot of time on your hands, it's probably best to go for the free plan since you won't really be applying for jobs a lot.
But if you have all the time in the world, going for any of the paid membership plans is not a bad idea. You can send out more quotations to increase your chances of getting hired. That way, you'll also have a higher chance of earning back the money you paid for your monthly membership fee.
Overall, I would say that Guru's earning potential is decent. It's pretty much the same as most of the freelance sites you will encounter. It's not the worst, but it's not the best either. The important thing you need to consider here is that there are a lot of jobs available.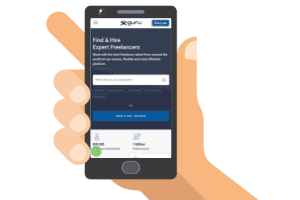 Can you use it on mobile?
Guru doesn't have a mobile app you can use, but the website is mobile-friendly. You will be able to apply for jobs conveniently using your mobile device.
As for the jobs you need to do, they all have to be done using a laptop or a desktop. The only thing you can do with their website using a mobile device is to apply for jobs, withdraw earnings, and check the status of the jobs you applied for.
Who can join Guru?
Guru is available more or less worldwide, so you'll be able to register as a member regardless of where you are in the world. But you do have to be at least 18 years of age to join.
To sign up, you can use your Google, Facebook, or LinkedIn account. You can also just provide your own login details.
As explained earlier, Guru has several membership plans you can choose from but by default, you'll start with the free membership when you sign up. Well, technically, it's not free because you'll have to shell out $4.95 to get your account verified.
If you decide to upgrade your membership, you just have to go to the membership section on the web-based platform. To get to this page, just log in to the site and go to your account settings. Then, click the "Membership" link and select the membership plan you want to go for.
Complete the payment using any of the payment methods offered and you are good to go.
Can you get support?
If you have any questions about the site or your account, you can go to the Guru Help Center page and click the option for Freelancer. Then, you will see all the most important topics you need to know about the site.
If you can't find the answer you are looking for, you can get in touch with their support team using the contact form provided on the website. The Contact Us page will also show you a phone number you can call if you really need to speak to a representative immediately.
Overall, I would say the site has a decent support system in place for its members since it offers convenient ways for you to communicate with their support team. Plus, their Help page is actually quite useful, in my opinion.
Final Verdict
Guru is a legit freelance site that will allow you to earn by taking on freelance jobs. It has a couple of good features, but it also has a few drawbacks you need to be aware of.
Let me finish this review by summarizing its pros and cons to give you an overview of what it has to offer. Then, you can decide if Guru is a good fit for you or not.

Pros:
Available worldwide
Offers great payment methods
Has a good number of jobs offered at any given time

Cons:
It will require you to shell out some cash
You won't be able to start earning right away
In my opinion, Guru is a decent freelance site. It's not the best out there, but it's also not that bad. I like the fact that there are plenty of jobs available and that it offers convenient payment methods.
But if you are really interested in joining this site, be prepared to shell out some cash because even if you choose the free membership plan, you will still have to pay (for the account verification) in order to start earning.
Now, if you are looking for sites to earn from that don't require you to spend a single dime, I would recommend you check out the top survey and GPT sites in your country instead. The sites on this list all have good earning potential and best of all, you can join for free.
If you have any comments, questions, or have experiences with Guru yourself, I would love to hear from you in a comment below.