If you are a tech-savvy person and you are looking for a side hustle, there's a site called HelloTech that claims you can earn an average of $100 a day for being a tech support representative.
If you are interested in this, I would definitely understand since $100 a day sounds great.
But before you hit the sign-up button, I would recommend you read this HelloTech review first so you'll learn more about what it has to offer. You also want to make sure if this site is really legit or if it is just a scam.
By reading this, you will know exactly what to expect before you even become a member. Then, you can decide if this opportunity is a great fit for you or not. So, let's go ahead and get this review started.
What is HelloTech and what does it offer?
HelloTech is a customer service site that will allow you to earn extra cash by providing technical support to its clients.
It is indeed a legit site since it will really pay you for doing the work needed. It's pretty similar to Amazon Home Service where you have to go to the client's house to provide the service.
The question now is, how can you earn from this site? To answer that, we have to take a look at the earning opportunity it offers so you'll understand how it works. So, here's how to earn from HelloTech.
The earning opportunity – Tech support jobs
First of all, if you are looking for a gig you can do at home, then this is not for you because the tech support jobs, as mentioned above, will involve you traveling to the client's house to provide the service.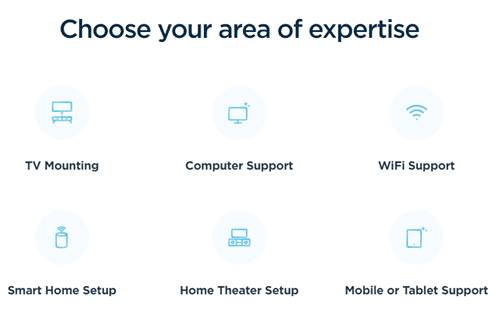 The photo above shows the categories of jobs you can expect to do on HelloTech. When you apply to become a technician, you have to select any of the categories shown above. I personally chose computer and WiFi support since I'm most knowledgeable in that field.
The idea is, once you become a HelloTech support representative, you can accept job offers using their app (I will talk about their mobile app later). When you log in to the app, you will immediately see all the available job offers for you.
Now, it's up to you which job offer you want to accept. Each offer will show you the location, pay, and the work that needs to be done. You will also see the date of when you are supposed to do the job.
Aside from that, you can also see the contact details of the client who posted the job.
This is very important because it is a good idea to contact the client first to verify the work that needs to be done and if there are some things you need to bring when you do the work. I have read countless comments that they were forced to cancel the job when they showed up at the client's house because it required them to bring a ladder or some kind of tool.
All of that could have been avoided if they had talked to the client beforehand. That's why it's a good idea to reach out to the client first before you decide to go to the location.
But what happens if it was the client who initiated the cancellation first? Well, the good news is, you will still receive compensation if the client cancels the job offer. You will receive $25 as a cancellation fee. So, you won't go empty-handed if the offer is canceled.
When you complete the job offer, the payment will be credited to your HelloTech account balance (I will discuss how you will get paid in the next section). So, this will be a cashless transaction. The client will not pay you. Instead, they will pay HelloTech and HelloTech will, in turn, be the one to pay you.
Recommended: Check Out the Top GPT Sites
How do you get paid?
As mentioned above, for every job you complete, you will earn a certain amount. It will be reflected in your HelloTech account balance.
HelloTech will then pay you via PayPal. But the good thing is, you won't need to reach a threshold in order to get paid. Plus, HelloTech will process the payment automatically. So, you don't have to request withdrawal every time you want to get paid.
HelloTech processes payments twice a week. This will be every Monday and Thursday. If you have money in your HelloTech account when HelloTech processes payments, it will be sent to your PayPal account.
Their payment system is really very simple. And if you are looking for more sites that offer a simple payment method, I would recommend you check out the top sites that pay via PayPal.
How much money can you make?
The amount you can earn from HelloTech will mostly depend on where you are located. In my experience, if you live in a big city, there will be more chances to earn since there will be plenty of job opportunities.
That's just how gig economy platforms work and there's no way around it.
Now, as for the amount you can earn for each job offer, beginner-level jobs usually pay you around $50 to $70. For jobs that require more advanced skills, you can earn $100 or more.
But in order to do these jobs, you must have a certification that proves you are qualified to do them.
As for how to get these certifications, it will all depend on the state you live in. You'd have to do your own research on how to get the certifications for these skills since HelloTech doesn't really provide any resources for it.
For every job you complete, HelloTech will take a percentage of your earnings. The pay cut will be explained once you register as a technician. But to give you an overview, there will be a base fee and percentage deduction for every job you complete.
Another thing you have to consider when accepting jobs is the location. For example, if there's a job offer where you have to drive more than 50 miles and it only pays around $70, then it won't be the most profitable job for you considering you will have to account for gas money. That's why it is also important to be discerning of the job offers you will accept.
Make sure to only accept job offers that you will actually profit from. But overall, the earning potential of HelloTech is quite good if you live in a big city where there are lots of jobs available.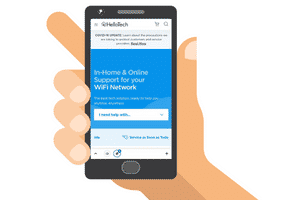 Can you use it on mobile?
As mentioned earlier, HelloTech has a mobile app you can use. In fact, all the job bookings must be done using their mobile app.
However, their app is not available for download on the Google or iOS app store. You will only be given a link to download their app once you have been accepted as a technician.
The app is user-friendly and the user interface is quite intuitive. So, you shouldn't have any problems using it. When using the app, you have to make sure you allow the location services so that it can properly track your location and display all the available job offers.
Once you've done that, everything will be smooth sailing.
Who can join HelloTech?
HelloTech is only available in the US. So, if you live outside the US, HelloTech is not for you. But if you do live in the US, then you also have to be at least 18 years of age to apply as a technician.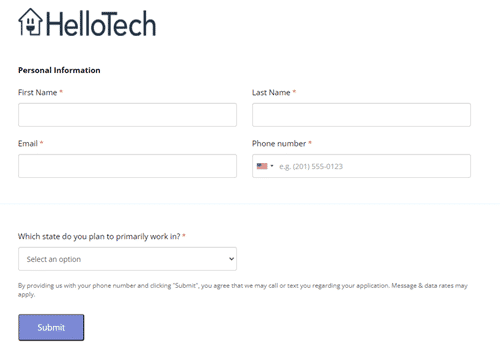 While most of what we've discussed about HelloTech makes it seem like a simple opportunity, the complicated part is really in applying to become a technician. The application process is actually a bit long.
The first thing you need to do is fill out their application form. This is the part where you will have to choose the category of services you are willing to offer. Once you are done with the form, you will be asked to view a series of videos that will more or less be your training to become a technician.
These videos will explain what you need to become a HelloTech technician. It will basically tell you that you have to go through a background check first. The good thing about their background check is, there won't be any upfront fee involved.
The background check will cost $25 and it will be deducted from your first pay as a technician. Aside from the background check, HelloTech will also require you to have occupational accident insurance. Then, you'll have to fill out more forms and answer a skills assessment test.
The passing rate for the test will be 80%. If you are tech-savvy, it won't be that hard to pass the test. I'm not exactly sure how many times you can take the test since I passed it on my first try and their site really doesn't have any information regarding the maximum number of times you can take it.
But as I've said, their test is relatively easy for a tech-savvy person. So, you shouldn't worry about it. Once you are done with the test, you just have to sign a couple of documents to complete the application.
After you are done with the application, you just have to wait to hear back from HelloTech. It usually doesn't take more than a week to hear back from them if you get accepted as a technician. But if you got rejected, don't expect to hear back from them.
When you get accepted, you will receive an email with further instructions on what you need to do. Aside from that, you will also be given a link to download their app. HelloTech will also mail you your HelloTech ID as well as a HelloTech shirt you can wear when working.
That's the whole process of becoming a HelloTech technician. As you can see, it's a bit more complicated. You can even say that becoming a technician is actually harder than doing the actual work to earn.
Can you get support?
If you have any questions about your account, you will have to check the Help section of their app. Their site really doesn't contain a lot of information regarding the ins and outs of being a HelloTech technician.
But you can chat with a support representative on their website by clicking the chat icon in the lower right-hand corner of the site. They also have a number you can call (1-833-599-5711) if you really want to talk to a representative immediately.
Overall, I would say they have a good support system in place for their technicians. But I do wish they would provide more information about becoming a technician on their website. That way, those who are interested will know more about the ins and outs of a HelloTech technician.
Final Verdict
HelloTech is a legit customer service platform that will pay you for completing job offers from their clients. It has a couple of interesting features, but it also has some limitations you need to keep in mind.
Let me end this review by summarizing its pros and cons so you can get an overview of what HelloTech has to offer. Then, you can decide if this is something you should pursue or not.

Pros:
Pays a decent amount
Their app is user-friendly

Cons:
The application process to become a technician takes a lot of time
Requires a lot of effort to earn
If you don't mind traveling to a client's house to earn, then I would say you should go for the opportunity HelloTech offers. The pay is quite decent and if you live in a big city, it can serve as a decent side-hustle.
You really just have to be patient with the application process since it takes a bit of time to complete. But once you are done with that, everything should be smooth sailing so to speak. Once you become a technician, it can also take time to discern the good offers from the bad. So, you need to be patient with that too.
But if you are looking for a way to earn extra cash that doesn't involve a lot of effort to earn and you don't have to travel, then I would suggest you check out the top survey and GPT sites in your country instead.
The sites on this list all have good earning potential and you can earn at the comfort of your own home. Plus, you will definitely find a site you can join regardless of where you live.
If you have any comments, questions, or have any experiences with HelloTech yourself, I would love to hear from you in a comment below.