Are you looking for an easy way to earn extra cash?
There's this project called hi Dollars that claims you, among other things, can claim free money every single day.
But is hi Dollars legit and really an easy way to earn by doing what you already do, or is it a scam to stay away from?
This is exactly what this hi Dollars review will help you find out so you know what you are getting into.
It will take a close look at all the features and give you an inside look, so you'll know exactly what to expect before you even register.
Then, you can decide if it is really worth your time or not. So, let's go ahead and get this review started.
Disclosure: Some articles on this website contain affiliate/sponsored links. Click for more info.
What is hi Dollars and what does it offer?
hi Dollars is actually a cryptocurrency and not an actual Get-Paid-To (GPT) platform. If you visit the hi Dollars website, you will immediately see the value of a hi Dollar in real-world currency. Now, if you are worried if it is legit or not, then let me assure you, it is really legit.
And it is very important to understand that hi Dollars is a serious cryptocurrency project with a lot of staff working hard to develop it all the time. And in addition to this, it will also allow you to earn hi Dollars in several ways.
But how can you earn hi Dollars and is it even worth it?
To answer this question, we have to examine the opportunities it offers.
I have, therefore, made a video that gives you an inside look and shows exactly how you can earn from Hi Dollars. You can also read all the details below the video.
Click to Join hi Dollars (invitation code: MikaelM)
Option 1 – Claiming free daily reward
Hi Dollars offers you to claim a free daily reward. It used to be possible to earn hi Dollars is by using WhatsApp or Telegram.
However, hi dollars are continuously updating its opportunities and they now have their own hi dollars app and you have to use this to claim your daily free reward.
The app can be downloaded both for your phone or you can access it via their website.
Now, to earn hi Dollars for free, you have to be invited by someone that is already a member of hi Dollars (I will provide an invitation link you can use later).
This is done through an invitation link. When you click the invitation link, you will have to go through a registration process.
Simply follow the instructions and when you are done, you will be able to log in and start earning (there are some requirements to keep earning but more about these later). There's a "Claim Daily Reward" option. To claim your free daily reward, just click that option.
Then, you have to answer a question. This question will differ every day but the answer won't really matter. You can just choose any answer and you will still receive your daily reward. The hi Dollars amount you will receive will be 1 at the moment of writing this review. But it can be increased and I will explain how in the next section.
Take note that you can only do this once per day. That's how simple it is to earn hi Dollars. It will only take you literally a couple of seconds to get your hi Dollars.
The most important is just to make sure you remember to claim your free reward every day so I would suggest you set a timer to make sure you get all the rewards you can.
Option 2 – Referral program
You can also earn additional hi Dollars through their referral program. Their referral program is actually quite extensive because it will involve multiple layers. Let me explain how it works.
Every time someone you referred claims their reward, you will get 50%. That means you will get 0.50 hi Dollars. And you will also get 50% of their referrals and this continues. So when one of the people your referrals invited claims a reward, you will get 0.25 hi Dollars and so on.
In my opinion, this is actually a good system. It will really incentivize you to invite other people to join. And once you've gotten a lot of people to join, you will significantly increase your earnings.
You just really need to convince people that this is a good opportunity, which shouldn't be that hard to do, in my opinion, since people can claim free money every day by just spending a few seconds.
Option 3 – Play games
One of the newer features hi Dollars has introduced is a game center where you can play small games on your phone and potentially earn more crypto.
Currently, they have 10 games you can choose from.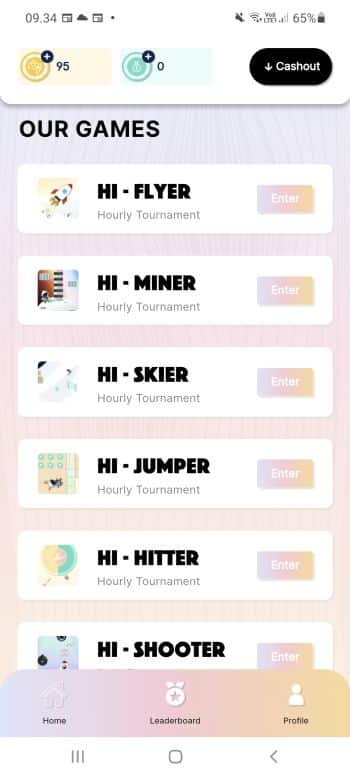 All of them are quite easy to get started with but they do take some practice to master.
Each of them has a leaderboard and if you finish as one of the top players, you will share the point with the other winners.
The size of the pot will depend on how many players participate as each player has to put in some game chips (usually between 2-10 chips) for each time they want to play a game.
There are hourly, daily, and weekly contests, so there are plenty of options.
To get the game chips so you can play, you need to convert hi Dollar into the game chips. You can either choose to use your flexible hi, which are the hi Dollars you have invested in/bought, or you can choose to convert your rewards which are the hi Dollars you have received by claiming free hi daily and by inviting others.
This is really great because the hi Dollars you claimed for free used to be locked for free, but with this new gaming option, you can take your rewards out right away and if you then win, you can take your winnings out without a lockup period.
For 1 flexible hi you will get 100 game chips and for 1 reward hi you will get 12 game chips. This means you will get more for the hi you have actually invested in, which is actually quite fair, in my opinion.
Option 4 – Earn interest passively
Another great option hi Dollars offers is for you to earn interest passively on not just the hi Dollars you have (only on flexible hi) but also on many other cryptocurrencies like Bitcoin, Ethereum, and more.
They have an earning section inside the hi Dollar app, and here you can lock your holding between 90 days and 365 days. The longer you lock it, the higher interest you will earn.
You can earn up to 40% APY which is a very high interest rate just for having your holdings standing there.
And you can choose to get these earnings paid out daily or at the end of the locked period.
If you choose the daily option, you will see your holding grow daily completely passively, which is really great, in my opinion.
Click to Join hi Dollars (invitation code: MikaelM)
How do you get paid?
As mentioned at the beginning of this review, hi Dollars have an equivalent real-world currency already. So, it's really something you can profit from.
However, there are a few things you need to do to be able to withdraw your earnings. This is important to understand to figure out exactly if Hi Dollars is for you or not.
You need to stake at least 100 Hi Dollars to be able to get the rewards out you earn. But then you will also get them potentially already the following month. This is a big update they have made as your rewards used to be locked for a year.
There are good reasons they have made these changes that can benefit all of us and there are some important details you need to understand. That is why I have made a video that explains these important updates in detail below:
Currently, hi Dollars is only being traded on Uniswap and Pancakeswap, but they are currently working on getting the cryptocurrency on other trading platforms as well.
Now, if you are looking to earn cryptocurrency but you want to withdraw your earnings quickly, I would recommend you check out the top sites to earn Bitcoin instead.
How much money can you make?
The amount you can earn from hi Dollars for free will mostly depend on how many referrals you can get since the base pay (so to speak) will always be 1 hi Dollars. So, the more referrals you get, the more hi Dollars you can receive daily.
As explained earlier, for every referral you get, you will receive an additional 50% of whatever they are able to claim. So, if your referral claims their daily rewards, you will receive an additional 0.5 hi Dollars. But what if your referral will also invite other people? That would mean they would receive more, right?
You are absolutely correct. The reward you will get will be based on the total reward your referral will claim every day. So obviously, if your referral has plenty of referrals as well, you will receive a higher bonus.
So, it will definitely pay off if the people you've invited also keep on inviting other people to join. That's the best way to maximize your earnings.
That's why overall, I would say the the earning potential for getting free hi Dollars is quite good but mainly if you manage to get a lot of referrals. So, you better work on inviting others if you want to earn a lot of hi Dollars.
However, even without inviting others, you will still benefit from just claiming your daily reward. Since it is a cryptocurrency, who knows what the value might be later and just spending a few seconds every day to get a new type of cryptocurrency is definitely worth it, in my opinion.
Also, if you decide to invest in hi, you can get interest and also benefit even more for the potential increase in price. But, of course, for any investment you do online, there is a risk so any investment you decide to do is at your own risk.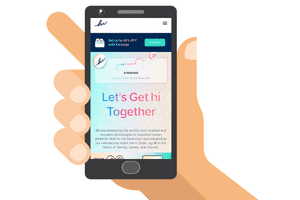 Can you use it on mobile?
hi Dollars now has a mobile app you need to use to claim your daily free Hi.
It is available both for Android and iOS devices.
You can also log in to their member dashboard and the website and you can do it from both a laptop/desktop and mobile device. Their site is also mobile-friendly, so you shouldn't have a hard time navigating the site.
So no matter your device you will be able to easily get access to Hi Dollars.
And from inside the app, you will also be able to get access to the interest earning opportunity. The games you need to access through the web app, as of updating this review.
Who can join hi Dollars?
hi Dollars is available more or less worldwide. But as mentioned earlier, you will need an invitation link in order to join this platform. But where can you get one?
Well, I will be including an invitation link at the end of this review. So, you can just use that to join.
Can you get support?
Another great thing about hi Dollars is, you will always be able to get support easily since as you already know, they use messaging platforms. You can just talk to their support representative through WhatsApp or Telegram.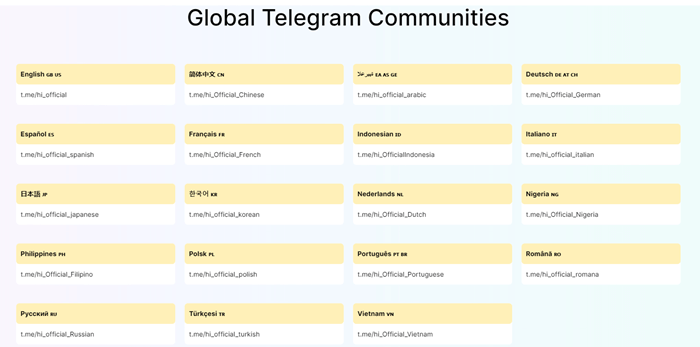 You can also join any of their Telegram communities so you can talk to other members and even representatives of hi Dollars. So, it's fairly easy to get in touch with their support team. That's why I would say hi Dollars has a decent support system in place for their members. Their site also does a good job explaining all the features.
Final Verdict
hi Dollars is a legit cryptocurrency project that also allow you to claim free crypto every day very easily, and you can potentially benefit from it in many other ways also. It has a couple of interesting features but it also has some limitations you need to keep in mind.
Let me finish this review by summarizing its pros and cons so you can get an overview of what it has to offer. Then, you can decide if it is really worth joining or not.

Pros:
Doesn't require a lot of time and effort to earn
You can just use your mobile device to earn
It gives very high rewards in relation to the time spent
Has great referral program
It is a serious project that can potentially get a lot of benefits, if you get involved and particpate in the overall project more.
Constaly developing

Cons:
Still a fairly new crypto project, so it is hard to say how it will develop and turn out
In my opinion, if you are not in a hurry to earn and you are looking for a long-term investment, then I would definitely recommend you join hi Dollars. It has good potential.
Of course, I'm not saying this cryptocurrency will become the next Ethereum or Bitcoin, as I cannot say anything about that, but since it will take more or less no time, there is nothing to lose but the potential rewards can be great.
But no doubt you will benefit the most if you also look more into what the whole project overall is about and become more engaged. It is a serious project with a lot of people working hard to develop and this is the real potential of hi.
In general, getting involved in crypto is something you should do for the long-term potential and not for quick cash here and now.
If you are looking for ways to earn extra cash right away, I would recommend you check out the top survey and GPT sites in your country. The sites on this list all have good earning potential and you will be able to withdraw your earnings as soon as you hit their payout threshold.
How to join hi Dollars
If you are interested in earning hi Dollars you can use any of the invite links below. It will take you directly to the sign-up page, so I suggest you use your mobile device when you click it.
And if you are asked for a code to be able to join, use this invitation code: MikaelM
If you have any comments, questions, or have any experiences with hi Dollars yourself, I would love to hear from you in a comment below.