If you are looking for a site where you can earn extra cash for free on a regular basis, one of your best bets is to join a Get-Paid-To (GPT) site. This is because GPT sites usually offer multiple ways for you to earn which will then allow you to earn rewards regularly.
Now, there's this site called HighestPayGPT.com that promises amazing rates and high approval offers (as to what this means, you'll understand in the next section).
But is HighestPayGPT.com really legit and a great way to earn or a scam to stay away from?
This HighestPayGPT.com review will give you all the details about this so you know exactly what to expect and how it works so you can figure out if it is really worth joining or not.
What is HighestPayGPT and what does it offer?
As the name suggests, HighestPayGPT is a GPT site that will pay you for completing offers and other activities. For all intents and purposes, HighestPayGPT.com is a legit GPT site that will really pay you for completing the earning opportunities they offer.
And speaking of earning opportunities, let's now take a closer look at how you can earn from this site.
This is the best way to fully understand the capabilities of the site and to get a clear picture of how much you can earn from it and if it will really be worth it or not.
Option 1 – Offerwalls
One way you can earn from HighestPayGPT.com is through their offerwalls. If this is your first time hearing about this term, offerwalls are basically in-site advertising platforms designed to promote websites and mobile apps through short tasks.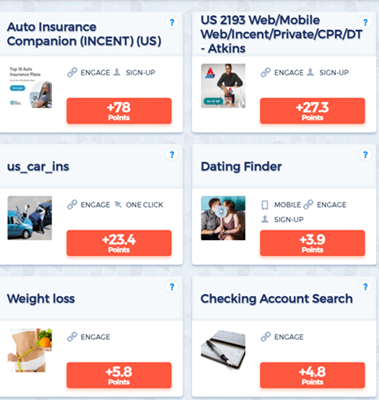 What's good about HighestPayGPT.com is, they have plenty of offerwalls (13 at the time of writing this review) to choose from. So, you really won't run out of things to do.
As you can see in the photo above, each offer found on their offerwalls will reward you with a certain number of points.
When you click on an offer, it will open a new browser window showing you what you need to do to complete it. Make sure to take note of the instructions provided and follow them down to the "T", so to speak.
If you miss one step, you will not be able to complete the offer and you won't earn the reward. So, understanding what the offer is asking you to do is already half the process of completing an offer.
When you complete an offer, you will receive the reward right away unless the offer requires a verification process. If that's the case, you will have to wait before the reward will be credited to your account.
Most of the offers you will find on their offerwalls will either ask you to register to a certain website, download an app, or leave comments on specific sites. There are also offers that will ask you to answer surveys but it's not as common as the ones mentioned above.
Option 2 – Paid offers
Technically speaking, the offers found on their offerwalls are also paid offers. But I've decided to separate the paid offers found on their offerwalls and the paid offers found in their "Offers" section. So, the paid offers I'm referring to in this option are the paid offers under their "Offers" section.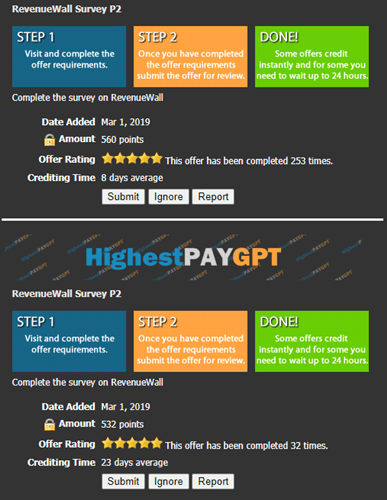 It works a lot like the paid offers found on their offerwalls with one key difference. On their offerwalls, you simply go about doing the offers and the offerwall will do the verification automatically. But in the "Offers" section, once you do all the steps the offer asks of you, you will then have to submit it for review.
HighestPayGPT will then review your work to see if everything is in order. If you followed the instructions properly, you will receive the reward promised. Some offers will take around 24 hours to be verified, while some will be a lot faster.
You will see the status of the offer you worked on in your account history. If the status is still "Pending", it is waiting for approval. If it says "Denied" the offer has been reversed and you will get deducted the earnings for the offer if it has already been credited to your account. Obviously, if the paid offer is approved, it will have a status of "Approved".
Most of the paid offers found in their "Offers" section will ask you to answer surveys or register to a site. From time to time, you will be asked to download mobile apps as well. But the most common offers available are surveys.
Option 3 – Referral program
Lastly, you can supplement your earnings from paid offers by participating in their referral program. You can invite people to join the site by sharing your referral link. And when the person signs up as a member using your link, they will become your referral.
You will then earn 10% of what your referral will earn on the site.
The referral commission is not that bad and it's a relatively straightforward process. So, it can become a good source of passive income provided the people you invite are really interested in earning from this site.
Recommended: Check Out the Top GPT Sites
How do you get paid?
Every offer you complete on HighestPayGPT.com will earn you a certain number of points. You then have to convert the points to cash before you can withdraw your earnings. Their conversion rate is 1 point = $0.01.

Once you've converted your points to cash, you can then withdraw it via PayPal. You will only need to earn $2 to request for payment, which is really a very low threshold.
The site also offers payment through Bitcoin, but during my testing, I decided to use PayPal since it is the more convenient option. One thing to note about their payment system though is, during registration, you will be asked to provide your PayPal email address or Bitcoin wallet address.
You can choose to provide any of the two, but once you do, that will be the only payment option that will be available for you. So, if you have a PayPal account and Bitcoin wallet account, I would recommend you provide both addresses during sign up so that both payment options will be available for you.
Now, if you are interested in more sites that pay via PayPal, I would suggest you also check out the top sites that pay via PayPal.
How much money can you make?
HighestPayGPT.com does have a fair number of offers you can complete. And as mentioned earlier, they do have plenty of offerwalls available. So, you won't really run out of things to do to earn rewards.
However, the points you can earn from their offerwalls will only range between 10 to 40 points. So, the rewards from their offerwalls aren't that high, but it's not that low either.
The paid offers in their "Offers" section, on the other hand, have higher rewards. You can earn around 100 to 300 points for these offers. But these offers do take up a bit of time to complete. So, you'll have to invest a significant amount of time.
But overall, I would say HighestPayGPT does have decent earning potential. However, it is definitely NOT the highest paying GPT site like their name claims they are, but they are decent.
Can you use it on mobile?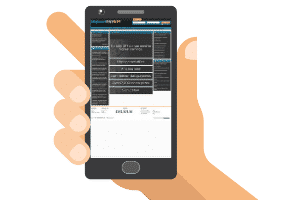 HighestPayGPT.com doesn't have a mobile app you can download, but you can still access their site form a mobile device using a mobile web browser. However, their site isn't fully optimized for mobile use
All the content of the site will be shown on your screen but if you are using a mobile phone, tapping on the links can be quite a challenge because they're rather small. It would be a bit easier if you were using an iPad or a tablet because the screen will be bigger and the links will be easier to tap.
So, if what you are after is a more convenient user-experience, I would recommend you work on this site from a laptop or a desktop instead. Getting around the site will be much easier that way.
Who can join HighestPayGPT?
The site is only available for people who live in the US or Canada.
If you live somewhere else and you try to register, it will only tell you to register at GetPaidGPT.com, which at the time of this review's writing, isn't accessible.
And when you compare it with the best sites in the USA or with the best sites in Canada, it just cannot compete with them.
In these two countries you can find some of the best survey an GPT sites where you can get a lot better value for your time.
If you still decide to join HighestPayGPT.com, you have to be at least 18 years of age to join.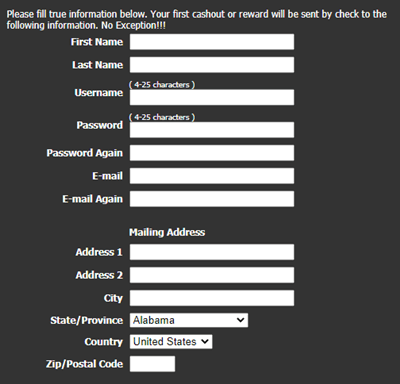 To become a member, all you have to do is fill out their sign-up form. And as mentioned earlier, their sign-up form will also ask you to provide either your PayPal address or your Bitcoin wallet address.
Providing any of the two will be fine, but as suggested, if you have both accounts, I suggest you provide both addresses.
One thing to remember about signing up as a member on this site, only one account per IP address is allowed to sign up. So, if other members in your household are also interested in joining, you will have to decide which one should join the site.
Can you get support?
Their site isn't really good at making sure relevant information about their site is easy to find. Sure, they have a FAQ page you can refer to, but it's fairly useless, in my opinion. It only has a couple of questions and answers.
There are a couple of guides you can follow to learn how their offers work. But apart from that, you can't really find any other relevant information on their site.
So, if you have any inquiries or you encounter any issue with your account, I recommend you file a support ticket. That's the only way you can get your inquiry or issue to be resolved.
Another thing to note about their site is, clicking the sub-tabs on their site can be quite a chore. Sometimes, you can click the sub-tabs easily, and sometimes you will have to scroll down just so you can click them. It's a bit glitchy, in my opinion.
Although this is just a minor thing, it certainly adds to the overall user-experience the site offers.
Final Verdict
HighestPayGPT.com is a legit GPT site that will pay you for completing paid offers and inviting other people to join the site. It has a couple of good features but it also has some drawbacks you need to be aware of.
So, let me wrap up this review with a summary of its pros and cons to give you an overview of what the site is all about. That way, you can figure out if this site is a good fit for you or not.

Pros:
Has a good number of offerwalls available
Low payout threshold
Offers payment via PayPal

Cons:
There is a lot of important info you cannot find on the site
Their site is a bit glitchy
Not optimized for mobile use
Lower rewards than many other sites
If you are mainly looking for a GPT site you can join that is mobile-friendly, this site isn't the best option. But if you just prefer to work on your laptop or desktop, this site can be a decent secondary site to earn from.
That's because it has decent earning potential, it has a low payout threshold, and it offers a convenient payment method.
However, it does not offer anything you cannot find on other GPT sites and in many cases for higher rewards.
So, if you are looking for more effective sites to earn from, I would instead suggest you check out the top survey and GPT sites in your country. The sites on this list all have good earning potential and most of them are mobile-friendly.
Plus, you will definitely find a site you can join regardless of where you live.
If you have any comments, questions, or have any experiences with HighestPayGPT.com yourself, I would love to hear from you in a comment below.