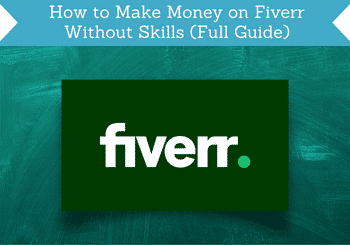 If you have been looking for a side hustle, you have liked heard about the freelance platform Fiverr.
Fiverr is basically a freelancer's haven. Most freelancers join this site to find gigs where they can earn a bit of cash. However, a lot of gigs offered on this site require certain skills. But, there are some gigs that will not require any skills for you to do.
This is where this guide on how to make money on Fiverr without skills comes in. I will show you all the common gigs available on Fiverr that you can do without having to learn a new skill. That way, you can still earn a decent amount if you are new to the freelancing world.
I'll include a brief description of each gig to help you figure out which ones you should go for.
Disclosure: Some articles on this website contain affiliate/sponsored links. Click for more info.
How are the opportunities in Fiverr?
Before we talk about the potential gigs you can do, let's first discuss the earning potential of Fiverr as a whole so you'll have an idea of how much you can earn if you join this site.
First and foremost, the amount you can earn from Fiverr will be pretty good and it can even be a substitute for a full-time job, provided of course, you become a successful freelancer. But, it can take a lot of time to get to that point.
Yes, there will be gigs that will pay you a good amount. These gigs are those that require specific skills like video editing, graphics design, writing, and more.
These kinds of gigs tend to pay more than gigs that really don't require a lot of effort to do. That's really just the rule of online earning. For those skills that don't require skills though, they still pay a decent amount, but you'll have to complete several of these types of gigs in order to earn a significant amount.
For example, a video editing gig can in some cases maybe pay you $100 or more. A gig that requires little skill will usually pay you around $10 to $20. The difference in pay is pretty huge, but that's the main advantage of working on gigs that require certain skills.
That's not really a bad thing. And I suggest you don't dwell on that. Just think of the pay difference as a reward for having certain skill sets. If you want to earn that kind of amount, you have to take the time to learn that skill.
That's why I would say the pay structure of Fiverr is actually pretty balanced. And if you are not a skilled freelancer, you can still earn a significant amount by taking on gigs that don't require skills. You just have to take on multiple gigs to earn the same amount. And the good thing is, Fiverr has an abundance of these types of gigs.
So, to answer the question above, I would say the opportunities on Fiverr are pretty good. Just remember, the gigs that Fiverr offer will consume a good portion of your time. If you are not prepared to do that but still want to earn extra cash, I would recommend you check out the top survey and GPT sites in your country instead.
7 Fiverr gigs that require no skills
Now that you know what to expect in terms of earning potential, we can talk about the gigs you need to look for on Fiverr once you become a member. It's important to note though that these are not the only gigs available on the platform.
Instead, these are the gigs I found that would be worth doing. I will keep updating this guide if I find more gigs that require no skills. So, make sure to bookmark this page and check on it from time to time to find new opportunities.
#1 – Copy paste gigs
One of the easiest gigs offered on Fiverr is copy-paste gigs. There are actually plenty of individuals or companies looking for freelancers that can do all the copy-paste work for them. Most of these individuals or companies don't have the time to work on this kind of job, so they employ freelancers to do it for them.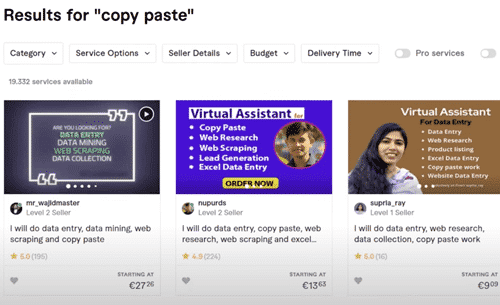 However, it can get a bit boring though since you will be doing repetitions all the time. So, if you don't have a lot of patience to do this kind of work, then this is not for you. The typical pay for this kind of gig is around $10 to $20.
#2 – Beta reader
If you like reading books, one great way to earn from Fiverr is to become a beta reader. If this is your first time hearing about this term, being a beta reader means you will read a book for a person or a company.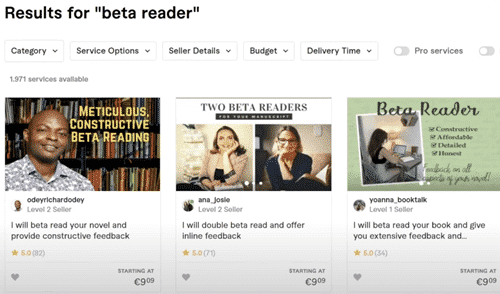 I was actually quite surprised when I learned about this kind of gig the first time. I didn't know people would pay you to read a book for them. All they are really after is your opinion or thoughts about a certain book.
That's what you are actually paid for. In some cases, you will be asked to provide more things, but it usually doesn't involve anything beyond reading a book. The usual pay for this kind of gig will range from $10 to $30. So, if reading is your thing, this is a great option to earn extra cash.
#3 – Removing backgrounds of images
This kind of gig used to only be available for people with Adobe Photoshop skills or other photo editing software skills. But nowadays, there are actually a lot of tools you can use to remove the background of an image so you practically don't have to learn any photo editing skills.
One good tool I can recommend is called Remove.bg. It's a website you can use to easily remove the background of any image. It's simple to use and it's free as well. So, you won't have to pay any membership fee.
The usual pay for this kind of gig will be around $5 to $20 depending on the number of images you have to prepare. And the best thing about this kind of gig is it won't take too much of your time.
#4 – Comment posting
Another simple gig you find on Fiverr is comment posting. This kind of job is actually pretty common on most freelancing platforms. As the name suggests, all you have to do is comment on posts of blogs and forums.
Just make sure to avoid gigs that will ask you to post comments on unethical websites because you will definitely encounter this from time to time. The comments you need to post do have to make sense, so you can't just post any comment you want.
But overall, it's a fairly easy job and you will usually earn around $5 to $10 per gig depending on the number of comments you need to post.
#5 – Web research
This kind of gig can involve multiple tasks, so it's a bit more complicated compared to the other gigs listed in this guide. But the idea is, you just gather information from the web and present it to your employer.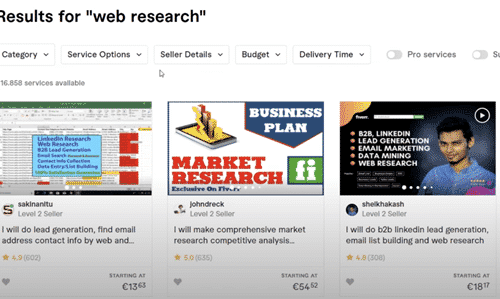 Usually, employers will ask you to do lead generation tasks like gathering contact information of certain individuals or companies. The idea behind this kind of gig is to really just gather information, which is a very easy thing to do as long as you have an internet connection.
You won't really need any special skills to do this gig, and if there are additional steps that need to be taken, it won't involve anything complicated. The usual pay for this kind of gig is around $15 to $30.
#6 – Link sharing
One of the easiest ways to earn money on Fiverr is by working on link sharing gigs. As the name suggests, all you have to do is share links to websites on social media pages like Facebook, Twitter, or Instagram.
But before you can do this kind of gig, you will have to build your social media audience. You have to make sure you have an audience. Otherwise, people won't employ you for this kind of gig.
You see, people will pay you to share their link so they can get exposure. And they can't do that if only a handful of people can view the link you share. Ideally, you will need to have thousands of followers on your social media accounts before you can offer this kind of service.
The pay for this kind of gig will usually range from $5 to $10. But if you have hundreds or thousands of followers, you can even ask for a higher rate.
#7 – Data entry
Data entry is one of the most common freelancing jobs that don't require any special skills. All you really have to do is input data in spreadsheets or websites. So, anyone who can use a computer can do this kind of gig.
It does take up a bit of your time though and the tasks will usually vary but will mostly involve typing, copy-pasting stuff, and browsing the web. It's also one of the most sought-after Fiverr gigs. The pay range for this kind of gig will range from $5 to $50 depending on the tasks you need to do.
Final thoughts
To conclude, Fiverr is one of the best ways to earn extra income regularly whether you have special skills or not. That's because there are plenty of gigs that won't require any specific skills. The pay isn't as high as specialized gigs, but it's still decent money, in my opinion.
You just need to make sure you complete all the gigs you work on and submit high quality work to build up your reputation as a freelancer on Fiverr. That's really the secret to maximizing your earnings from this freelancing site.
How to join Fiverr?
If you aren't a member of Fiverr yet, you can click the join button below and it will take you to their registration page as a seller.
It only takes a couple of minutes to register and once you are signed up, you can post your first gig and start earning.
If you have any comments or questions or know of any gigs on Fiverr that don't require special skills that are not mentioned in this guide, I would love to hear from you in a comment below.