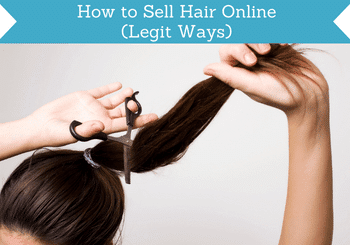 Do you want to know how to sell hair online?
If so, then keep reading this guide to find out exactly how and where to do it.
There are actually many ways to do this online, but in my opinion, there are only a few that are truly worth it. In this guide, I will share legit sites you can use to sell your hair so you can earn good money.
I will include a brief description of each option so you can easily identify which one will suit you best.
So let's go ahead and get this guide started, shall we?
What is the process of selling hair, and why is it possible?
If you don't already know, the reason people can sell hair for money is that there are a lot of people looking for hair extensions and wigs that are made of real hair.
For that reason, hair extension and wig makers buy real hair to make extensions and wigs that are made of real hair and sell them for a higher price compared to artificial ones.
But of course, before you decide to sell your hair online, make sure you have long and healthy hair that you can sell.
You can watch the video below to learn how you can sell your hair online. You can also read the full details below the video.
Recommended: Check Out the Best Ways to Earn Money Online for Free
The basic process of selling hair involves four steps.
The first step is to grow your hair to a certain length. If you already have long and healthy hair, you can skip this step and just proceed to the next one.
Next, you need to find a place to sell it, and as mentioned, this guide will help you do this.
The third step is to create a listing on the site you decide to sell the hair on. When doing this, you need to be very detailed with the description. You also need to include clear photos of your hair so that buyers will know what exactly they are buying.
Then you need to do your research and check the market price of hair. You need to make sure that the price for your listing falls within the marketplace; otherwise, buyers will just look for cheaper listings.
The last step is to make a deal with the buyer. Once you find a buyer, that's the time you cut your hair.
This is the most important step. Don't cut your hair before you find a buyer. Otherwise, you'll just be wasting your hair for nothing. It will be a lot harder to sell since it isn't considered "fresh", so to speak.
How much can you earn from selling your hair?
The amount you can earn will depend on several factors. The main determining factor is the length of the hair you are willing to share. Obviously, the longer the hair, the higher the price. Another factor that can affect the price is the quality of the hair.
For this, what will matter is how you take care of your hair. Using hair care products is a must because this will ensure your hair is healthy and shiny.
In general, the amount you can expect will fall around the $100 to $1,000 range. Sometimes, you can even earn more if the quality of your hair is really excellent and if it is very long. So you can really earn good money from selling your hair, provided it is done right.
6 best sites to sell hair online
Now that you know what to expect from this kind of opportunity, let us discuss the actual sites/platforms you can use. Keep in mind that this is not a prioritized list, so you can just choose which one will fit you best.
I would recommend you choose multiple options to increase your chances of actually selling your hair. Just keep in mind that some options will require certain fees, so only do so if you have the budget.
I will keep updating this guide if I find more sites/platforms to sell hair in the future, so make sure to bookmark this guide and check on it from time to time for new opportunities.
#1 – HairSellOn.com
HairSellOn is a unique site that exclusively sells real hair. Sellers flock to this site because many people use it to buy real hair.
And the great thing about it is it has a price calculator you can use to determine how much the hair you are selling will cost. You can just use this as a guideline instead of doing research. It saves a lot of time, in my opinion.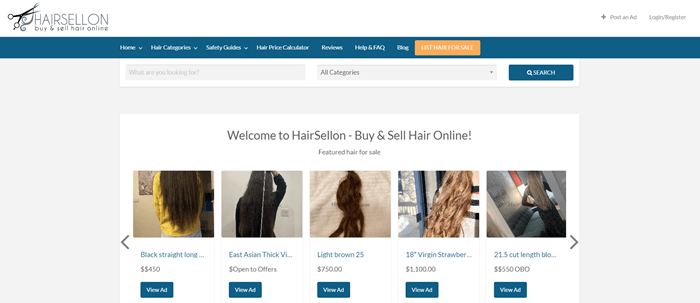 Take note, though, that there is a listing fee of $20, so you have to pay it before you can create your listing. The good thing, though, is that this will be a one-time fee, and your listing will be active until it is sold; plus, the site will not ask for a commission once your hair is sold.
Once a seller is interested in your listing, you will correspond via email. This is how you can discuss the shipping and payment. The site recommends PayPal as the payment method. It is a global marketplace, so anybody can sell hair regardless of where they live.
#2 – BuyAndSellHair.com
As the name suggests, BuyAndSellHair is a site where people can buy or sell hair. It launched in 2010, so it has been operating for a while now. Registration is free, and you can create your listing immediately.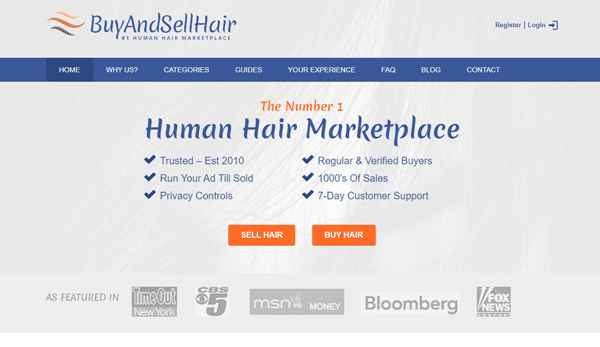 Although joining this site won't cost you anything, creating a listing will cost $14.50. Paying this fee will keep your listing active for three months. You can also pay a small fee to "bump" your listing to the front so more people can see it.
It also has an affiliate program where you can earn 15% from each user that you've referred that lists an advert on the site.
#3 – OnlineHairAffair.com
Another site that also deals with buying and selling hair online is OnlineHairAffair. This website has been around since 2008, so it has helped a lot of sellers sell hair online.

Joining this website is free, but creating a listing will cost you depending on the listing package you choose. The Silver Package will cost $12, and it will show your listing for a maximum of one month. The Gold Package will cost $15, and it will allow your listing to be active for six months.
The Platinum Package costs $20, but it will allow your listing to be active for a full year. And the good thing about this site is that it will connect you to legit and trusted buyers, so you are guaranteed to get paid. It is available globally, so you can sign up regardless of where you live.
#4 – World of Wigs
World of Wigs, as the name suggests, is a site that manufactures and sells wigs. Just be aware that at the time of writing this guide, the site currently is not buying hair since it has a surplus of hair.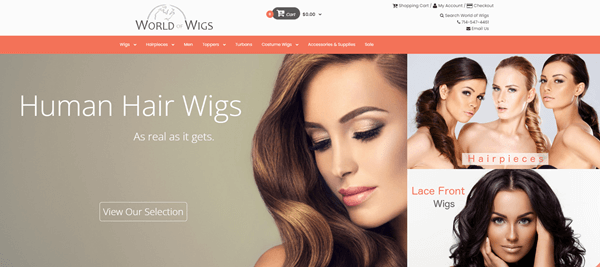 But maybe by the time you read this guide, they are already buying hair again, so it's still a site you can check out from time to time. The site pays around $3 to $5 per ounce of hair you sell, so the amount you can earn will depend on the weight of your hair and not the length, which is quite different.
What makes this a great option is that you don't have to wait for someone to be interested in your hair. In other words, the site is considered a guaranteed buying (provided they are buying hair again).
#5 – Craigslist
Craigslist is a popular classified ads website that is available more or less worldwide. This site doesn't exclusively sell hair, so you can actually also use it for selling other items. The fee to post a listing will depend on where you are located, so just make sure to check the FAQ page first before deciding to make a listing.
Just be aware that this site is an open market, so it can be hard to verify if a buyer is really legit. So always make sure to verify first and remember to never cut your hair until the payment is received. This is the golden rule of selling hair, so make sure to never forget it.
#6 – Gumtree
Gumtree is another classified ads website that will allow you to sell hair as well as other items. It is available in several countries, but it is most popular in the UK. So if you are a UK resident, this can be a great option if you want to sell hair.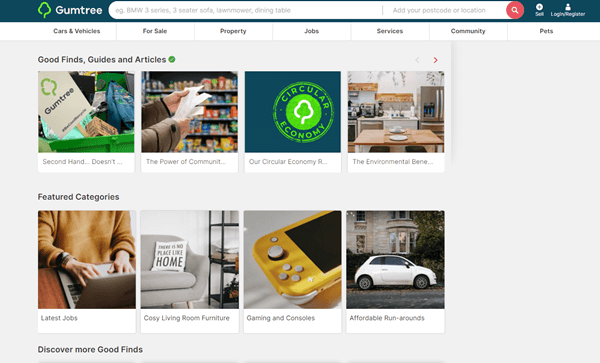 Listing an ad on Gumtree is free, unlike the other option presented. However, you can pay for other services like promoting your listing so that more people can see it and increase your chances of finding a buyer.
Final Thoughts
As you can see, there are several great options you can choose if you want to sell hair online. Each option has its advantages and disadvantages, so I suggest you pick the one that suits you best.
To increase your chances of finding a buyer for your hair, you can join multiple sites/platforms. But of course, you have to be prepared to pay the fees since only a few will allow you to sell your hair online for free.
Now if you are interested in earning a full-time income online where you can continuously earn but don't know where to start? Then I recommend you check out my top-recommended way to create a full-time income online.
And as I've mentioned earlier, I will keep updating this list if I find new sites/platforms that are really worth using, so make sure to bookmark this page and visit it regularly to find new opportunities.
If you have any comments, questions, or you know of other ways to sell hair online that you think belong in this guide, I would love to hear from you in a comment below.