When I first encountered Hubstaff Talent, I thought to myself this might be a good site to earn extra money from. So, I tested it to find out what it has to offer because I'm always looking for new ways to earn extra money.
If you are wondering the same thing, I would recommend you keep reading this Hubstaff Talent review because I will be sharing everything I have learned about the site when I tested it. That way, you'll know exactly what to expect from it if you decide to join and you'll be able to figure out if it is really worth it or not.
So, without further ado, let's go take a closer look at Hubstaff Talent, shall we?
What is Hubstaff Talent and what does it offer?
Hubstaff Talent is an offshoot of the website Hubstaff, which specializes in employee time tracking. You can say that Hubstaff Talent is the company's employment platform where you'll be able to find various freelance job offers to earn extra cash.
It is a legit site since you will really get paid for working as a freelancer. Now, the question is, is this site worth it or not?
To arrive at a conclusion, you must first understand how the site works, and the best way to do that is to examine the earning opportunity it offers.
That way, you can properly gauge the amount of time and effort needed to earn from this site. So, here's how to earn from Hubstaff Talent.
The earning opportunity – Jobs
When you sign up as a member of Hubstaff Talent, the first thing that will be asked of you is to create a freelancer profile (refer to the photo below).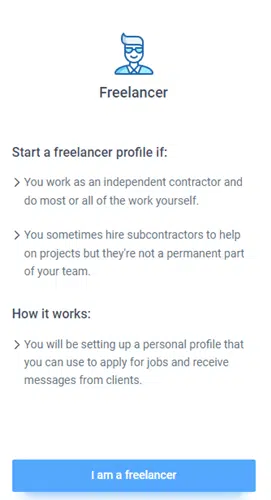 You will need to do this because this will be your potential employer's basis for hiring you. You see, when you apply for a job on Hubstaff Talent, the first thing the employer will do is to look at your freelancer profile.
Plus, Hubstaff Talent will have to approve your profile before you can apply for any job. This process usually takes around 1 to 2 business days to be completed.
That's why this step is a must, and you should make sure your profile has all the relevant information. It doesn't take long to complete (it only took me around five minutes to complete it) but make sure you have a resume ready to make things quicker.
Once you've completed your freelancer profile, you can browse for job offers. You will be able to see all the available offers if you log in to Hubstaff Talent's member dashboard (refer to the photo below). Then, you have to click "Browse Jobs".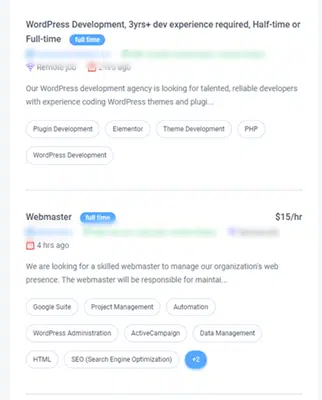 As shown in the photo above, you will immediately see the type of job being offered as well as the rate per hour. If a job listing doesn't indicate how much you will earn per hour, the rate will have to be negotiated.
To see the full details of the job, just click it, and you will be taken to the job details page. On this page, you will see all the responsibilities the job entails, what the employer expects from you, as well as the requirements to be hired (experience, language, availability).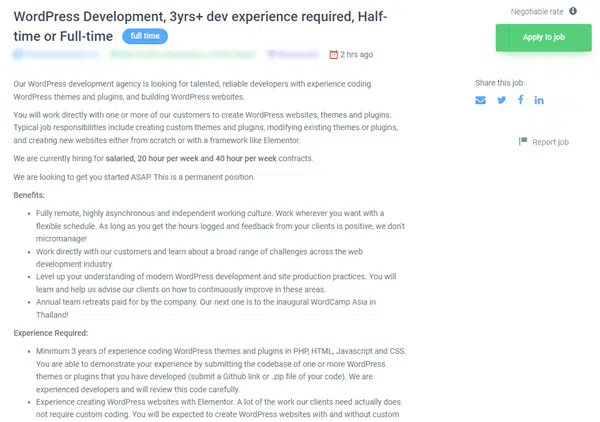 If you are interested in the job offer, just click the "Apply" button and fill out the form. Once you've submitted your application, you will have to wait for the employer to reply to your application. You will receive an email regarding the status of your application (whether it was approved or denied).
You can also see the status of your job application under the "My Applications" section of your profile. If your application is accepted, you will begin the onboarding process. If there is training required, you'll have to undergo that.
Normally, the job offer will indicate if you have to go through training or not. Once the onboarding process has been completed, you can begin working. Just take note that all of the jobs being offered on this platform will require the use of the Hubstaff time-tracking platform.
The jobs being offered on Hubstaff Talent are pretty varied. You can find positions for accountants, webmasters, web developers, sales positions, and many more. There are full-time and part-time positions as well.
But based on what I've observed, this platform isn't very newbie-friendly because most (if not all) positions require previous experience. So, if you are new to freelancing, this is not an ideal platform to start with, in my opinion.
Recommended: Check Out the Best Easy Freelance Jobs for Beginners
How do you get paid?
As mentioned above, when you begin working as a Hubstaff Talent, you will be using Hubstaff for your time-tracking. In case you don't know, this platform is where you will have to clock in to begin working, and this is also where you have to clock out to end your shift.
Now, Hubstaff has its own invoicing platform where you can send the invoice to your employer so you can get paid. Your employer can also set it up so that they will automatically pay you on payday.
Then, if you want to withdraw your earnings, you can set up your Hubstaff account so that you can withdraw your earnings using the payment method you prefer. Hubstaff uses PayPal, TransferWise, Payoneer, Bitwage, and QuickBooks as their mode of payment.
You don't need to reach a threshold to withdraw your earnings. In fact, you can even set up Hubstaff to deposit your earnings immediately using your preferred mode of payment. It's a very convenient payment system, but you have to familiarize it and learn how to set it up properly.
The good thing is that Hubstaff will provide you with all the necessary resources to help you set it up, so you shouldn't have difficulty getting it sorted.
Overall, the payment system of Hubstaff Talent is relatively simple, and I like the fact that it offers many convenient payment methods, including PayPal. If you are interested in more sites that offer a convenient payment method, I recommend you also check out the top sites that pay via PayPal.
How much money can you make?
The amount you can earn from Hubstaff Talent will mostly depend on the job you will be taking on. Most job offers I found offered a rate of around $10 to $30 per hour, which is a pretty decent rate for freelancers, in my opinion.
So, you'll be able to earn a pretty good amount from the jobs, provided of course, you get hired. But as I've mentioned earlier, most of the jobs offered will require previous experience, so it's not a suitable platform for people who are just starting out as a freelancer.
Overall, I would say the earning potential of Hubstaff Talent is pretty decent as long as you are already an experienced freelancer. If you are new to the field, don't expect to find a position you can apply for.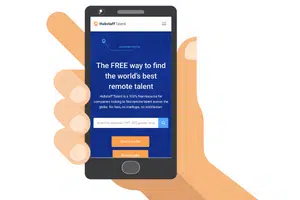 Can you use it on mobile?
Hubstaff Talent doesn't have a mobile app you can use which is understandable because most (if not all) of the jobs being offered will require a computer. That being said, you can still log in to Hubstaff Talent's member dashboard using your mobile device since the site is mobile-friendly.
But the only thing you can do if you use your mobile device is to apply for jobs and check the status of your applications. Everything else has to be done using a laptop or a desktop, including the use of the Hubstaff time-tracking platform.
Who can join Hubstaff Talent?
Anyone can register as a freelancer for Hubstaff Talent as long as they are at least 18 years of age.
However, some jobs will require that people reside in specific countries. So, you can't necessarily apply for all of the jobs being offered.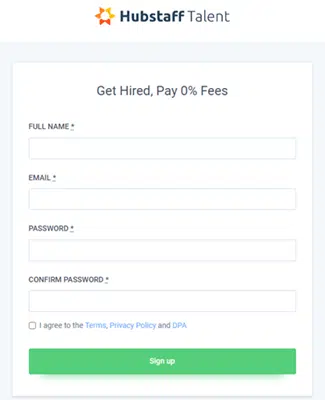 To register as a freelancer, you just have to fill out the sign-up form. Then, you have to complete your freelancer profile immediately if you want to start earning as soon as possible because, as mentioned, it will take around 1 to 2 business days for Hubstaff Talent to finish reviewing your profile.
You also have to provide your resume, so make sure you have that prepared before you even sign up as a freelancer.
Can you get support?
If you have any questions about your account or the platform in general, you can check out the Help Center page that can be found on the Hubstaff website. The Help Center has a specific section for the Hubstaff Talent members, and it discusses everything you need to know about the platform.
If you can't find the answers you are looking for from that page, you can get in touch with the support team by using the contact form provided by the Hubstaff Talent platform, or you can use the contact form on the Hubstaff website. Whichever option you choose will allow you to communicate with the appropriate support staff.
Final Verdict
Hubstaff Talent is a legit freelancing platform made by one of the most reputable remote-work companies around today. It has a few advantages, but it also has some limitations you need to be aware of.
Let me conclude this review with a summary of its pros and cons to give you an overview of what the site has to offer. Then, you can decide if it is for you or not.

Pros:
Offers decent pay
Offers payment via PayPal

Cons:
Most job offers are not suitable for new freelancers
You won't be able to earn immediately after you sign up
Hubstaff Talent is a decent freelancing site, in my opinion. Most jobs offer decent pay. The only problem is that most of the jobs found on the site will require previous experience. So, if you are just starting out as a freelancer, you will not be able to find any suitable job opportunities.
But if you are already an experienced freelancer and just looking for opportunities to earn, this can be a decent site to earn from because the pay rate is quite competitive.
Now, if you are looking for easier ways to earn extra cash, I would suggest you check out the top survey and GPT sites in your country instead. The sites on this list all have good earning potential, and you will be able to start earning immediately after sign-up.
If you have any comments, questions, or have any experience with Hubstaff Talent yourself, I would love to hear from you in a comment below.