Are you looking for ways to earn some extra money online? Then there is plenty of survey and Get-Paid-To sites you can join where you can earn a decent amount.
But if you don't feel like answering surveys or completing micro-tasks, there's a site called Humanatic that offers another way for you to earn extra cash.
This site claims you can earn by listening to a recorded phone call and answering simple questions. It sounds like a pretty easy way to earn, right?
But is Humanatic legit or is it a scam?
You need to know this before signing up so you do not end up wasting your time on a site that will not actually pay you.
This Humanatic review will show you the full details so you know exactly what to expect and if it will be worth your time or not.
What is Humanatic and what does it offer?
Humanatic, in a nutshell, is a site that provides companies detailed analysis of phone calls they receive.
It is also called Humnatic Call Reviewing, as you will be reviewing calls.
They offer this by allowing members to review phone calls received by companies that have partnered with them. In exchange, they will pay you a certain amount for reviewing it.
And let me just reveal right away that Humanatic is legit as you can actually earn as a member. However, this does not mean it will necessarily be worth your time.
To find out, we have to take a closer look at the earning opportunity it offers so you can understand how much you can earn from it.
So, I have made a short video that will explain and show exactly how you can earn from Humanatic. You can also read all the details below the video:
Recommended: Check Out the Top Survey Sites in Your Country
The earning opportunity – Review phone calls
Humanatic only offers one way for you to earn cash and that is by reviewing calls. This means you have to listen to the call and then tag it according to the guidelines provided by Humanatic.
When you log in to the site, you will immediately see all the available calls you can review (refer to the photo below). You will also see the amount you will earn when you finish reviewing the call.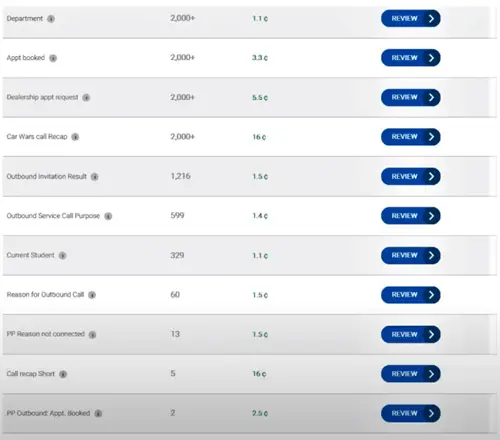 Simply choose a call you want to review and listen to it. After listening to the call, you will have to categorize the type of call you reviewed according to their guidelines.
So, before you start reviewing calls, I suggest you study their guidelines and make sure you understand it because it is very important and I will explain why.
As you can see, the work is really very simple but it can be a bit tricky because Humanatic will measure your accuracy in tagging phone calls into certain categories. After you review a call and classify it to a certain category, you will then have to submit it for checking.
Humanatic will then verify if your tagging of the call is correct and it will affect your accuracy rating. The higher your accuracy rating is, the more calls you can review. You have to maintain a 95-100% accuracy when reviewing calls to gain access to more calls to review in the future.
If your accuracy falls below 80%, you will lose some types of calls you can review or worse, your account will be deactivated.
So, being a fast reviewer doesn't necessarily help you in earning more because Humanatic values accuracy more than speed. That's why you have to carefully review each call because your account literally depends on it.
As for the length of the calls, you have to review, some are very short while some are a bit longer. So, there's really no point in being in a hurry when reviewing calls since the length of calls will be random. It is best to take your time and make sure you do everything right.
If they end up not approving your work, you will not get paid and will have wasted your time.
Recommended: Check Out the Top Survey Sites in Your Country
How do you get paid?
For every call you review, you will earn a certain amount that will be credited to your Humanatic account. Once you've earned at least $10, you can then request payment which can only be done through PayPal.
This is the only payment option they offer. So, if you don't have a PayPal account, then I suggest you sign up for one if you plan to become a member of this site.
The payments are processed every Thursday and they must be requested by Wednesday 12:00 PM (Central Standard Time).
Any payout requests made after 12:00 PM (Central Standard Time) on Wednesdays will not be processed until the following pay period. So, you'll have to wait one more week to receive your payout. You can only request one payout per pay period.
I like that they offer PayPal since this is, in my opinion, one of the most convenient payment methods available today.
If you are interested in more sites that pay via PayPal, I recommend you also check out the top sites that pay via PayPal.
How much money can you make?
So how much does Humanatic pay?
This is, of course, a very important aspect to know before joining so you do it with the right expectations.
Since it only offers one earning opportunity, the main factors that will affect the amount of money you can earn are the availability of calls you can review and how well they pay for each call reviewed.
Humanatic has what they call peak hours where there are a lot of calls available for review. This is between 7:00 AM – 7:00 PM Eastern Standard Time (US). So, if you want access to plenty of calls, you have to log in to the site during that time.
Unfortunately, as for the amount you will earn per call reviewed, it won't be much. You will usually only earn around 0.05 to 1.5 cents for short calls and 15 cents or more for longer calls.
As you can see, that's a very low rate. So, even though they have a relatively low payout threshold of $10, you will have to review A LOT of calls to reach that amount.
Some members say they can earn that amount in around 5 or 6 days, which isn't bad, but it also isn't good if you have to work several hours a day to reach that.
According to Humanatic itself, you can earn between $1-$4.50 per hour depending on your accuracy.

But you have to be very skilled and accurate to get the highest rate and it is not something you should expect to reach easily.
That's why I would say the earning potential of this site is very low. You will have to spend a significant amount of time to earn a decent amount.
Can you use it on mobile?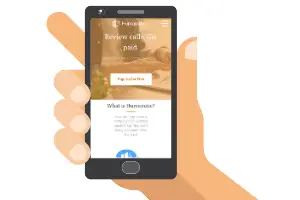 The good thing about Humanatic is, that you can review calls even on your mobile device. So, you don't actually need a desktop or laptop to earn. However, they don't have a mobile app that you can install on your device.
If you want to review calls on your mobile device, you have to access their site using a mobile web browser. Their site is optimized for mobile use so you won't have a problem navigating the site.
This can be very useful because it will allow you to earn even when you are not in front of your computer. You can just listen to calls in your spare time or really just about anywhere. Just make sure you have a stable internet connection.
Who can join Humanatic?
Humanatic is available globally. You can register as a member regardless of where you live. But, in order to register as a member, you need to have a verified PayPal account (refer to the photo below).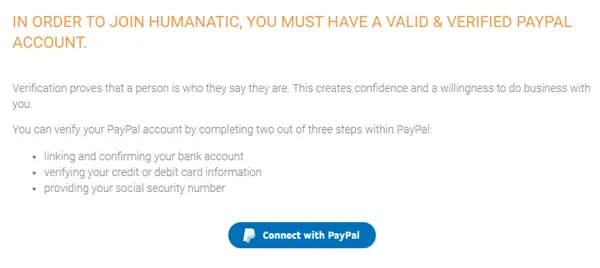 As shown in the photo above, you can verify your PayPal account by linking your bank account, verifying your credit or debit card information, or providing your social security number. Once you've done that, you can click the Connect with PayPal button to start the registration process.
After you've clicked the PayPal button, you will have to provide personal information. Humanatic will then evaluate your profile to see if you are fit to work on their site. Here's where it becomes a bit problematic, in my opinion.
You see, by signing up to the site, you are not actually guaranteed to become a member of the site.
Humanatic still has to verify your credentials to see if there aren't any conflicts of interest, among other things. If they see everything checks out, they will approve your membership application.
It can take days before you hear from them. Other users even report that it took several months before they heard from Humanatic. So, it can be quite hard to join this site and can take some patience.
Also, even though you can theoretically join from all countries, PayPal is not available in all countries, and since it is the only payout method Humnatic offers, you should only join if you can get a PayPal account.
If you are looking for a site where you can just sign up and start earning right away, I would recommend you check out the top GPT sites instead.
Can you get support?
Humanatic does have a FAQ page you can check out if you have any questions about the site. But in my opinion, their FAQ page isn't very helpful. There are several topics that are not discussed that I feel you should be aware of.
So, if you can't find the answers you are looking for, you have no choice but to get in touch with them. The problem is, that their site doesn't provide a way for you to get in touch with their support team.
But, there's a way you can get in touch with a Humanatic representative. You can visit their social media pages and make your inquiry via those platforms since they do reply to your comments.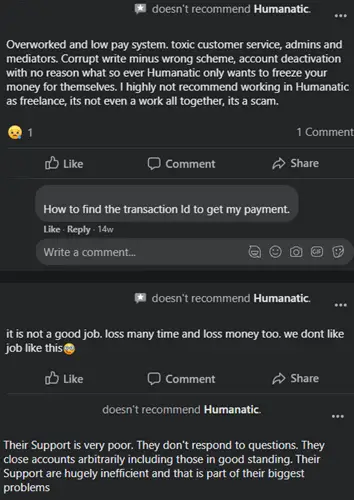 However, as you can see in the photo above, most of the common complaints about Humanatic are really about how they handle support.
If you check their Facebook reviews, most of the people complain about not getting any assistance from their support team.
This is a big no-no for me. In my opinion, providing support for your members should always be a priority and it seems like Humanatic really doesn't put too much effort on how they handle support.
So overall, I would say they don't offer good support for their members.
The lack of an accessible contact form on their website is already a red flag. Plus, the complaints on their social media pages only make it worse.
Final Verdict
Humanatic is a site that offers to pay you for reviewing calls. It presents a couple of interesting features but it also has disadvantages you need to be aware of.
So let's end this review with a summary of its pros and cons to give you a better overview of what the site is all about so you can decide if it is worth joining or not.

Pros:
Relatively low payout threshold
Pays via PayPal

Cons:
Low rewards
A lot of complaints about how they handle support
Limited payment options offered
Signing up for the site doesn't guarantee you will become a member
In my opinion, Humanatic really doesn't offer a lot of good things. The bottom line is, that it doesn't pay that well. So, even though they have a relatively low payout threshold, it will still take quite a bit of time to reach because you will earn next to nothing for reviewing calls.
You will, in some cases, have to review thousands of calls just to hit the threshold and that will take a lot of time and effort which you can better spend on sites with better earning potential.
The complaints about their support are also worrisome because if you ever encounter any problems, there's no guarantee they will help you resolve them.
That's why I would recommend you instead check out the top survey and GPT sites in your country. The sites on this list all have better earning potential than Humanatic, in my opinion. Plus, if you face any issues or you have any questions, you can always rely on their support team for help.
If you have any comments, questions, or have any experiences with Humanatic yourself, I would love to hear from you in a comment below.