Are you looking for a way to earn extra cash or even a full-time job? Then, you might be interested in a site called Indeed that claims you'll be able to find a job that will suit your needs.
The question is, is it worth it?
I've decided to see for myself because I'm always looking for new ways to earn extra money.
I will share everything I have learned about the site in this Indeed review so you will know exactly what to expect from it before you even hit the sign-up button. So, let's go ahead and take a closer look at Indeed, shall we?
What is Indeed and what does it offer?
Indeed is a job market website that posts job offers. It's a bit different from most of the other sites I review because technically speaking, it is not the site that will pay you. Instead, what it does is it just acts as a sort of middle-man between you and a potential employer.
It is indeed a legit job market site because you can really find jobs that will pay. But how does it work exactly? Let's examine the earning opportunity it offers for a start and then all the other aspects you need to know.
The earning opportunity – Jobs
As mentioned above, Indeed will not be the one offering the jobs you can apply for. Instead, all it does is that it allows companies to post their job vacancies on its platform. And in order for you to gain access to these job offers, you have to sign up as a member (I will explain later how the registration process works).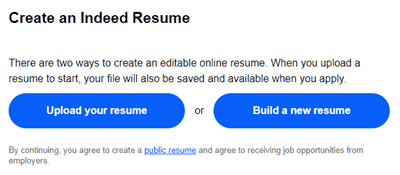 Once you register, you will have to submit your resume. You can do it two different ways. You can upload your own resume, or you can use the resume builder of Indeed. When I was doing my testing, I opted to go for the resume builder of Indeed since it was more convenient.
It only takes a few minutes to do. After you've completed your resume, you will be taken to the member dashboard where you will be able to view all the job offers that are available.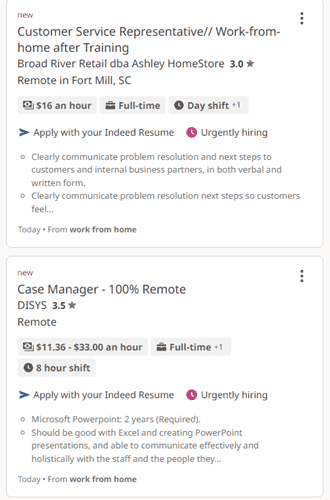 The site will also allow you to search for specific job types. There are filters you can use so the job offers that will be displayed are only those related to what you are looking for. This is a great tool to quickly find specific jobs.
Once you see a job you are interested in, just click it and you will see the full details (refer to photo below). The details page is where you will find all the important information you need to know like the rate of pay, job description, and even the benefits (for full-time jobs).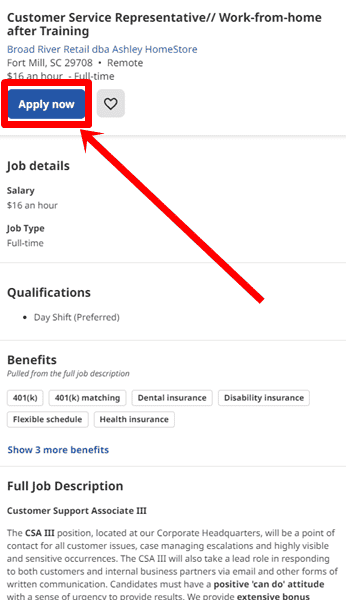 If you are interested in the job, you just have to apply for it. There are two ways to apply for a job, you can click the "Apply Now" button on the details and you will be taken to the application page.
You'll have to fill out an application form. You'll provide your information, contact details, and any other requirement they will ask from you. Once you've completed the application form, the employer will review your application.
The other way to apply is to click the "Apply on Company Site" link. If a job offer uses this option, you will be taken to the company's website instead. So, don't be surprised if you get taken to a different website when you click this link.
Simply follow the instructions the site will provide you when you do this kind of application process. But the idea will still be the same. You'll have to provide your personal information, contact details, and most of the time, your resume and a cover letter.
If you applied through Indeed, your application status will appear "My Jobs" section. To go to this section, just click the profile icon in the upper right corner and click "My Jobs". You will then see all the jobs you applied for using Indeed's platform.
If you applied using a company's site, then checking if you got hired or not will be done through email. So, make sure to check your inbox from time to time. Employers will usually reach out to you within a week if you get hired (sometimes even faster if they are really in a hurry to fill the position).
When you get hired for a job, further instructions will be provided on what you need to do next. You will receive the instructions via email. This is called the onboarding process and it will usually be handled by the employer. This is where you will start to communicate with your employer. After you've finished the onboarding process, all that's left to do is start working.
The good thing about Indeed is that the variety of jobs you can apply for will be very diverse. There are jobs available in almost all industries. You can even find call center jobs and "work from home" opportunities. But most of them are full-time positions.
It's not really a great site to look for freelancing opportunities. If you prefer freelance opportunities, I would recommend you the link below instead.
Recommended: Check Out the Best Freelance Jobs for Beginners
How do you get paid?
Your salary will be handled by your employer and not by Indeed. As for the payment method that will be used, it will depend on the employer. Most employers will pay you via direct bank transfer and since most of the opportunities offered are for full-time positions, expect that there will be taxes involved.
So, the amount stated in the job offer will not be the exact amount you will receive come payday. And as mentioned earlier, some jobs also offer benefits, which is a good thing, in my opinion.
Overall, the payment system of the jobs found on Indeed is relatively straightforward. These jobs will be salary-based, so you don't need to reach a threshold to withdraw your earnings like other freelance sites.
If you are looking for more sites that offer straightforward payment methods, I would recommend you also check out the top sites that pay via direct bank transfer.
How much money can you make?
Unlike some other sites I review, the amount you can earn from jobs offered on Indeed will more or less be similar to what you can earn from regular full-time jobs. So, the earning potential is actually pretty good, in my opinion.
However, you have to take into account that getting a job from this site is not as easy as you might think. The difficulty of finding a job will still be the same as when you are looking for a job in the "real world" so to speak.
It's really just the same thing. The only difference is that the application process is done online, so it's more convenient.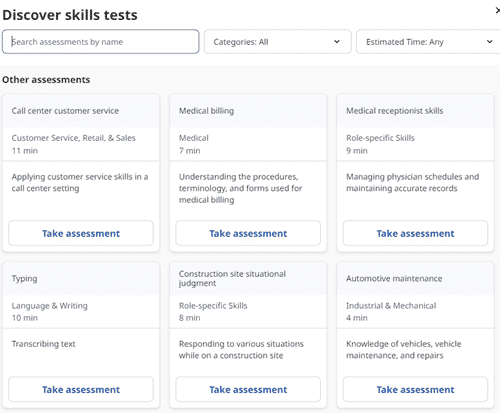 Fortunately, Indeed offers tools you can use to improve your chances of getting hired. As you can see in the photo above, Indeed has various skill assessment tests you can take to increase your chances of getting hired.
Taking these tests will show that you have the appropriate skill set for a certain field. And when you apply for a job on Indeed, employers will immediately see your rating from the skill assessment tests that you've taken and they will know right away that you have the right skill set for the job.
That is why, if you are really interested in the opportunities found on Indeed, I highly recommend you take all the skill assessment tests that are appropriate for your skills to improve your chances of getting hired.
Can you use it on mobile?
Indeed has a mobile app you can download so you can search for jobs using your mobile device. All the features found on the web-based platform can be found in the app as well.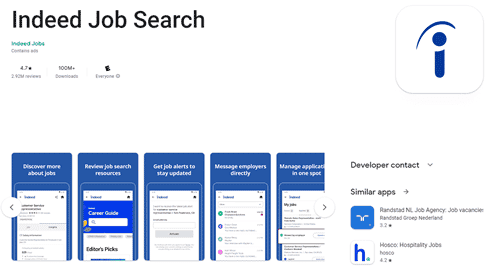 The app will work with both Android and iOS devices, so compatibility won't be a problem. The usability of the app is also pretty good. You won't have a hard time navigating it.
I would even go as far as to say you should install the app if you plan to join Indeed. That way, you'll be able to check your job application status anytime and anywhere. It is very important that you know immediately if you get hired because that will show your employer that you are really interested in the job, in my opinion.
Who can join Indeed?
Indeed is a global site. That means you'll be able to sign up as a member regardless of where you live. It is also free. You won't have to pay a dime to access the job offers, unlike some other job market sites.
Now, if you are wondering how the site is able to make money, then let me address that concern first. You see, companies have the option to pay Indeed to have their job posting appear first on searches. That way, they will be able to fill the position quickly. That's really where Indeed is able to make money and that's how they can afford to offer their services for free to job seekers.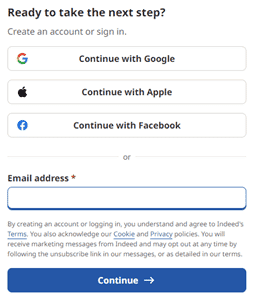 The registration process is very simple. To sign up, you can use your Google, Facebook, or Apple account. You can also provide your own email address and password.
After you are finished with the sign-up form, you'll be asked how you want to submit your resume (as explained earlier). You can upload your own resume or you can use Indeed's resume builder. It's up to you.
Once you've submitted your resume, you can now start looking for a job.
Can you get support?
If you encounter any issues while using the site/app or if you have any questions, you can check out the Help Center of Indeed. It discusses most of the basic topics you need to know. It also has a section for troubleshooting issues.
But if you can't find the answers you are looking for, you can submit a request through the Help Center as well. This will allow you to get in touch with their support team.
Overall, I would say Indeed has a good support system in place for its members since it offers a convenient way for you to get assistance.
Final Verdict
Indeed is a legit job market site that will allow you to find jobs you can apply for. It has a couple of great features but also a few limitations to consider.
Let me end this review with a summary of its pros and cons to give you an overview of what the site has to offer. Then, you can decide whether this site is a good fit for you or not.

Pros:
Free to use
Available globally
Plenty of job offers available

Cons:
It will take a bit of time before you can start earning
In my opinion, if you are looking for full-time job opportunities, then Indeed is a great site to join. You'll find plenty of job offers on this site. The pay of the jobs offered is pretty good as well. But it takes a bit of time before you'll be able to start earning, so you'll have to be very patient.
But if you are looking for part-time opportunities or even just opportunities you can do in your spare time, then this isn't the best place to find one. You are better off joining freelance sites.
Or, you can also just check out the top survey and GPT sites in your country instead. The sites on this list all have good earning potential and you will be able to find opportunities where you can earn right away.
If you have any comments, questions, or have any experiences with Indeed yourself, I would love to hear from you in a comment below.