iShopFor Ipsos is a platform that offers you an opportunity to earn extra cash by taking on mystery shopping jobs.
So, if you are looking for an interesting way to earn extra cash, then you might want to consider this platform.
But before you decide, I would advise you to read this iShopFor Ipsos review because this will show you exactly what to expect from it. That way, you can properly gauge if it is really worth it or not.
You will learn about all the features of iShopFor Ipsos as well as other important details you need to know to decide if it is for you or not. So, let's get on with it, shall we?
What is iShopFor Ipsos and what does it offer?
iShopFor Ipsos is actually the name of the mystery shopping program of Ipsos, and it has two platforms you can join (refer to photo below).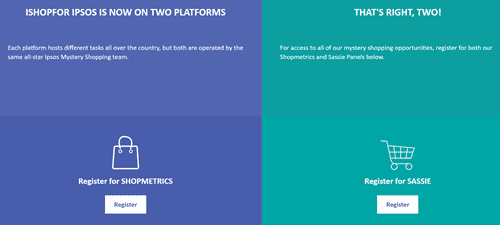 The first platform is called Shopmetrics and the other is called Sassie. For this review, I will only be focusing on Shopmetrics because it was the platform I managed to test. But they are more or less the same in terms of how you will be able to earn. The only difference is the jobs you can find on the two platforms will be different from one another.
And yes, iShopFor Ipsos is indeed a legit mystery shopping platform since you will really be able to earn money for taking on mystery shopping jobs.
Now, to fully understand how this platform works, we have to take a closer look at the earning opportunities it offers. So, here's how to earn from iShopFor Ipsos.
Option 1 – Physical store jobs
One of the ways you can earn from iShopFor Ipsos is to take on mystery shopping jobs that will ask you to go to an actual store and not some website. When you sign up as a member of iShopFor Ipsos, you will gain access to these jobs.

To view the jobs available, all you have to do is log in to the site, and you will see something similar to the photo shown above. The jobs displayed will always be in the city where you are located.
And just to avoid any confusion, the reason some info is blurred on the images in this review is that you are not allowed to share any public details about the exact jobs and the companies hiring, so I have had to blur this out.
The job offer will tell you the reward you will receive for completing it as well as the location of the store you need to go to. If you are interested in doing the job, just click it to view the full details.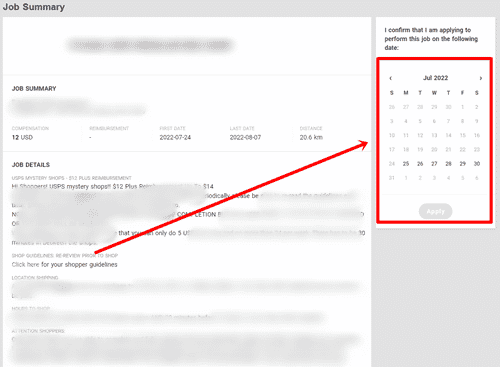 Once you are on the job details page, you will see the instructions you need to follow to complete it. Make sure to take note of all the instructions because you will need to follow all of them. If you miss even one step, you will not get paid, so make it a point that before you start working on a job, you know and understand what you need to do.
Then, if you want to take on the job, you will have to set the day when you want to do it and press the "Apply" button. After that, you'll have to wait for confirmation from iShopFor Ipsos.
You will see the status of your applications in the "My Applications" section of the member dashboard. Usually, you will know if your application was accepted at least two days before the date you specified.
Once your application is accepted, all that is left is to show up at the store and do the tasks needed during the day you selected when you applied for it.
One thing you need to keep in mind when doing these jobs is that you have to make sure the staff of the store is not able to identify you as a mystery shopper.
This is the most important rule of being a mystery shopper. You have to act like a normal shopper so you can observe genuine responses from the staff.
When preparing for a job, you will have to download the mobile app (more on this later) and take the certification quiz required for the job (if there is any). You will also need the app to submit any documents required after you complete the tasks.
After you've completed the job, you have 8 hours to submit your report, and it should not be later than 11:59 PM on the day you selected to do the job. If you fail to do so, the job will be marked incomplete, and you will not earn anything.
They don't really say how long it will take for your submission to be reviewed, but you can expect it won't take more than a week to hear back from them.
Option #2 – Web and phone jobs
Another type of mystery shopping job you can do is web and phone jobs. As the name suggests, you'll have to be a mystery shopper over the phone or online.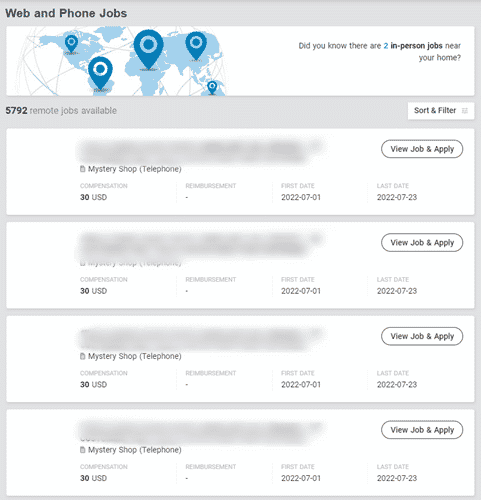 The process is almost the same as the tasks in physical stores. The only difference is that you don't have to go to a physical store to perform the tasks needed. You can just do it over the phone or online.
Based on my testing, there are more web and phone jobs available compared to the physical store jobs. You'll have to go through the same application process and preparations as the first type.
You will need to take a certification quiz (if there are any) and pass it before you can work on the actual job. Then, once you've completed the tasks, you'll have to submit your report and all the other necessary documents required for the job.
If your submission is approved, you'll receive the compensation promised. In the next section, I will discuss how you will get paid.
Recommended: Check Out the Best Mystery Shopping Sites
How do you get paid?
All of the mystery shopping jobs you will take on will require you to make a purchase or pay for a service. So, if you are not prepared to spend any money, then this opportunity is not for you.
Now, the good thing is, iShopFor Ipsos will reimburse you for any expenses you made when doing the job (provided of course that your submission was reviewed and accepted). The reimbursement as well as the compensation for the job will be paid via PayPal.

You do not need to reach a certain threshold to receive your earnings. iShopFor Ipsos will deposit your earnings to your PayPal account once your submission is approved. It usually takes 7 to 10 business days for the payment to be credited to your PayPal account. You can track the status of the payments through the "My Pay" section of the member dashboard.
Overall, the payment system of iShopFor Ipsos is relatively easy to understand. I like that it uses PayPal as the payment method because it is one of the most convenient payment methods available today.
If you are interested in more sites that offer payment via PayPal, I would recommend you check out the top sites that pay via PayPal.
How much money can you make?
The amount you can earn from this site will mostly depend on how often you are able to complete a job. And as with all mystery shopping sites, the availability of jobs will mostly depend on your location.
If you live in a large city, then you can almost always expect to see more jobs available. If you live in a small town, you'll be lucky to see even one job in a month. So, it's only profitable if you live in a big city.
As for the amount you can earn per job, you can usually expect to earn around $10 to $30 per job. It's a decent rate, in my opinion, but again, I have to emphasize that you can only earn a decent amount from this site if you live in a big city.
If you live in a small town, I highly recommend you don't even bother signing up because you won't see a lot of opportunities to earn.
Overall, I would say the earning potential of this site is pretty good if you live in a large city. If you don't, then the earning potential will be very low.
Can you use it on mobile?
As mentioned earlier, iShopFor Ipsos has a mobile app you can download, which will work for both platforms (Shopmetrics and Sassie).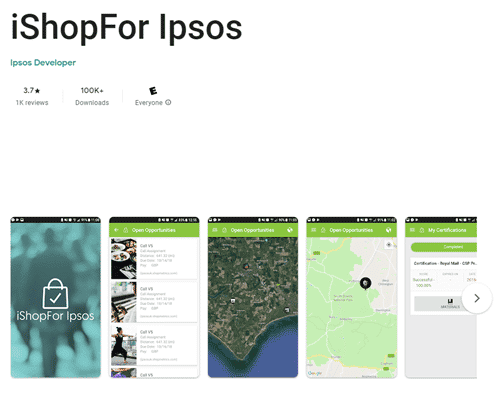 The app is available for download on both Android and iOS devices. It is fairly easy to use because the user interface is quite intuitive. You will not have a hard time getting used to how to navigate it.
However, the rating of the app in each app store is actually quite low, so I decided to read most of the feedback provided by other users. And most of them say that the app is quite glitchy. Sometimes it works, and sometimes it doesn't.
So, don't expect the app to work all the time. The good thing is that their support team is always willing to assist you if you ever experience any issues using the app. Later, I will discuss how you can get in touch with their support team.
Who can join iShopFor Ipsos?
iShopFor Ipsos is available in more than 80 countries. You just have to select your country when you sign up as a member.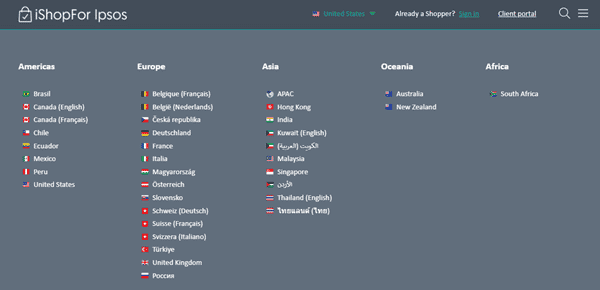 As mentioned earlier, it has two platforms you can join. It is up to you which platform you want to join, but if you want to maximize your earnings, I suggest you join both Shopmetrics and Sassie so you can gain access to all of the mystery shopping opportunities iShopFor Ipsos offer.
The sign-up process will involve providing private information like your mobile number and your Tax Identification Number or Social Security Number, so if you are not comfortable sharing this kind of information, then this is not for you.
You also have to be at least 18 years of age to sign up, and you must have a verified PayPal address to join.
Can you get support?
If you have any questions about the site or your account, you can first check out the FAQ page on their website. It discusses a few basic topics you need to know about the site.
Now, if you encounter any issues when using the app or even the member dashboard, you can get in touch with their support team directly by clicking the message icon in the lower right-hand corner of their homepage.
This will allow you to chat with an Ipsos support bot. You can then ask the bot any question, and if they don't have the answer, they will offer to get you in touch with their support team.
Overall, I would say the site has a decent support system in place for its members since it offers a way for you to communicate with their support team.
Final Verdict
iShopFor Ipsos is a legit mystery shopping platform allowing you to earn a decent amount for taking on mystery shopping jobs. It has a couple of good features, but it also has a few limitations you need to consider.
Let me end this review by summarizing its pros and cons to give you an overview of what the site has to offer. Then, you can decide if this is a good fit for you or not.

Pros:
Offers payment via PayPal
Pays a decent amount per job

Cons:
Limited earning opportunities offered
The mobile app can be glitchy sometimes
In my opinion, iShopFor Ipsos is a decent mystery shopping platform since it pays you quite well for every job you complete. It also offers a convenient payment method (PayPal).
However, I would only recommend you join this site if you live in a big city because that's where most of the jobs can be found. If you live in a small town, you are better off finding other ways to earn because you will hardly find any jobs.
Now, if you are looking for stable ways to earn extra cash, I would instead suggest you check out the top survey and GPT sites in your country. The sites on this list all have good earning potential, and you'll be able to earn without spending a dime.
Plus, you will find a site you can join regardless of where you live.
If you have any comments, questions, or experience with iShopFor Ipsos yourself, I would love to hear from you in a comment below.