Latium Freelancing is a micro-job website that claims you can earn by selling your gigs.
But is Latium Freelancing legit and a great way to earn some extra cash online, or is it a scam to stay away from?
I have joined and tested it myself on and off for several years to find out exactly what it offers, and let me just reveal right away that you can potentially earn by using it, but it also has some disadvantages you need to be aware of.
This Latium review will give you an inside look and reveal all the pros and cons, so you will know exactly what to expect before you even sign up.
Then, you can decide if it is really for you or not. So, let's go ahead and take a closer look.
What is Latium Freelancing, and what does it offer?
As mentioned above, Latium.org is a micro-job site that will pay you for completing small jobs (what they call gigs).
In case you don't know what a micro-job site is, it is a kind of site where employers post jobs that are usually just one-time jobs for members of the site. Then, the member will just have to apply for that job, and if he or she gets accepted, he or she has to complete it at the designated time period.
However, since I first joined Latium.org, they have also started having more and more bigger projects you can do as a freelancer to earn more, but more about this later.
Now, to fully understand how Latium Freelancing works, we have to examine the earning opportunities it offers. This should also give you an idea of how well you can earn from it.
I have, therefore, made a short video that gives you an inside look and shows exactly how to earn from Latium. You can also read all the details below the video:
Check Out the Best Freelancing Sites
Option 1 – Projects
The main earning opportunity of this site is its projects. When you log in to the site, you can view all the projects available in the "For Freelancers" section.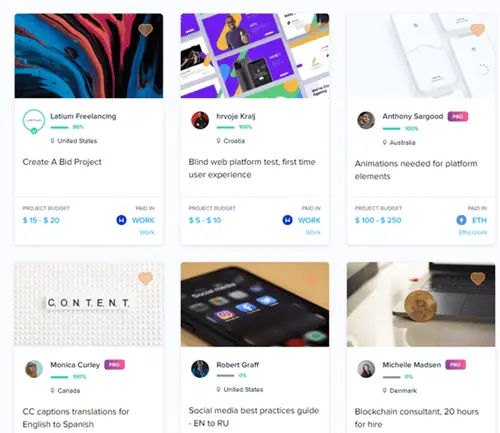 You will then see something similar to the photo shown above. You can also filter the projects according to the category it belongs to.
The category will tell you what kind of project it is. For example, there are categories called Surveys, Graphics & Design, App Downloads, Data Entry & Collection, translation & languages, video & animation, and more.
To start working on a project, just click the one you are interested in. Then, you will be taken to the project details page. You will see something like the photo shown below.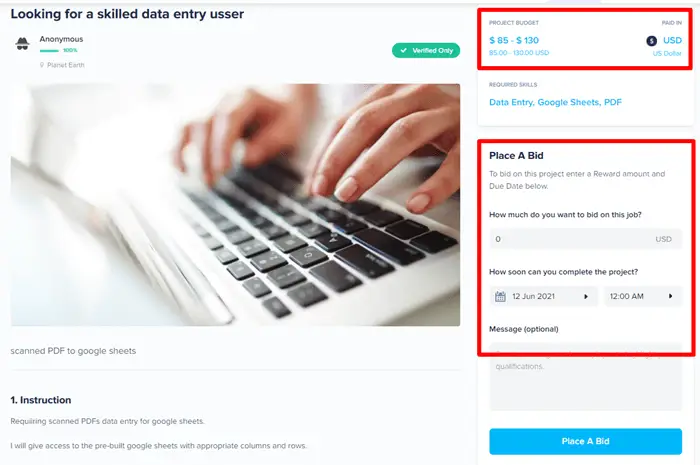 You see, to start working on a project, you actually have to bid for it. When bidding on a project, you have to indicate the amount you want to get paid as well as the date of delivery (date you can finish the project).
The amount you can ask for should be in the range of the project budget, which is also displayed on the details page. If you place an amount over the budget, don't expect your bid to be accepted.
As for the date, this is also something very important. You have to make sure you deliver the requirements on the date you indicated because it will affect your credibility as a freelancer if you don't. So, don't just put in any date you want.
You have to put in a careful estimate of when you will be able to finish the project. If your bid gets accepted, but you missed the delivery date, not only will you not get paid, but you will also lose your credibility as a freelancer.
One thing to note with their projects is that some of them will require you to be a verified freelancer account while some don't.
So, make sure to check that first before you place a bid. You can see this in the top right corner (see image above) – if it says verified only, you need to be verified to be able to bid for this project.
Later on, I will discuss more about how to become verified.
If your bid gets accepted, as mentioned, you need to make sure to submit the deliverables before the deadline you indicated. Then, the employer will review your work, and if everything is in order, you will receive the payment, and it will be credited to your Latium Freelancing account balance.
If you are not paid for a project you feel you have completed, you can discuss the issue with the employer through the chat option provided by Latium. Unfortunately, arbitration and mediation are not available at the time of this writing, so you'll have to settle it on your own.
As for the reward, I'll discuss more about it later. That's basically how their projects work. You bid for it, and if it gets accepted, you start working on it. Once you are done with what the project requires, you submit it for review. If the employer sees your work is all good, you will receive the payment.
You can work on as many projects as you want, but you have to make sure you deliver because, again, if you fail to complete a project, your freelancer approval rate will suffer, and you will have a hard time getting accepted for new projects.
That's why it is recommended you only take on projects you know you can deliver.
Option 2 – Referral program
Another way you can earn from Latium Freelancing is by inviting other people to join the site. All you have to do is share your invite link with the person you want to invite. When that person clicks the link and registers, they will become your referral.
It doesn't matter whether they sign up as a freelancer or as an employer, they will still become your referral. As for the reward you will get, here's a breakdown of the reward percentage.

You will earn 50% of the exchange fees paid by your referral on the Latium Exchange (I will talk more about this next). You will also earn 25% of any project fees, 10% on any new subscriptions and subscription renewals, and 10% on any verifications.
The rate of commissions you will get is actually pretty decent, in my opinion. You can earn a decent amount from it, especially if you manage to get employer referrals.
You just have to make sure the people you invite are really interested in working on Latium Freelancing. Otherwise, you'll just be wasting your time.
Check Out the Best Freelancing Sites
How do you get paid?
Here's the tricky part of Latium Freelancing. Whenever you complete a project, you will get paid either in cryptocurrency or US dollars. It will mostly depend on the employer on what he or she will be paying you.
You will see the payment on the details page of the project. So, you'll know what you will get paid with when you complete a project.
But for every project you complete where you get paid, you will have to pay a project fee to Latium Freelancing. The fee you will have to pay will depend on the type of account you have. There are 3 types of accounts, the free, verified, and pro. Later, I will discuss the difference between the 3.
Withdrawing your earnings can be done in two ways. To withdraw your US Dollar earnings, you have to use PayPal. This is the only option they offer for cash withdrawals. You don't need to reach a certain amount before you can withdraw your earnings, but take note that their PayPal withdrawals will always have a $5 transaction fee, which is quite high, in my opinion.
So, before you withdraw your earnings, make sure to take into account the transaction fee you need to pay. It is best you only withdraw a significant amount (e.g. $100 or more) to minimize the fee you have to pay.
For your cryptocurrency earnings, you have the option to withdraw them to your crypto wallet, or you can trade it for other cryptocurrencies. Latium Freelancing has its own cryptocurrency exchange platform called Latium Exchange.
This can come in quite handy if you want to consolidate all your cryptocurrency earnings into one cryptocurrency like Bitcoin or LiteCoin. And just like with PayPal withdrawals, there will also be a transaction fee. But the good news is that the fee will be minimal for cryptocurrency withdrawals.
Latium Freelancing also caters to a lot of different cryptocurrencies, which is a good thing. It's always good to have more options, in my opinion.
The payment system is a bit complicated, but once you get used to it, it will be fairly simple. I do like the fact that they offer payment via PayPal and cryptos.
If you are interested in more sites that pay via PayPal, I recommend you also check out the top sites that pay via PayPal.
How much money can you make?
The amount you can earn from Latium Freelancing will mostly depend on how much time you are willing to invest in it.
That's because the projects available will mostly take some time to complete. As for how much you will earn from each project, it will mostly range from $50 to $100, which is a significant amount.
But there will also be many smaller jobs that are faster to do but then, of course, also with a smaller pay. And I have also seen projects that give several hundreds of dollars as a reward, but they will, of course, also require more effort.
In my opinion, the compensation for every project is usually really fair. There are some employers who have a higher budget than others. It's your job to discern which is which. The good thing about their system is that you will be the one dictating how much you will earn. Of course, it still has to fall within the employer's budget.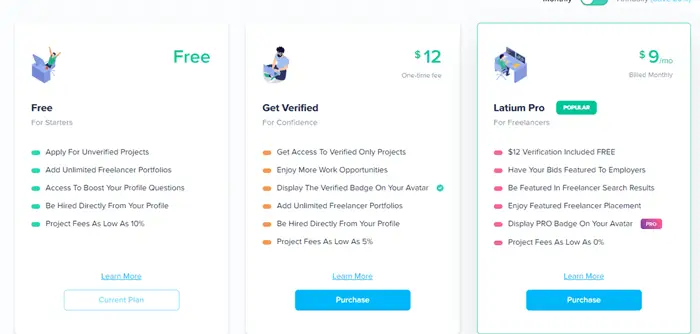 As mentioned earlier, there are 3 types of freelancers, the free, verified, and the pro. Each one has its advantages and disadvantages.
The free plan will involve a higher project fee (the lowest is 10%). The verified plan will lower the project fee up to 5%. You can verify your account by paying them $12. Becoming a verified freelancer will also give you access to more projects.
You can also avail of the Latium Pro freelancer package, which costs $9 a month. This will include a free verification, and the project fee will be as low as 0%. Among the 3 plans, the most ideal one is the Pro plan since this will give you access to more projects, and you will have the lowest project fee.
You just need to make sure you can cover the monthly fee of $9. In other words, you need to make sure you complete projects every month.
Also, you need to be aware that it can be very hard to find projects if you do not have a verified account. And you need to pay to become verified, and even though you do that, there is no guarantee you will get accepted for any projects, as the competition can be hard.
This can be a disadvantage if you do not have a big budget and are not sure about your freelancing skills because you will have to pay to really get a chance to get jobs.
However, the fees overall on Latium are quite a lot lower than what you pay on many other freelance platforms, but the advantage of some other freelance sites is that you do not have to pay to get a chance of getting verified, but you will then usually have to pay higher fees every time you complete a job.
This is definitely something you need to consider, so you start freelancing with the right strategy for you.
Overall, I would say the earning potential of Latium Freelancing is decent. However, this site will require you to invest a significant amount of time since their projects aren't really that simple. You can work on shorter projects, but those don't pay that much.
The projects that pay more than $100 will require a significant time investment, almost like a part-time job, in my opinion.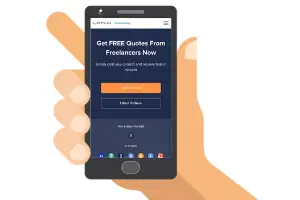 Can you use it on mobile?
Latium Freelancing doesn't have a mobile app you can use, but you can access the website from a mobile device using a mobile web browser.
The site is mobile-friendly, so you can navigate through the site easily, and you won't have to zoom in just to read the content.
This will allow you to bid for projects conveniently even when you are not sitting in front of your computer. But aside from that, most of the work that needs to be done will require the use of a laptop or desktop.
The only other times you will be using your mobile device is when you are working on projects that will ask you to download mobile apps or if you are just checking or withdrawing your earnings.
Who can join Latium Freelancing?
Latium Freelancing is available globally. You can register as a freelancer regardless of where you live, but you do have to be at least 18 years of age to join.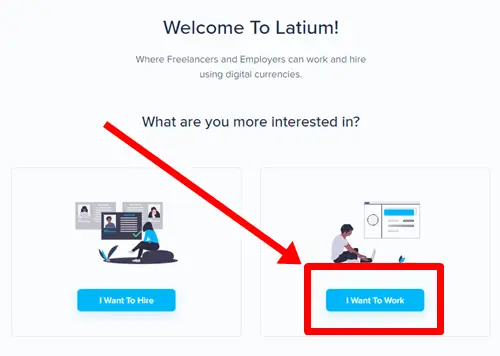 To sign up, just click the "Sign Up Free" button on their homepage. You will then have to provide your email address. Once you've done that, you will receive a confirmation email. Just click the link in the email to confirm your registration.
You will then see something similar to the photo above. You have to click on the "I Want to Work" button to become a freelancer. Once you've done that, you'll have to fill out the rest of the sign-up form with all the login and profile details.
As soon as you've completed the form, you can now log in to the site and start bidding on projects.
Can you get support?
Latium Freelancing has a pretty comprehensive FAQ page that discusses most of the important topics you need to know about the site. It also has a support platform that discusses other topics. They also have their own forum if you want to learn more about the site or read about tips and other topics.
If you can't find what you are looking for in their forums or FAQ page, you can send your inquiry by filing a support ticket so you can contact their support team. Overall, I would say they have a great support system in place for their members.
But I do wish they would mediate disputes between employers and freelancers. This is a very touchy area, in my opinion, and it would help if there was someone who could give a final ruling on what needs to be done so that disputes won't get out of hand or drag on.
Final Verdict
Latium Freelancing is a legit micro-job site that will pay you for completing projects from employers. It has a few good features, but it also has some disadvantages.
Let's finish this review by summarizing its pros and cons so you can get an overview of what the site has to offer, and you can make a decision on whether this site is the right fit for you or not.

Pros:
Offers payment via PayPal and cryptos
Decent rewards offered
Available globally

Cons:
High withdrawal fee for PayPal
Most projects take a significant amount of time to finish
You will have to share your earnings with Latium
It costs money to get a better chance at getting projects
If you are looking for a part-time job or some extra cash, Latium Freelancing can be a way to do this. But if your goal is just to earn some extra money by doing jobs that take no effort, this is not the most ideal option.
The site pays decently, but you will have to invest a lot of time to finish the high-paying projects, so you need to do it with the right expectations.
That's why I would only recommend you join this site if you have enough time to spare and you are up for more complicated work. But if you are just looking to earn cash easily in your spare time, I would recommend you check out the top survey and GPT sites in your country instead.
And if you are looking for freelance work, you can check out the best freelance platforms here. Most of those will be easier and cheaper to get started on.
If you have any comments, questions, or have any experiences with Latium yourself, I would love to hear from you in a comment below.