Listeners is a mobile app that claims you will get paid to listen. If you find this opportunity interesting, then I suggest you continue reading this Listeners app review because it will show you everything you need to know about the app.
Then, you can figure out if this app is worth it or not. And let me tell you right now that there are indeed a few things you need to know about Listeners.
So, let's go ahead and check out what Listeners is all about, shall we?
What is Listeners, and what does it offer?
Listeners is a mobile app that offers an opportunity for you to earn by listening to other people. It's certainly a unique app, and the potential is there.
However, is it really worth your time?
Well, the best way to find out is to examine the earning opportunity it offers so you will understand how it works. Then, you can get a clear idea of its potential. So, here's how to earn from Listeners.
The earning opportunity – Listening
The only way to earn from the app is to listen to other people. However, aside from listening, you will also be asked to provide feedback. In short, you'll be conversing with the person you listened to.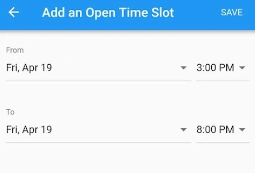 To start the process of earning, you have to log in to the app and set your schedule. You have to indicate the time slot/s you are available to take on clients. It's up to you how many slots you want to open, but make sure you are really present during the indicated time. You also have to indicate your rate, which will be per minute of listening.
Then, you have to indicate your expertise. Technically you don't have to be an expert on a subject matter. Just think of this as your preferred topics to listen to.
After you've set your schedule and picked your expertise, all you have to do is wait for clients to book you. The client will use a different app called ProTalk, which will allow them to find schedules listed on Listeners.
If somebody books you, you'll receive a notification from the app. Then, you must log in to the app during the designated time to begin the session. Take note that you have to use the Listeners app for the session and not any other platform or other mobile app.
Seeing the nature of the earning opportunity it offers, I would say there's no guarantee you will earn from this opportunity (more on this later). So, while the opportunity is appealing and interesting, there's no guarantee you will earn from it.
Recommended: Check Out the Top GPT Sites
How do you get paid?
As explained above, you will be paid in cash for every minute you listen to a client. But how can you withdraw your earnings? Well, you will get paid via PayPal every month.
Listeners will process the payments every 15th of the month. So, if you earned something from the previous month, you'll get paid the succeeding month after the 15th. You don't need to hit a threshold to receive your earnings.
As long as you've earned from the previous month, you'll get it the following month. It can take several working days for the money to be credited to your PayPal account though, so don't expect to receive it immediately.
Overall, I would say the payment system of Listeners is relatively straightforward. I like the fact that it offers a convenient payment system like PayPal, and it doesn't have a payout threshold.
If you are interested in more sites and apps that offer a convenient payment method, I recommend you also check out the top sites that pay via PayPal.
How much money can you make?
As mentioned earlier, there's really no guarantee you will earn from this app. For you to earn, a client must book any of the schedules you indicated. The problem is that while I was testing the app, I never got any bookings.

So, I checked out other reviews of the app, and I found out that the most common complaint about Listeners is that you will never get the opportunity to earn. As you can see in the photo above, multiple users report that they never got the opportunity to earn from it.
It's not surprising since the app isn't really very appealing, in my opinion. If a person wants someone to talk to, they would rather talk to their friends or go to a professional like a therapist or an industry expert. While the thought of how you can earn from the app works, in reality, you'll find it hard to find an opportunity to earn from it, in my opinion.
That is why I would say the earning potential of Listeners is very low. You are better off finding other ways to earn extra cash, in my opinion.
Can you use it on a desktop?
Listeners is a mobile-only platform, so you will need to use a mobile device to earn from it. The app is available for both Android and iOS users.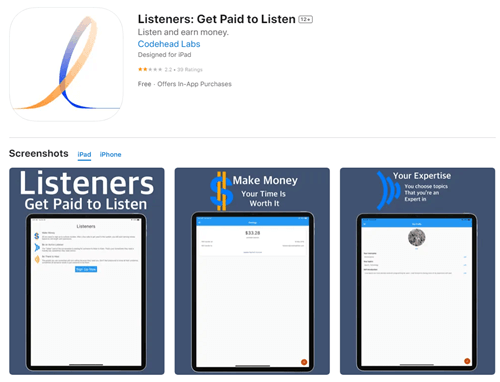 The app is fairly easy to use, so you shouldn't have a hard time navigating it. You also won't encounter any annoying pop-up ads while using it. The overall user experience it offers is generally positive (except for the bugs you get from time to time).
Who can join Listeners?
The site doesn't tell you exactly which countries it is available in, but when you register, it says it only accepts phone numbers from the US and Canada (you need to verify your phone number to join).
That means you can only join Lisn´tners and start earning if you live in one of these two countries.
You have to be at least 18 years of age to register as a member. To sign up, you have to install the app first. Then, just go through the fairly straightforward registration process. After you are done signing up, you can log in to the app and set your schedule.
Can you get support?
If you have any questions about Listeners, you can check out the FAQ page of the website. It discusses some of the basic topics you need to know about the app. I personally found it useless, so if you have any questions, you will most likely not find the answers to them on the FAQ page.
You must contact the support team instead. And to do that, you have to submit your inquiry via email at [email protected] since the site and the app don't have a contact form you can use.
Overall, I would say the app does provide the bare minimum in terms of support since it offers a way for you to get in touch with the support department. However, I wish the FAQ page of the website would discuss more important topics to lessen the chances of having to contact support.
Final Verdict
Listeners is a mobile app that offers a chance for you to earn by listening to other people and providing feedback. It has a couple of interesting features, but it has a few major drawbacks you need to know.
Let me finish this review by summarizing its pros and cons to give you an overview of what it has to offer. Then, you can decide if it is truly worth your time or not.

Pros:
Offers payment via PayPal
No payout threshold

Cons:
Doesn't offer guaranteed earnings
In my opinion, Listeners is not worth your time, mainly because it doesn't offer guaranteed earnings. Its potential sounds interesting, but in reality, likely not a lot of people are interested in talking to a complete stranger, which is why you will potentially not find any opportunity to earn from it.
So, if you are looking for a way to earn extra cash, I suggest you check out the top survey and GPT sites in your country instead. The sites on this list all have good earning potential, so you are guaranteed to earn a decent amount after you sign up.
Plus, you will definitely find a site or app you can join regardless of where you live.
If you have any comments, questions, or have any experiences with Listeners yourself, I would love to hear from you in a comment below.