If you like to gamble, there's an app called Lucky Day that claims you can win prizes and have fun at the same time. So, if you are looking for an app you can earn from, you might be considering downloading this app.
However, I would recommend you hold your horses for a bit and read this Lucky Day app review first. Not only will this review verify if the app is legit or if it is just a scam, but it will also give you a real inside look and show everything the app has to offer.
This will be the best way to find out exactly what this app is all about so you can determine if you should really download it or not.
What is Lucky Day and what does it offer?
Lucky Day is a sweepstakes app that offers opportunities for you to win various prizes. It is indeed legit since you can really win cash and other prizes.
But the question is, is it really worth using or not? To answer that, we must first look at the opportunities it offers so you'll understand how the app works.
These are not "earning opportunities" exactly since everything is based on chance. So, you can't reliably "earn" from them. But I will explain all about this below.
Anyway, here are the opportunities Lucky Day offers.
Option 1 – Scratch a card
One way to win prizes from this app is to play their scratch-a-card game. Every day, Lucky Day will provide you with a certain number of cards you can scratch off. It's just like the scratch-a-card you can buy at gas stations.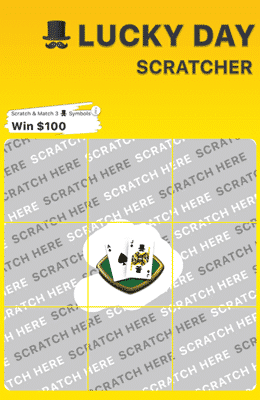 The idea is, you just have to scratch the card to see the prize you will win. In order to win a prize, your card must have 3 of the same icons. The matching icons will also determine the prize you will win. For example, if you got 3 cash icons, you will win a certain amount.
If you got 3 coin icons, you will instead win a certain number of tokens (I will explain later what you can do with your tokens). But that's basically it.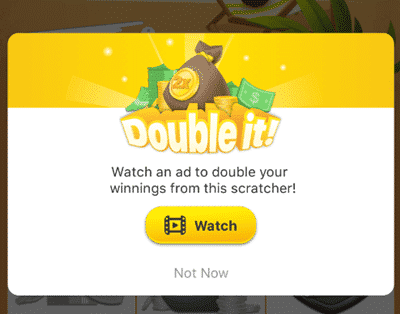 From time to time, when you finish scratching a card, you will be given a chance to double the prize you won by just watching a video ad (refer to photo above). All you have to do is press the "Watch Ad" and wait for the video ad to finish.
Once it has finished playing, you can close the video ad and you will immediately see that the prize you won will be doubled. That's all there is to it. This opportunity will appear randomly, so you can't expect to encounter this every time you scratch a card.
Option 2 – Raffle
Another way you can win prizes is to join the raffles they offer. Just like with the scratch-a-card game, Lucky Day will allow you to participate in a number of raffles. There's no exact number for how many raffle contests will be made available for you.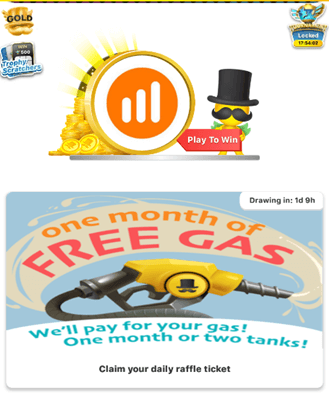 Joining their raffle contests will also be easy. When you see a raffle you want to join, just press it. Then, the raffle will determine how many tickets you will get randomly. This will be done through a spin-the-wheel game.
After spinning the wheel, you will know how many tickets you received for the raffle. On the raffle page, it will also tell you when the raffle will be drawn. Just check back inside the app to see the winner of the raffle.
Usually, the prizes for these raffle contests will be a certain amount ranging from $250 to $1,000. So, if you ever win, you'll receive a significant amount.
Option 3 – Daily cash tournament
You can also play their daily cash tournament to win a cash prize. This opportunity actually works hand in hand with their scratch cards.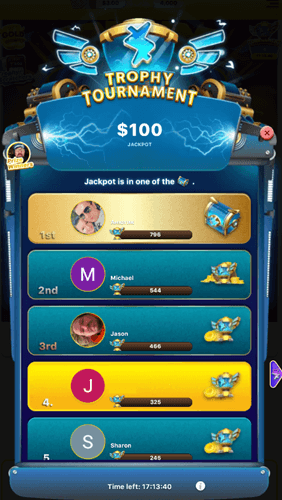 To earn an entry in their cash tournament, you have to win trophies from their scratch-a-card game. So again, to join the tournament, you need to scratch cards. Once you've joined the tournament, you can earn more trophies by watching videos (I will explain how to do this next).
As for how the actual cash tournament works, the total trophies you've earned from scratching cards will be tallied. Whoever gets the most trophies at the end of the day will win the cash prize. So, it will still all be based on luck.
Option 4 – Paid offers
This opportunity is the only reliable way to earn rewards from this app because it will not be based on chance.
However, let me just make it clear that you won't earn any money from this earning opportunity. Instead, you will earn tokens which you can use to redeem rewards.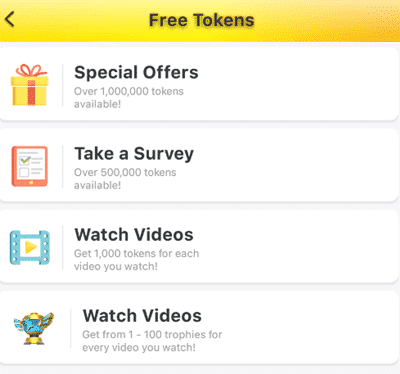 These paid offers are actually just short tasks you can do to earn tokens. You can either answer a survey or quiz, watch a video, play a game, and more.
As mentioned above, aside from earning tokens, you can also watch ads to earn trophies for their daily cash tournament. Just go to the "Watch Ads" section that will reward you with trophies and press it.
Watch the ad that will load and wait for it to finish. When the ad ends, you can close it and you will immediately see how many trophies you earned (it will be a random value from 1 to 100).
Option 5 – Referral program
Lucky Day will also reward you for inviting other people to join the app through their referral program. However, their referral program works differently from other referral programs.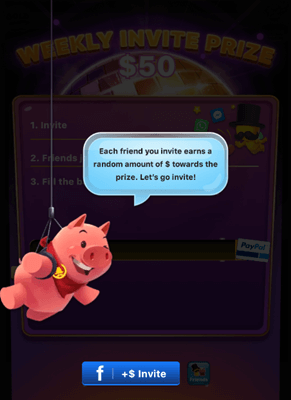 The idea will still be the same. You invite people to join and when they register using your invite, they will become your referral. But here's where their referral program deviates from other referral programs.
For every referral you get, it will add a random value to the pot money for their referral program and you will also be included in the raffle. Then, after a certain period, the winner for their referral program contest will be announced.
So, the amount you will receive will be what is indicated in the pot money if you will be the winner for their referral program raffle. The prize can be pretty significant, however, everything will still be based on chance.
Personally, I don't really like this kind of referral program because there's no guarantee your hard work will pay off. And believe me, convincing people to join apps and sites requires a bit of work and time. That's why I would much rather prefer the earnings will be guaranteed for this kind of opportunity.
Recommended: Check Out the Best Ways to Earn Money by Playing Games Online
How do you get paid?
Lucky Day uses two types of currencies: US dollars and tokens. For the actual money you earn from their raffle contests and scratch-a-card games, you will be able to withdraw it via PayPal.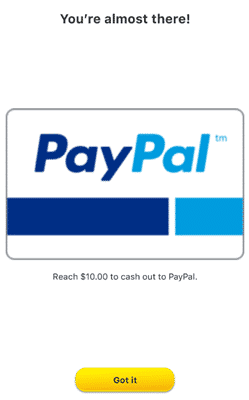 But in order to do so, you must have at least $10 in your Lucky Day account to withdraw it to your PayPal account. As for the tokens you will earn, you can use them to redeem various gift cards and the minimum amount will also be $10.
However, the availability of gift cards will also depend on your location. Most gift cards are only available for people living in the US. If you live somewhere else, you won't be able to redeem any gift card.
Plus, these gift cards also have a limited number. So, you might not be able to redeem the gift card you want all the time. If there aren't any gift cards available for redemption, you can just use your tokens to buy additional raffle entries. That way, you can increase your chances of winning.
Overall, their payment system is relatively straightforward and I do like the fact that they offer payment via PayPal since that is a very convenient option, in my opinion. If you are looking for more platforms that offer a convenient payment method, I would recommend you check out the top sites that pay via PayPal.
How much money can you make?
With a sweepstakes app like Lucky Day, it's really hard to put an exact figure on how much money you can earn since everything will be based on chance. Sometimes, you can get a significant amount, but more often than not, you won't earn anything.
The prizes for their raffle contests are pretty significant, so I understand why it can be an appealing app. But overall, I would still say the earning potential of this app is really quite low which is often the case with sweepstakes apps.
Can you use it on a desktop?
Lucky Day is a mobile-only platform. So, you will really need to use a mobile device. It doesn't have a web version like some other platforms.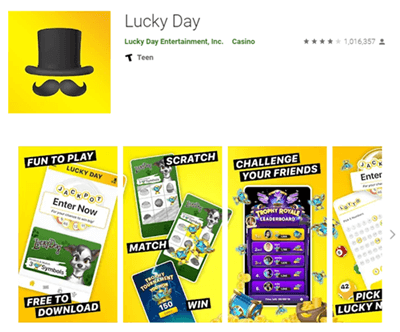 As for their app, it is only available for download through the Google Play Store. It used to be available in the iOS app store but they have since removed it mainly because it is more or less a gambling app and Apple doesn't really favor those kinds of apps.
So, if you are an iOS user, then this app is not for you. Their app is relatively easy to use. The user interface is intuitive, so you won't have a hard time learning how to use it. You just have to bear with the occasional video ads you need to watch because this is how the app makes money.
Who can join Lucky Day?
Lucky Day is available in most countries worldwide. However, as mentioned earlier, some rewards are only available in certain countries (namely gift cards).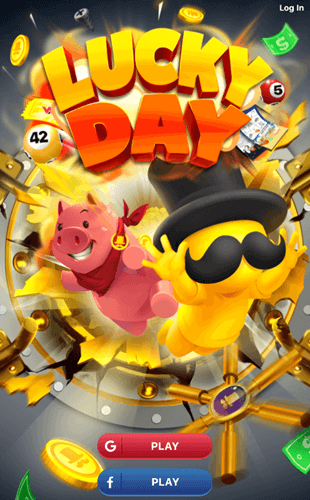 To register, you have to download and install the app first. Then, you can log in using your Google or Facebook account. You don't need to fill out any registration form. Just choose which account you want to link to the app and then you can start participating in their opportunities.
Can you get support?
The app doesn't have any FAQ page you can refer to, but you can visit the Lucky Day website if you have any questions about their app. Their FAQ page discusses most of the important topics you need to know about the app, so you'll find a lot of useful information.
But if you can't find what you are looking for, you can submit a support ticket through their FAQ page as well. Just click on the Technical Issues section and click the "I have a different issue" link. This will take you to the page where you can submit your support request.
Overall, I would say they have a decent support system in place for their members since they offer a way for you to get in touch with their support team. I just wish it would also be available inside the app so you wouldn't have to keep going to their website if you have any questions or if you encounter any issues.
Final Verdict
Lucky Day is a sweepstakes app that will give you an opportunity to win a significant amount of cash. It does have a couple of advantages, but it also has some disadvantages you need to be aware of.
Let me wrap up this review with a summary of its pros and cons to give you an overview of what the app has to offer. Then, you can decide if you should really download it or not.

Pros:
Offers an easy way to have a chance at winning prizes
Offers payment via PayPal

Cons:
Doesn't offer any guaranteed ways to earn
Limited payout options
As I've mentioned at the beginning of this review, if you like to gamble, then Lucky Day can be an option. But if you are looking for a way to earn extra cash reliably, then this is not the app for you. Every opportunity that will allow you to earn cash through this app will be based on chance.
It might take you some time to win or you might win immediately. Or perhaps you won't ever win at all, which just makes it a waste of time. I would only recommend you join this if you like to gamble and if you do not mind potentially not getting rewarded for your time at all.
Now, if you are looking for reliable ways to earn extra money, I would recommend you check out the top survey and GPT sites in your country instead. The sites on this list all have good earning potential and they all offer guaranteed ways for you to earn.
Plus, you will definitely find a site (or an app) you can join regardless of where you live.
If you have any comments, questions, or have any experiences with Lucky Day App yourself, I would love to hear from you in a comment below.